07.12.11
Human losses... material destruction... forever trauma... but still this sense of saying arigatou.
Thank you Tohoku people, thank you all who teach us dignity and humanity. Love and Courage.
皆さん、こちらこそ、ありがとう!!!頑張れ!!!
04.12.11
At Meguro.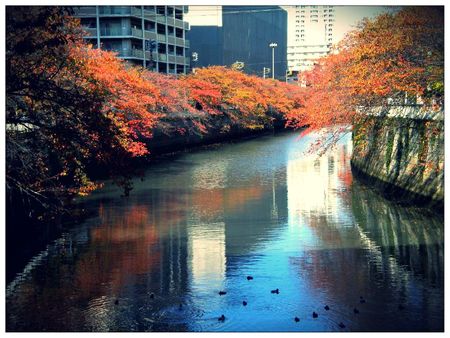 Winter is coming.
Autumne never ends in this country... It's December already, en have a look at what was waiting for me at Rikugien !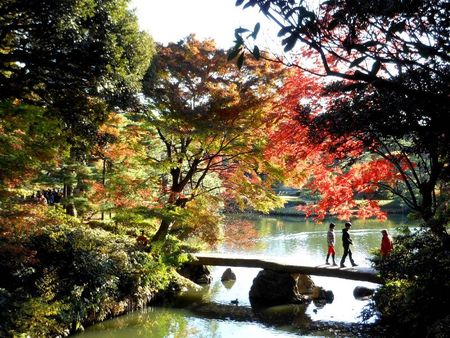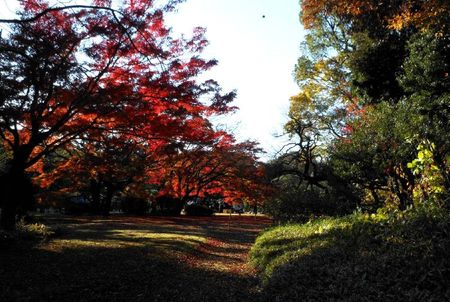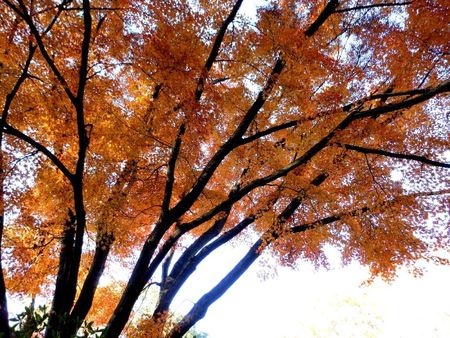 Welcome to a typical Edo period garden ! No doubt that the walkers in the ancient times have been inspired by its beauty to write poetry. As fall came late this year, we can enjoy these amazing colors at the fringe of winter. Light is excellent. Contrast is perfect. What else ???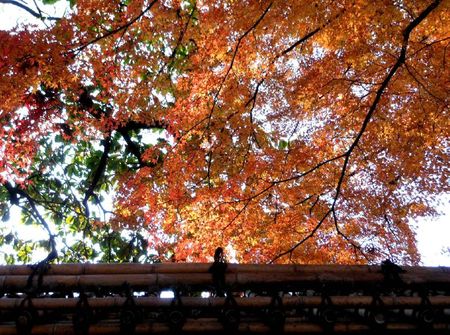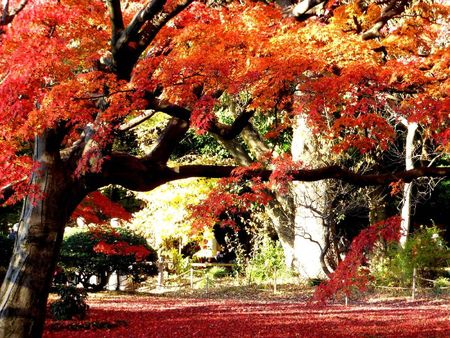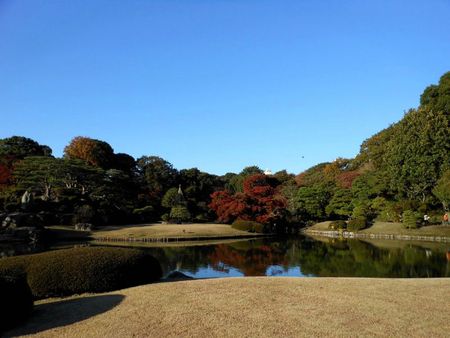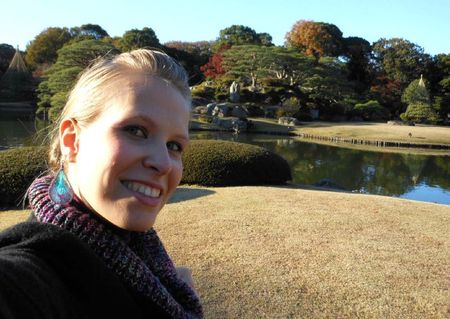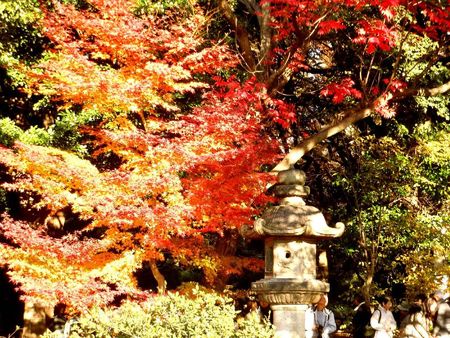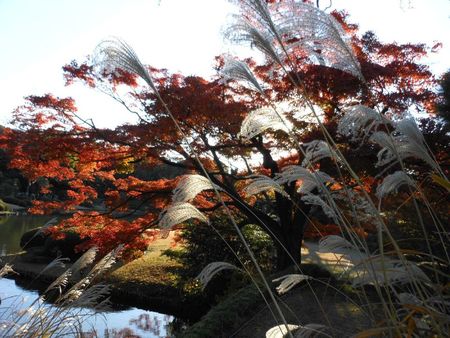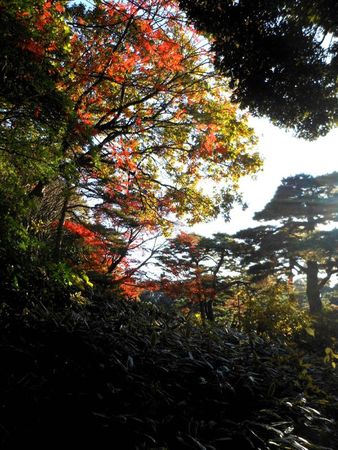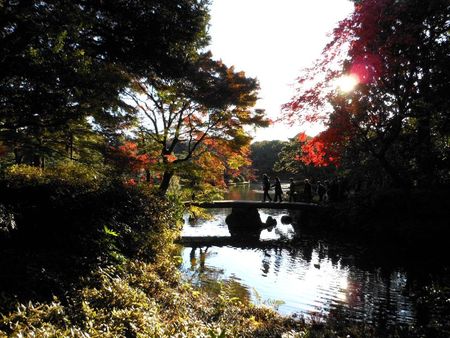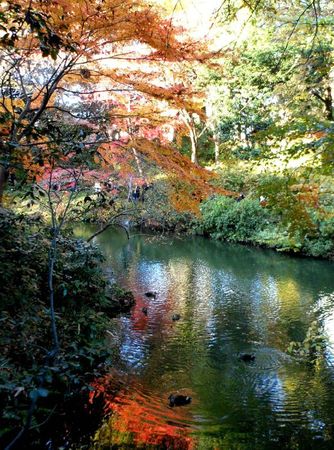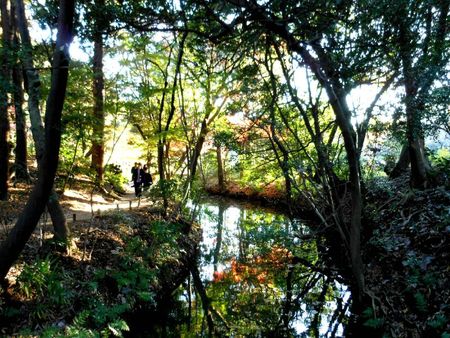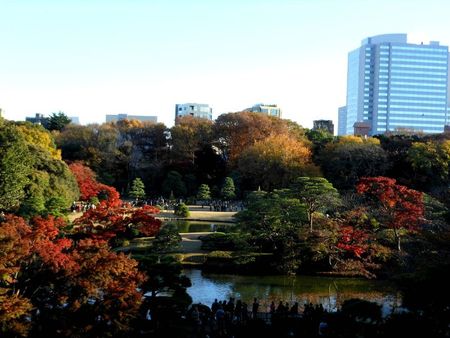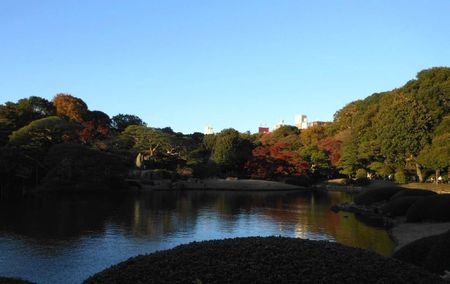 02.12.11
It was on November 28th, at Royal Park Hotel ; another major event for the visibility of African cultures in Tokyo, organized by the Ladies' Friendship Association for Africa and the Middle East (Nihon Chuukinto Africa Fujinkai) : the African Charity Bazaar. As for African Festa, Mali was there with a food booth and a shop corner.
As the event was not in open-air this time, the atmosphere was more cosy and also noisier, but also a bit high-quality looking. Also, this time the entry was not free - people had to pay 2000yen to enter and participate to the loto game. Obviously, the participants were mainly Africa-fans who come every year to buy artcraft and other rare products. Chic Bazaar !
The Embassy's cook menu : tieb'n dien and bashi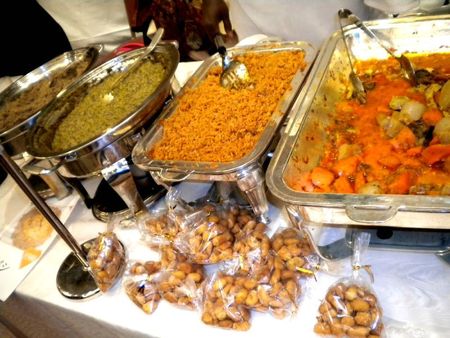 Bazaar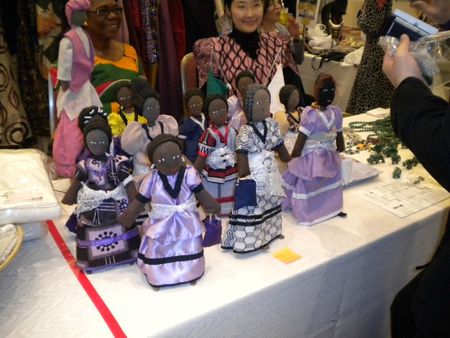 Me and the best Malian Cook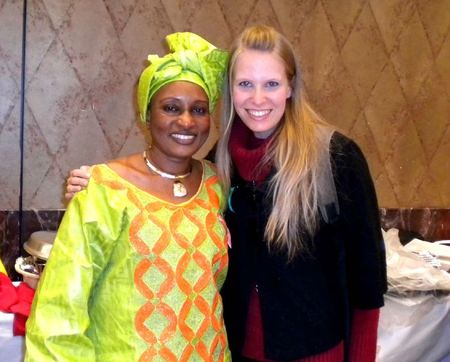 Bissap juice (hibiscus)
France, Mali, Japan : my World Twister Game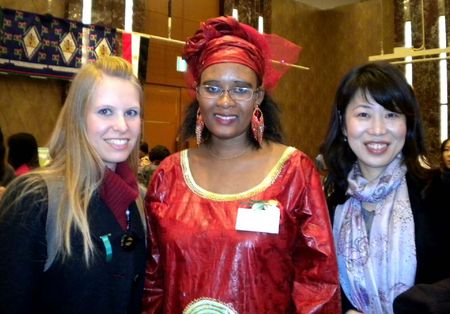 I had bashi in take-away, to eat at home (a kind of peanut couscous with a delicious sauce made of meat, spinach, onions...). It is, actually, delicious.
01.12.11
December ! Christmas ! Family ! In two weeks I will fly to France, have a great family refill and enjoy Christmas atmosphere. For the moment, I give you the first sweet Xmas hints around :
My little Xmas Tree at home

Xmas lights at Ebisu Garden
29.11.11
Bien chers sujets de mon illustre royaume,
Il faut que j'aborde un sujet dont l'aspect capital va vous saisir à la gorge autant que moi, sans aucun doute. Il s'agit de l'une de nos plus anciennes et respectables coutumes... Oyez avec attention.
En règle générale, mes amis les Nippons sont d'une bienveillance formidable envers les moeurs de leurs "invités" étrangers, surtout sur le plan alimentaire.
Leur tendance à exalter les particularismes culturels (jusqu'à l'outrance), et leur curiosité sans borne pour l'incroyable monde par delà les frontières de l'archipel en font des spectateurs avides et enchantés des habitudes culinaires et gustatives des non-Japonais. Ils conçoivent admirablement bien, sans ironie aucune, qu'un Français au Japon soit en manque de baguette, qu'un Italien se languisse de son huile d'olive, ou encore qu'un Britannique regrette l'écrasante préférence locale pour le riz sur la pomme de terre - mieux, ils compatissent. Le déracinement alimentaire est un de ceux qui leur parle le plus. D'ailleurs, à peine les présentations faites, la plupart des Japonais fraîchement rencontrés s'empressent de vous "cuisiner", c'est le cas de le dire, sur la façon dont vous survivez, nutritivement parlant, dans leur beau mais si spécial pays. Que cuisinez-vous à la maison ? Et dans quels genre de restaurants allez-vous ? Comment vous en sortez-vous avec les légumes, les épices, les condiments japonais ? Tolérez-vous le poisson cru, le tofu, le natto ? Quel plat japonais a su gagner vos faveurs ? L'avalanche de questions déstabilise sans exception, lorsqu'ils débarquent, les étrangers dont les préoccupations immédiates se portent davantage sur la communication quotidienne, l'ouverture d'un compte en banque et autres diaboliques tâches administratives - l'adaptation culinaire nous faisant l'effet d'un détail relativement secondaire. Mais les Japonais y tiennent, et sont presque déçus lorsque vous avouez vous contenter parfaitement du régime local et n'avoir rien d'autre à dire à ce sujet. Ils sont au contraire magnifiquement compréhensifs et pas vexés pour deux sous si vous confessez détester le riz vinaigré, honnir le poisson cru, courir chez les fort chers boulangers d'Azabu chaque soir pour cueillir votre pain quotidien, et ne vous fournir que chez les traiteurs français de Kagurazaka. Vous pouvez même vous permettre de les provoquer frontalement ("pays de barbares mangeurs de poulpes qui ne savent pas faire le pain") sans prendre trop de risques; même les remarques les plus négatives à l'encontre de la gastronomie japonaise récolteront la sympathie compréhensive de vos hôtes : vous venez d'ailleurs, vos us et coutumes ne sont pas les mêmes, vous mangez autrement, c'est ainsi et nul ne vous en tient nullement rigueur au pays du soleil levant.
A une exception près.
Il existe une habitude alimentaire bien de chez nous qui défrise littéralement les Japonais - si tant est qu'un cheveu japonais ait encore de la marge pour être défrisé -, si innocente et anodine puisse-t-elle sembler au Français de base dont je me fais ici l'humble représentante. Un usage ma foi fort répandu dans l'hexagone, peu discuté, peu sujet à polémique, sans conséquence pour la santé ni pour l'environnement, et qui cependant plonge les Nippons dans un abîme de stupéfaction, voire d'abasourdissment mêlé d'un certain soupçon d'effroi.
Attention, tsunami.
Hé oui. Le trempage de biscuit/gâteau/pain/croissant etc dans un breuvage quelconque, chaud de préférence. Simple mais redoutablement efficace.
Si vous aussi, comme votre royale servante, avez tendance à accomplir ce geste banal dans la plus pure insconscience, presque automatiquement, dès qu'il vous arrive d'avoir une tasse et une langue de chat à portée de main : sachez que vous êtes UN GRAND MALADE.
Soyez prévenu : s'il vous arrive au détour d'une conversation en charmante compagnie japonaise d'accomplir le rite fatidique du trempage, vous perdrez instatanément tout espoir de finir votre phrase, et qui plus est votre propos, dans des conditions acceptables. Trempez, et attendez-vous à un salto arrière de la part de votre interlocuteur. Ensuite, vous aurez droit à un déluge infernal de tentatives de retour à la raison par votre ami traumatisé. Révolutionnaires que nous sommes.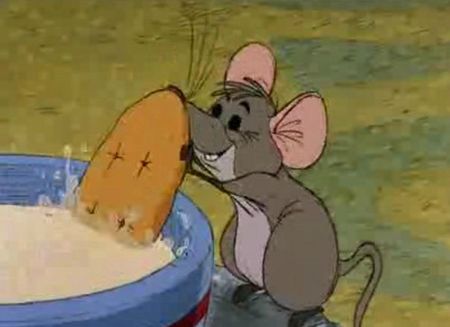 Certaines images peuvent heurter la sensibilité des plus jeunes
Première réaction du Japonais qui reprend pied face au gouffre : la rationnalisation. Mais enfin pourquoi DIABLE trempez-vous ? Question un peu perturbante pour le Gaulois de la rue qui ne s'est jamais, il est vrai, posé la question. Ma foi... pour attendrir le biscuit ? Mais, vous rétorquera-t-on, ce biscuit n'est ni sec ni très dur. Vous vous tapez des croûtes de pain et des mimolettes vieilles bien plus coriaces tous les jours, ils vous ont vu(e). Certes. Indéniable vérité. Alors, tenterez-vous, disons, pour réchauffer le gâteau ? Mais dans ce cas, insistera-t-on, pourquoi ne pas plutôt mordre dans la pâtisserie puis boire une gorgée de thé (sous entendu : comme font les gens civilisés), ce qui revient au même ?... En effet. Logique imparable. Rapidement, le Français perplexe arrive à cours d'explication cohérente et, histoire de s'inspirer, re-trempe. Le malheureux. Non seulement il trempe, mais il re-trempe !!
Seconde réaction : votre hôte japonais éprouve le besoin de poser des limites à toute cette folie. Alors commencera la longue énumération de ce que vous osez tremper, et dans quoi vous prétendez le tremper. Trempez-vous des tartines, au risque de voir la confiture dégouliner dans le bol, les miettes qui se répandent dans le breuvage, et autres aberrations du genre ? Oui. Trempez-vous les divines viennoiseries, chef d'oeuvre d'architecture patissière, qui ressortent de là dégoulinantes et molles, informes, meurtries dans leur chair par l'odieux traitement ? Oui. Trempez-vous dans le thé, le lait, le tchai, le café, le cappucino, le caramel macchiato, le latte, le crème, le noisette, le viennois, le chocolat ? Oui. Trempez-vous vos sandwiches au thon dans votre café ? Hein, non, beurk, certainement pas, ça ne va pas la tête, le poisson qui coulerait au fond de la tasse, ça non alors - Ah ! Mais est-ce tellement plus répugnant que l'infame bouillasse de résidu de biscottes qui finit par tapisser votre bol de thé tous les matins ??? Sincèrement ???... Bon, d'accord. Nous nous inclinons. Il est vrai que le trempage est une habitude irrationnelle, injustifiable et dépourvue de toute légitimité qui pousse ses racines dans nos subconscients sans aucun doute malades. Voilà. Pitié, ne nous sucrez pas nos visas.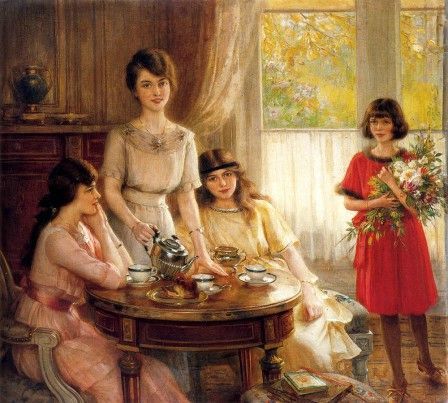 Dans un instant, cette scène va se transformer en boucherie
Rassurez-vous, à force, en faisant étalage de toutes vos autres qualités, vous parviendrez peut-être à compenser ce geste horrifique que vous vous obstinez à commettre en toute impunité une à plusieurs fois par jour; avec le temps, il est probable que vos amis japonais vous pardonneront ce travers et se contenteront de vous regarder accomplir votre terrible rituel d'un oeil torve... à condition que vous ne passiez pas la dernière des bornes, la frontière de l'horreur, le sacrilège innommable : le trempage dans du thé japonais. Pire ! Le trempage de denrées japonaises dans du thé japonais ! Alors là, plus de doute, vous cherchez la guerre. Que vous vous conduisiez comme un barbare avec vos propres aliments, soit. Mais vous en prendre à un innocent macha !... Lâche !... Et faire subir l'odieux traitement à des senbei, des mochi ou des beignets de pâte de haricot rouge qui n'ont rien demandé ! C'en est trop, on frise l'incident diplomatique grave.
Bref : Trempeuses, trempeurs, ils ne nous ont pas compris.
Les derniers arguments pour tenter de faire accepter l'inacceptable parviennent parfois à faire reculer le Japonais scandalisé témoin de vos agissements dans un silence sceptique : d'abord, sans cette belle coutume du trempage, la littérature française ne compterait peut-être pas aujourd'hui parmi ses chefs d'oeuvre le roman ultime de Proust, la Recherche. C'est bien la madeleine trempée dans le thé qui permet au narrateur de voir ressurgir les souvenirs, etc, etc. Quoique, si je me souviens bien, la tante Léonie se servait d'une cuillère pour imbiber la madeleine, mais bon, inutile de donner tous les détails à l'adversaire. Ensuite, il y a indéniablement quelque chose d'érotique dans le geste, l'expression fleurie "tremper son biscuit" voulant dire ce qu'elle veut dire - mais allez faire comprendre ce genre de subtilité sensuelle à un héritier de Confucius. Ah la la, elles sont bien loin nos racines grecques.
Sur ce, je vous laisse pour aller me faire un goûter de vandale.
Scandaleusement vôtre, etc.
Madeleine de Proust, ô geste régressif
De tremper le biscuit dans le thé du goûter
J'ignorais tout de ton potentiel agressif
Avant de l'avoir vu dans des yeux japonais.
27.11.11
In the mountains, two hours by train from Tokyo (by Tobu line from Asakusa station), there is a holly place which is famous at the same time for buddhism, shinto and political history : Nikko (日光), the "Sunlight" of Japan, the right place to spend a week-end in November, when the leaves are red and the air is so pure. Follow me !
Lucky me : Look at this sky, from my window seat. Nikko is more meaningful when the sun shines, and the autumn sky did not fail to bless the trip.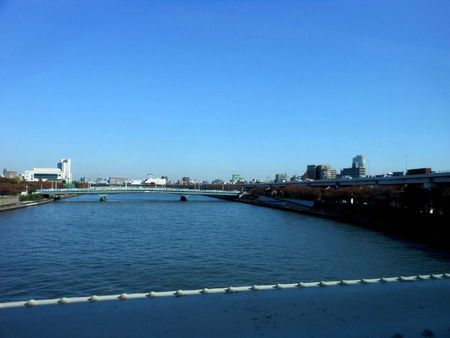 Up there in the mountain, the climate is definitely fresher ; gloves and scarf are required ! The greatest point of Nikko is, according to me, its natural landscape, with its volcano-shaped mountains, its lakes and its waterfalls. From Nikko station, you can take a bus to Chuzenji lake (two days bus pass available for 2700 yen), and enjoy this scenary :
Chuzenji Lake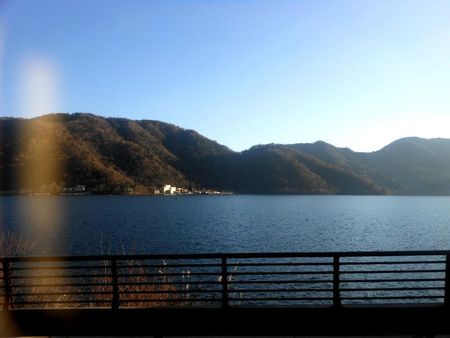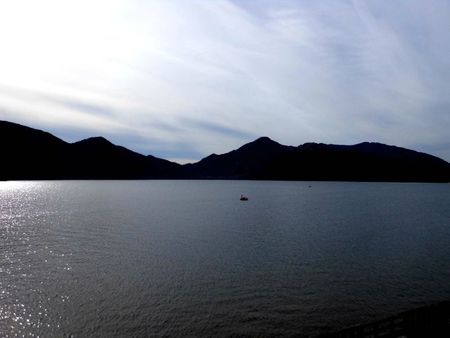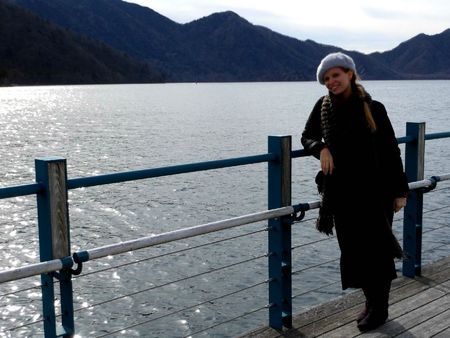 Water, stones, sky. Nikko has something solemn that even Nature reflects.
Kogen waterfall
In Japanese, the word for waterfall, taki (滝) means "water dragon". So poetic. In the case of kogen falls, the dragon is long, white, slim and pure, shining in the sunlight like a long clear ribbon.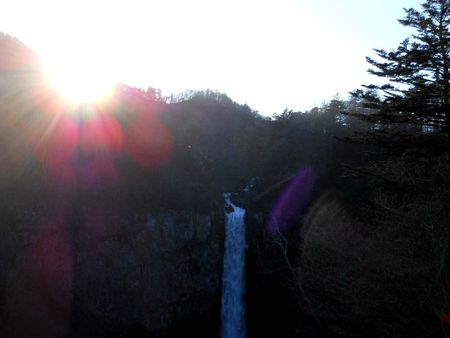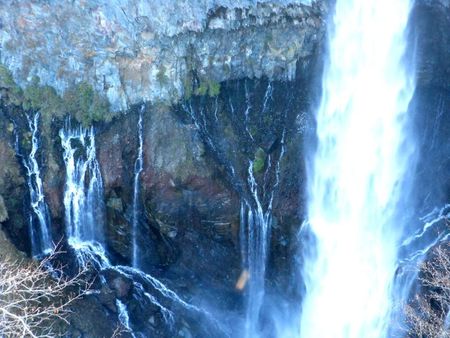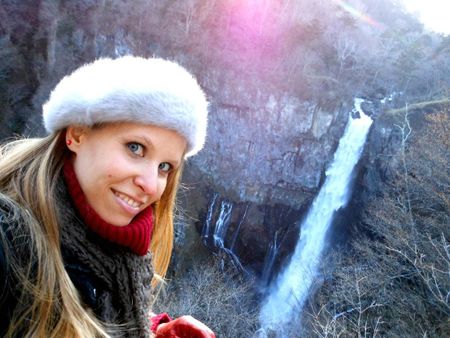 Senjogahara Plateau
There are many small waterfalls in Senjohara plateau, and beautiful trees too - even if in late November, most of the colors were gone already. It's winter already in these high places ! Still, I could have a nice shot of flaming branches.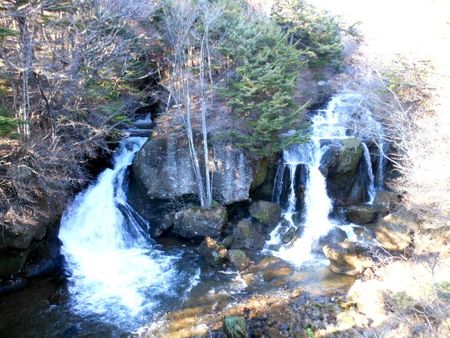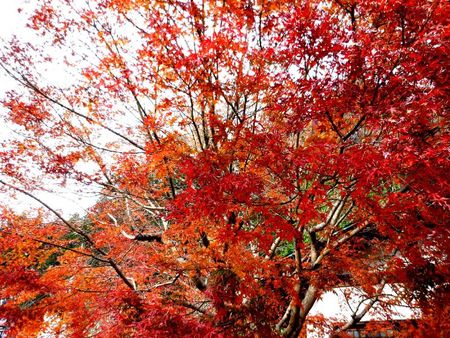 Not so bad for a rest of colors.
Toshogu Sanctuary
Toshogu Sancturay is the jewel of Nikko. The site has been finished in 1636, in the memory of Ieyasu, foundator of Tokugawa shogunate. This smart warrior-politician managed to unify the country in the 16th Century (before him, Japan was a patchwork of lands constantly disputed by clans) and to build the base of the Tokugawa's 250-years supremacy in Japan, until Meiji period. He was also the one who chose the Kanto region as the new capital of Japan, over the traditionnal Kyoto.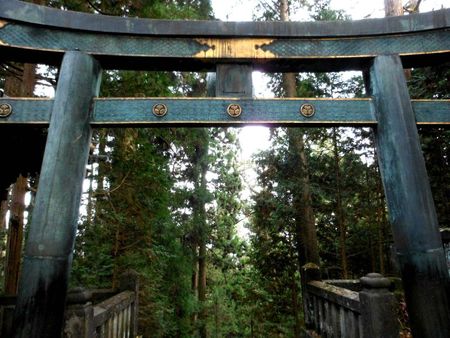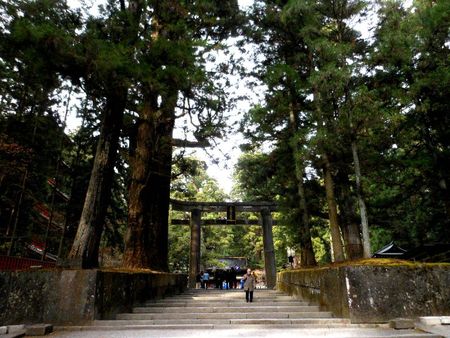 The shrines here are shinto, but so colourful, red and gold just as Chinese buddhist temples.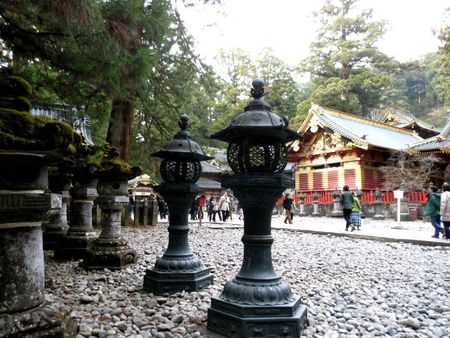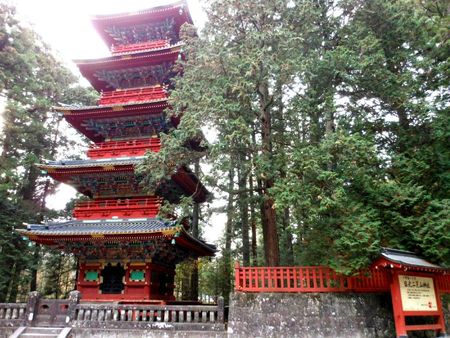 This is the symbol of Nikko : the 3 monkeys of wisdom. One does not hear what he shouldn't ; one does not tell what he shouldn't; one does not see what he shouldn't. This was a free lesson for the lords and politicians who had to wait for the shogun's leave to enter the Yomeimon gate and expose their demands or projects.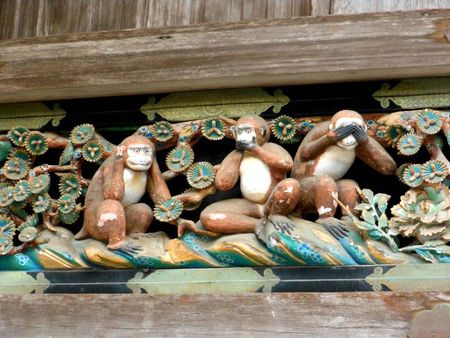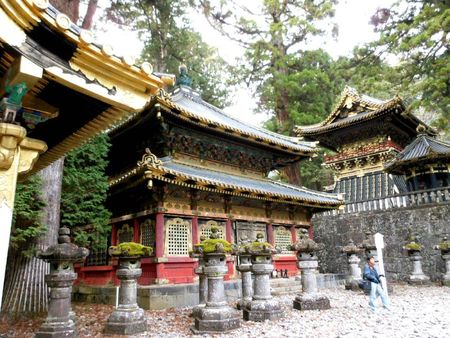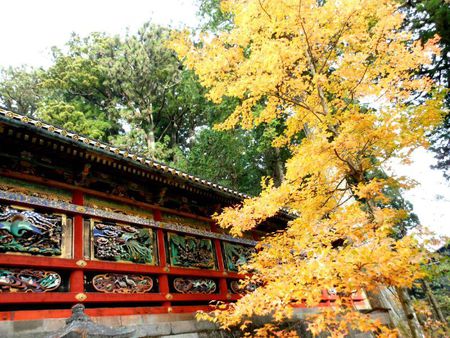 Yomeimon gate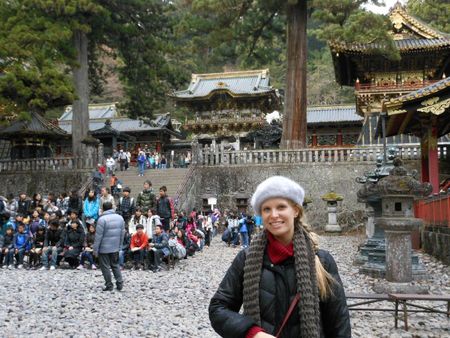 Ieyasu's tomb
200 steps to reach the tomb. Yalla.

Ieyasu's tomb is very impressive, at the top of the hill, and all made in carved bronze which was much more precious than gold in Japan at this period.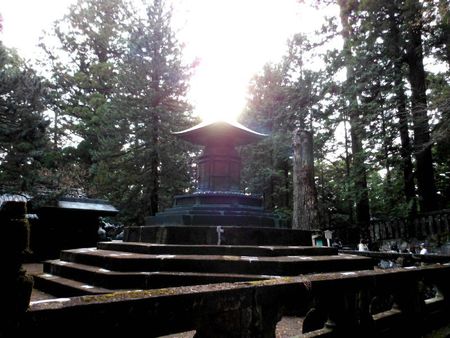 The holly forest
The surrounding forest was just amazing : 16 000 cedars, most of them more than 300 years. Tall and magnificent trees...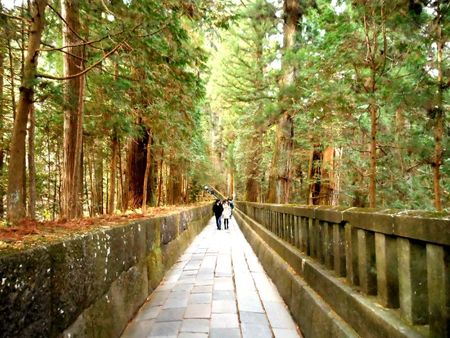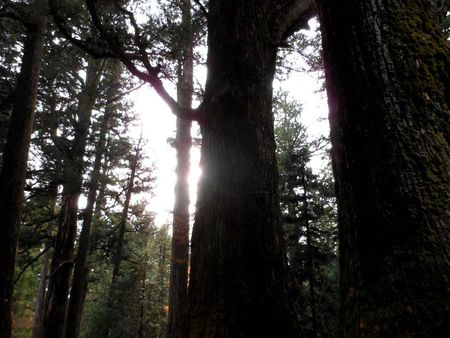 This one is a kami, a Japanese god, as shown by the characteristic rope around it. People were sending money in its empty trunk and praying.
The giants of the forest...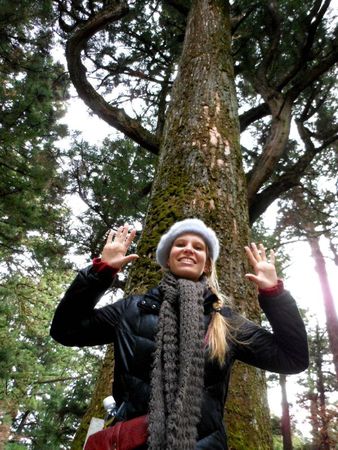 ... and color gifts everywhere.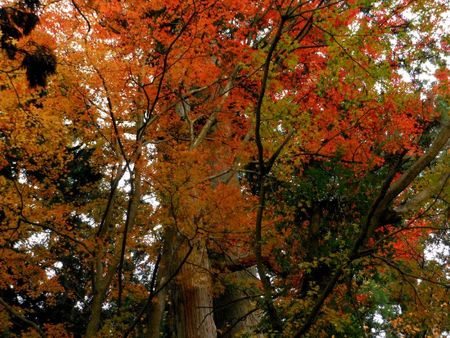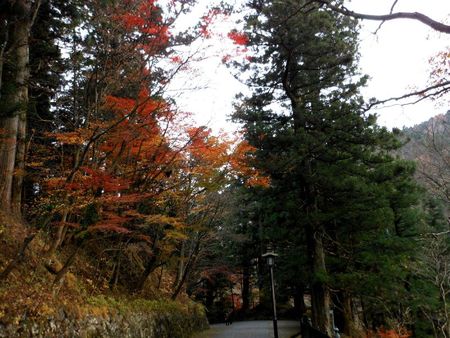 World Heritage Park
The sanctuary belongs to a larger area classified as World Heritage by the Unesco. The park is full of old stone walls, ancient gardens and beautifully carved roofs. And trees. Trees. Trees !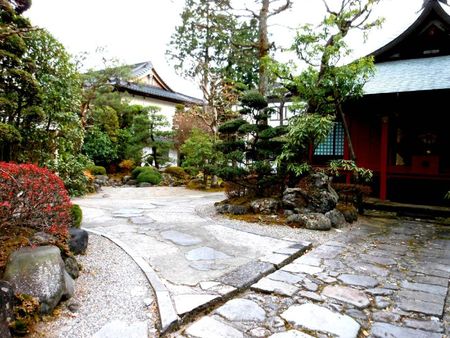 Shinkyo Bridge
During Edo period, only the Emperor could walk on this bridge across the Daiya river. It is still closed to the public, but only because of its historical value, I guess. I hope. Whatever.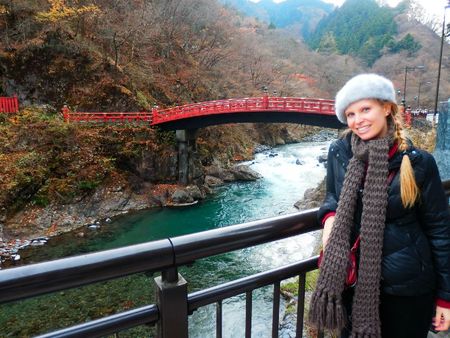 The Monkey Experience
Alright : my most striking memory of Nikko will be... the monkey I saw in the woods. A baboon, to be more precise, and big like a medium-sized dog, with a pink face and long grey-brown hair. Like this. Unfortunately the meeting was too short and I could not take a picture. I was astonished to see it like that, randomly, in this familiar-looking forest, and the Japanese around me saying "Why, this is nature, there are trees, so there are monkeys...". Hey, for a French, monkeys are in the zoo, not in the forest ! Come on, guys, that is so exotic !...
Can't believe I saw this, in its big version, and in real, a few meters from me...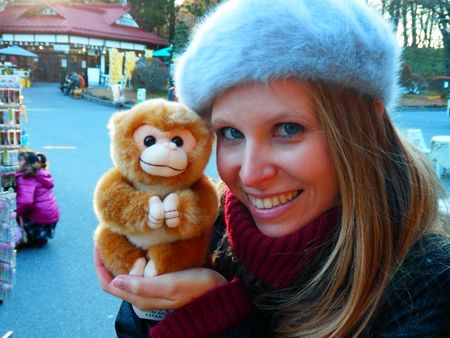 ... everything is normal.
To the question "what should we eat at Nikko?", unfortunately, I don't have the answer. Only kakis, there were so many on the trees. For the rest, I found no typical food but this steaming "shogun curry", super-black and sweet type, that made my day...
Shogun curry !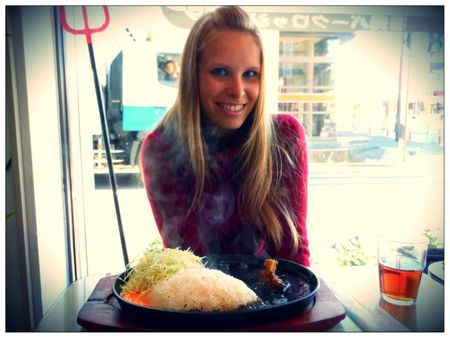 Anecdote : In Nikko hotel, no Bible in your drawer but the Teaching of Buddha.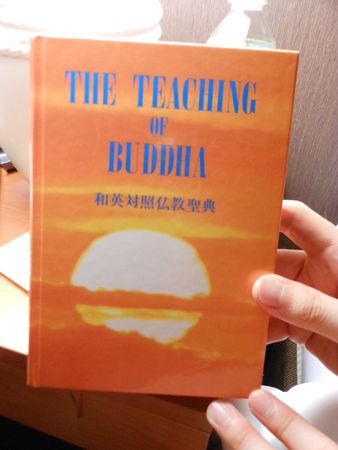 And that was my Nikko experience. Nature, History, Colors... What else ?
18.11.11
This is my third birthday in Japan, far from my beloved family but close to all the others. Having your birthday on a weekday is never funny, because usually no one is keen on partying very late. Except this year : the famous and controversial Beaujolais Nouveau was to be opened all over the world on this same day... which means, a big party with the Tokyo French community & friends to celebrate the event. Happy birthday Noemi, Happy birthday Beaujolais !
First present of the day : a smiling sunny blue sky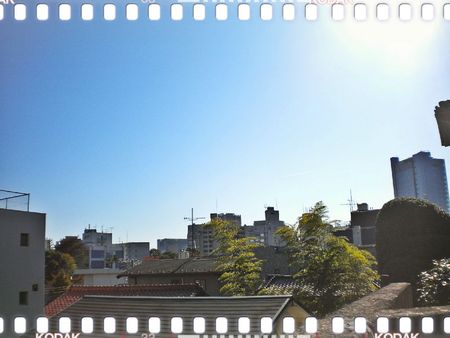 My dear family sent me a hundred gifts... love you guys.
Sweet messages from my two little fairies A. & G.
Who said co-workers can not be true friends ? Mine had a huge birthday cake waiting for me after lunch.
My first Japanese-style birthday cake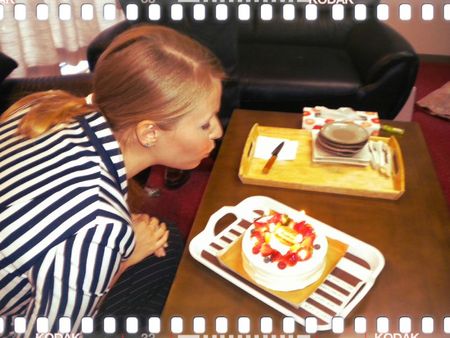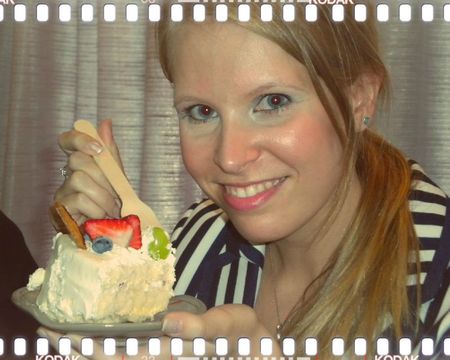 The Malian-Japanese-French-Pakistanese dream-team (and so what ?!...)
Last but not least : the buffet party at Pachon Daikanyama with Beaujolais Nouveau all-you-can-drink and friendly funny people around.
Master Chef in action
Pâté, rillettes... Only saucisson was missing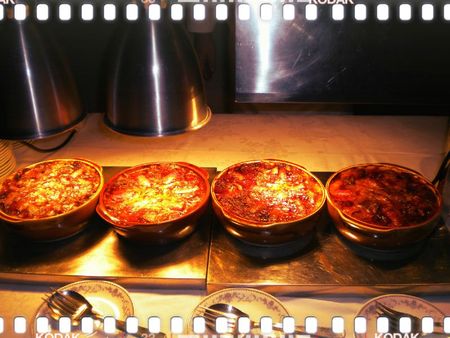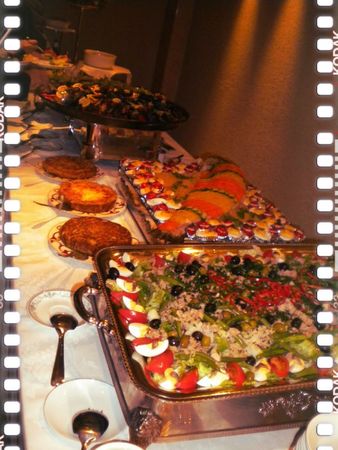 Great atmosphere at Pachon's this night, thanks to the AFJ (them again!!) who did a splendid work as usual.
Ishinomaki champions
One of our brave super-mummy volunteers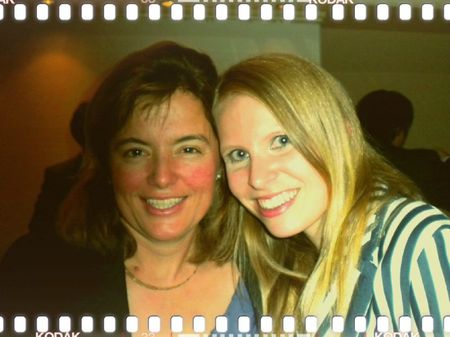 O. and S., definitely the good people met thanks to Ishinomaki volunteering experience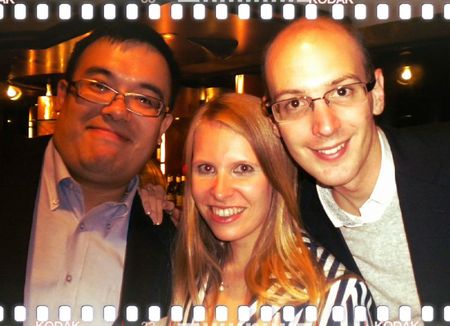 (I know, my lips are black, have you tried to drink Beaujolais Nouveau once in your life ?...)
Ok, flying time can be a good thing after all. As long as it gives you the opportunity to get so many great love and friendship prooves... Let's go on aging with a light heart.
Love you all !
13.11.11
Lovely Yokohama is always sunny for me. This week-end, it was definitely the most perfect weather for African Festa 2011, the biggest Africa-related event in Japan, organized by the Ministry of Foreign Affairs. Of course, the Malian Embassy was there, with musicians, singers, an African dance teacher (fortunately nobody pictured me when dancing), delicious food (tieb n'dien, niebe, to and so on), baobab powder, hibiscus, shea butter and many other stuff made in Africa.
African Beauty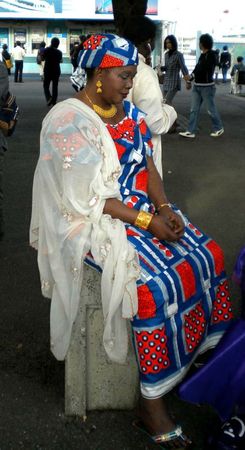 Blue sky for ordered for Africa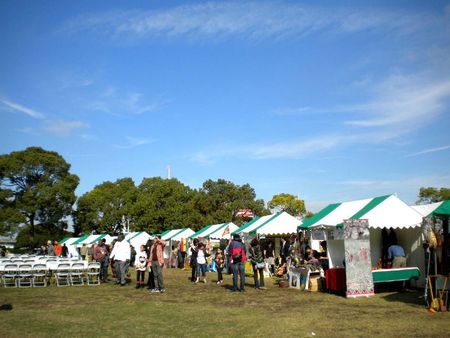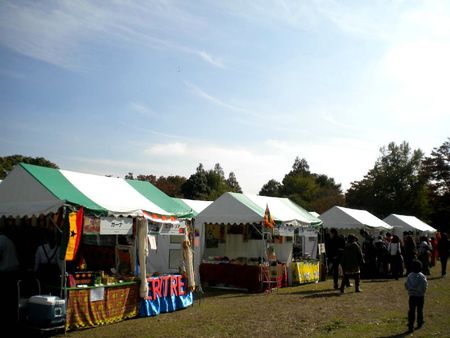 African market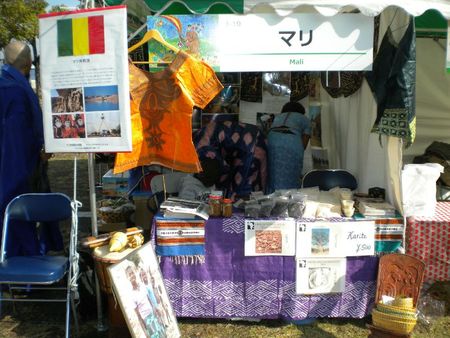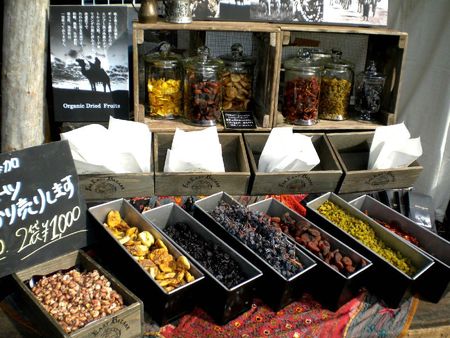 People queuing for Malian dishes
Our lovely Malian star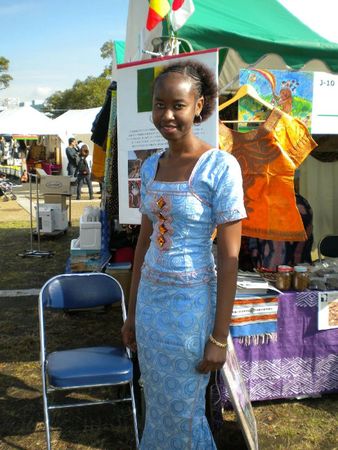 My lunch : fish tieb n'dien and spiced roasted chicken
Music !
Malian band on stage (Cheick Tidiane Seck and friends)
He played this song among others. Very interesting !
Djembe lessons
Kora players
Ghana dancers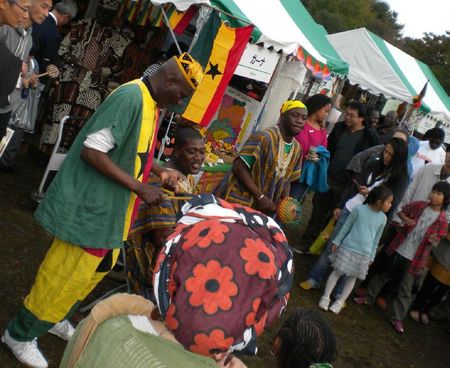 The cutest drum player ever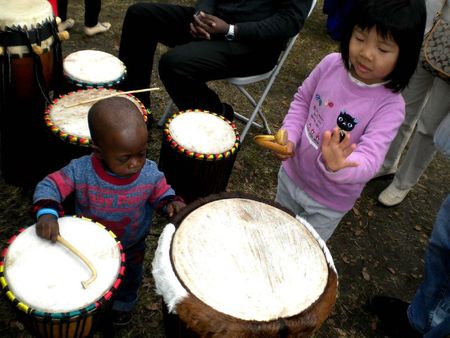 My first baobab juice : yummy ! Offered by my Senegal "family"
The view on Yokohama by night... could be worse
I shook a hundred hands, received one thousand smiles, had sweet tea for free, and got real shea butter at the end of the day. Don't miss African Festa next year !
09.11.11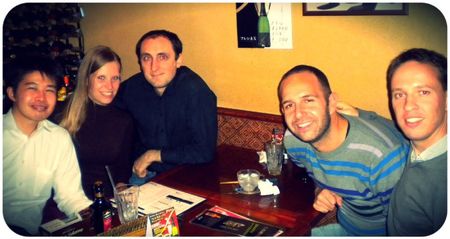 Japan / France / Poland / Italy / UK
ETP 2009 is far behind us already, and our small group is shrinking month after month, but sometimes one of us comes back to Tokyo and this is just as if we had never left each other. ETP friendship is not dead !