02.02.10
Tokyo is a kind of labyrinth - Alice's style, "everyone is crazy here !".
At Ikebukuro, Sunshine City (second floor), there is a place called Namco Nanja Town you can go for 300yen - 2100 yen if you want to "play". Yes, it's a human-size game based on the graphic world made in Namco, which is a video game company ; their mascot, a cat (Alice, again !) is everywhere to remind it you.
The place is unexpectedly huge, and it was almost empty when I visited it last Friday evening. I entered around 8:30 and stayed until it closes, at 10pm !



After enjoying the place for itself - there is a haunted house part, and another dedicated to skincare and massage (?!... maybe to relax after the scary part ?...) - I had the best fresh-made gyoza ever at the Gyoza Stadium ; sea-food gyoza, cheese gyoza, veggie gyoza... all the gyoza you can dream of are cooked for you in these funny little shops...



As if delicious gyoza were not enough to make me happy, the upper floor of Nanja Town is occupied by an amazing - without kidding - "ice-cream library" where you can find all the ice-cream flavors you can imagine, and even some that you had not imagined, like... octopus ice-cream... snake ice-cream (with real pieces of snake inside, yeah)...
I was not so adventurous and had a beautiful cookies-and-cream ice-cream at the normal shop.


And finally, I could enjoy my impressive ice-cream in a fake little Italy, absolutely empty, which is sometimes a pleasure in a city like Tokyo...
I don't know if the Japanese are the only ones to build such "Food theme parks" but it's not something that we do in Europe and this place, even so calm and full of tasty dishes, had something crazy I can't really explain - judge by yourself if you pass by Ikebukuro Sunshine City...
01.02.10
The so delicious "Salon du Chocolat" came from Paris to invade Tokyo and especially the 6th floor of Isetan Shinjuku. The theme was the Opera and many "chocolate artists" were here for the occasion, mainly from France but not only : Italy, the Netherlands, Japan were also choco-representated.
In this pre-Valentine tornado of cacao-based products everywhere, it's not enough to say that the Salon was a success - it was damned crowded as you can guess, and in addition, chocolate seems to have some strange powers on Japanese people, who turn unexpectedly excited when they are in contact with too much sugar... but it's true that the Salon looks like Charlie's chocolate factory and anyone would be crazy in front of so much chocolate.

パリのサロン・づ・ショコラが東京に来ました。今日まで新宿の伊勢丹デパートで見られました。フランスのチョコレートメーカが多かったけど、フランスだけではなくて、色々な国から来たブランドもありました。今年のトピックは「オペラ」です。
すぐにヴァレンタインになりますもで、このイヴェントは成功しました。皆は本当にわくわく、多分日本人はチョコレートの多さになれてこなかったと思います。しかし私もフランス人でも、このサロンはすごいと思いました。

25.01.10

T-shirts at Harajuku

Hand-made food at Hoshien Dorms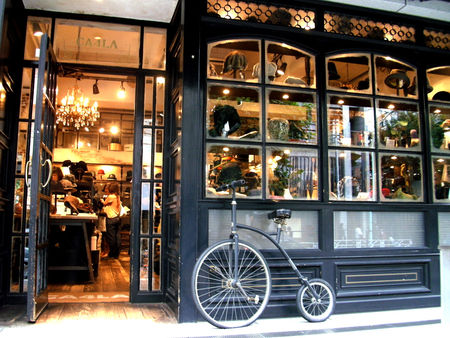 Windows at Ebisu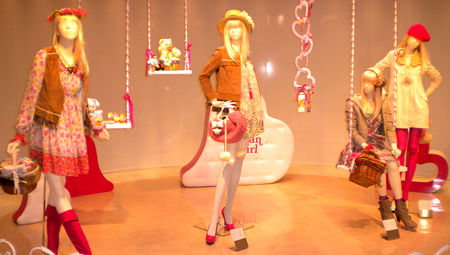 Pink stuff at Isetan Girl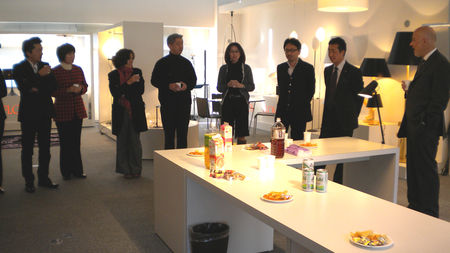 Black suits at my team's Shinnenkai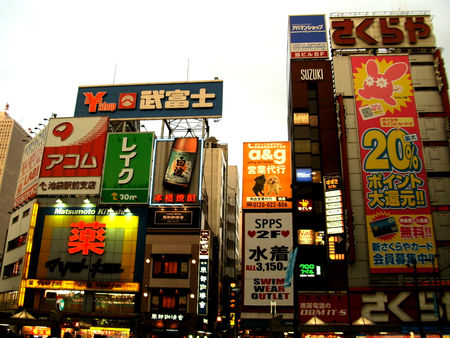 Advertisements at Ikebukuro
17.01.10
4500円以下の新しいルーク


Pink winter ! It's almost a Uniqlo total look but all the items are from different shops.

Sweater, skirt : items from the previous Uniqlo collections, in sales

Shoes : "Uniqlo shoes" that you don't find in the shops but in a shoes boutique in front of JR Harajuku station, in sales

T-shirt : Nakano Gallery is the kingdom of tops ! But good luck to find a skirt or a pants there...

Tights : 100yen shop I love you.

TOTAL : 4105yen...
15.01.10
During my jogging on the riverside of Kandagawa, I am used to meet many old Japanese men and women walking with their dog - and, as the Japanese are not always exception, most of the time the pet looks like the owner.
This time, when I saw them from far, I thought : wow, this dog walks strangely.
For sure. I was a HUGE turtle.
The kind of turtle that you can see usually in the zoo, not walking on a the street in Tokyo. And, for the comic touch, he/she was wearing kid shoes on the back feet. Except for this detail, the owner was absolutely turtlish too. He told me that his strange animal was fourteen years old and needed to go to have a walk every week. So, yu know what you have to do to see a turtle for free : see you next Sunday, 11 am, on the side of the Kanda river...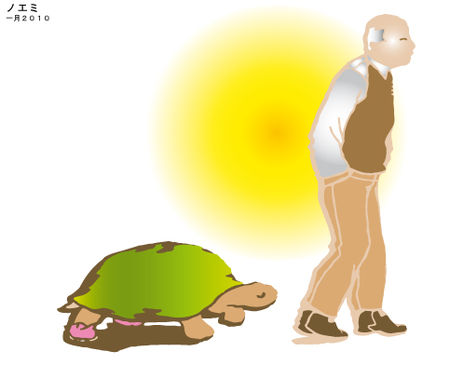 ジョギングの時道で大きい亀が見られました!びっくりしましたけど、ペットでした。実は亀とオーナは少し似ていました。
11.01.10
My sister will turn 20 years old the next week. It means that, for the moment, she's legally a French adult but not a Japanese one. In Japan, you have to wait 20 years-old to be allowed to vote, drink alcohol, enter night-clubs and so on. It's long to wait, but to make it funnier, at the beginning of the year, you are invited to the Seijin-shiki, the Coming-on-age ceremony. For girls, it's the perfect opportunity to wear an amazing kimono - transmitted by the grandmother or... rent for the day - and to make pictures for the album your future husband will show to his parents before they meet you. Just to check if you look good in a traditionnal dress. Well, it's important for the wedding day, isn't it.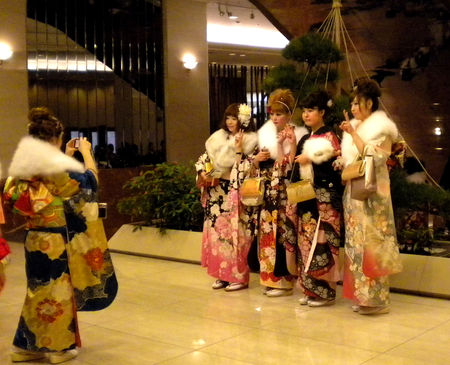 As I am already 25 years old - the Chrismas cake : until the 24th it's fresh and everyone wants to eat it, but from the 25th, it's not appealling to anyone anymore... that's a Japanese metaphore - I was not allowed to follow sis inside the Ceremony room, so I just took a few pictures of the beautiful fresh cakes around me.



It is definitely a day for the girls. Young men, all wearing black, were almost unvisible among the clouds of colorful butterflies surrounding them - very loud butterflies anyway, over-excited and screaming at each other about the beauty of the dress or the sophistication of the hairstyle... Even the boys who bravely put on a traditional suit too were too dark to be noticed in the crowd. Then, with their high shoes and even higher hairdressing, it was impossible to avoid watching at all these girls in kimono. With their white fur around their shoulders and their flowers on the head, they definitely looked like unreal creatures coming from another world to bring us colors and nailart.


For leaving the lobby and enter the fresh cakes' ceremony, go to Mogusa !
Some days, work looks like that :


... and at this moment, you need some fresh air.
Minato-ku is a wide area in Tokyo, but the area around my company, settled at Akabanebashi, is mostly covered with middle-height buildings hosting corporate offices. There are only a few shop, the streets are large and empty, except at the lunch time when the crowd of salary-men in white shirts and black ties invades the space.
But there are also some secret tiny places behind the buildings, and I love to discover is during the lunch break - and also, to collect the diffeent views on the neighbour, Tokyo Tower...
01.01.10
Bonjour à toi, ô Francophone d'ici ou d'ailleurs qui lira cette note.

Ce petit guide a été rédigé avec amour, à ton intention. La plupart des mes posts sont anglais afin de pouvoir facilement les partager avec le plus grand nombre, mais cette section s'adressera à tous ceux qui ont le bonheur de pouvoir lire le français, car j'essaierai d'y traiter le thème du départ au Japon d'un œil plus local que dans les autres pages.

J'ai rencontré beaucoup, vraiment beaucoup de monde capable de converser en français lors de chacune de mes expériences internationales, et à chaque fois cela m'a ravie. Contrairement à ce que l'on prétend en France, le reste du monde s'intéresse toujours, d'évidence, à notre culture au point de se lancer dans l'étude de notre langue - une entreprise pourtant régulièrement qualifiée de mission impossible par ces mêmes personnes... la grammaire, la prononciation, la conjugaison, tout y est terriblement difficile pour les Européens comme pour les autres. Et pourtant, ils l'ont fait. Nous pouvons toujours nous accabler, dans les limites de l'hexagone, de notre prétendu déclin dans le monde globalisé, de notre acculturation interne, de la crise de nos politiques d'éducation et de culture, de l'affaiblissement de notre rayonnement culturel et de tout ce que l'on voudra, mais la planète entière a encore aujourd'hui les yeux qui brillent en entendant le mot France et ne recule point devant le Bescherelle. Je me souviendrai toujours du visage ému d'un jeune étudiant turc rencontré à Munich s'exclamant, à peine je le rencontrai : "Le jour où je suis allé à Paris pour la première fois, je me suis dit : ça y est, enfin, je suis au centre du monde".

C'est en leur honneur, à tous ces gens d'ailleurs qui chérissent la France et le français, que j'écris cette rubrique dans ma langue natale. Puisqu'ils partagent notre amour de la France, ils sont sans nul doute de vrais compatriotes.
Mais le sujet permanent de ce blog, c'est le Japon, mon pays d'adoption.
Cette terre aux antipodes de la France ne se laisse pas aborder si facilement, et j'espère que les informations contenues dans les paragraphes suivants vous seront utiles si, comme moi, vous avez été harponné par le Pays du Soleil Levant. Comme la japophilie est une maladie assez répandue, le web fourmille depuis longtemps de toutes les précisions dont vous pourriez rêver sur le Japon. Mais l'internaute est paresseux, et il aime bien tomber sur des pages qui résument le shmilblick... En voici quelques unes qui vous orienteront vers les diverses sources d'informations disponibles.
Si vous avez des interrogations précises, vous pouvez également vous diriger vers les nombreux forums spécialisés où les participants s'empresseront de partager leur science avec vous - cependant, ayez la courtoisie de parcourir les messages précédents avant de poser vos questions, et ménagez la patience des modérateurs et des habitués. Considérez les forums comme des mines d'information et donnez vous la peine de chercher avant d'intervenir, la réponse à votre question a probablement déjà été traitée.
Pour ce qui est traité sur ce blog, n'hésitez pas à me contacter si vous désirez en savoir plus, je suis là pour ça !
Bonne lecture, et vive le Japon, vive la France !

CULTURE & INFORMATION
INSTITUTIONS FRANCO-JAPONAISES

VOYAGER AU JAPON

SITES PRATIQUES
LANGUE JAPONAISE
ECONOMIE