08.06.09
Today, I officially became an Alien.

For my ETP friends who are anxious about the Alien Registration in Japan, let me tell you the whole story.

So, as you may know, when you plan to stay in Japan for more than 90 days, you have to go to the local governement -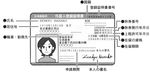 the ward- of your area to be recorded as a foreign resident. After that you may receive your Alien Registration Card that you have to carry with you at anytime, and to show to any authority who would ask you. You also need to be officially registered to be able to open a mobile phone account, for example.

The first step is to identify the ward you should go to - for Tokyo it depends on the ku you are living in. For Shinjuku-ku, here is the link to the website of the ward, with a loction map.

Shinjuku City Office
1-4-1 Kabukicho, Shinjuku-ku
Tel: 3209-1111


To go there, you should take the East exit in the direction of "Kabukicho"; wen you get out the station, you can see the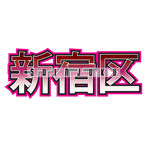 Alta Studio building just in front of you. Take the little street just on the left of the building ; at the end of the street the ward in just on the other side of the way !
The Foreign Registration counter is on the right of the hall, ground floor. You may ask the counter number 4 for a form, take a ticket and fill the paper. You will have to write basic information including your adress in Japan, passport number, and activity - here it's a bit complicated because we have a work visa but no company... So you may be recorded as an employee or a trainee, it depends on the person you have in front of you... But you can also come back and make the status change according to your future situation.
Then you receive a paper with your Alien Registration Number, with a date to come and pick-up your Alien Registration Card (two weeks days later or so).

Don't forget to ask a certificate prooving your registration if you want to buy a mobile phone before you receive you ARC. The cost is only 300 yen ; to get it, you receive another ticket for another counter, where all payments and receipts are done.

For the ones who worry about the communication with the employees, I had the feeling that most of them could understand English, but prefered to speak in Japanese. Shinjuku-ku is full of foreign workers and students, so they are used to deal with our requests and questions. So don't worry to much, because you are the one who give the essential of the information...

If you need to kill time while you are waiting for your number to appear on the screen, I recommand the little leaflets "Living in Shinjuku" that you can find on the wall; it is full of recommandations to be a nice Alien - for example, you should not cook dishes with a strong smell using spices that the Japanese people are not used to smell. So if it smells like Japanese food, it's alright, but if it smells like Alien cooking... だめ、だめ !!!

Welcome to Japan ! :)




05.06.09
My street
My place
03.06.09
I said goodbye to my friends, one by one because their schedules were deeply incompatibles.
I had cheese, champagne and my Mum cooked my favorite dishes for me.
I enjoyed the weather : an unbelievable sun, with blue sky and fresh air, as if Paris had decided to proove that it can shine, whatever I think.
I checked the weight of my luggage : 29, so I had to bought 10 extra kilos to Air France. Deep communication crisis doesn't seem to have any positive impact on the price to pay for 9 kilos of absolutely essential things.
I saved my recent files on my hardware.
I gave my perfumes to my Mum, my nail-polish to my sister, and my girly notepapers to the neighbour's daughter.
I watched a stupid-but-very-French comedy movie.
I had a moving mail from my Japanese friend who stays in France for her studies.
I wrote the PIN number of my mobile phone that I don't take with me on a little paper I put in the drawer with the battery.
I checked, double-checked, triple-checked that my passport was in my handbag at the right place.
I gave my last euro coins to the guy who played the guitar in the surburb train.
I put my Teddy Bear (who is a rabbit, actually) in the cupboard. And I closed the cupboard.
I said to France that she should not change too much before I come back, or I would be very, very upset towards her.

I am ready to go...
01.06.09
ETP European modules are over !
Our second stay in London has been a busy but funny experience and between two kanji, we enjoyed to be together in the most cosmopolitan European capital. Don't we look totally happy ?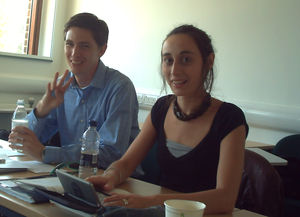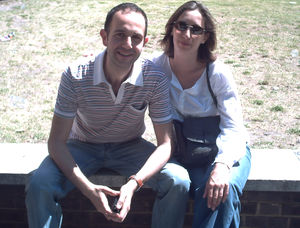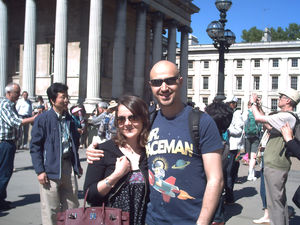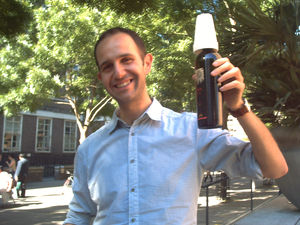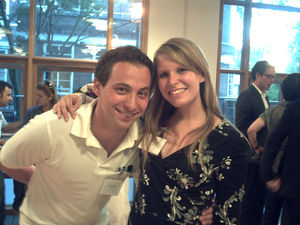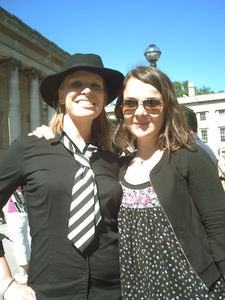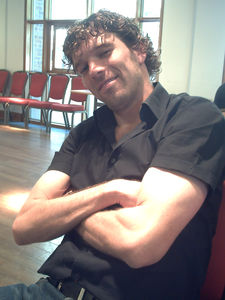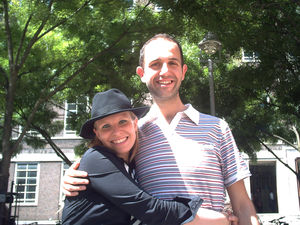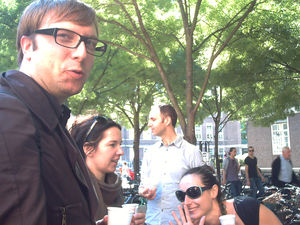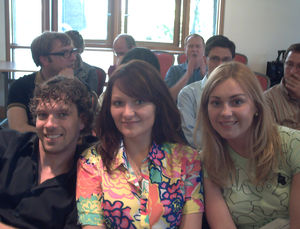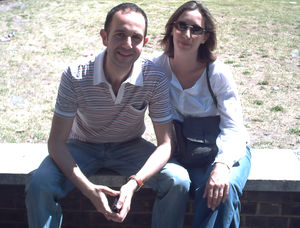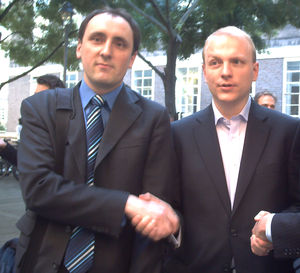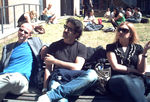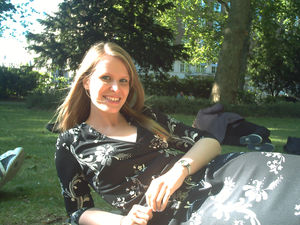 After exams, la dolce vitta...


What I loved in London :

- "Look right" and "Look left" written on the floor at every crossroad - would I still be alive if it hadn't be there ?...
- Squares everywhere : London breathes !
- The range of blueberry/cranberry/raspberry juices and smoothies...
- Shops opened on Sunday, very convenient when you work all Saturday long
- Nice Londoners who always proposed their help when I was watching at my map on the street
- Sherlock Holmes Museum with my sister



What we studied in London (group 4) :

- Self-presentation in keigo
- How to write a formal letter
- How to write a short essay about a personnal experience
- 10-minutes oral presentation on a free subject

Have a look at my group's hard workers !


Honestly, I had to study a lot to follow my classmates and to cope with the level of the group. I often found myself at the library until 11 pm. But at the end, for the first time of my life, I was able to do a presentation in Japanese (about the French castles, sooooo French isn't it) in front of 4 teachers - of course it was not perfect, but I think I succeeded anyway. Results wanted.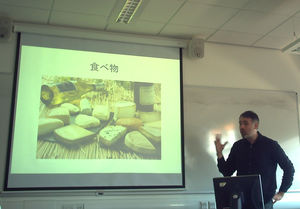 I have been amazed by the presentations of my classmates, especially the ones about Champagne and Spanish wines (strangely the subject of alcohol has been a brillant source of inspiration !). But the presentation we won't forget, in my opinion, was our honorable sempai's one dealing with the French Art-de-Vivre, stereotypes and so. It was awesome.

Here are a few samples of our kanji tests. When you do well, you receive the Subarashii Penguin - believe it or not but at the end you miss this penguin like a friend when he's missing on your sheet.
Now we are ready to go ! I already miss our ETP Korea friends, but it will be nice to hear about their adventures on the mainland in the coming months. Let's keep in touch, guys !

My flight in on Thursday - 3 days to say goodbye to friends, family and France. See you soon in Tokyo...


20.05.09
Two short movies to illustrate the issue of space in Japan : the shock of building and the harmony of building...
(Nobuo Takahashi's animation Japan - National Geographic's documentary The Penguin House).

19.05.09
Today, during the Japanese class, while I was trying to make a sentence to answer to the teacher's question, I forgot the precious and meaningful grammatical particle に (ni). One of my classmates, smartly noticing my mistake, suddenly interrupted my wrong sentence with a loud "Ni !". And of course, the two guys in the room who had ever seen the British Monthy Ponthy's terrific movie immediatly thought of the scaring Ni Knights. And it was hard not to laugh.

Finally, after seeing it again, our ETP expedition looks like the quest of the Monthy Python heroes who enter the Land of Ni, who meet the hostile and/but insane Ni Knights and who are totally lost in nonsense (they are absurd too, of course). Moreover, Ni stands for the first syllab of Nihon, the word for Japan in Japanese. And in Asia, we could also be taken for the ambassadors of christianity. So, for me, the metaphore is valid ! Let's bring them a shrubbery directly.

If you still don't understand what I am referring to, please have fun with the Knights of Ni !

09.05.09
Totally useless but awesome high-school-musical-style dance between Germany and France from the manga/anime Hetalia !!!
Congratulations to the maker, a crazy guy - I am so thanksful to you.
こちらはオレリさんです。

オレリさんもフランス人で、ETP についてブログの史記を書いて、日本が好きの人です。
目が美しいですからこのブログの名前A*eyesは本当にいい考えだったと思います。


Have a look at my ETP colleague Aurelie's blog, A*eyes (or the world seen through Aurelie's eyes). Of course, anyone who met the lady already knows that Aurelie's eyes, in true life, are especially beautiful green-grey eyes...

You should have a look just to get another point of you on our ETP adventure and on Japan in general. I also like the banner of the homepage, flashing like winks !


A* … like Anonymous and Adventurous.
*EYES … for whatever they want to possess remains available to all.
http://www.a-eyes.fr/

See you soon for more ETP fresh news !
27.04.09
Let's live on an island
Before the far-East archipelago experience, nothing better than an immersion in the most Western islands of Europe : ETP J 27 invaded the UK !
Just forget the pityful image of the English weather that you have kept since that junior-school language trip, remember... actually, spring here is amazing. It is sunny, it is colourful, it is perfect. London under the sun just makes you hesitate to leave for Japan, finally... Just have a look at this Russel Square...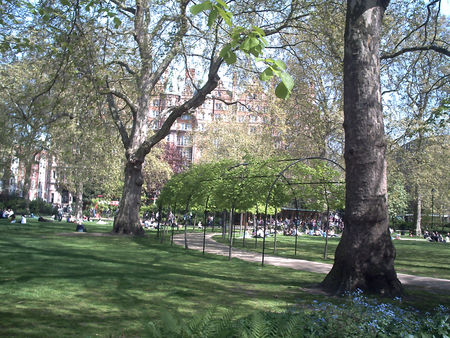 SOAS, School of Oriental and Asian Studies
... anyway, we can not really enjoy the city, because of our six-days a week intensive language training - if you do your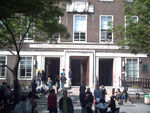 job properly, you spend all your free time learning these new kanji, doing these extra exercices, reading or re-reading this additional material... and your week-end to do everything that you could not do during the week, as usual. As a result, I did not often (you should pronounce the "t" of often, this is the British way, the other way is... "incorrect") have a walk out of the area of High Holborn. Fortunately we have everything around Russel Square : the square itself, perfect to have lunch in the grass and to run a bit after the classes; the uni premices which are convenient enough; and a quantity of restaurants offering any kind of food you can dream of...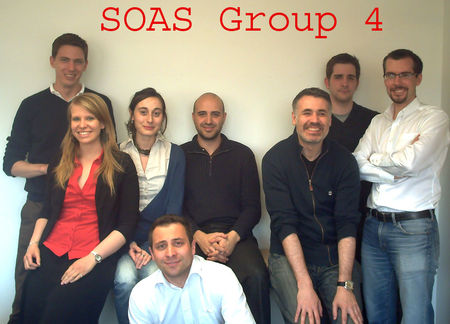 In class, we were finally divided into small level groups - a bit strange after two modules "all together" with ETP Korea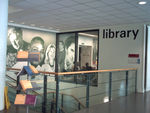 too, most of the time; in my own"level four" group, we spent the first week to try to remember how to use keigo and how not to mix everything. I fully realize now how far I was from managing with daily Japanese, especially about kanji. Personally, there is no common point between the language school classes I took before and this specific training. Good new, I reached 99% for the first weekly kanji exam (with a mistake on the easiest kanji, as you can guess) : what you give is what you get returned !

Saturday Night Fever
After exams, let's dance ! I discovered that some of us are quite good dancers, and at least very cheerful ones ! Good to know...
We finished this first Japanese language module as we began - under the sun, hunting kanji, having a drink after the classes.

To be continued soon with the second stay in London !