15.01.09
I read "Umibe no Kahuka" in French ("Kafka sur le rivage"), and after that my heart can not choose between the two
Murakami, between Ryuu's fascinating violence and Haruki's bewitching hypnose.
Be prepared, in Murakami's novels, you keep looking for, and you never find. The meaning of life, dreams, nightmares, fate are not revealed, never, even when the protagonists finally accept their destiny. It is a neverending quest of undetermined things. Sometimes you sink into nightmare scenes (following a mysterious cat murderer - after reading you will never look at a Johnny Walker's bottle in the same way), sometimes you just stay at the fringe of daily reality in subtile mono no aware ( the melancholy of things). Love is always the memory of love, the dream of a memory of love, the projection of a dream of a memory of love - and finally, love is always something lost or not happened yet, something you can't live for itself, right now.

The story itself is the one of a young man, Kafka Tamura , a new version of Œdipe who is convinced (thinks? knows? wants?) he is going to kill his father and sleep with his sister and mother. To escape to his destiny, he leaves home and goes across Japan, surviving. His trip is full of little considerations about how to find his way, how to save money, how to know who is really unknow in this world where strangers always seem to be the brother, the sister you should have had. At the same time, we follow another protagonist : lonely, old and handicaped Nakata, who has the unexpected power to talk to cats. A strange, dark and bloody event in his childhood left him outside the true world. Because Nakata has been cursed in the past, because Tamura is walking to meet his own curse, and because time has windows between past and future, we have the feeling that their lives are linked by a dark secret which absolutely has to be highlighted - but don't hope too much.
And you swim into this fantastic world, with ghosts, angels, Japanese and over-seas references ; and you don't mind if you don't understand, because it is so pure, so original, so close to your own dreams. Athmosphere is definitely the most striking component of this novel, in the way of Lynch's Mullohand Drive. Every single page, even in foreign version, is a piece of dream.

Interested in loosing your steps, have a walk with Kafka on the shore.

Murakami Haruki, Umibe no Kahuka


02.01.09
Very moving CM by Tryo : for the ones who can't understand French, the song deals with all the bad news which reach you on the morning, and all day long : wars, unemployement, contamination, all these huge issues you have no idea how to fix it, this reality in front of which you feel poor, weak, lonely, and still angry. But, "toi et moi", the two of us, we never appear on the TV news, we are just here together, we love each other, it is so simple, so far from all this. We, all life long, surrounded by our family, it is another world, another reality.



Ce n'est pas trop dans mes moyens (480 euros...), mais je salue l'initiative des éditions Diane de Selliers qui proposent depuis cet hiver une véritable merveille : une version illustrée du Genji Monogatari - le Dit du Genji, la perle de la littérature classique japonaise... les dessins et peintures (réalisés entre le 12ème et le 17ème siècles), traqués par Estelle Leggeri-Bauer pendant sept ans, devraient souligner la beauté plastique du "premier roman de l'humanité" qu j'ai moi même découvert traduit en français par René Sieffert. Cette démarche tombe sous le sens quand on a lu le Genji Monogatari : l'auteur, Dame Murasaki, y dépeint une Cour de Kyoto où le verbe et l'image forment un prisme unique dans lequel se perdent les êtres, aux prises avec les deux grandes tendances du Destin : Magnificence et Impermanence... On est définitivement sur le terrain de la représentation, entre reflet, mémoire, et dilemne de l'interprétation.
Dès les prémices du récit, on comprend le rôle de l'évanescence dans l'oeuvre de Dame Murasaki ; une femme follement aimée de l'Empereur met au monde un prince beau comme le jour. Mais, d'extraction trop modeste pour ne pas attiser la rancoeur des autres captives du Palais impérial, elle succombe aux jalousies de ses rivales, aux intrigues de paravents et à la cruauté feutrée des beautés délaissées par le dieu vivant. Ecarté de la succession, le nouveau-né sera Genji, un prince destiné à fonder sa propre lignée ; sa vie sera celle de l'aveu d'impuissance à garder l'être aimé. Les beautés irréelles appartiennent au monde des songes et y retournent toujours trop vite. Toute sa vie, le Genji se perd dans la quête de la femme idéale, et la perd sitôt qu'il l'a trouvée.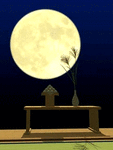 Murasaki Shikibu a écrit le Genji Monogatari aux alentours de l'an 1000, en faisant allusion à l'époque Heian, un moment de paix immobile dans l'histoire de l'Ancien Japon où la guerre des clans fut momentanément suspendu par la main mise de la légendaire famille Fujiwara, qui s'assurait la Régence par le jeu des mariages. Les héritiers impériaux ne règnent pas et se consacent entièrement à la contemplation de leurs errances sentimentales. Il reste la vision douce-amère d'une dynastie disparue, la prémonition de la fin de l'âge d'or, le constat de la vie qui ne fait pas vraiment sens... et s'achève dans l'inachèvement, comme le roman lui-même.
Longue vie au Dit du Genji !
01.01.09
On January 1st, 2009, at 5 am (Japan Time), I was at the top of Roppongi Hills to wait for the first sunrise of the year.

I definitely felt the meaning of "Sunrise country", Nihon : I couldn't have imagined such a beauty, nor the enthousiasm of Japanese people around me who were totally bursting in love with this first sun despite of the early hour.

二千九一月一日 六本木ヒルスから今年の一つめの日光 を 待って見ました。
本当に日本のいみですね。
すばらしくきれいで びっくりでした。とても早く来ましたでも そばにいる人は元気に太陽をかっさりしました。