05.01.14
For ages, I have wanted to go South until Nagasaki, the western port-city of Kyushu island. I'm happy to announce that my first resolution for 2014 has been to fulfill this wish.
Sadly famous world-wide for being the second and last city to date to have experienced a nuclear attack, Nagasaki is actually, just like Hiroshima, a very lively, bright and colourful city. Even if the memory of the atomic violence has not faded yet, the city seems determined to celebrate its history in a positive way. For a long time, Nagasaki has been one of the very few gates to Japan for the foreigners, espacially for Europeans. The old fisherman village became a meaningful town when the Portuguese tarders and missionaries settled there in the 16th Century; in the early 17th, the Dutch came too, and later the British. Strangely, in addition with their own economic interests, the Europeans also participated to the China-Japan business relations, when diplomatic matters were forbidding the two nations to communicate with each other.
Welcome to the cosmopolitan port of Nagasaki!
Sofuku-ji, a zen temple in Nagasaki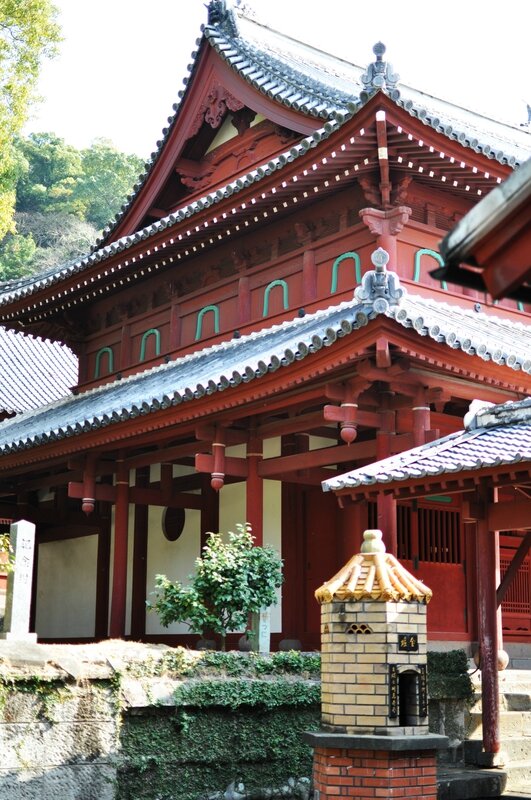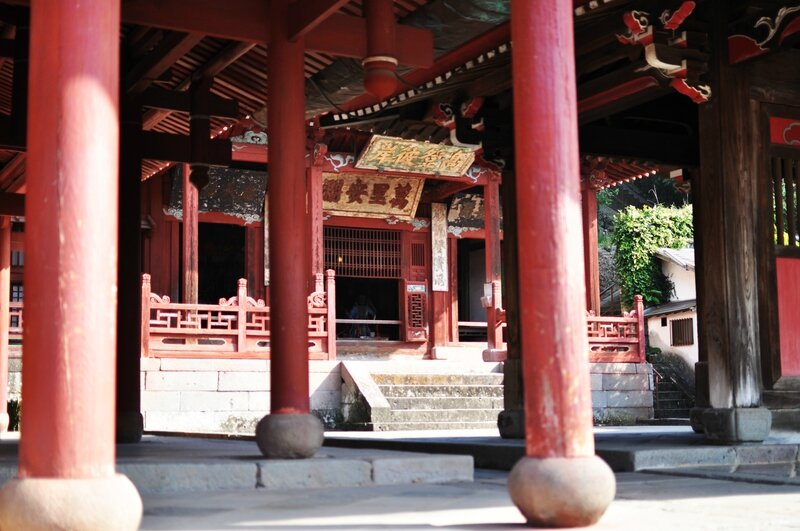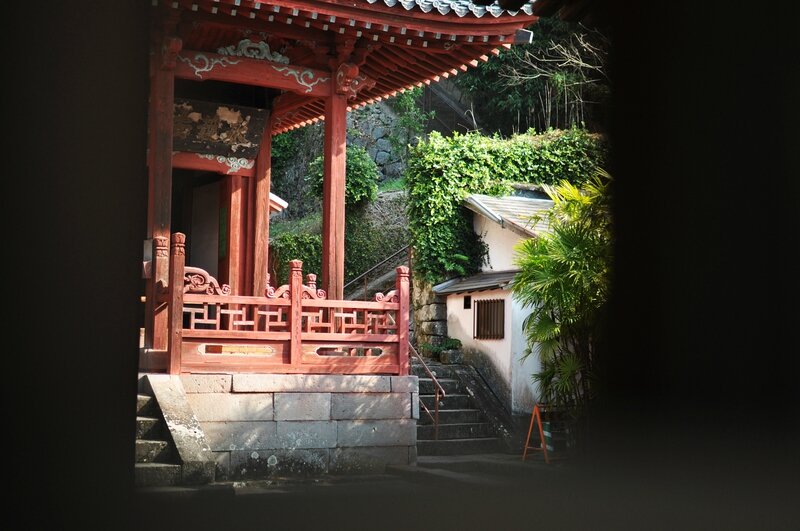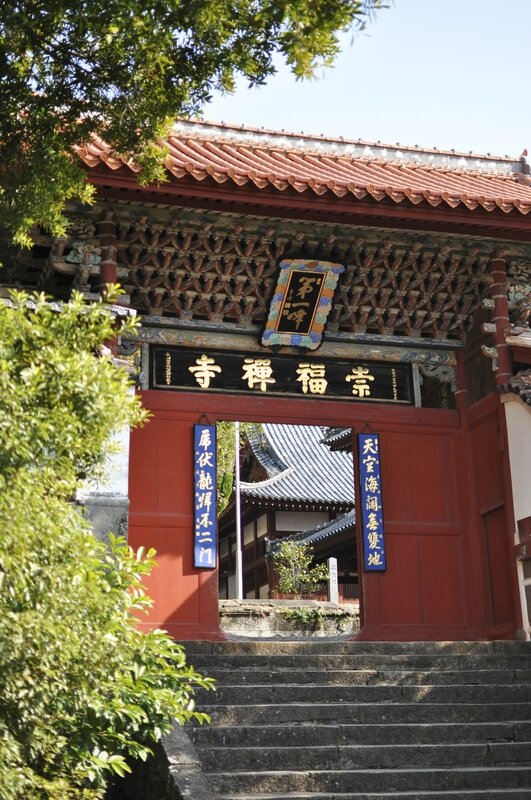 One of the most famous landmark of Nagasaki is the Megane-bashi, with its double arch that makes like a pair of glasses. Build in 1634, ans still standing!
Megane-bashi, the "spectacles bridge"
Because of the Portuguese and the Dutch communities who have been living there, Nagasaki is strangely ponctuated with pointed church roofs. It feels so weird to see their familiar and unexpected figures in the skyline...
Is it Japan here, really?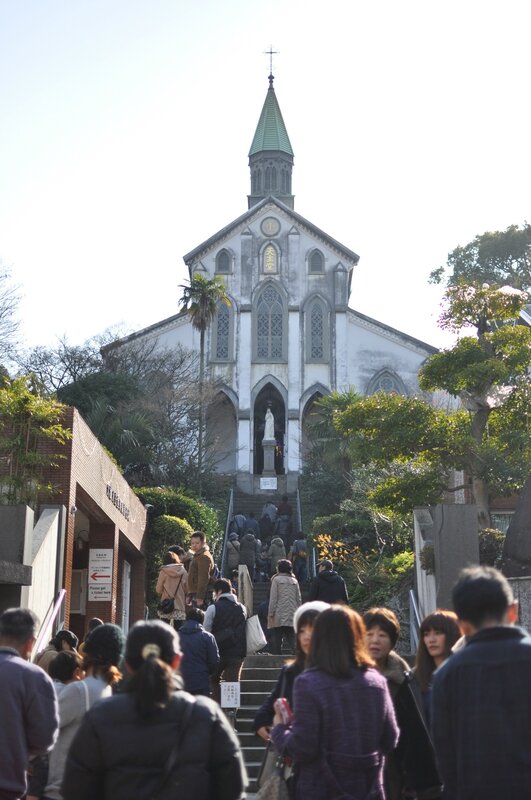 On the top of Glover Garden hills, old Dutch mansions have been conserved in memory of these Europeans who decided to start a new life in Japan, in these old times when there were no phone, no internet, no plane to keep connected to your hometown. I'm always moved to discover the life of these pionneers who suceeded in make Japn adopt them, in such circomstances.
Glover Garden Dutch heritage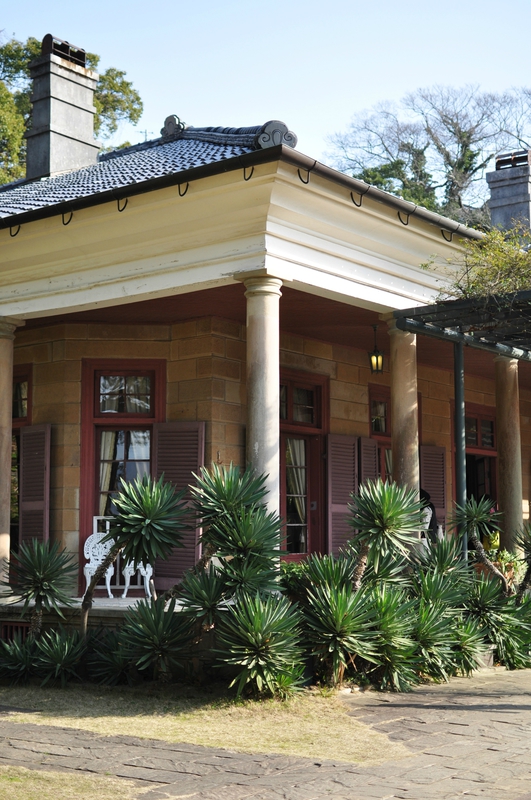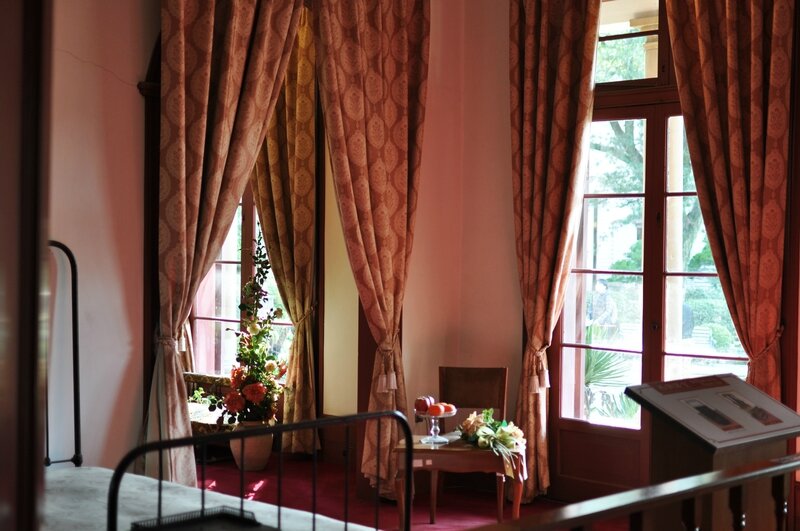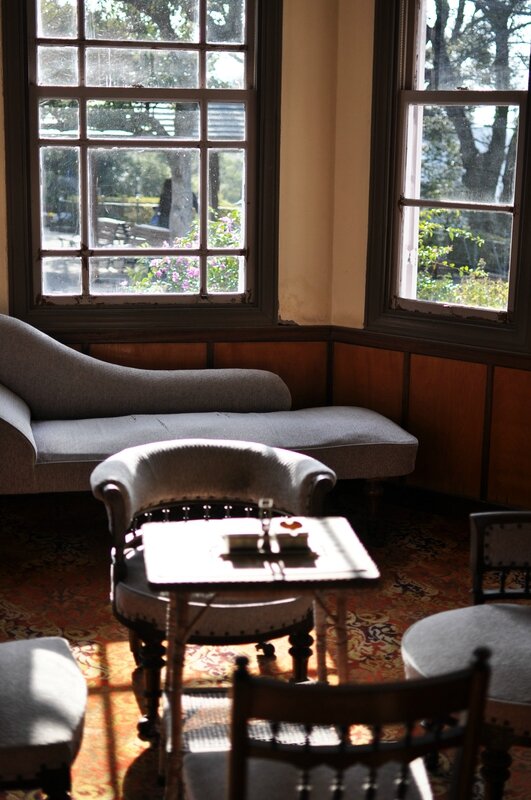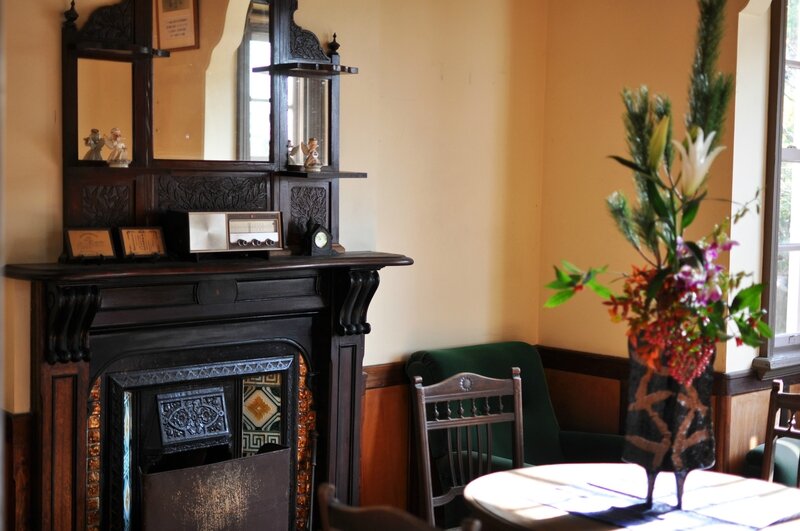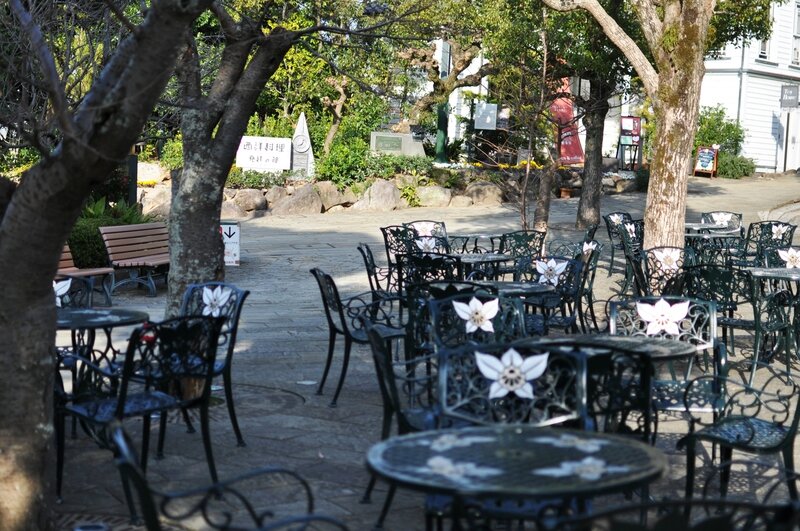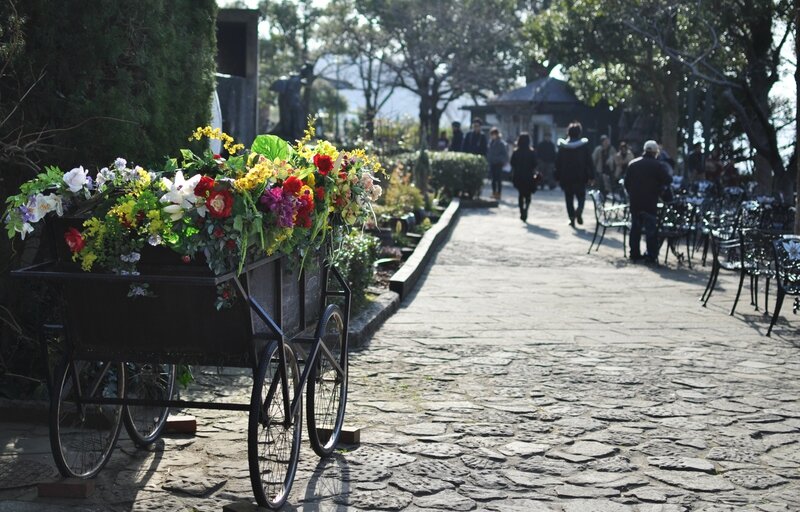 The Portuguese preached two things in Japan : Christianism and castella (castillan cake). Well, the second grew definitely more popular than the first. Castella is a smooth, sweet sponge-cake, absolutely delicious with a cup of tea. It's funny because the recipe disappeared in Portugal, and is now the very best sweet speciality of Nagasaki.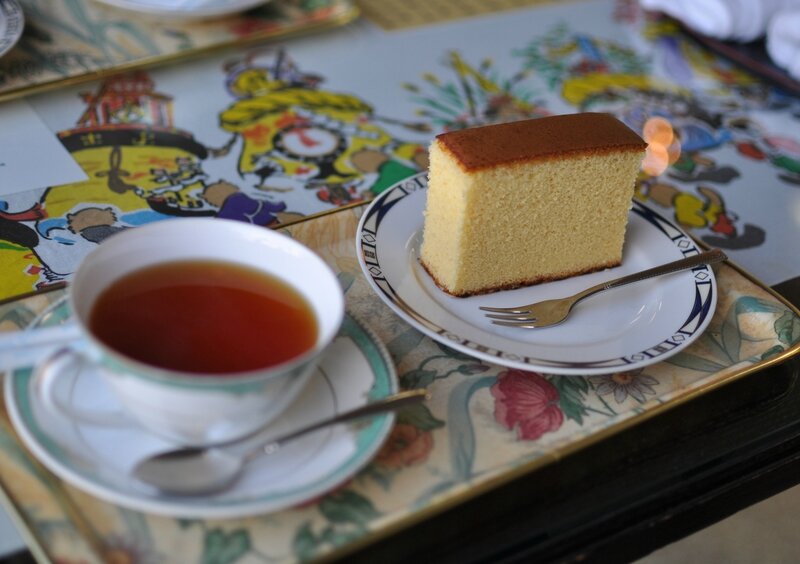 But as always when it deals with international Japanese cities, you can't deny the Chinese touch.
Nagasaki Chinatown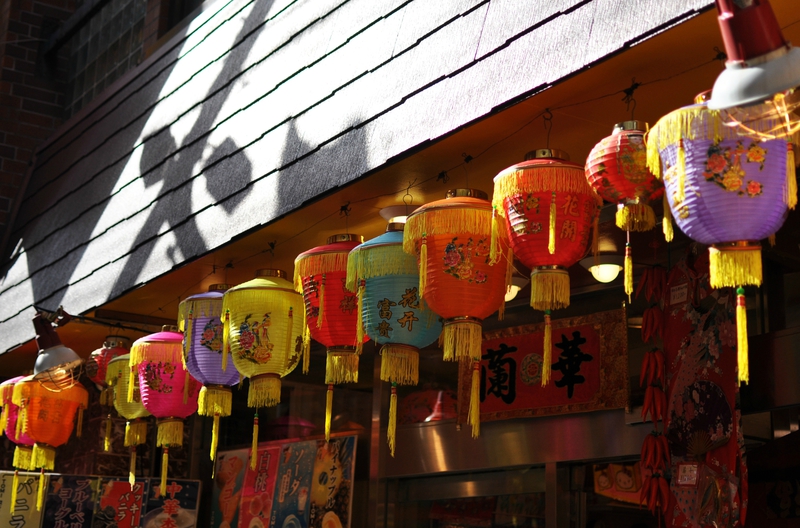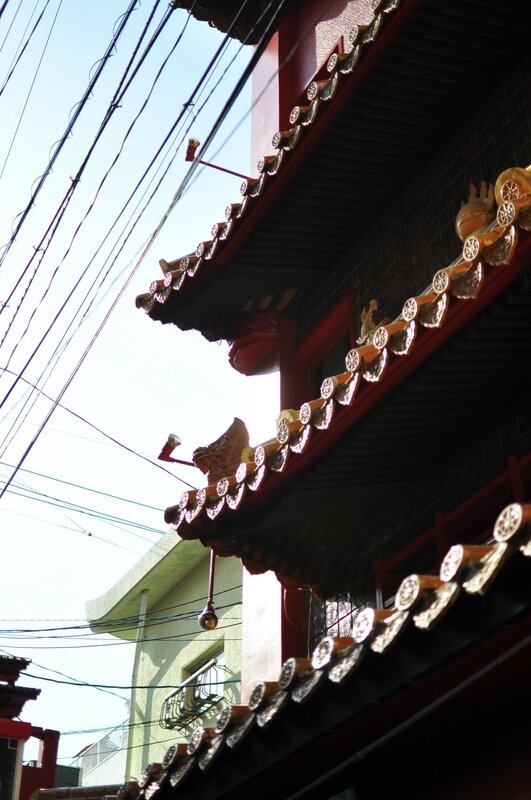 Nagasaki Chinatown offers the most delicious street-food ever : kakuni-manju. So yummy I could have cried. Imagine a piece of meltingly soft braised pork, inside a tasty manju. Oh my, oh my.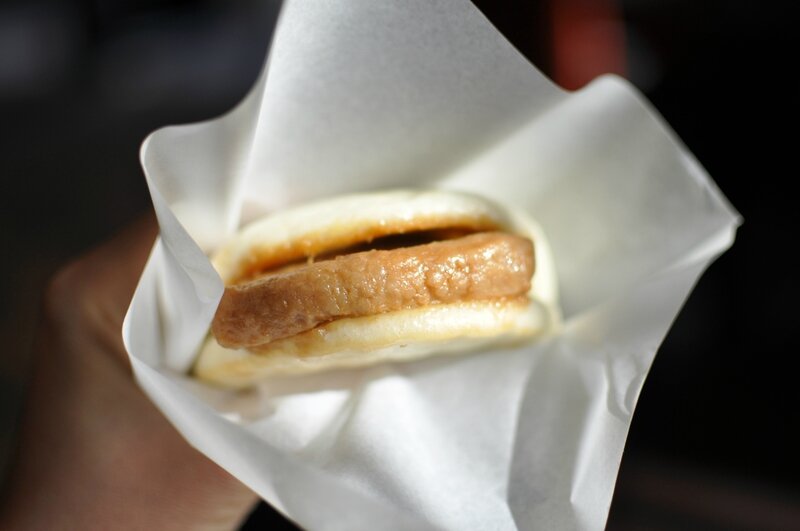 And now, the big show. I told you Nagasaki enjoys celebrating its roots; let me introduce the most Dutchy-dutchy place ever out of the Netherlands : Huis ten Bosch, the mini-Holland, an enchanted world of tulip, mills and gouda cheese!
Huis ten Bosch, Deutch paradise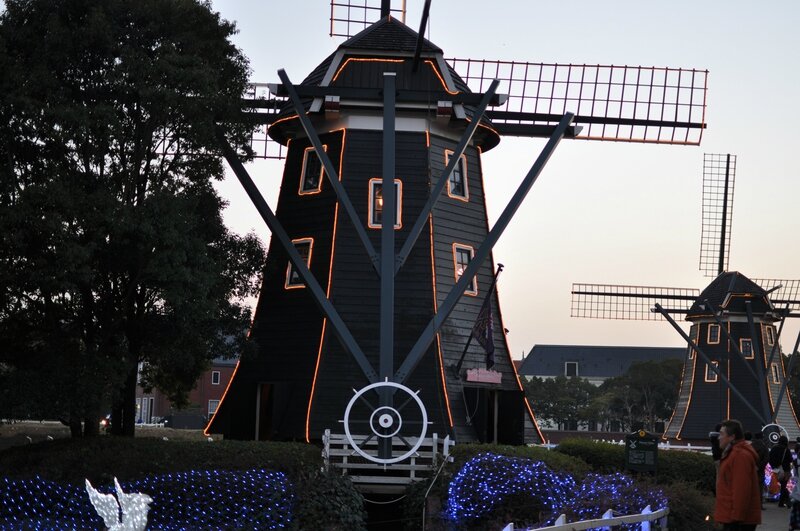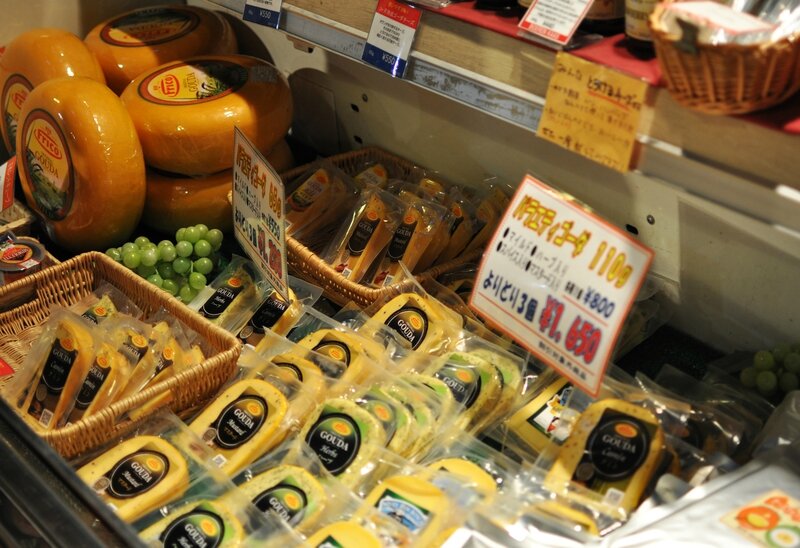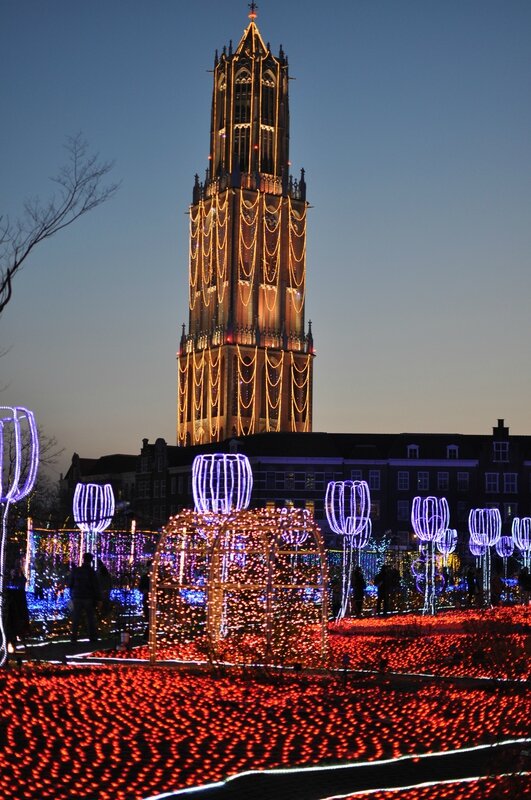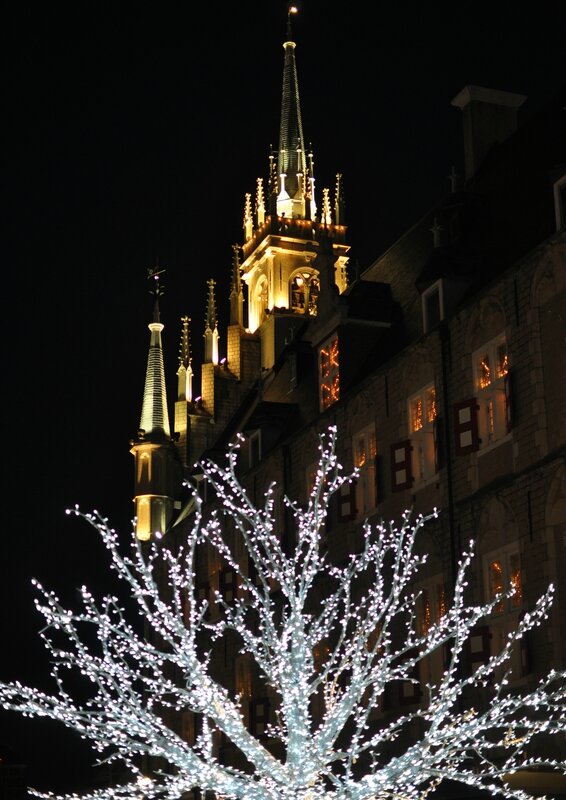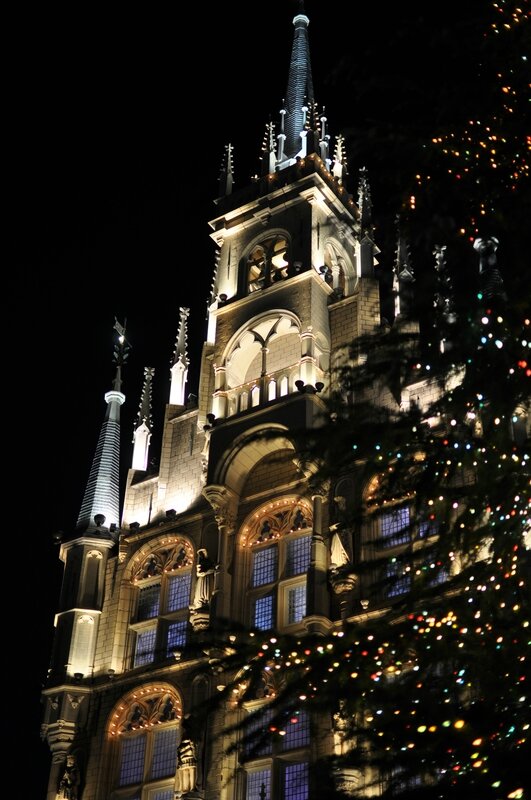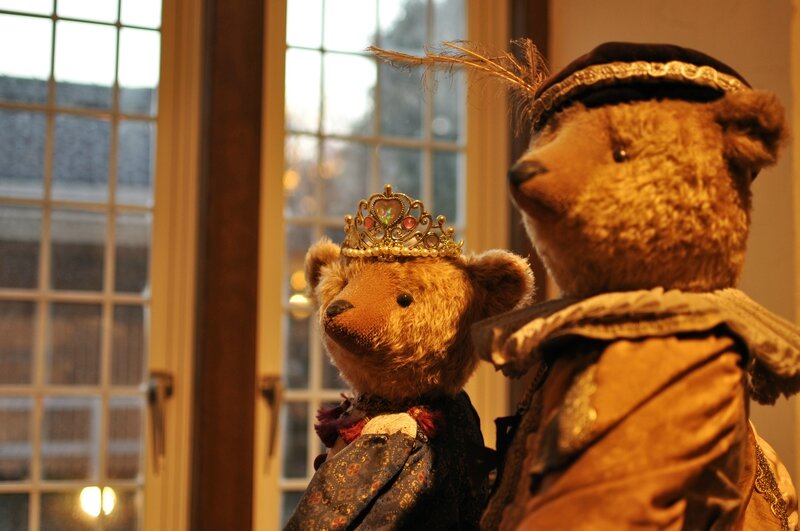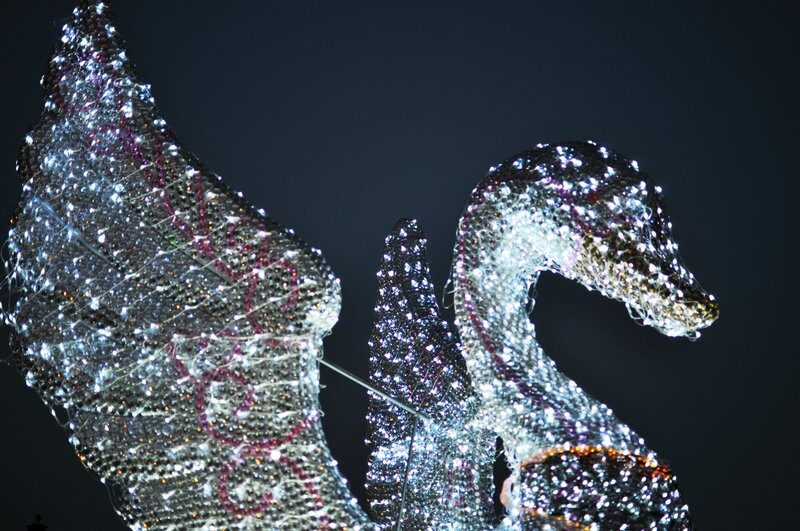 That's all for today! Don't miss the chance to go Nagasaki if you can. Some places have this ability to make you feel alive...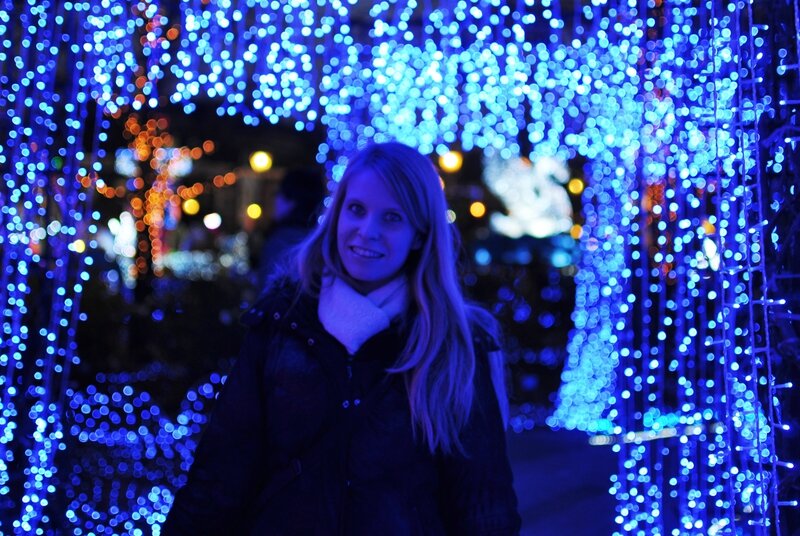 04.01.14
What is your definition of hell? Spending your priceless lifetime to perform unpleasant tasks, to stay alive ? Oops, no, they call that "work". Restlessly pursuing illusions, hopelessly expecting to find your soul sister on earth ? Nope, this is "love". But let's get back to a more traditionnal image of hell : steaming rocks, burning lakes, sulfur mists all around, thunder noises coming from the depth of the ground... In Oita, Kyushu, there is a place called Beppu, where you can visit eight different hells. The Japanese volcanos, which also make sweet and relaxing hot spring bath, are responsible for these "curiosities" of nature. There you can feel the power of Earth ! Let me show the way through hell...
The way to hell : Oita volcanic region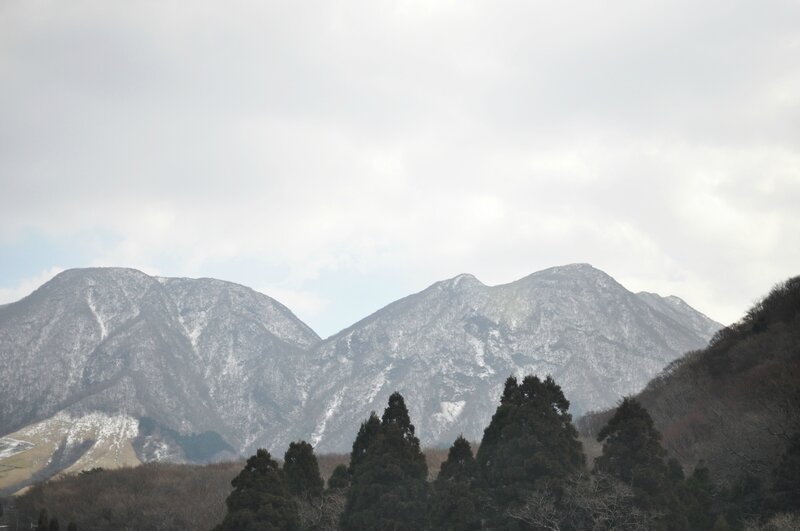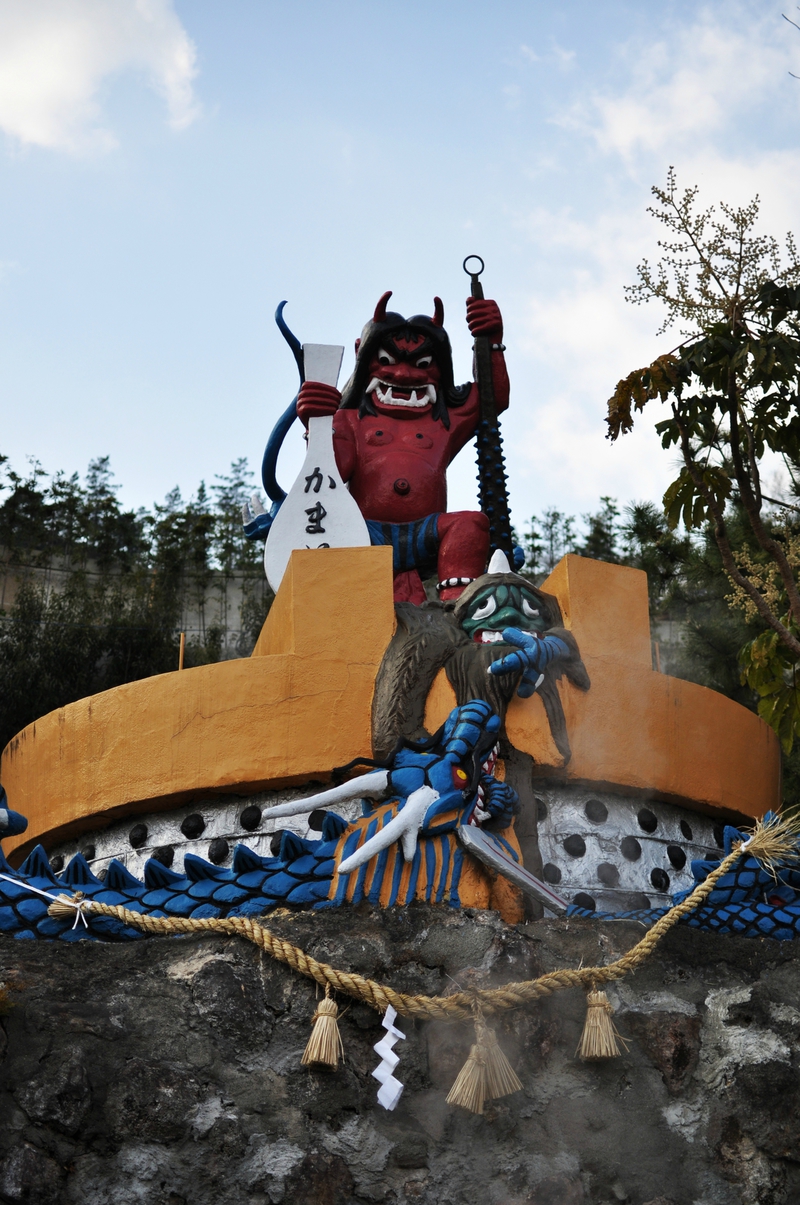 When you get close to Beppu accross the countryside, the lanscapes start to steam. Rivers are steaming, rocks are steaming, and so do the watercourses and the fields. Everywhere under your feet, the power of volcano is boiling.
The hells are now divided into eight touristic venues, also featuring exotic animals like hippo, flamingo or crocodiles, apparently very happy to rest in the natural hot waters. I have to say I had another vision of hell, but anyway. Let me show you the parts I prefered.
Hell, no. Come on. Let's be serious.
Umi-jikoku : the sea hell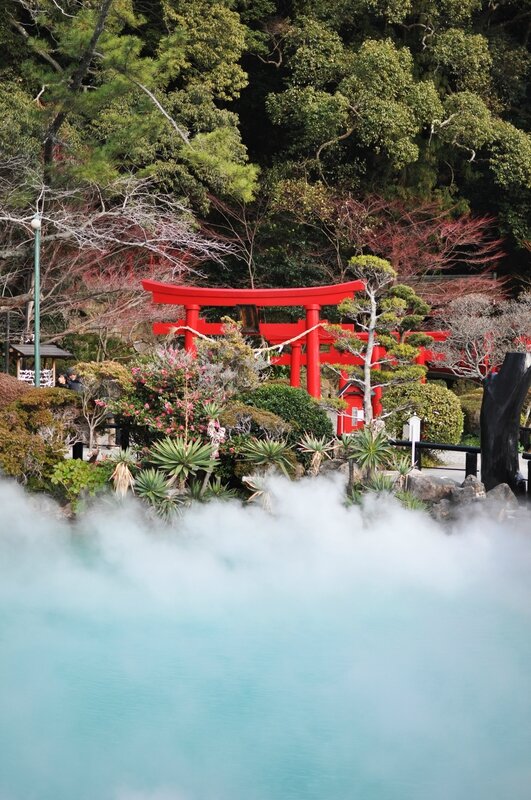 With its 98° blue steaming waters, Umi-jikoku is from far the most beautiful hell ever. What is impossible to describe is the strong smell of rotten eggs (sulfur, actually) lingering around. You can also small real eggs, because boiling it directly in the pool is so much fun, isn't it.
Hard eggs on the way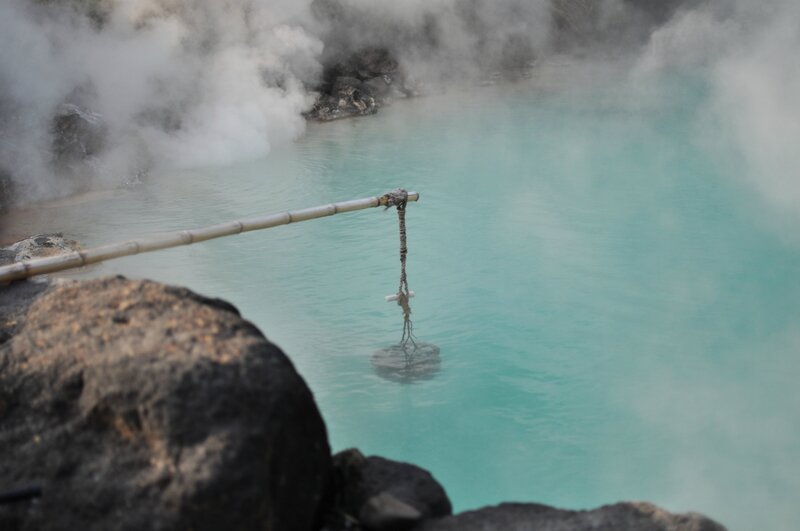 Umi-jikoku is partly covered with water lilys and large leaves that can bear more than 20 kilos. If you dare, you can put your baby on it.
Oniishibozu-jikoku : the mud bubbles hell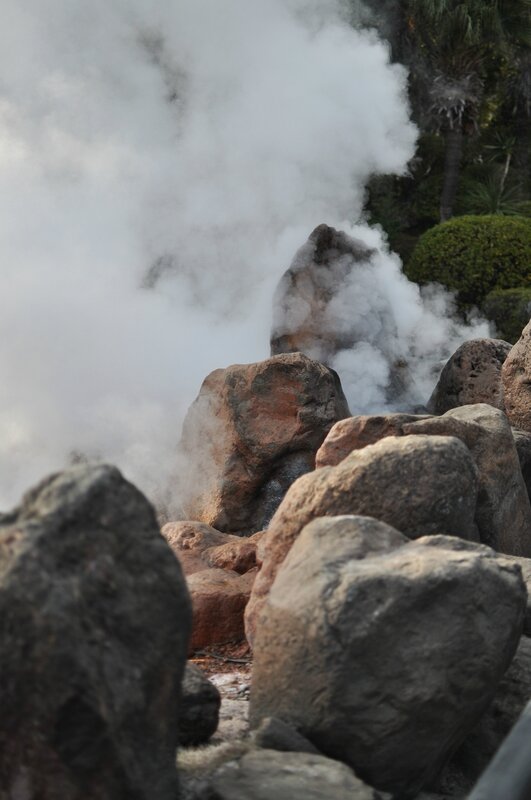 This is the clay in the ground that gives to this hell this very special white color. After umi-jikoku, I found this hell the most impressive.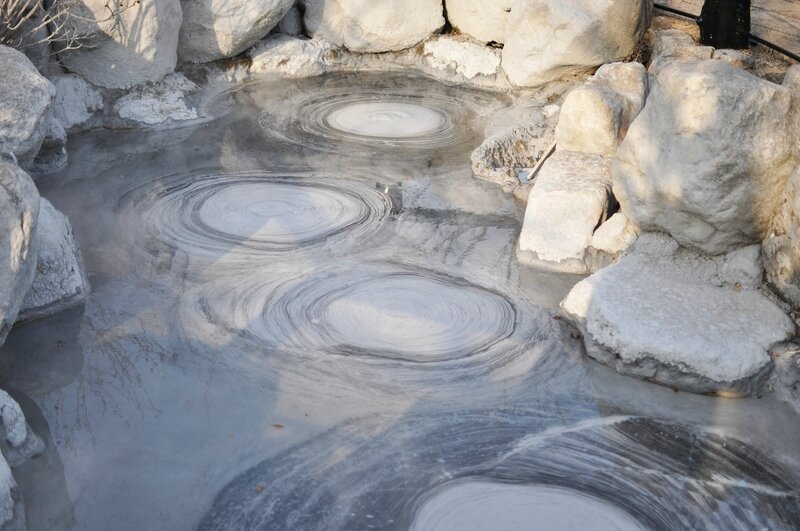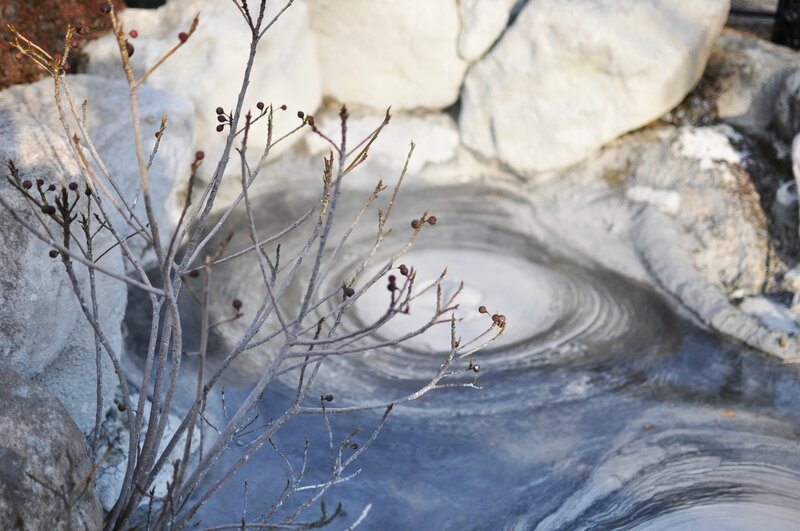 Yama-jikoku : the mountain hell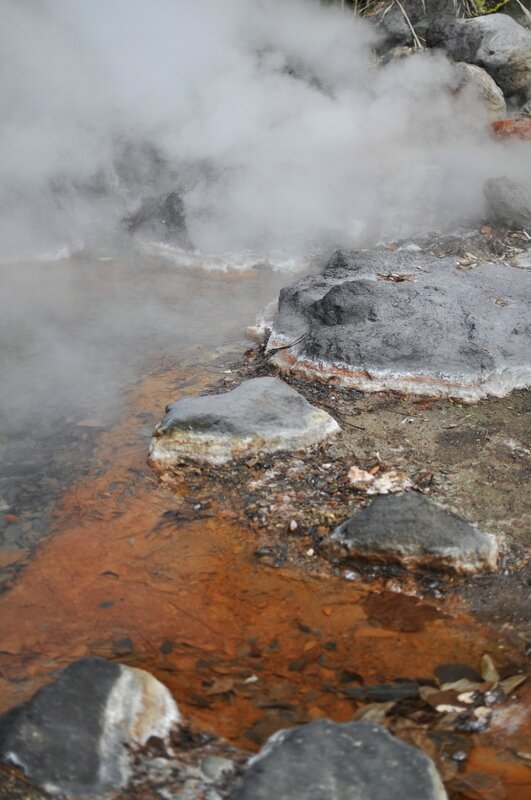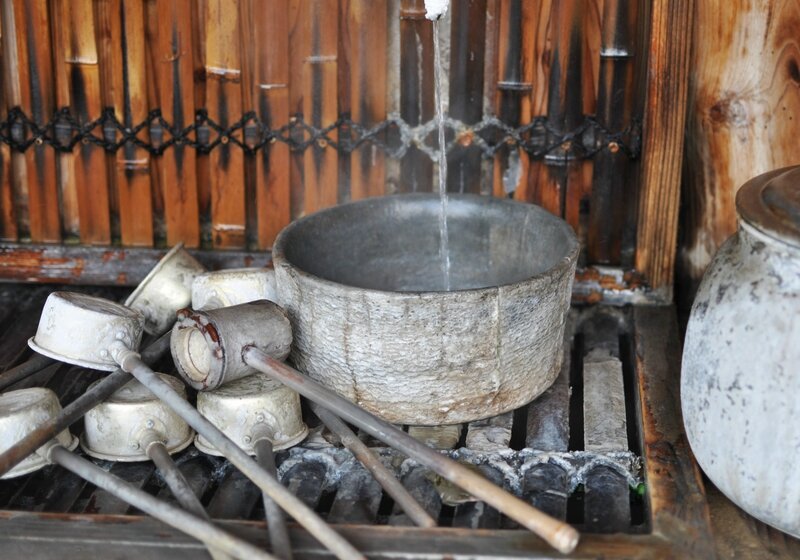 Kamado-jikoku : the "cooking pot"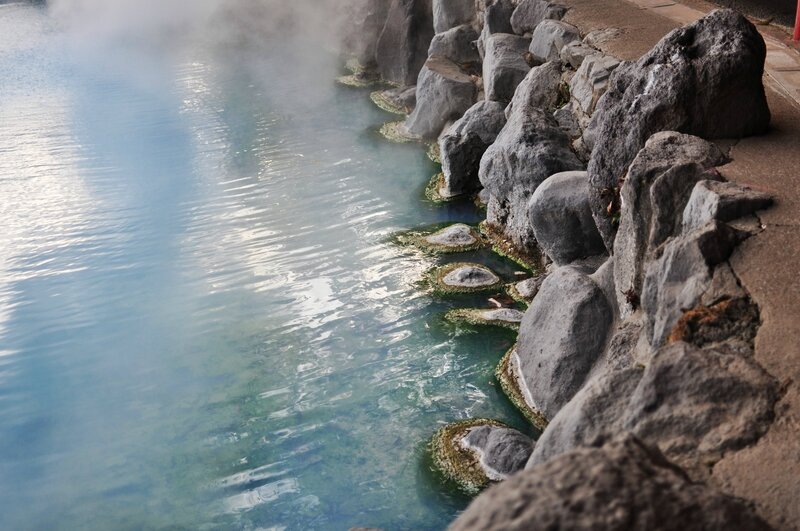 Pretty, isn't it ? It's a pity it's really too hot to take a bath...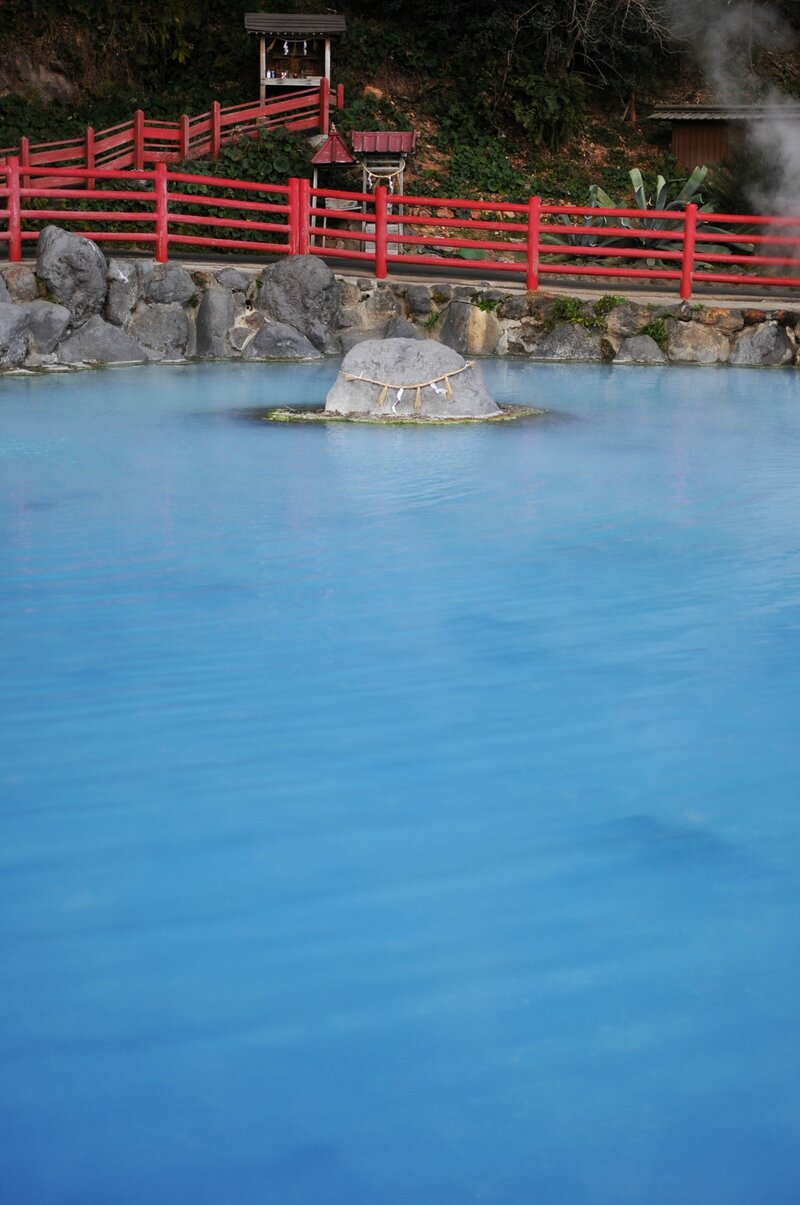 ... but a foot-bath will go !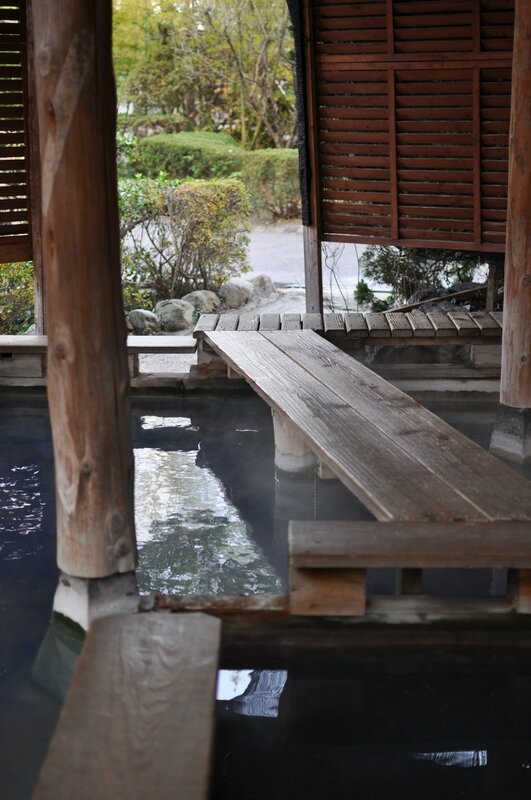 Shiraike-jikoku : the white pond hell
Chinoike-jikoku : the blood pond hell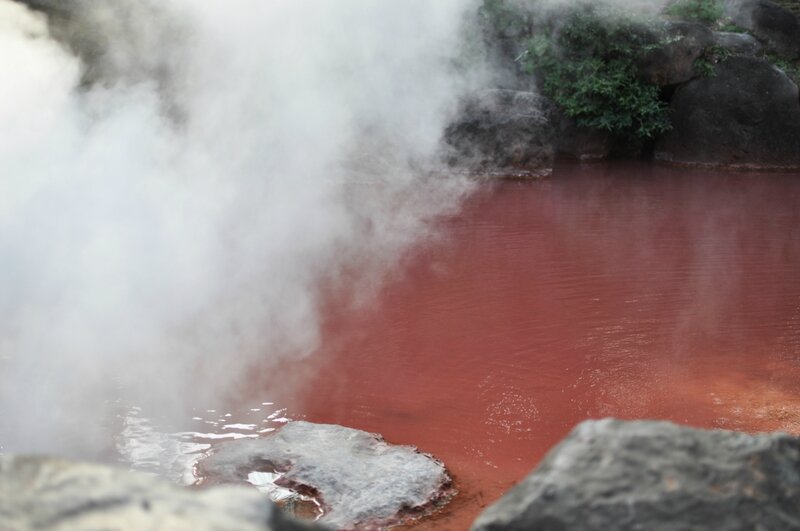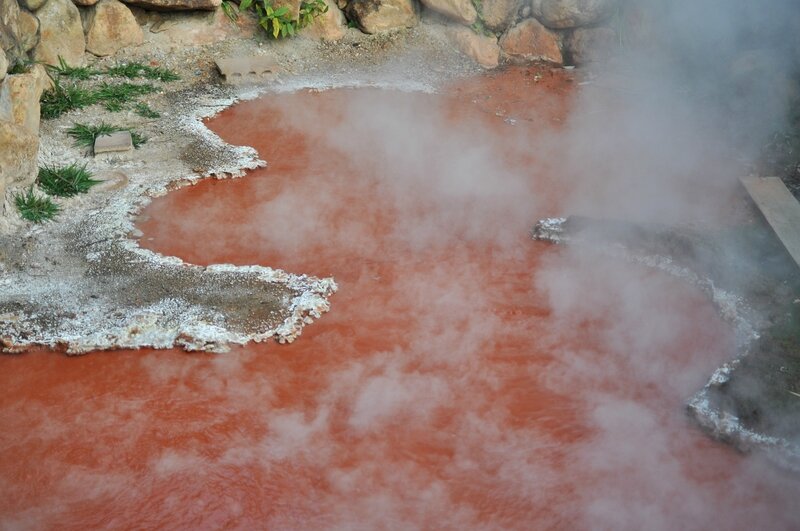 Exotic looking plants enjoying the micro-climate...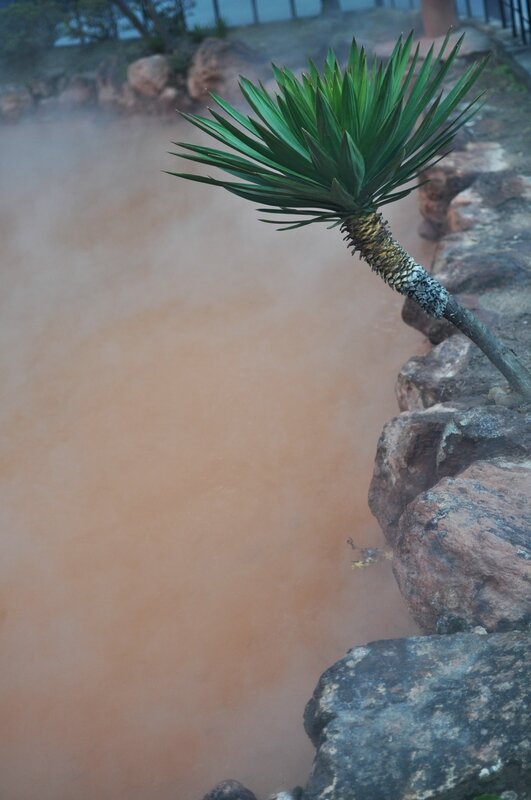 Your Eurydice, a bit drunk with sulfur steams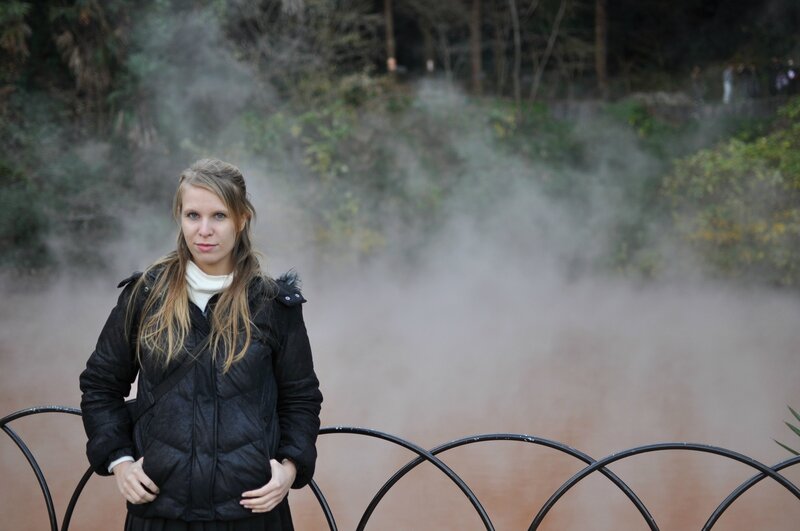 Tatsumaki-jikoku : the geyser hell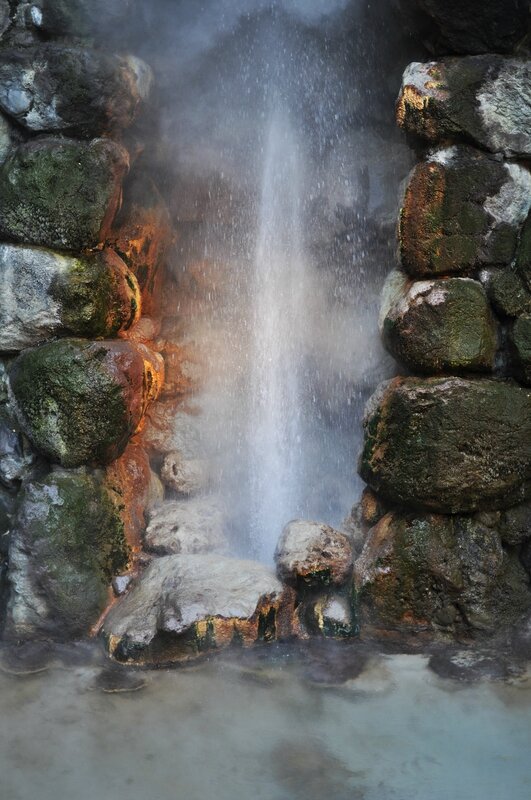 This last hell geyser is bursting every 40 minutes with a real devilish sound.
Did you enjoy the visit ? Next time, let's go and see a bit of heaven, for a change !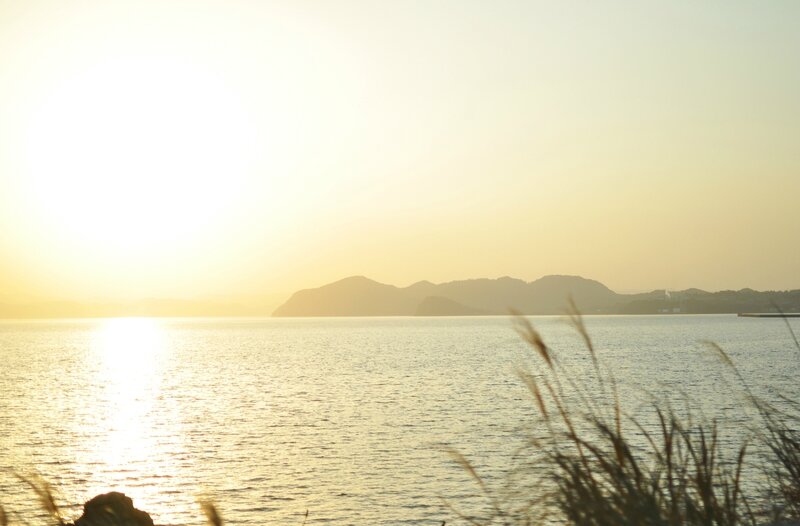 28.12.13
Raindrops on roses and whiskers on kittens, Bright copper kettles and warm woolen mittens, Brown paper packages tied up with strings
These are a few of my favorite things
Cream colored ponies and crisp apple streudels, Doorbells and sleigh bells and schnitzel with noodles, Wild geese that fly with the moon on their wings
These are a few of my favorite things

Girls in white dresses with blue satin sashes, Snowflakes that stay on my nose and eyelashes, Silver white winters that melt into springs
These are a few of my favorite things

When the dog bites, When the bee stings, When I'm feeling sad, I simply remember my favorite things, And then I don't feel so bad!
Mumm champagne for two, pretty cups and bubbles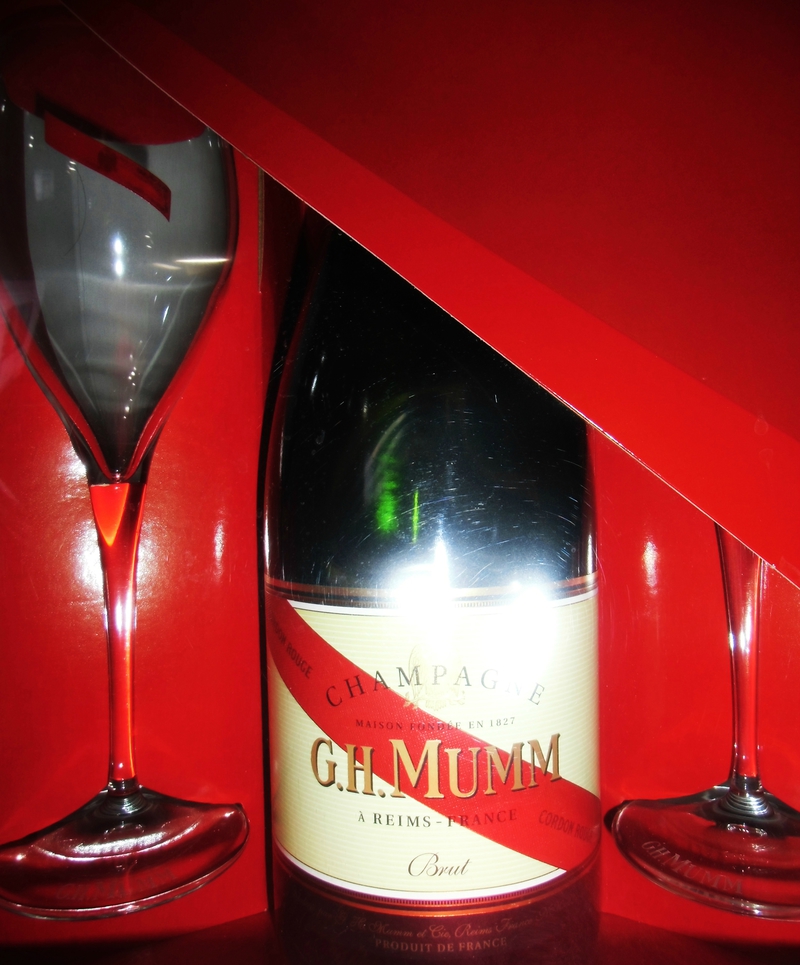 Home-made dinner at the light of the candles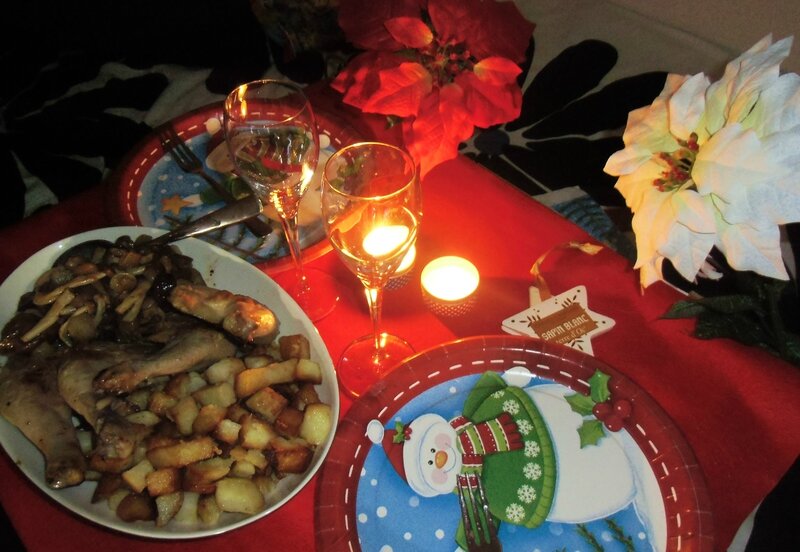 Reindeers figures flying in the night wind , These are a few of my favourite things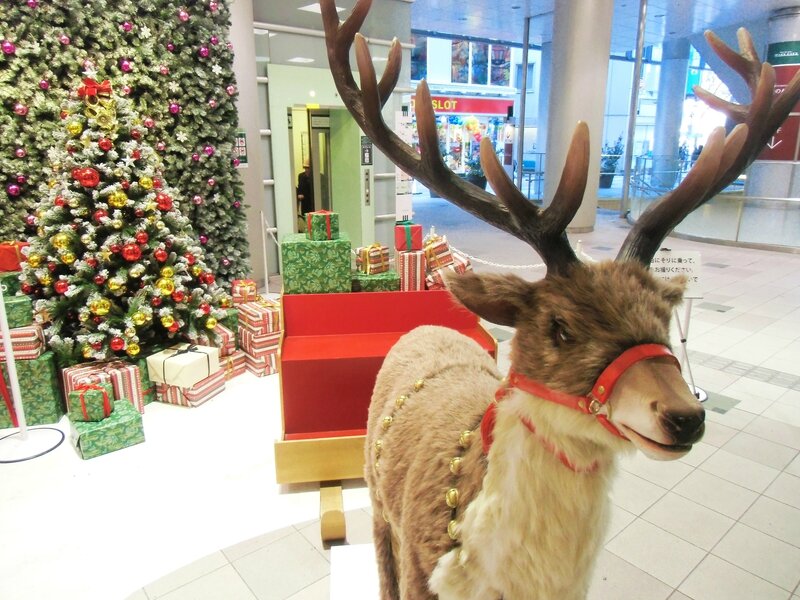 Korean Chorus singing Christmas Carols
Full orchestra on the stage for the encore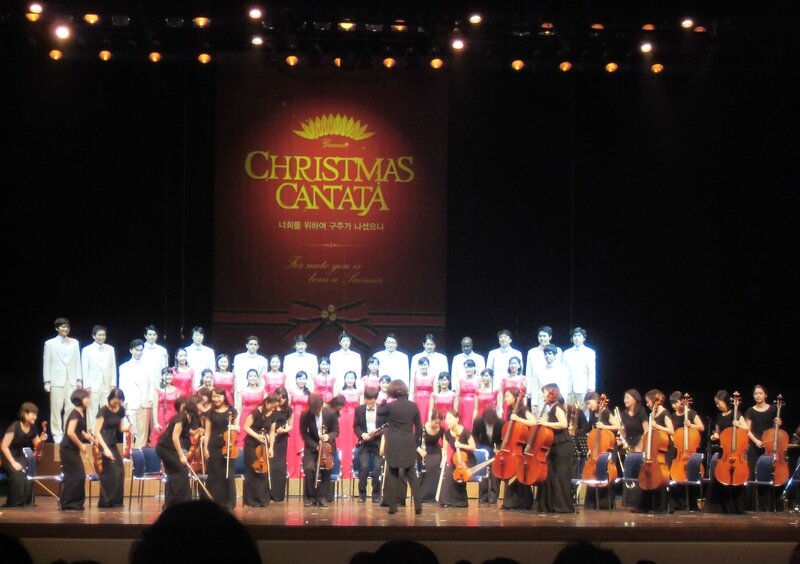 Pure angel voices moving me to tears, These are a few of my favourite things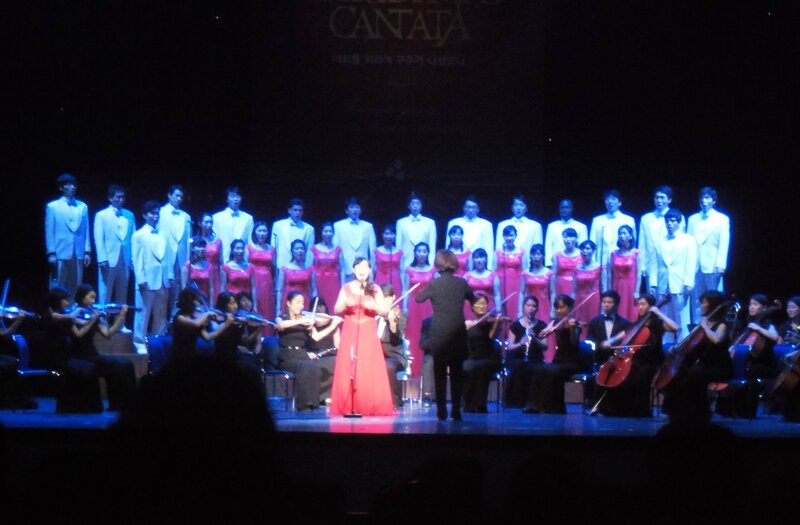 When the dog bites, When the bee stings, When I'm feeling sad, I simply remember my favorite things
And then I don't feel so bad!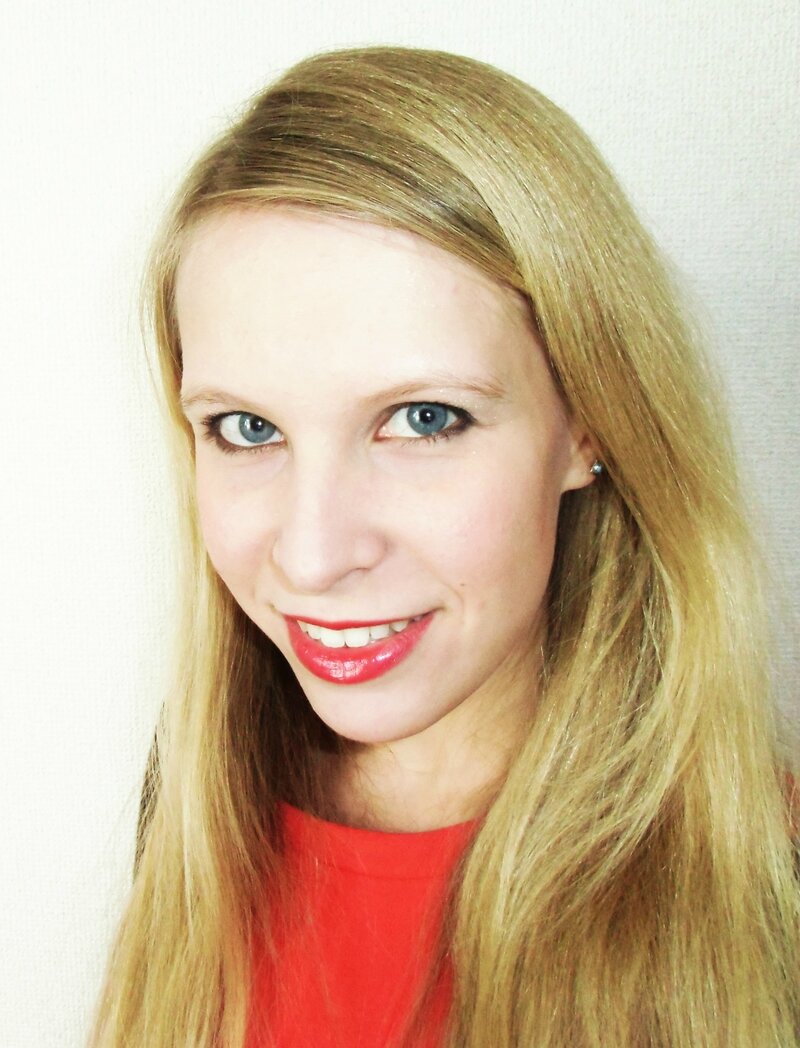 Blowing red kisses.
Lots of love
23.12.13
Let's face it : Christmas in Tokyo just can't compete with Christmas at home. Japan is not a Christian country, so there is no suprise. Despite the overdose of Christmas songs in the shops, the so-called crhistmas menus in the restaurants, and the girls wearing red and white mini-skirts on the street, will, it dosn't feel the same. December 25th will be a noraml busy day, and all the snowy decoration will disappear in a blink at the end of the day. Fortunately, illuminations can save the night - if you don't go during week-ends or rushing hours : yesterday, it was a two-hour queue in the cold wind just to have a look at Roppongi Midtown Christmas lights. Ah, Japan.
An ocean of blue lights at Shiodome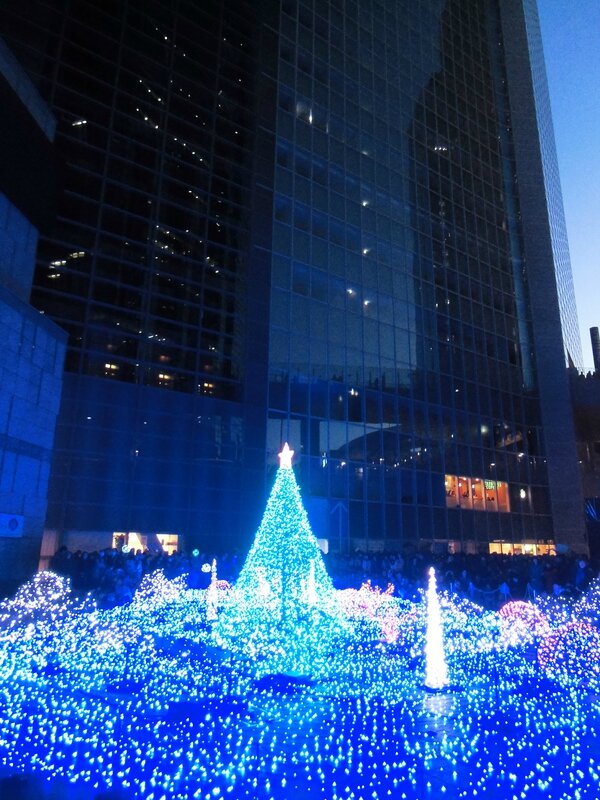 A red and gold light cone at Roppongi Hills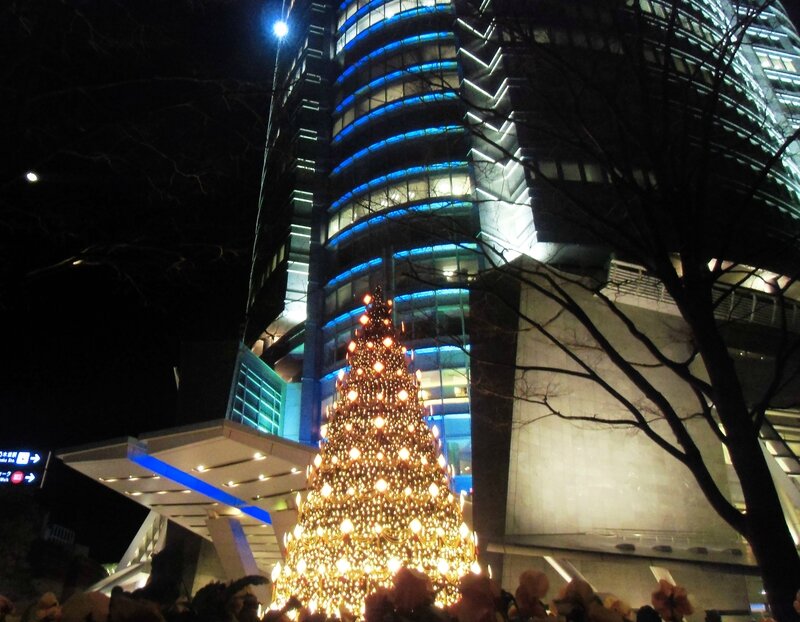 Christmas inside
Stags and mooses are the ultimate stars this year (Maison du Chocolat)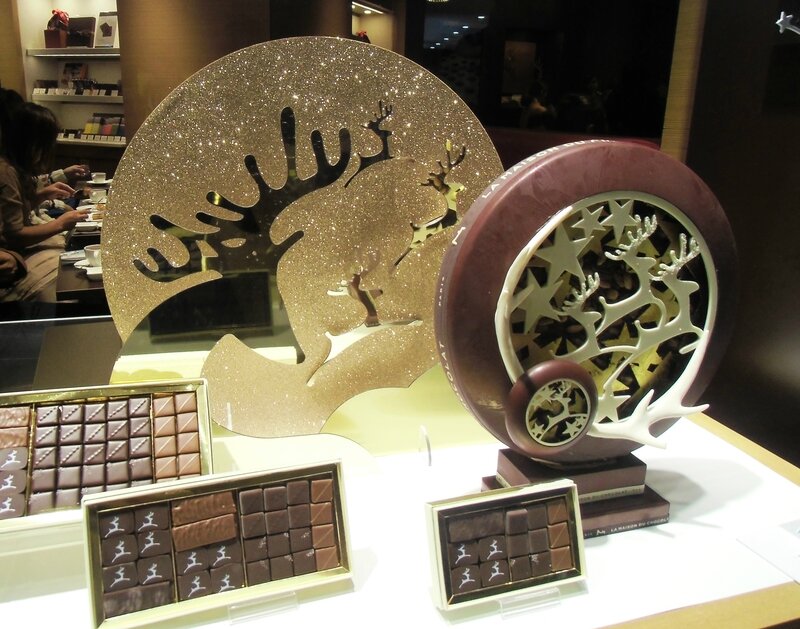 Cosmic Christmas lights at Roppongi Midtown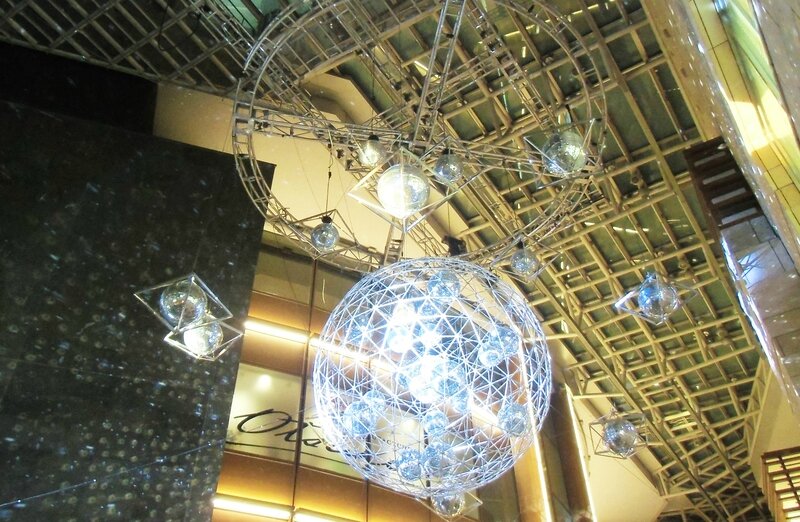 Christmas Love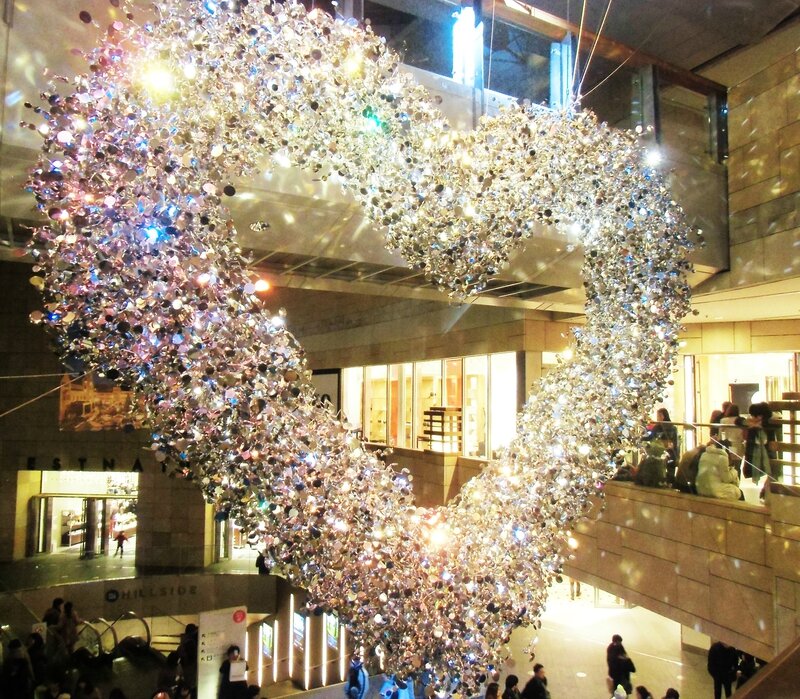 Wish you all a Merry Christmas !
09.12.13
Bien le bonjour, ô pèlerin de l'Internet égaré dans ces pages. C'est bien de l'honneur que tu me fais de t'intéresser à mes mémoires. Aujourd'hui, nous allons parler de cette bonimenterie cet art noble qu'est la publicité.
Il n'est pas rare, dans la réclame japonaise, de se trouver confronté à une drôle de formulation qui, quand on n'est pas habitué, peut laisser un tantinet pantois. Il s'agit de l'insistance sur la « japonicité » des choses.
Naturellement, dans le cas de produits typiquement locaux, l'épithète « japonais » se comprend parfaitement. Quoi de plus normal que de vanter le thé japonais, le riz japonais, la technologie japonaise, les voitures japonaises, les masques en papier japonais, les washlet japonais, et même les cosmétiques ou les chaussures ou le papier absorbant japonais, du moment que ces derniers héritent bel et bien d'un savoir-faire, d'une tradition ou d'un usage particulier à l'archipel, ou bien qu'on souhaite simplement en exhaler « l'esprit » particulièrement nippon. Soit. C'est de bonne guerre. Aller titiller la tendance à la préférence nationale du consommateur est une méthode promotionnelle comme une autre.
Machin-truc japonais. Ici, le qualificatif est amplement justifié.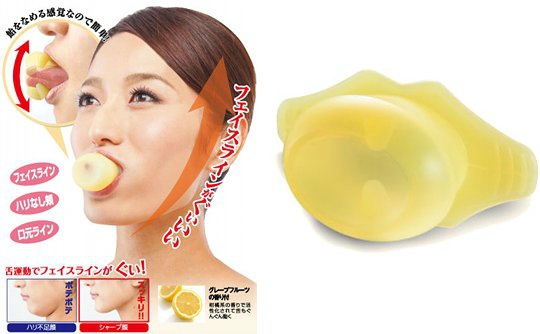 Là où l'Occidental de base reste un peu perplexe, c'est quand le référent de la « japonicité » exaltée par la pub en question n'a absolument rien de japonais - ni rien de toute autre nationalité d'ailleurs.
Exemple :
日本の風邪には、XXXです。
Contre le rhume japonais : prenez le médicament XXX.
Autre traduction possible : Contre le rhume au Japon, prenez le médicament XXX.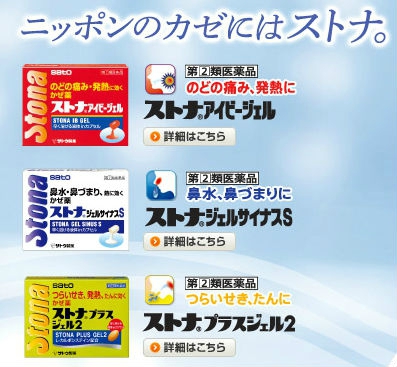 Là, potentiellement, le spectateur étranger mal averti s'étouffe avec son cappuccino du matin. Le rhume japonais ?? Qu'est-ce donc encore que cette saleté-là ? La grippe aviaire aurait-elle muté au pays du Soleil Levant ? Pas étonnant, avec de telles concentrations de population, l'Asie est vraiment le paradis des épidémies virulentes. Maintenant que j'y pense, la fameuse encéphalite japonaise, ce ne serait pas un peu la même chose, par hasard ? Que je regarde sur wikipédia… « maladie très fréquente en Extrême Orient », bla bla bla… « transmise par les moustiques, les oiseaux et les porcs », bim, les poulets ont encore frappé. Ce serait donc un virus local, mais bon sang j'y songe, les Japonais sont sûrement vaccinés, mais pas moi ! Il faut que je vérifie mon carnet de santé. Fichtre, mon assurance ne paiera jamais si je finis à l'hôpital pour une stupide encéphalite japonaise. Mais où diable ai-je rangé mon carnet de santé ??...
… Que l'expat angoissé modère ses pulsions hypocondriaques : le rhume en question n'a rien de particulier. Il ne s'agit que de la bonne crève habituelle, à base de nez qui coule, de glaires et de toux ; le genre de nuisance qui vous gâche cordialement l'existence en hiver mais qui n'est nullement dangereux ni spécialement… japonais.
Non, les bacilles du rhume au Japon n'envahissent pas les bronches de leurs victimes en jouant du shamisen. Non, les Japonais atteints ne postillonnent pas de la sauce soja. Non, il n'y a pas la moindre différence entre la grosseur de nos ganglions, ou la longévité de nos paquets de mouchoirs. Mêmes symptômes, même punition : que ce soit dans les causes ou dans les effets, le rhume au Japon est ni plus ni moins une bonne rhinopharyngite des familles. Et un Japonais enrhumé, ça a la même sale gueule que n'importe qui, je vous rassure.
Mais alors, me direz-vous car vous avez de la suite dans les idées, pourquoi, s'il ne s'agit là que d'un rhume lambda, parler de « rhume japonais », ou de « rhume au Japon », comme s'il s'agissait d'un phénomène bien particulier ? Avouez que ça crée un tantinet la confusion.
Cela sous-entend que le rhume japonais n'est pas n'importe quel rhume.
Cela sous-entend que les Japonais ne vivent pas l'expérience du rhume comme tout-un-chacun.
Cela sous-entend qu'à rhume particulier, il faut remède particulier aussi.
Cela sous-entend bien des choses. Ce message pourtant on ne peut plus concis est bourré de sous-entendus. Admirez la puissance du marketing.
Il n'y a pas la moindre raison scientifique pour qu'on qualifie le rhume en question de japonais ou spécifique au Japon. Mais il y a de profondes « raisons irrationnelles », si vous me passez l'expression.
Il se trouve que les Japonais sont immédiatement, inconditionnellement et irrationnellement rassurés lorsqu'on leur garantit que les choses ont été faites pour eux, à leur mesure, à leur taille. Or, pour vendre des produits, notamment pharmaceutiques (même aussi bénins que du paracétamol allégé mâtiné d'arôme artificiel d'eucalyptus), il est toujours bon que le consommateur se sente rassuré.
Préciser que le médicament XXX est LA réponse adéquate au rhume japonais, c'est induire que le rhume chez les Japonais est une chose tout à fait subtile – comme tout ce que font les Japonais d'ailleurs. Les Japonais sont des êtres complexes, renfermés, introvertis, impénétrables, et il y a fort à parier que leurs bactéries aussi. On ne lit pas le cœur ni les résultats de virologie d'un Japonais si facilement, dites.
Et donc, à maux subtils, remèdes subtils il faut.
En proclamant sa capacité à répondre au rhume japonais, XXX instille l'idée de sécurité, de qualité, de dosage parfait, de respect optimal de la constitution physique japonaise tout spécifiquement. Il désamorce l'idée que les pastilles pourraient avoir été fabriquées dans un obscur laboratoire chinois aux normes hygiéniques douteuses (et éviter ainsi que le consommateur souffreteux recherche avec trop de zèle la mention « made in » sur le paquet). Il insinue que les étrangers, avec leur grande taille et leur façon de croquer sauvagement dans les pommes à pleines dents, ont certainement besoin de doses de cheval lorsqu'ils ont un rhume ; mais XXX, lui, s'adresse au corps japonais dans toute sa délicatesse et sa complexité propre. Il s'agit de LA bonne molécule, dans LA proportion adéquate, le tout présenté dans LE bon emballage à ouverture facile adapté aux phalanges nippones.
Et puis, positionner XXX comme le remède au rhume japonais permet aussi d'évacuer les suspicions par rapport à tout le reste : peu importe si vous êtes une fillette de 40 kilos qui a pris froid car vous grelottez tout l'hiver dans votre uniforme scolaire, lequel consiste en une mini-jupe et des chaussettes montantes à mi-mollet, ou un chauffeur routier sous-vitaminé perfusé aux ramen instantanés, malade de n'avoir pas touché à un seul légume frais depuis des semaines. Peu importe si vous avez chopé la crève à force de surchauffage au bureau ou de courants-d'air vicieux à la maison. Cela n'a plus d'importance : vous êtes japonais, oui ou non ? Bon, hé bien alors XXX est la solution à tous vos maux. C'est aussi simple que ça.
Ah, qu'il doit être doux d'appartenir à un peuple si intimement convaincu de sa spécificité qu'il suffise de prononcer son nom pour qu'aussitôt les doutes s'effondrent, les méfiances s'évanouissent, les hésitations passent, les interrogations trépassent. Qu'il doit être doux de se dire : je suis Japonais, cette chose a été conçue pour des Japonais par des Japonais et de façon japonaise ; elle va donc me rendre sain et heureux.
On les envierait presque, dites-donc.
Ce qui est amusant, c'est d'imaginer le même procédé en France, juste pour voir.
Contre le rhume français, prenez YYY.
(Pour un meilleur effet, prononcer « frânçais » avec la voix nasillarde et emphatique des anciens bulletins d'information télévisés.)
Croyez-vous que les Français seraient une seule seconde rassurés, ou réconfortés par un tel slogan publicitaire ? Que nenni.
Déjà, la formulation plongerait le public dans un abîme de perplexité.
Le rhume français ? Ben voilà autre chose. En quoi diable le rhume, cet éternel compagnon des hivers dans tout l'hémisphère nord, serait-il précisément français ? Un obscur microbe de nos terroirs aurait-il muté, dopé par les moisissures de nos caves à fromages ? Parce qu'il faudrait au moins ça pour le qualifier de « français », le rhume.
Pour autant qu'un Français sache, un rhume, c'est un rhume, qu'on soit adepte du jambon-beurre, du kebab ou du poulet korma. Cela n'a aucun sens pour nous d'aller accoler à cette saloperie universelle une appartenance nationale. Un rhume, c'est un nez qui coule, des poumons qui toussent, un goût désagréable dans la bouche et une envie de rester sous la couette toute la journée, basta. On l'attrape forcément tous tôt ou tard, qu'on soit joueur de cornemuse ou moine bouddhiste. A la limite, on peut concevoir que nous ne le vivions pas tous de la même façon, le rhume ; que certains le portent plutôt bien, le bout du nez rose et la voix à peine voilée, tandis que d'autres ont l'impression d'avoir pris un coup d'enclume dans le carafon. Il y a peut être autant de rhumes que d'individus, on veut bien le reconnaitre. Nous sommes en mesure d'admettre, disons, l'expérience toute individuelle du rhume. Mais à l'échelle nationale, là, ça nous dépasse.
A quoi pourrait bien ressembler un « rhume français » ? Serait-ce un rhume qui fait râler, un rhume qui rend dépendant au vin rouge, un rhume qui porte le béret ? Non, vraiment, nous ne voyons pas. Et si un rhume typiquement français sévissait dans notre beau pays, nos amis les étrangers y seraient-ils également soumis ? Ou bien ce serait comme pour les élections, on ferait une différence ? Un Vietnamien de passage en France qui chopperait le rhume français devrait-il être soigné par YYY, lui aussi, ou bien faudrait-il absolument lui donner un médicament de chez lui ? Que de dilemmes dans les pharmacies, que de casse-tête au sein des ménages. Et pour les enfants métisses ? On fait comment ?
Non seulement le peuple de France ne comprendrait pas du tout de quoi on parle, mais une bonne partie des ressortissants ressentirait probablement un certain malaise. Après le rhume français, à quoi faudrait-il s'attendre ? A la migraine française, au cancer français ? Au sang français ?... En nous mettant dans une catégorie à part, nous voyons nous déployer devant nous le toboggan des cloisonnements, jusqu'à faire du peuple français une entité à part, strictement définie par un ensemble de critères physiques entre autres, et donc foncièrement exclusive. Une idée pas bien gênante quand on est japonais, héritier d'une conception fermée de son identité, mais plutôt embarrassante pour d'autres.
Alors quoi, on aurait donc un rhume français digne d'attention, contre lequel on aurait développé des antidotes, pour lequel on dépenserait des millions en campagne de publicité ; et à côté de ça, les autres nationalités devraient le résoudre à peler du nez en enrichissant les actionnaires de Kleenex ? Sympa. C'est beau, la France, tiens.
Pour parler clairement, en sous-titre de la phrase « Contre le rhume français… », on verrait forcément se dessiner en creux : « Et puis pour les autres, hé bien vous pouvez crever, bonne journée. »
Ce qui est à peu près ce que la pub japonaise semble nous dire aussi, à nous les non-Japonais qui n'avons pas le rhume japonais, vous noterez.
A leur décharge, les Japonais ne sont pas seulement accros à la spécificité nationale en matière de consommation. Le même besoin effréné de catégorisation apparaît à d'autres niveaux de la segmentation marketing.
Par exemple, si vous lancez sur le marché japonais un produit suffisamment original pour ne pas se classer de lui-même dans la case d'une marchandise existante, et que vous menez une opération test pour prendre la température de l'intérêt qu'il suscite, vous serez surpris par la réaction du public. Vous, vous serez venu pour savoir si votre produit plaît, si les gens seront enclins à l'acheter, et sinon pourquoi. Mais au lieu de récolter des opinions, vous serez submergé par la grande et suprême question qui semble tarauder l'acheteur potentiel nippon : « Pour qui est fait ce produit, exactement ? ».
Mais, pour tout le monde, vous semble-t-il. Pour tout le monde que ça intéresse. Naturellement, nous avons un cahier des charges, et nous avons pensé à une cible de tel âge, de tel sexe, ayant tel type de vie, mais ce n'est pas l'objet du test ; le test, c'est de recueillir les avis des gens, alors donnez-moi votre avis. A vous de me dire si en tant que jeune, en tant que vieux, en tant qu'employé ou que retraité, en tant que fille ou que garçon, cela vous intéresse ou non. Dites-moi votre ressenti personnel, et c'est moi qui ferai les statistiques.
Mais non. Dubitatif et troublé, votre testeur se gardera bien d'émettre un commentaire personnel. Que voulez-vous, il n'est pas sûr d'être légitime pour juger.
En revanche, si vous l'assurez que ce produit a été conçu en direction des quinquagénaires masculins travaillant dans le tertiaire et amateurs de pizza à l'ananas, et que le monsieur répond justement à ces critères, alors il sera ravi de confirmer ou d'infirmer l'utilité réelle de la camelote en ce qui le concerne.
C'est effrayant comme ça a l'air tellement plus aisé pour eux de s'affirmer en tant que membre d'un groupe, et avec quel confort ils accueillent les choses s'ils ont l'assurance qu'elles sont adaptées à leur catégorie d'individus. On comprend la brillante stratégie de XXX.
Esprit scientifique oblige, histoire de vérifier par moi-même si XXX soignait le rhume japonais pour tout le monde, ou bien si comme je le subodorais, la publicité en question flattait sans vergogne la fibre nationaliste japonaise, je me suis rendue dans une pharmacie et j'ai demandé un médicament contre le rhume japonais. Le monsieur du drugstore m'a fait répéter deux fois, ébahi. Puis, en se grattant la tête, il m'a demandé mes symptômes. Je me suis plainte d'un mal de gorge et d'un nez bouché. Il m'a alors recommandé des cachets qui n'étaient pas de la marque XXX. J'ai alors insisté sur le fait que j'avais attrapé mon rhume à Tokyo et qu'il ne s'agissait pas de n'importe quel rhume, mais d'un rhume japonais. Timidement, mon interlocuteur m'a fait savoir qu'il ne connaissait pas la différence entre un rhume japonais et un rhume non-japonais. Ces médicaments là devaient faire l'affaire. Un peu rassérénée, j'achetai un paquet de pastilles citronnées, heureuse de constater que tous les Japonais n'étaient pas définitivement allergiques à l'idée d'appartenance au reste de l'humanité.
Mais en me tendant mon achat, le pharmacien m'affirma avec aplomb, tout sourire :
« De toute façon, comme vous n'êtes pas japonaise, vous ne risquez rien. Vous avez votre rhume habituel, n'est-ce pas. »
Pour résumer, la certitude scientifique que ma crève est exactement la même que ma voisine nippone n'a pas tenu trois minutes face à l'irrésistible tentation de croire qu'en cela aussi, les Japonais étaient bel et bien différents du reste du monde.
J'ai envie de vous dire :
« Contre le singularisme forcené japonais, prenez éventuellement un bol d'air. »
...
Vous aurez beau nous dire : les hommes sont tous les mêmes
Nous parler transfusion, genre humain, ADN
Sans relâche, nous ne cesserons de vous faire voir
Toutes nos raisons de croire que vous êtes bizarre.
24.11.13
Tokyo trees are shamelessly exhibiting their sexy red hair and their blushing underleaves. No decency, no moral, no modesty. Flaming gingers, hot blondies showing off in the city. Lust, lust, and lust. It's like their one and only intention is to fulfill the guiltiest color fantasies of the public. So dirty little minds we have. Don't hide anything, guys, we love your autumn porn show!
Yoyogi Park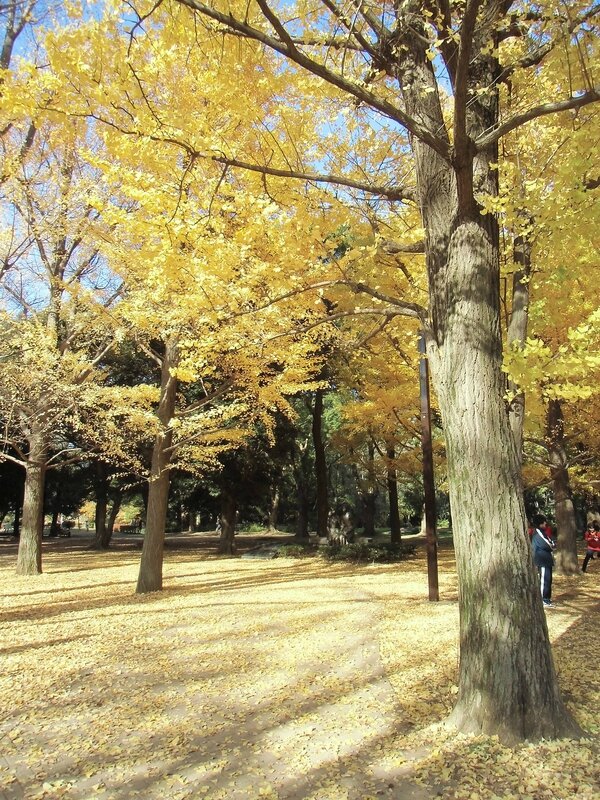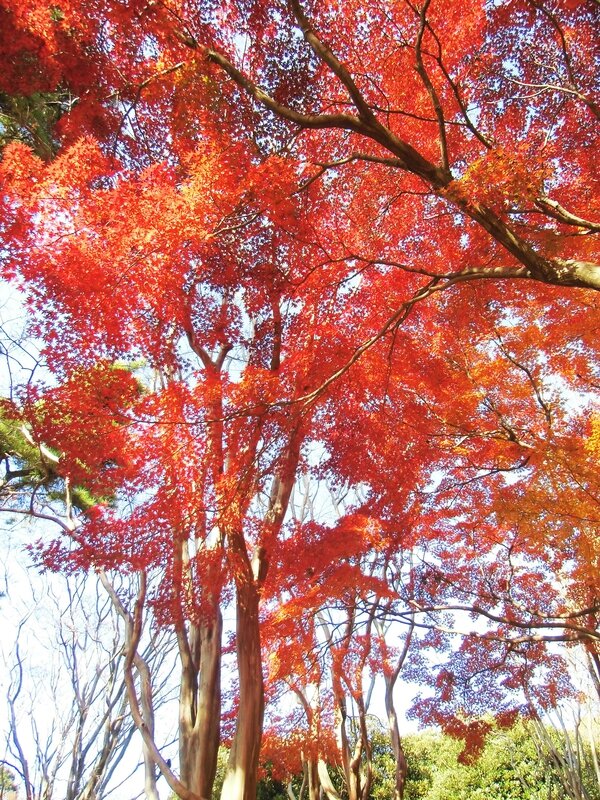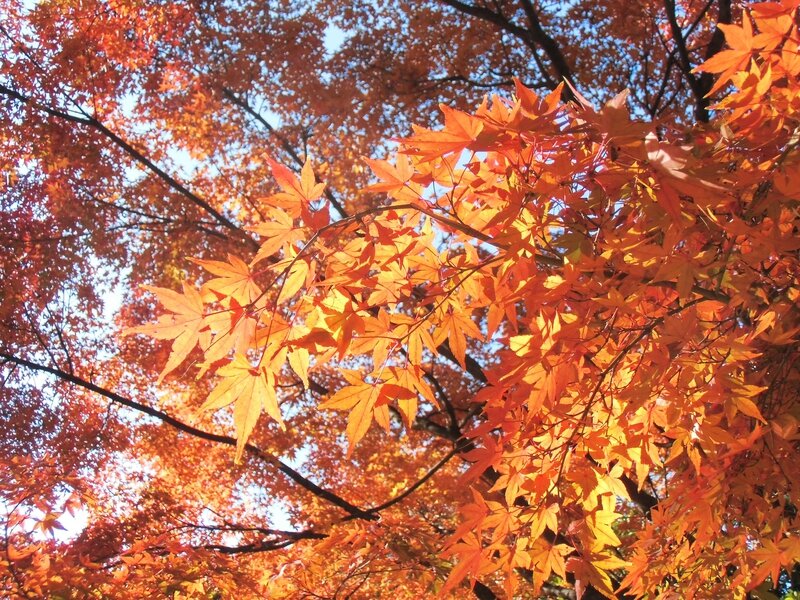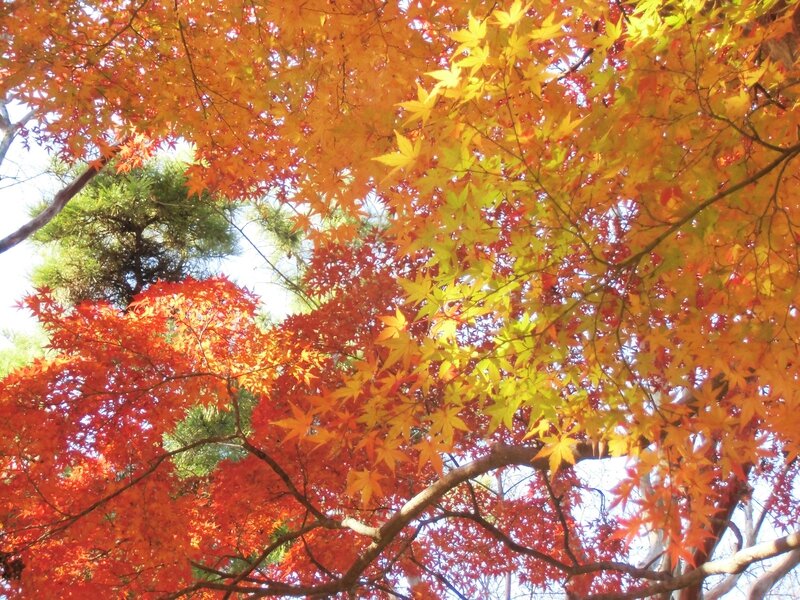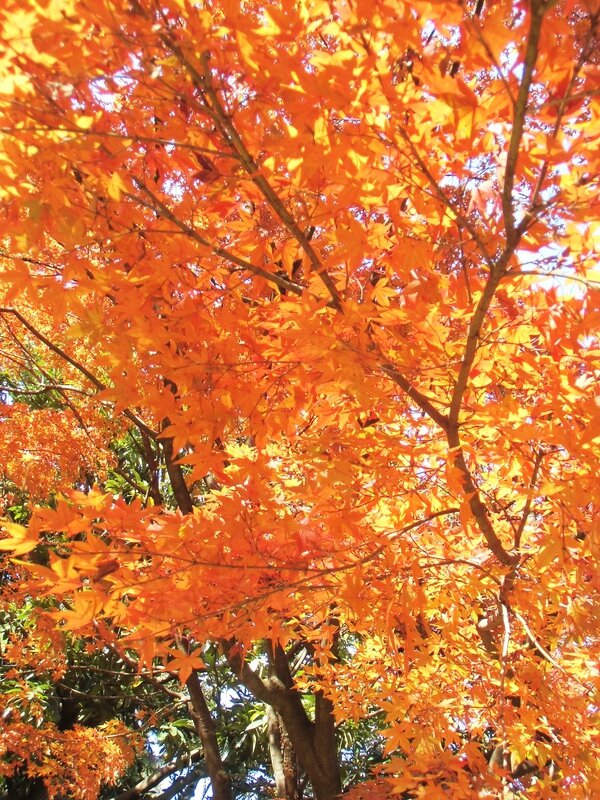 Inokashira Park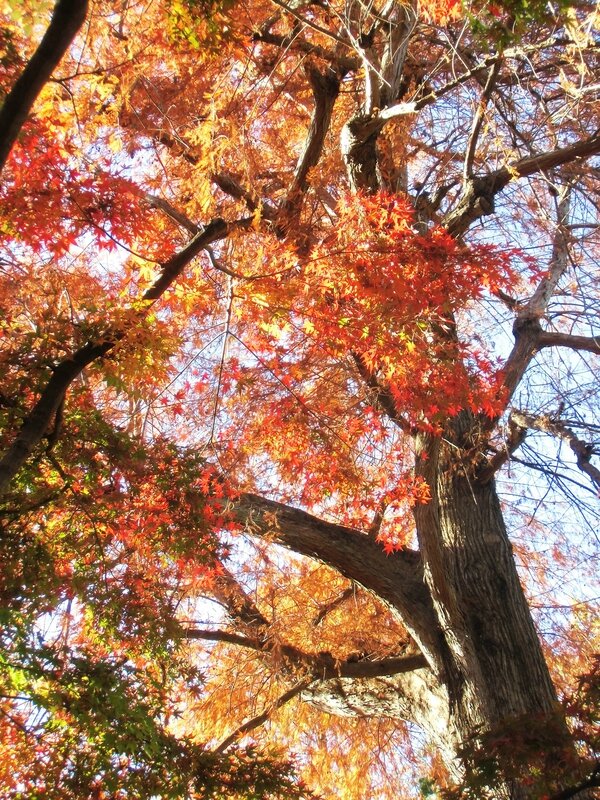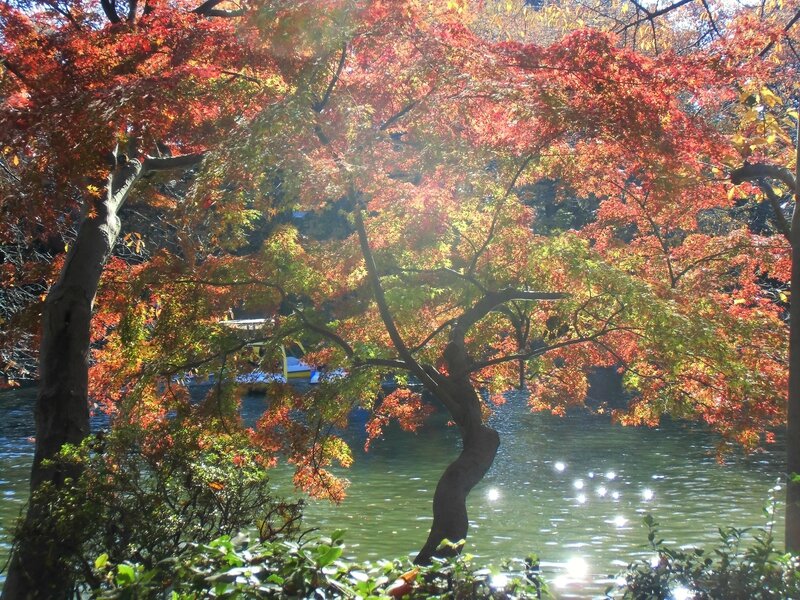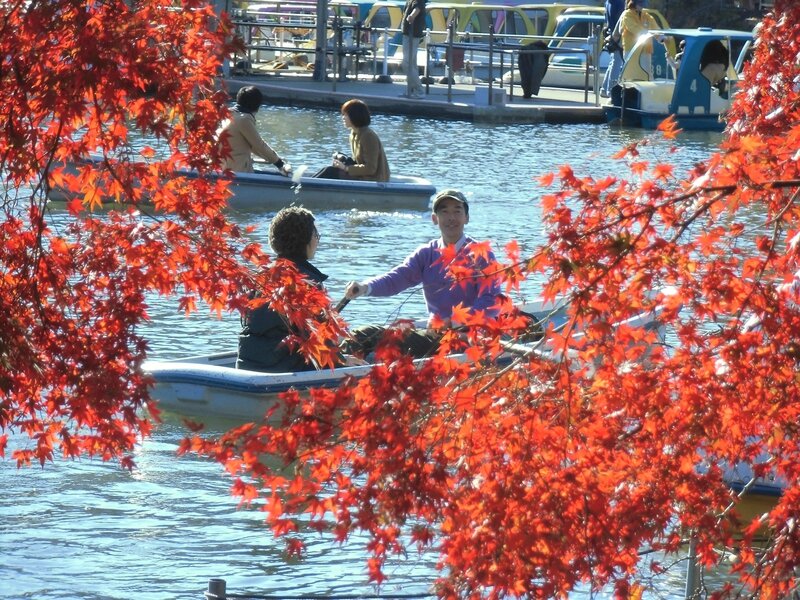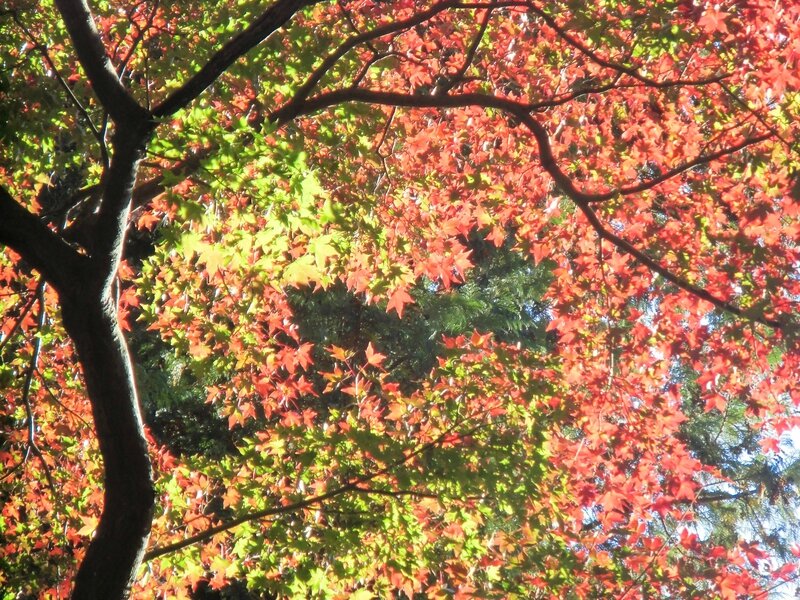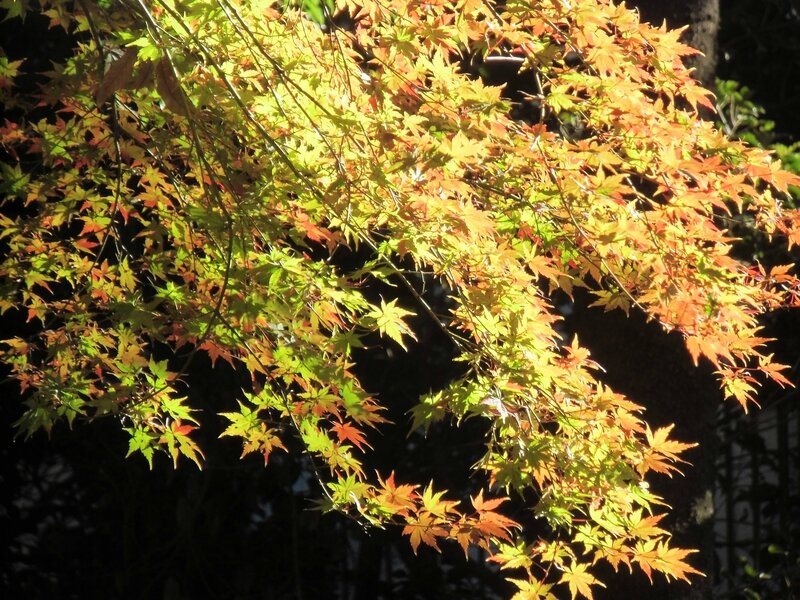 16.11.13
Last week on the Japanese morning news, between two essentiel pieces of information like where to find the best pop-corn in town or which combini is offering the most competitive pumpkin pudding, there was a program about this year's autumn leaves. Be strong, because this is going to be a shock : as we had an especially rainy month of October because of the succession of typhoons that stroke the archipelago, the momiji (Japanese maple trees) are not as gorgeously colourful as they are supposed to be. The TV program was even comparing pictures of the same spots between last year and now, and the cruel reality is : 2013's autumn leaves are darker, irrugularly coloured, and more damaged than they should be. The Sunday photographers are bitterly disappointed, and the general public is lost, wondering if some areas have been preserved from the bad weather and could save the week-end letting see decently coloured autumn trees. That's a national tragedy, friends, a real national tragedy.
But don't loose faith. Never give up. The program was also delivering the results of a careful investigation, that revealed the few places where the tradition of watching koyo would be as great as usual. And in the ranking, they mentioned the Showa Kinen Koen that I visited first time last spring - remember the neverending field of cosmo ?... As a pathetic media-victim, I followed the instructions and paid a visit to this beautiful park located close to Tachikawa station. Behaving like a sheep ? Maybe. But have a look at this purely perfect autumn scenes and tell me if it wasn't the right thing to do.
A spoiled season ? Oh, come on...
Not too ugly for a bad year, uh ?
Showa Kinen Koen, the right place to be
And now, my favorite ginkos, my brothers and sisters the blond trees!
There may be a second round, so wait for the next autumn porn serie !
10.11.13
Every year you're dying to see them again : the splendid koyo are coming again soon! Preview!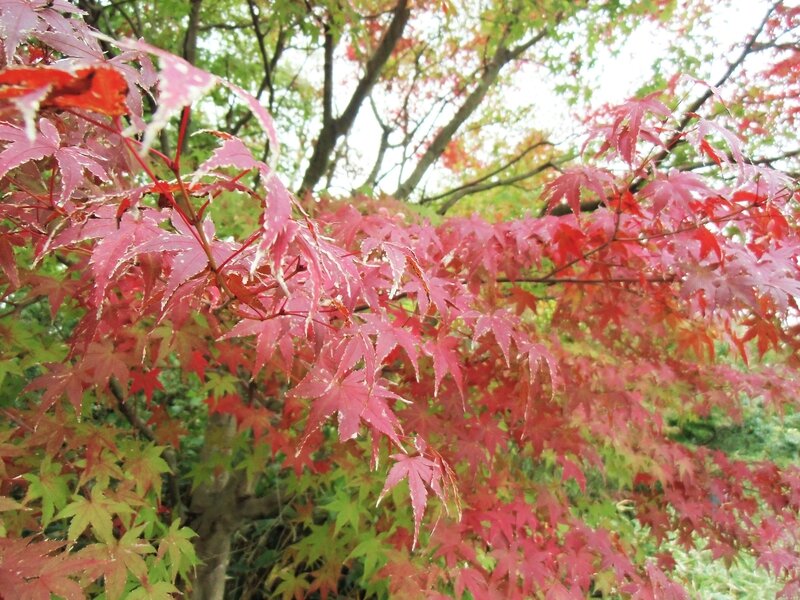 Sodegaura in 2012, Kisarazu in 2013: Africa invades Chiba Prefecture every year with magnificient cotton dress, colorful music, cofee scents and spicy flavors.
More than 8000 visitors joined the festival in the modern and beautiful Kisarazu Akademia Park, and once again the public was great. You can feel that Chiba-ken inhabitants are not used to welcome foreign big-scale events and everyone was over-excited. The place itself was absolutely wonderful, surrounded by the nature, full with light and refreshing waves.
West African Festival in Kisarazu
The Malian team
With my booth neighbor from Liberia
Beautiful Akademia Park
Onion and chicken couscous for lunch
Akademia Park Okura Hotel
See you next year in Chiba-ken!
16.10.13
Made in Taiwan. This is written everywhere on your clothes, your shoes, your batteries, your toaster. Half of your world comes from the other side of Earth. But Taiwan is nothing like an open-sky workshop sending cheap stuff to the Western countries. Taiwan is smart and cool. Taiwan offers similar living conditions with Europe and the USA. Taiwan has a fascinating history, beautiful landscapes, great cultural heritage and fantastic people. Polite and respectful like the Japanese, relax and smiling like South-East Asian, hard-working like the Chinese, curious like the Westerners. I guess that on the long-term, they also reveal the bad sides of all these people together, but for a visitor like me, the attitude of Taiwanese people is really beyond compare. You can't be more welcome anywhere than in Taiwan. These people make you immediatly feel at home and comfortable. I am genuinely amazed.
I have seen extremely few Caucasian tourists during my stay; Taiwan is still pretty unknown from the West. We certainly have the image of "a little piece of China, producing cheap". But the ancient island of Formosa really deserves better than opinion that. Follow me !
Taipei !
Here is the legendary Tapei 101, the main landmark of the Taiwanese capital, which has been the highest tower in the world for a long time. As skyscrappers are quite rare in Taipei, you can't miss it. From anywhere around, you can see it standing like a giant bambooo cane in the skyline. Personnally, I found it is the prettiest high modern landmark I have ever seen.
And from its top, you can admire Taiwan, lost in the mist. Blue hills in the background, regular rows of small buildings, and green oasis everywhere.
You wouldn't sware it when you see it from high, but Taipei is a real human-scale city, not a giant megalopolis like Tokyo or a busy bee hive like Hong-Kong. There is only a few subway lines, confortable distances, and you can reach any spot quite easily. Imagine wide streets like in Bangkok, but as clean as in Japan, busy like in Hong-Kong during open hours and calm like France on Sunday mornings.
(Oh yeah, and yellow cabs like in New-York city.)
By the way, Taiwan's official name is ROC : Republic of China. Not to take for the People's Republic of China, of course. Yes, it's confusing. In the past, Taiwan has been ruled by China, then by Japan, and finally became the shelter of the last supporters of the old Republic of China, while mainland China was taken over by the commmunists. So tiny Taiwan still considers itself as the true legitimate "Republic of China", though the big Chinese neighbour claims it belongs to the People's Republic of China. Complicated, uh.
In this context, you will understand that the General Tchang Kai-check, the former President of this Republic, is venerated like a god. A god with a big house in center town, lucky him.
Tchang Kai-chek Memorial
Taipei has space! Space for memorials, for parks, for emptiness. And it feels great. Don't you think we could record a movie here ?
Retro Taipei
I was taking about human-scale distances. And I prove it. There are hot springs in the North of the city, and you can get access to it with the subway. Yes. Welcome to Xinbeitou hot hot hot springs, with its smelly sulfur smokes and its milky boiling waters...
Xinbeitou hot springs
Even if I was amazingly luck to find myself in Taipei under a perfect sun, let's do not forget Taiwan is most of the time under the sky's waters. The rainy season is long and heavy, and then typhoons are coming regularly to remind everyone it's a tropical zone, b*tch. So no wonder nature is constantly taking over concrete.
Nature in the city
Free and natural hot foot bath downtown, friends ! Yes, we can! Feeling tired after shopping? Let's relax your legs in hot water!
To complete your feet treat, why don't you walk on massage stones? Yeah, I know, it's excrutiating. But God you feel relax and light after that.
Go further to the North with the metro red line, and contemplate the sunset on Tamsui river. Holidays atmosphere guaranteed !
Tamsui sunset
Ok, now let's get a bite of culture. In the beating heart of Taipei, there is a Chinese mansion surrounded by pure gardens that belonged before to a powerful merchants' family, the Lin. Now you can visit this jewel of architecture for free. For free ! All this beauty, for free !
Lin Family House & Gardens
Of course, after this, I felt more a princess than ever. Imagine me walking in these delicate gardens, composing a poem under one of these moon-gates, looking for the reflexion of my lover in the pond's water... In this dress...
Yes, because Taiwan also offers one of the greatest Chinese service : costumed photo shooting. In this kind of photo studio, you can get make-up, hairstyling and dressing up before being photo-shooted like a star. That's just an appetizer. Wait a bit for the professional shots to be delivered at my place! It's going to be spectacular!!
But we still have many things to see in town. For example, temples. Of course the Taiwanese, like the Chinese, don't miss a chance to go to the temple and pray ancestors or gods for success and protection. They light up candles or incense sticks, bring food to the spirits and also have meals there. So Taipei's temples are busy night and day...
Longshan Temple
Tai Hou Temple
But the Chinese roots are not the only reference here. Actually, during the Japanese period, Taiwan has been entirely reorganized, modernized and equipped with infrastructure. The Taiwanese are maybe the only people in Asia who are thinking positively of Japan and the former Japanese "influence". They litterally adore the Japanese culture, food, fashion and way of life, feeling way closer from the archipelago than from mainland China. The Japanese heritage is praised and maintained with great care. I could easily communicate in Japanese with people when they couldn't speak English. And they all said how lucky I was to live in Tokyo. Coming from "Chinese" people, trust me, it's surprising.
Maybe because it's an island too, we could also find a piece of British architecture in this Tudor style house. It has been built by a Chinese businessman in 1913, to entertain his clients. Unexpected, and beautiful.
Taipei Story House
On the other side of the road, that's another piece of cake.
Taipei Grand Hotel
Bang. A very chinese-style palace, absolutely huge, defying the city from the hill. Impressive...
After this Titan house, it's a relief to appreciate little details... Delicate flowers... light soap bubbles... aerian lanterns... a flying bicycle...
Enchanted street life
Maybe you though I would politely decline the opportunity to eat like a cow ? Nope. Taiwan is so full of delicious food and drinks that it is a pity there is only three meals in a day. Honestly, you need more than a long week-end to try everything Taipei has to offer. Here is a few samples of what I could try, but trust me, walking on the street in Taiwan is a permanent frustration. Yummy stuff everywhere. Everywhere. EVERYWHERE.
Rose and lychee bread
Wonton noodles
Benedict eggs and salmon baggels
Chinese dumplings dim-sum
Kumquat juice
As I said, Taipei has something of Tokyo, right. Including the what-the-f*ck theme restaurants culture. We refrained on trying the toilet-theme one (no thanks) but we couldn't resist for the Barbie Cafe. The Barbie Cafe !!
Somebody said pink?
But the final objective of this Taiwan trip was of course to enjoy time with a great friend. And to say hello to another old one.
After a mint and tea-tree Taiwan shampoo with skull massage...
Already thinking of the next step of my Asian tour! Will it be the Philippines, Vietnam, Malaysia, Laos?... Suspense!