21.08.16
Meguro Gajoen is a wonderful hotel with exquisite design, a museum inside, and a waterfall included. This summer, it's sparkling with festival lanterns and dragon lights.
Summer touch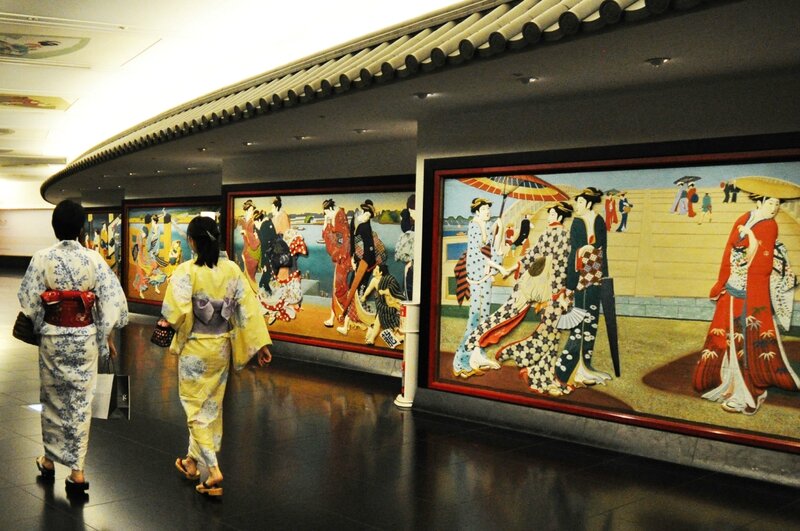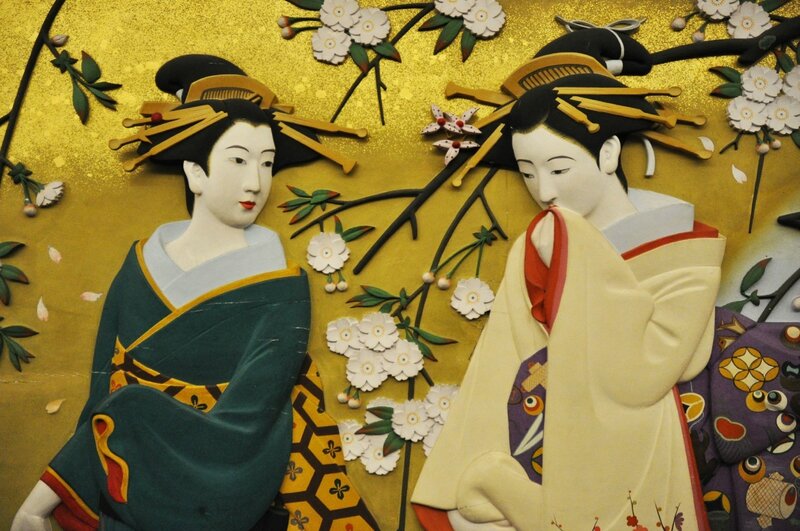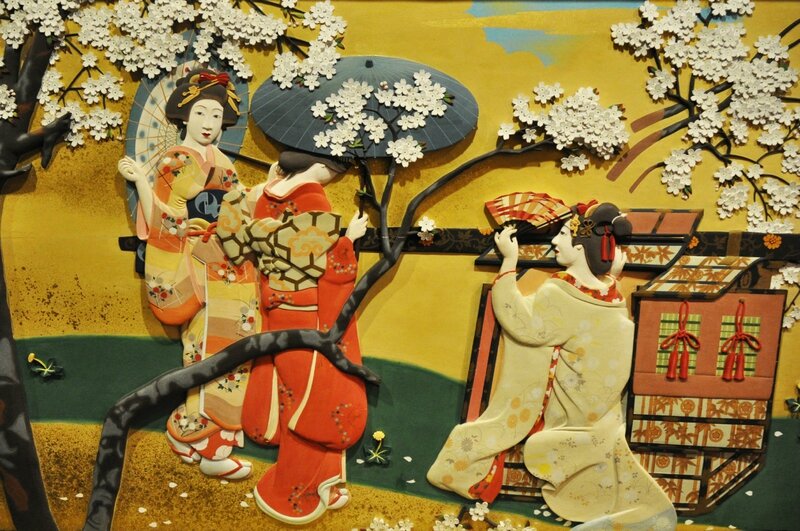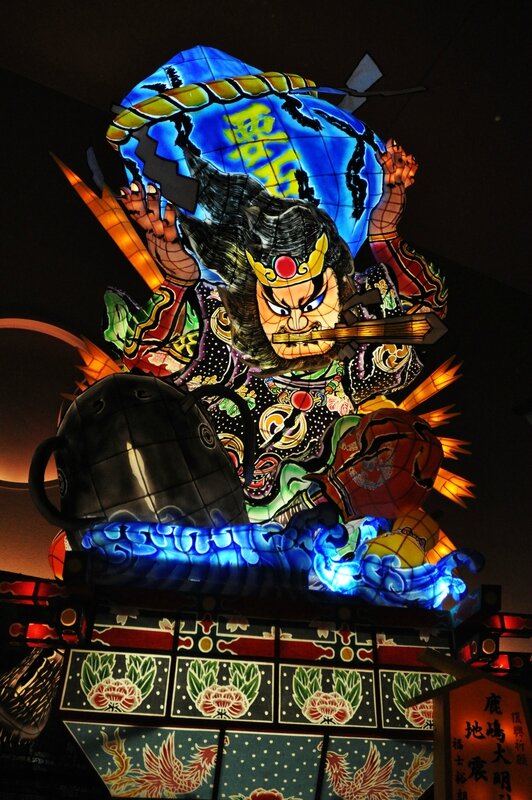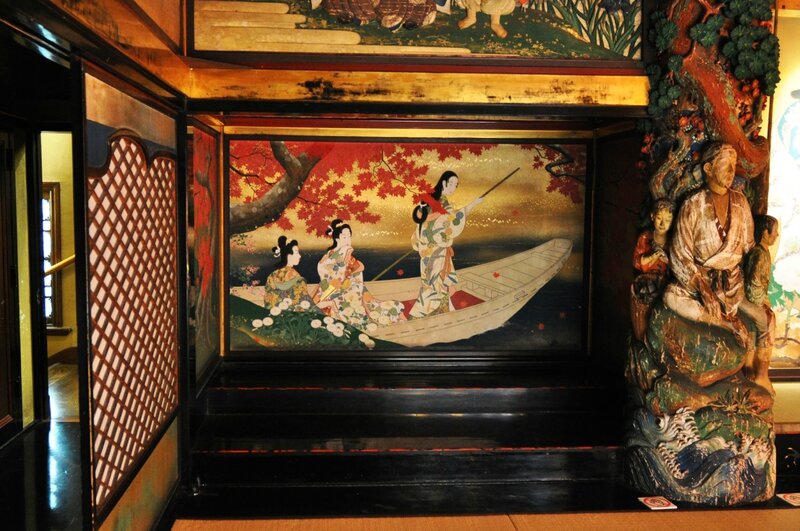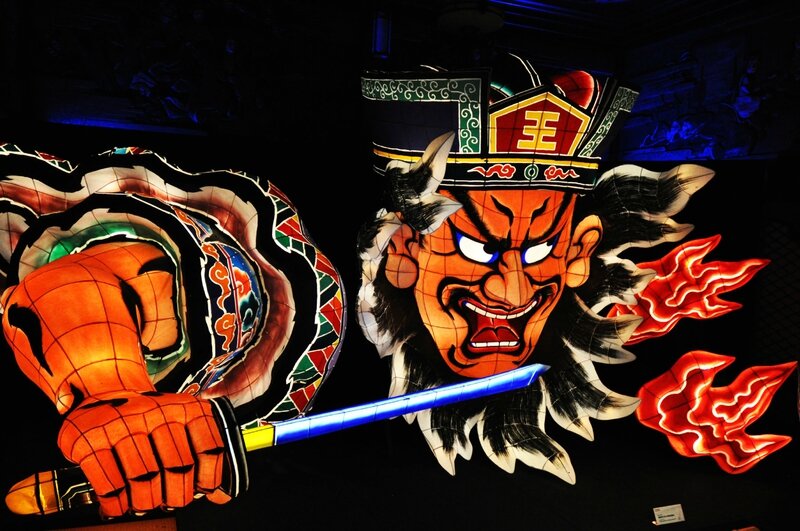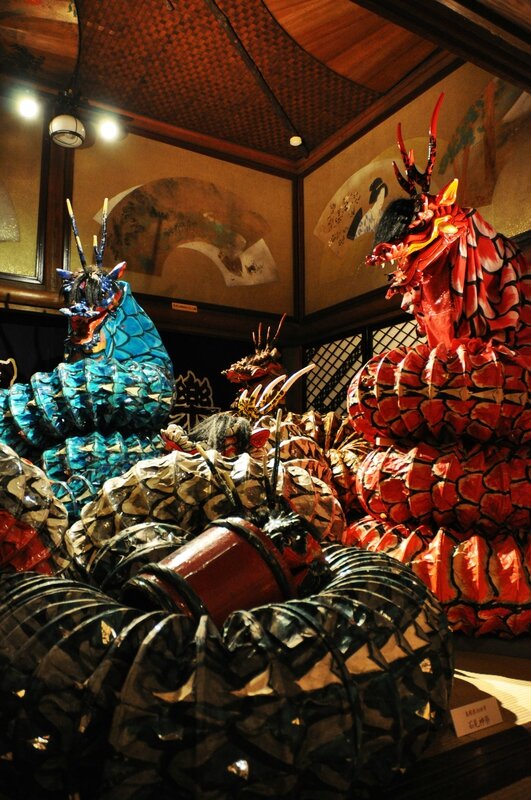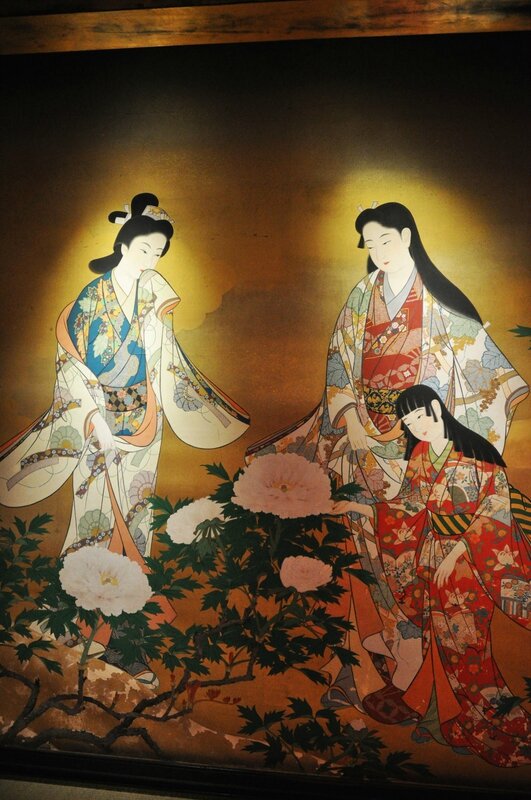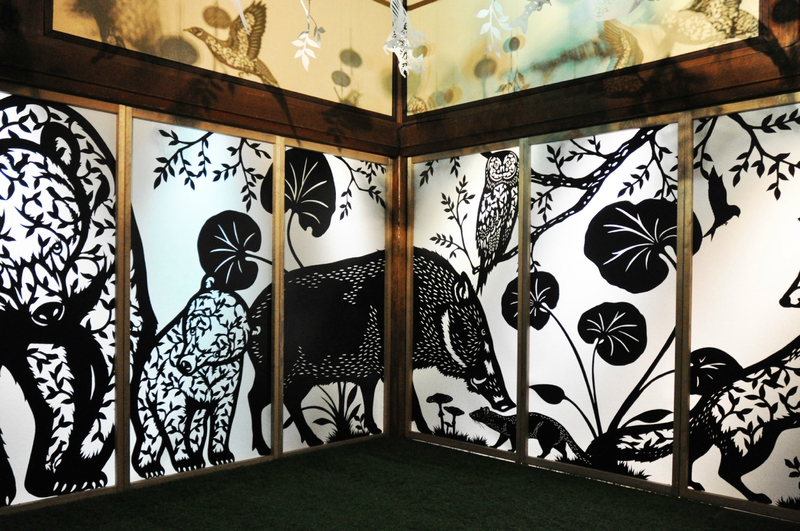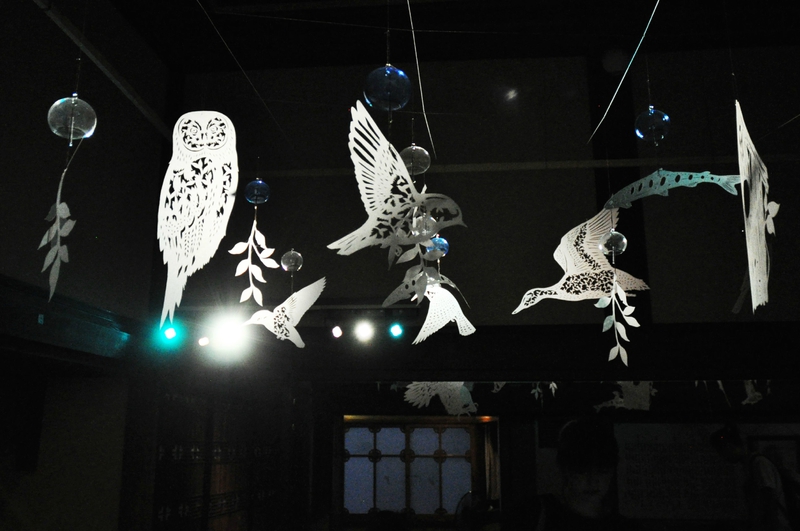 03.12.14
Can you imagine the milky way so close you could touch it ? This is the concept of this fascinating free exhibition set in Spiral Hall Aoyama and sponsored by a watch brand. Hundreds of golden coins glittering in the night. What could be better to start December ?
Christmas in the air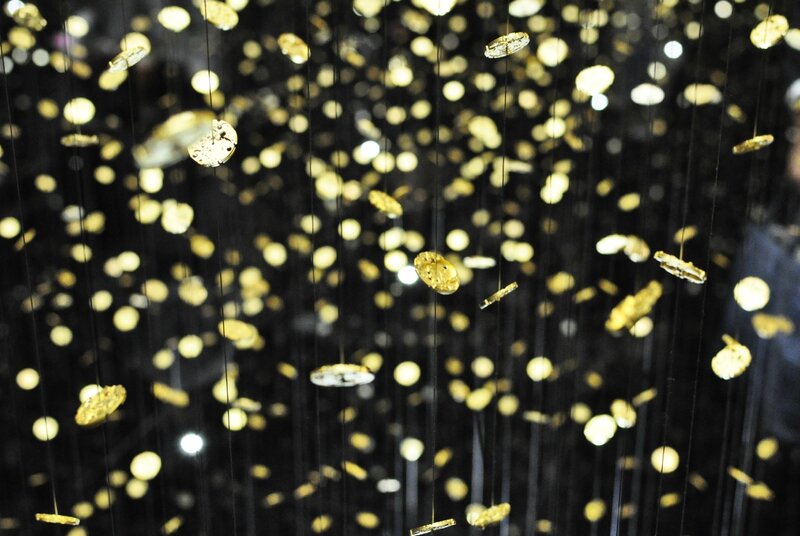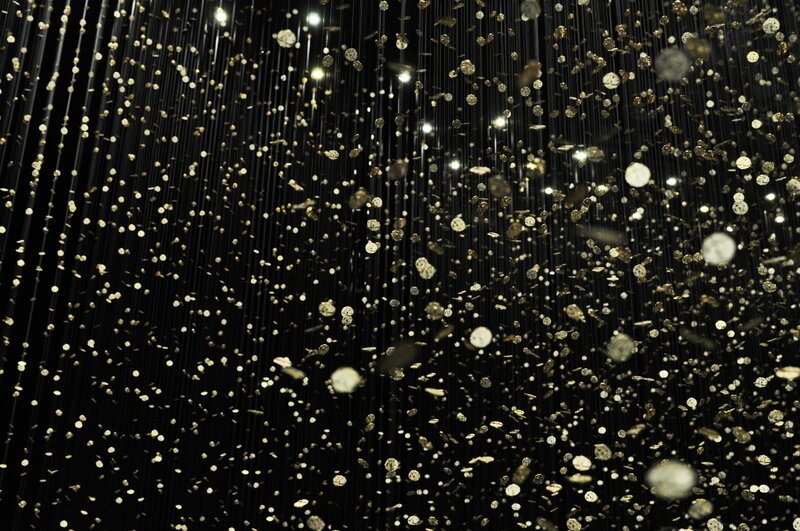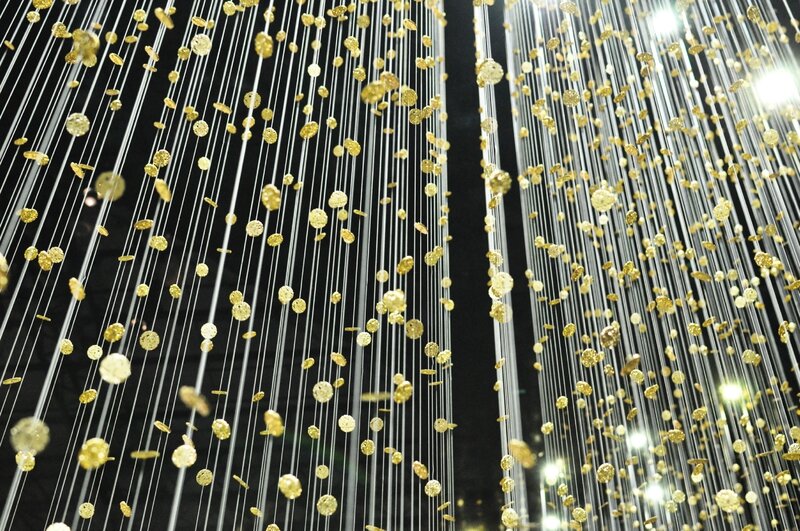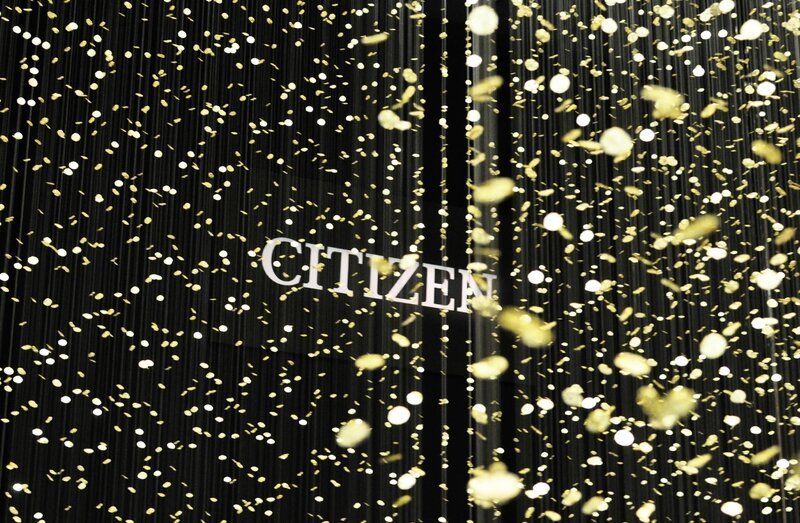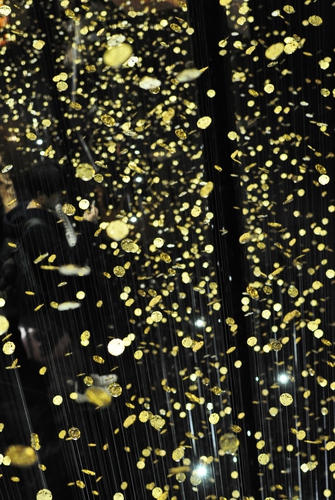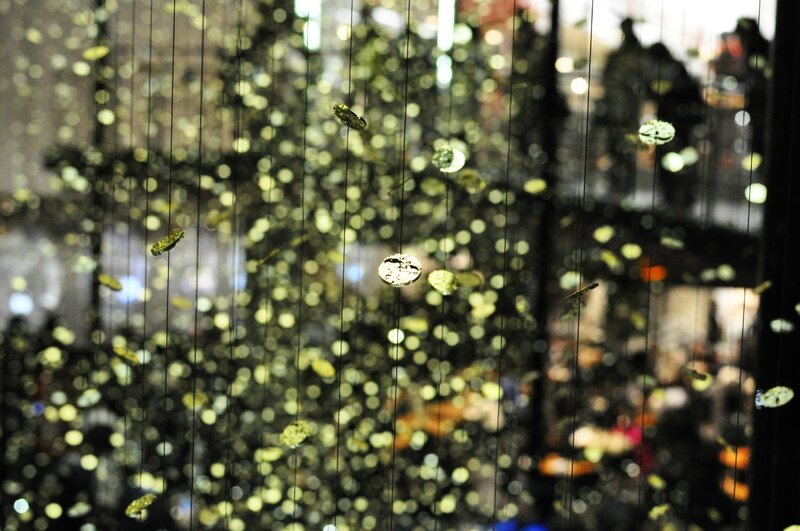 06.10.14
Sometimes typhoon strikes Tokyo and all you can do is staying at home, or trying to make your way to the Museum. This one, located in Odaiba, is the "Trick Art Meikyukan", dedicated to visual illusion in general and trompe l'oeil in particular. The point is to play with the background to get the more realistic picture - and it's not so easy, actually, but very funny.
Big kid playing in the Edo village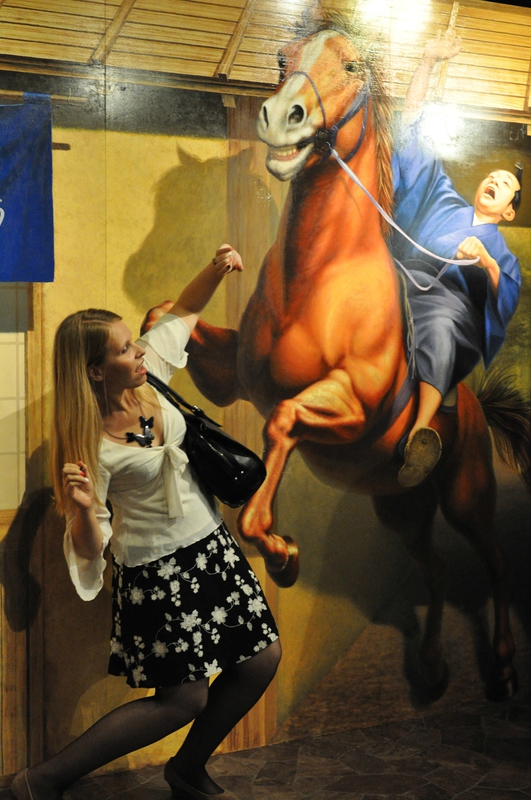 Ninja attack !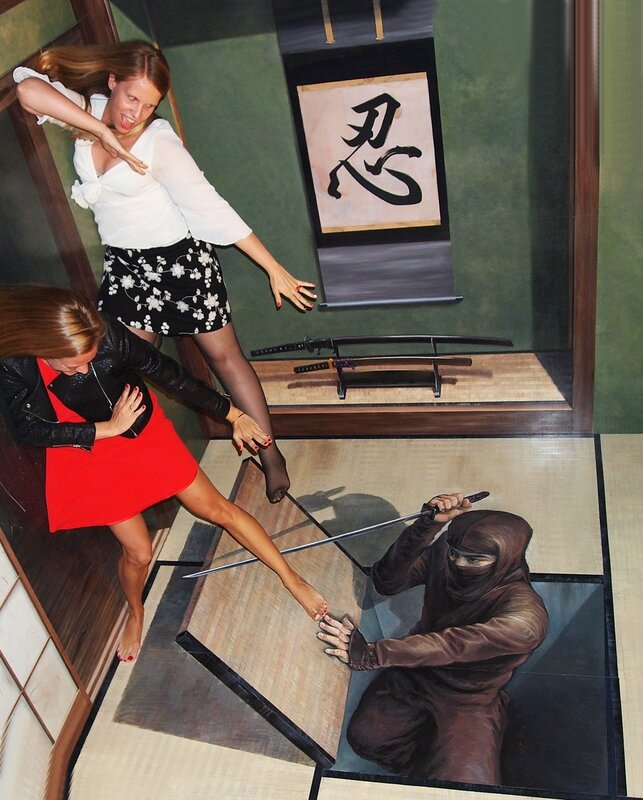 Japanese ghost stories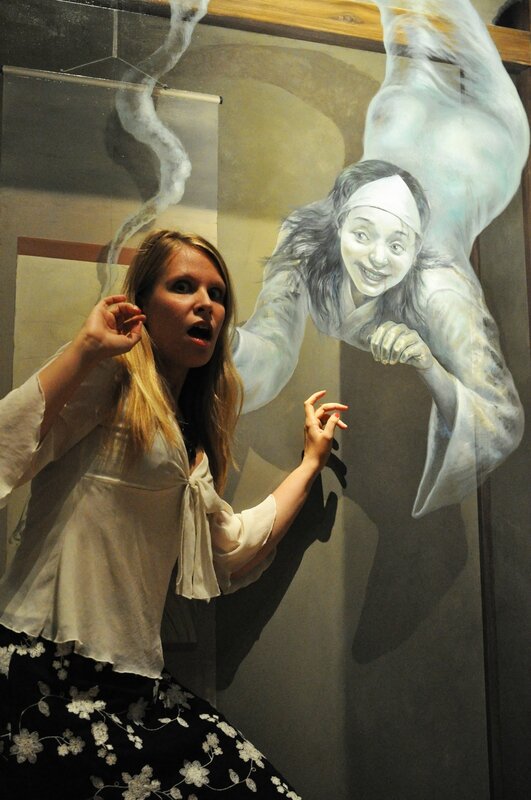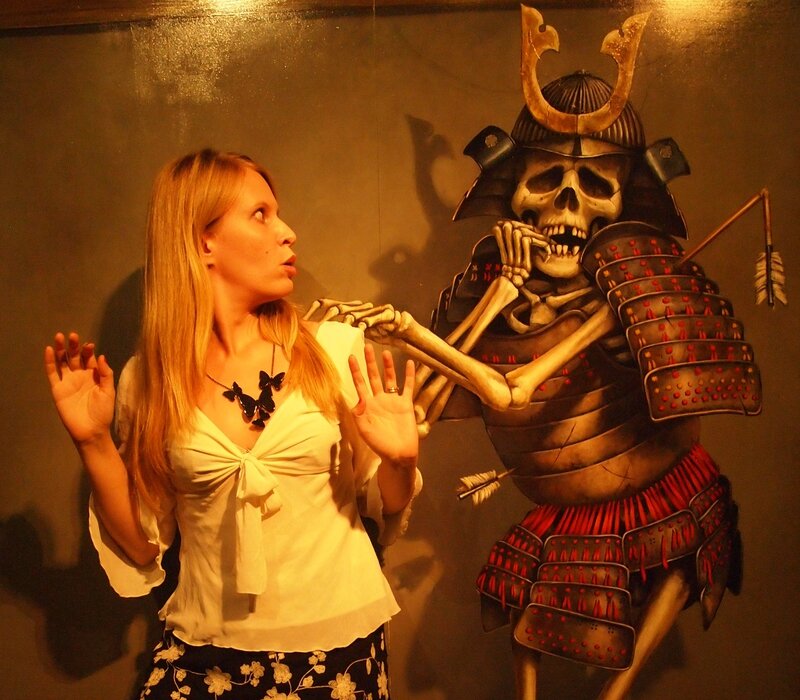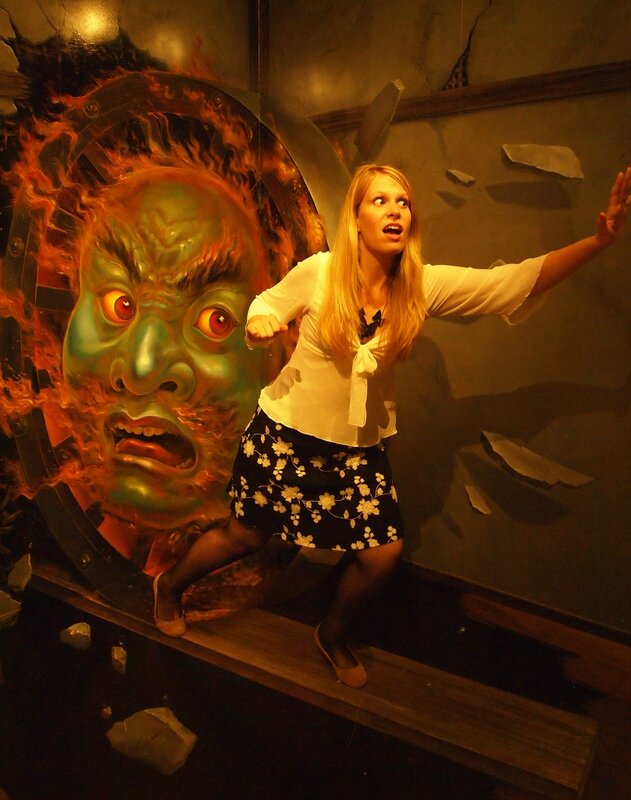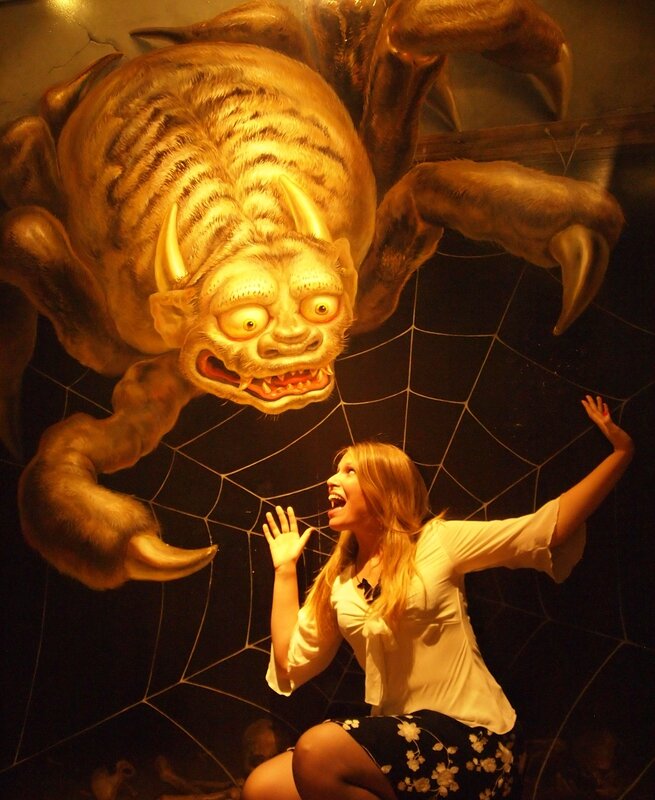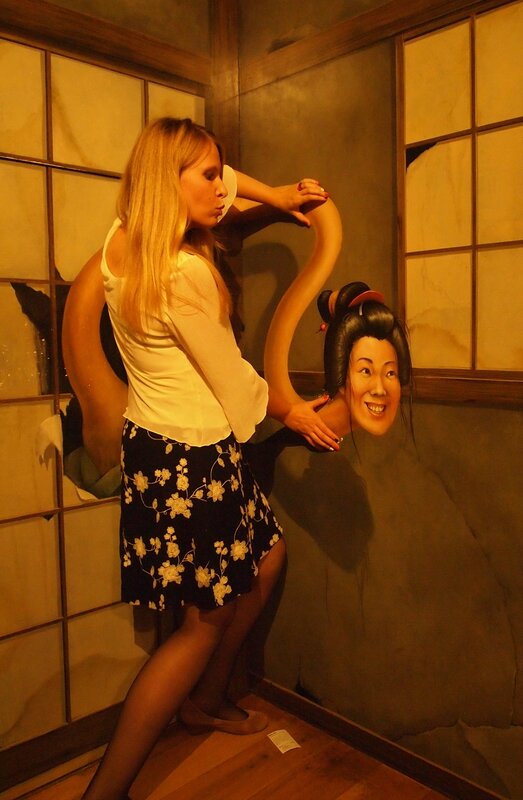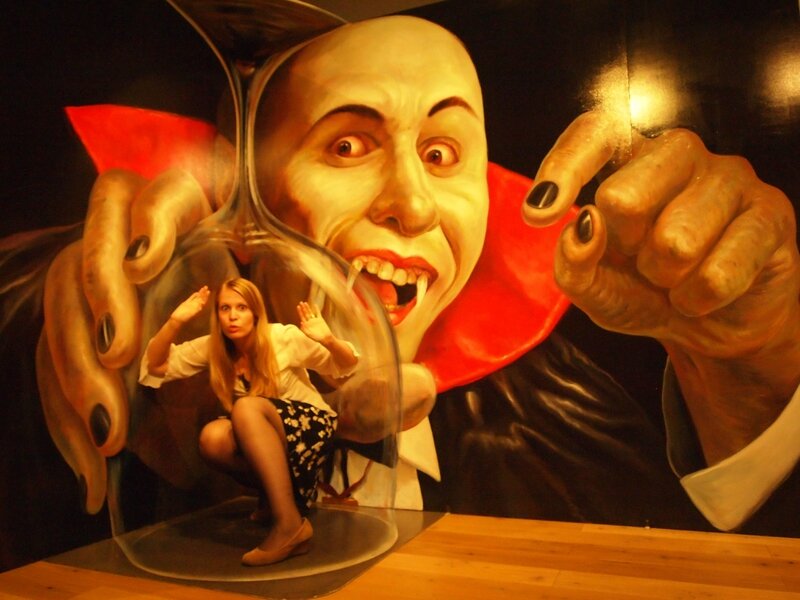 Jaws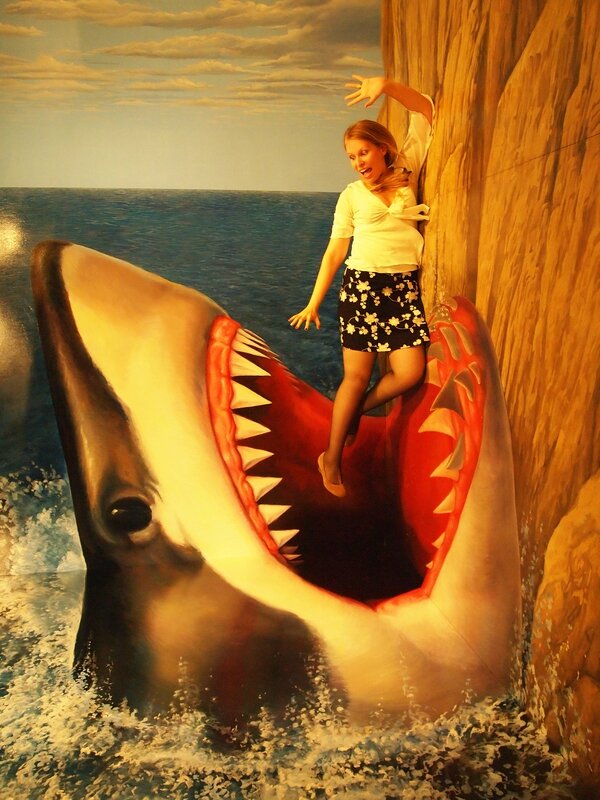 Jumanji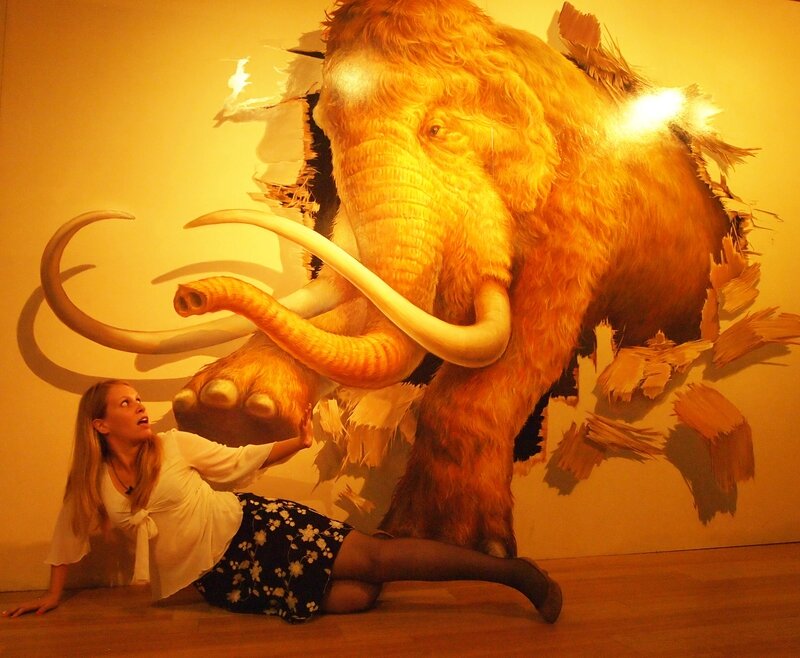 King-kong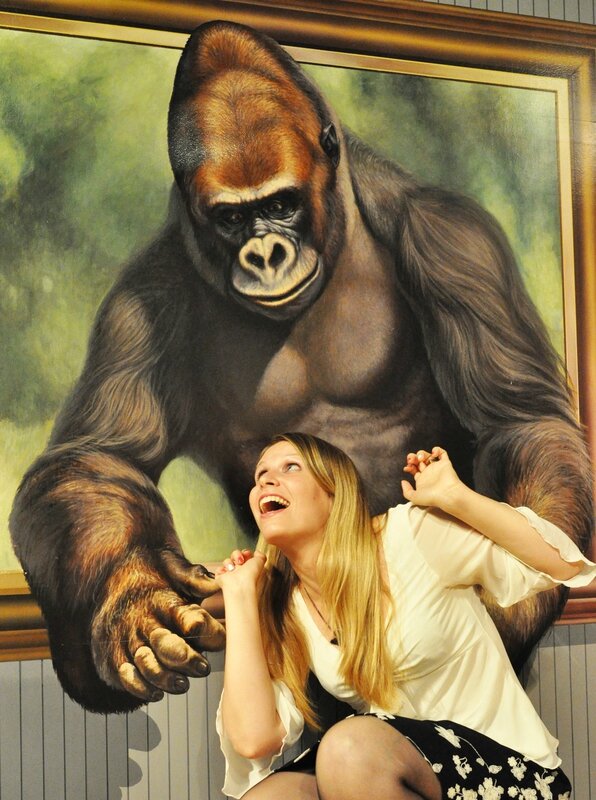 And finally, more friendly animals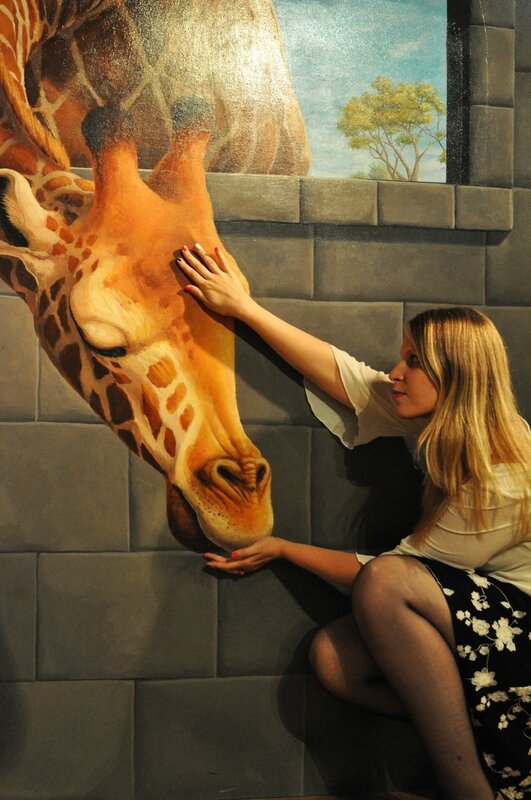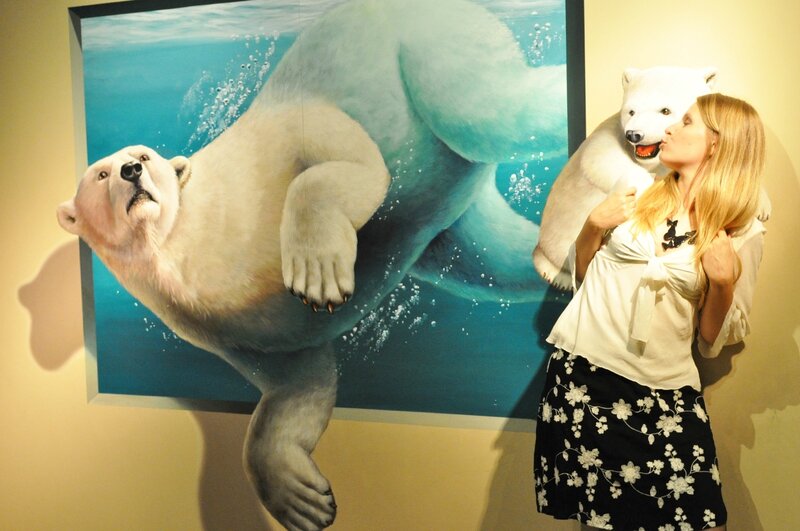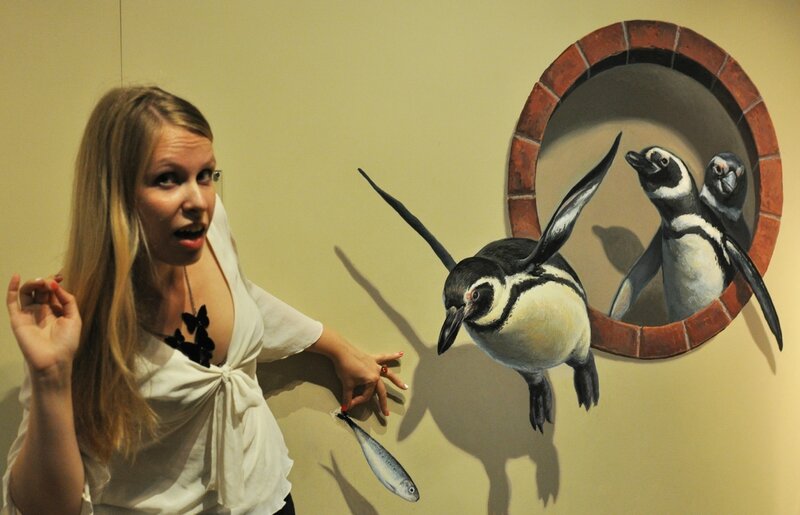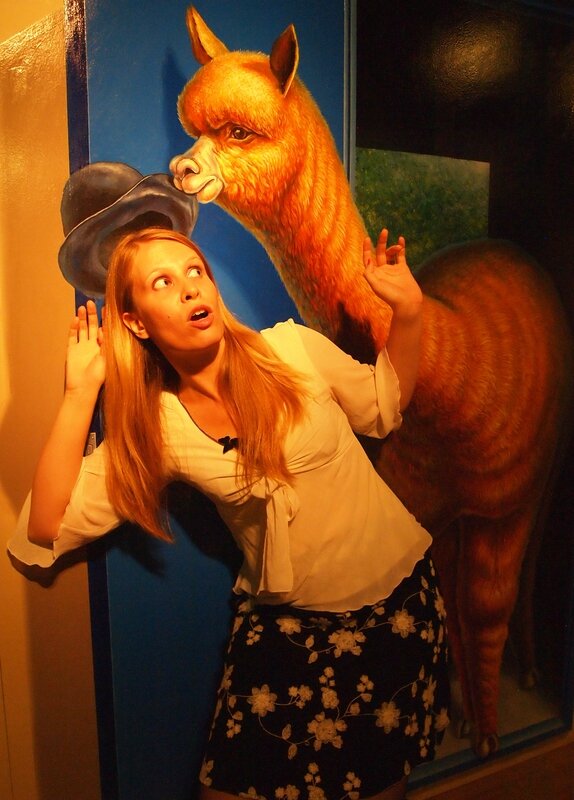 There's no age to have fun with trick art!
23.09.14
Aquarium made Art : that's the concept of this amazing exhibition at Coredo Building in Nihonbashi, Tokyo. Moving, multicolor art made of water and light, and thousands of living goldfish. Remember this mesmeric moment in Disney's Fantasia, when you found yourself floating among fish on Tchaikowski's melodies? We're not far from this feeling.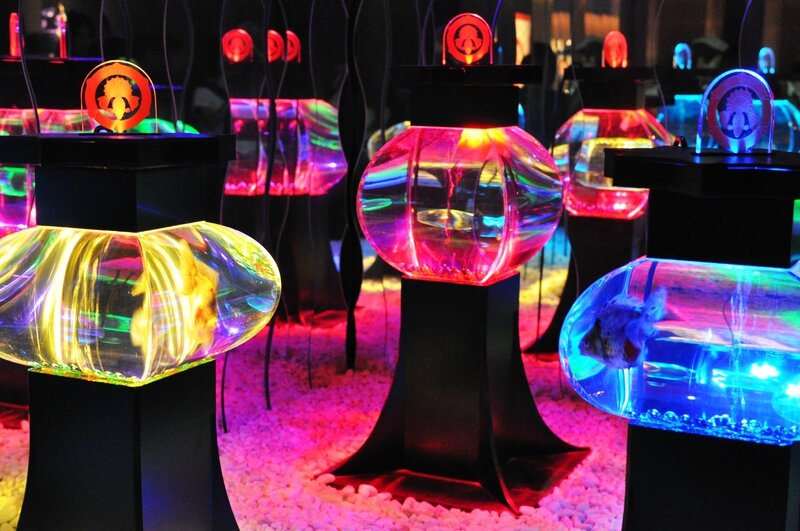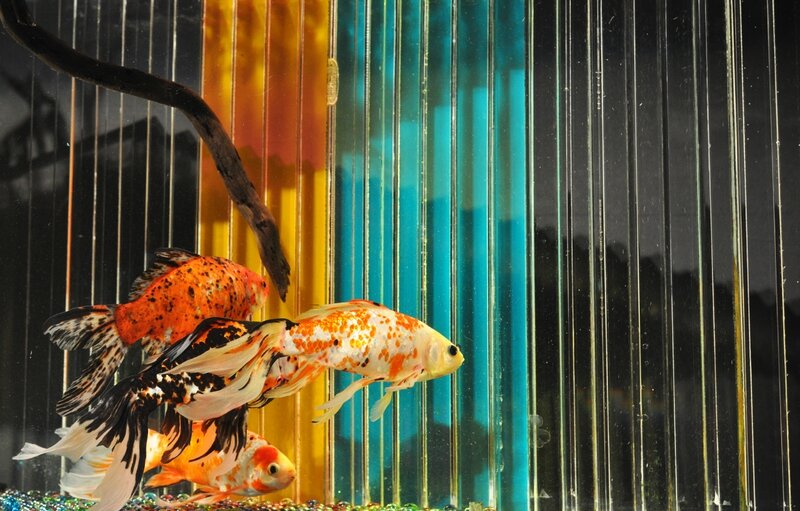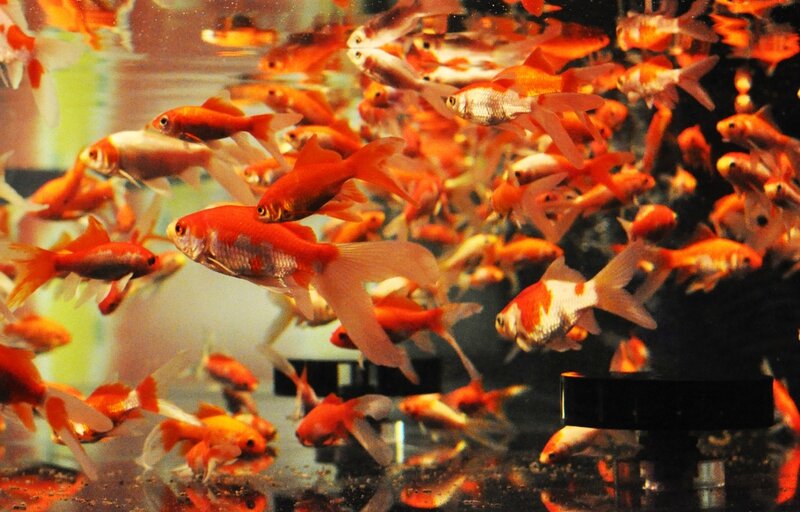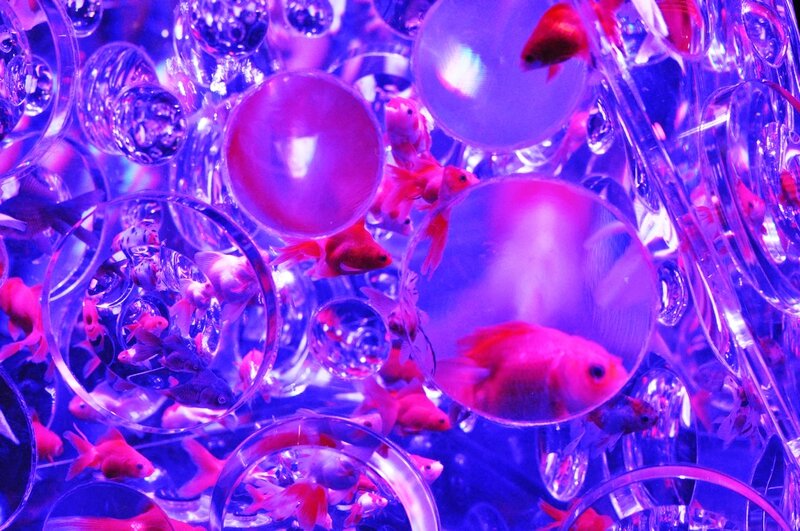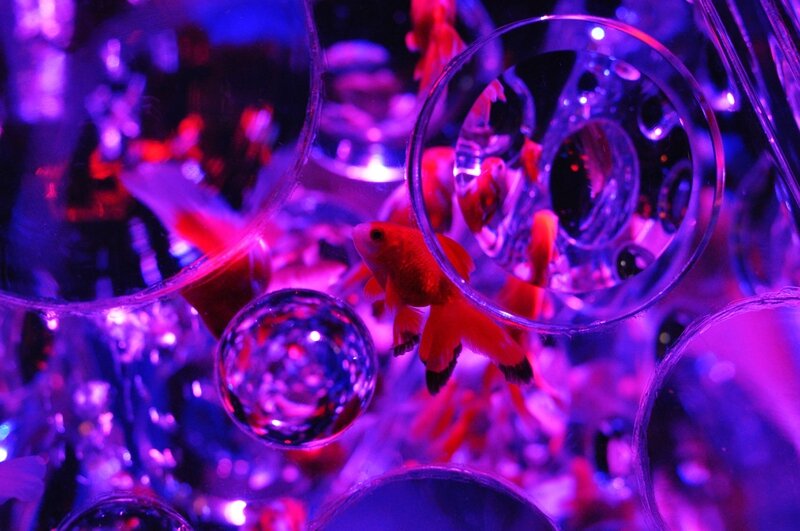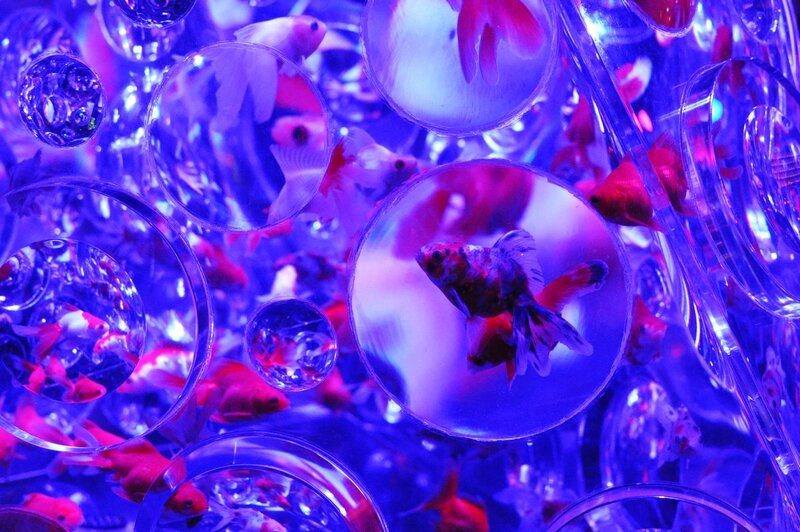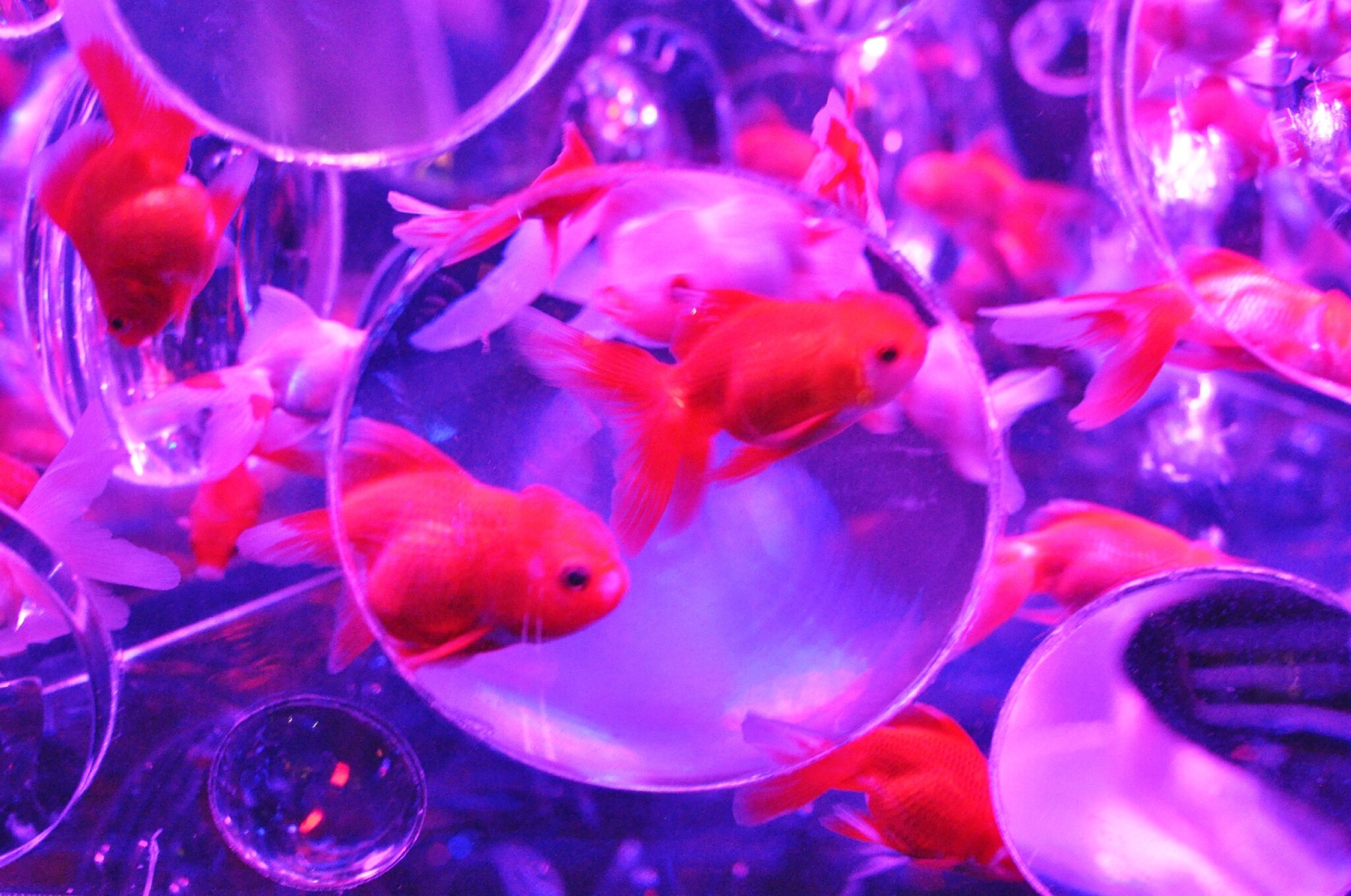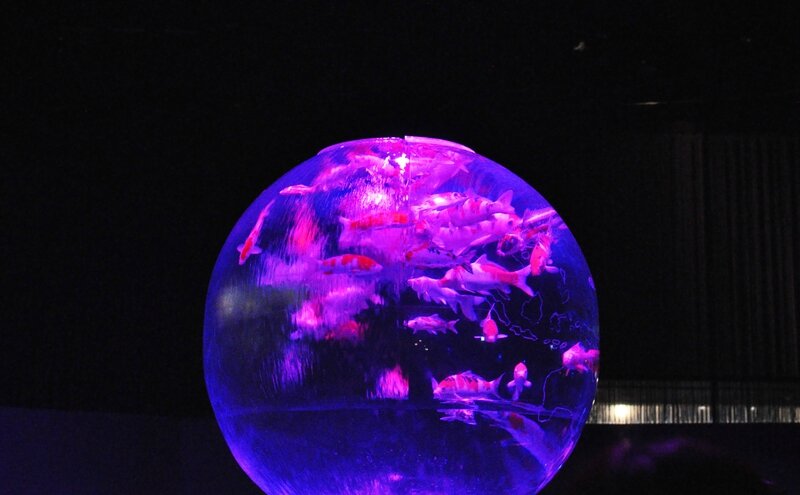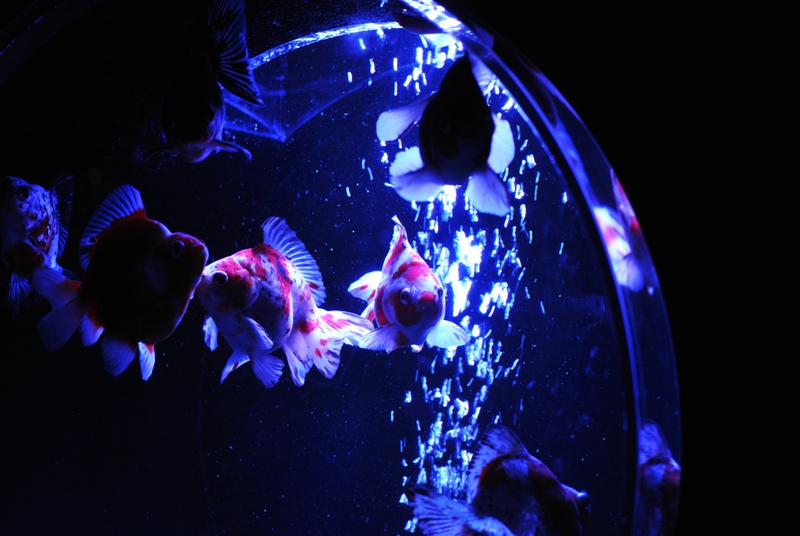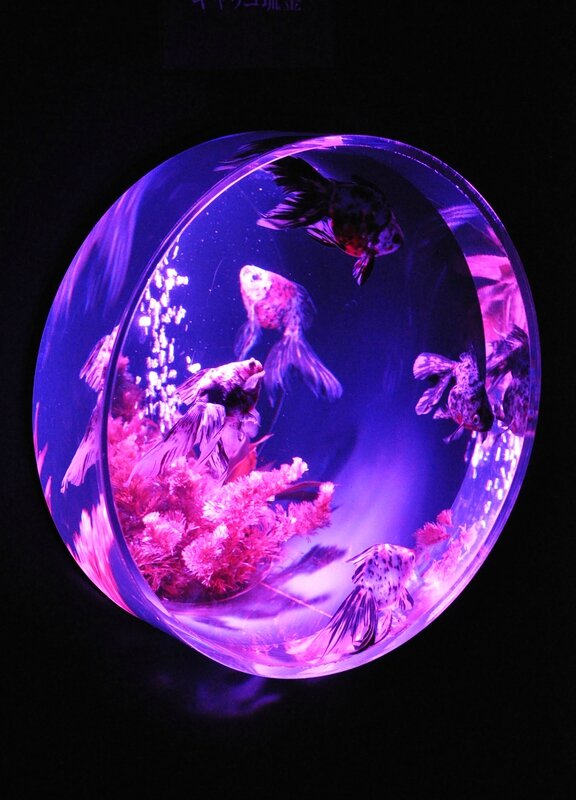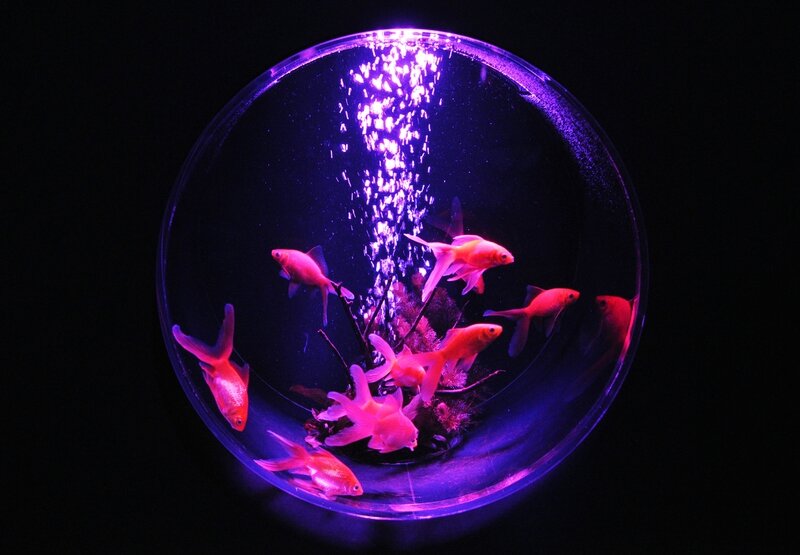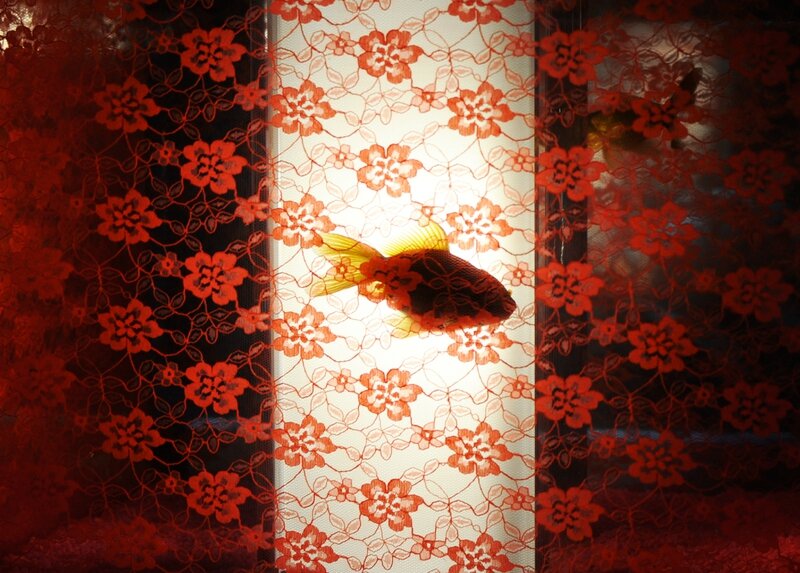 04.06.14
And so I went to New-York City.
Before I show you the skyscrapers, the yellow cabs, the green face of the Statue of Liberty and the lights of Time Square, here is the project that Sonyan and myself have been working on while visiting the city... One day a fan, always a fan.
When in NYC, you can't help but remembering all these movies, all these TV series taking place there, and it's so inspiring. You are Marilyn. You are Holly Golightly. So let's start the show with a the classics !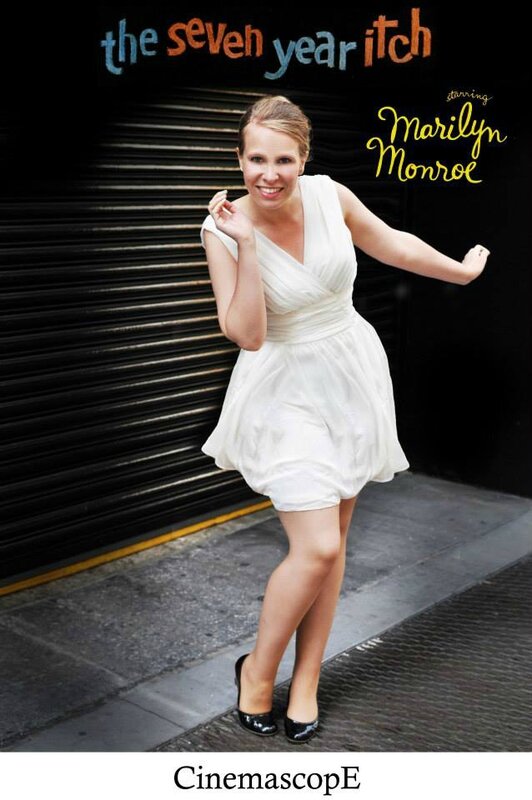 This is the actual subway grate where Marilyn's white dress made history. There's nothing there to indicate the place, but Google knows everything. So exciting to stand there...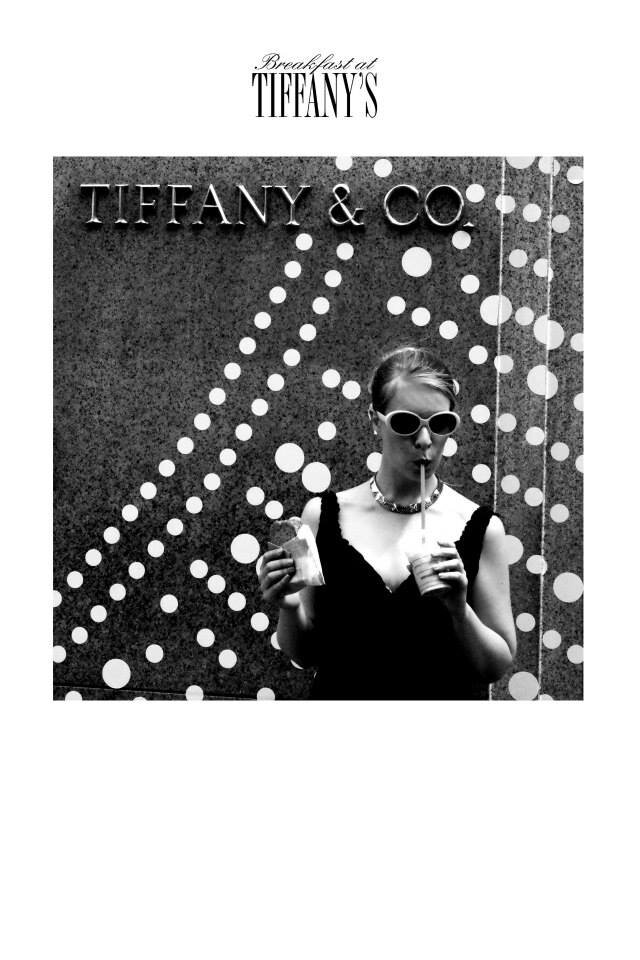 The huge Tiffany shop was easier to spot. I'm afraid Audrey Hepburn was not sipping on her coffee with a straw, but this is the Starbuck way...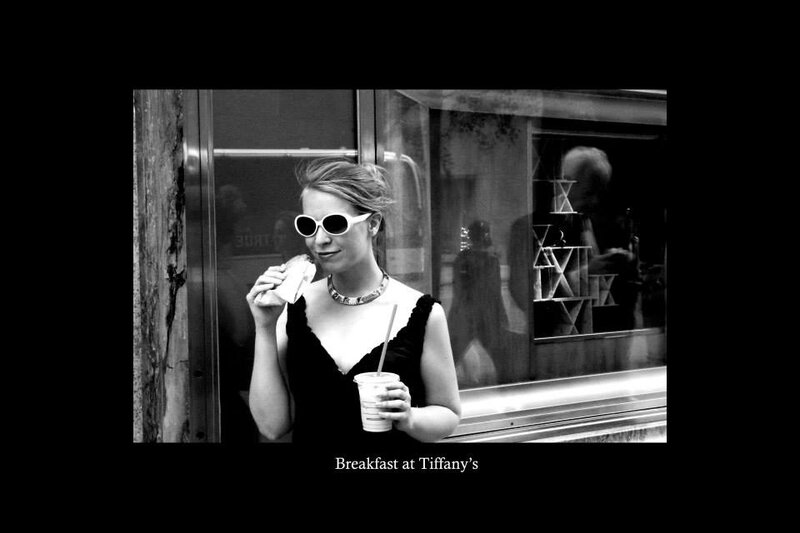 But Braodway means "musicals". And the greatest of all is...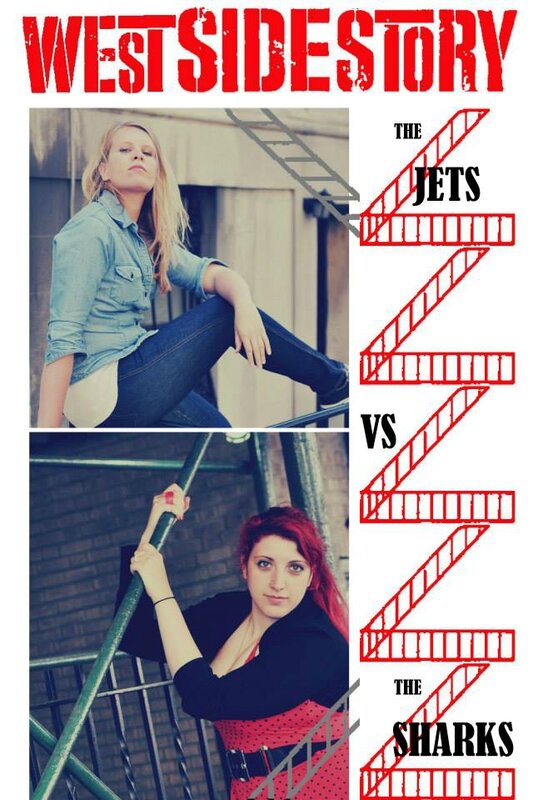 If you want even more badass references, let's go Gangster style.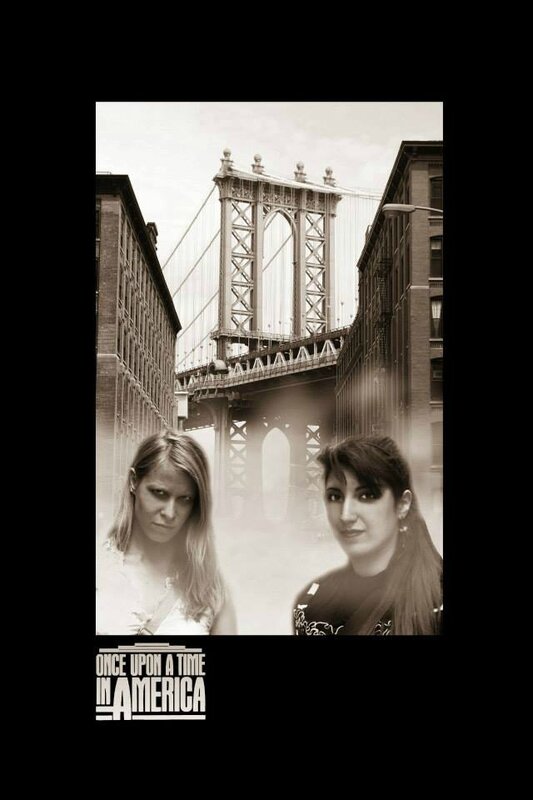 This post is getting too dark. Let's add a pinch of punk... Do you remember Giselle singing her lungs out in Central Park?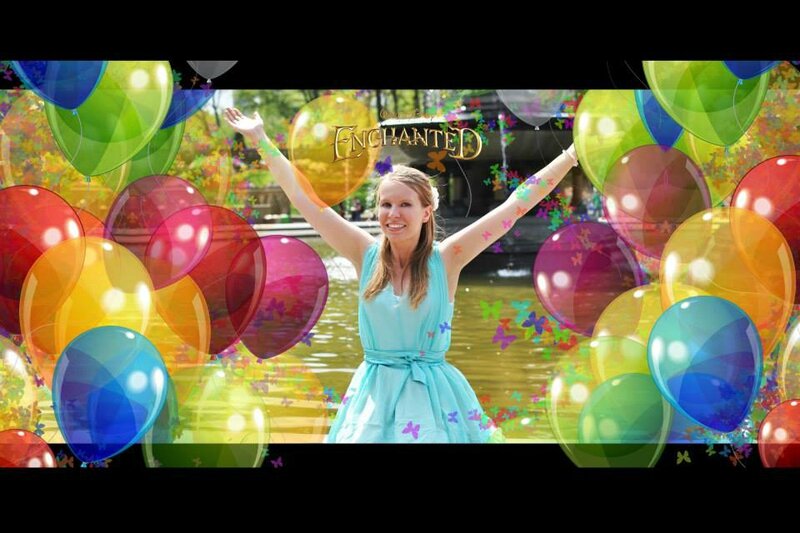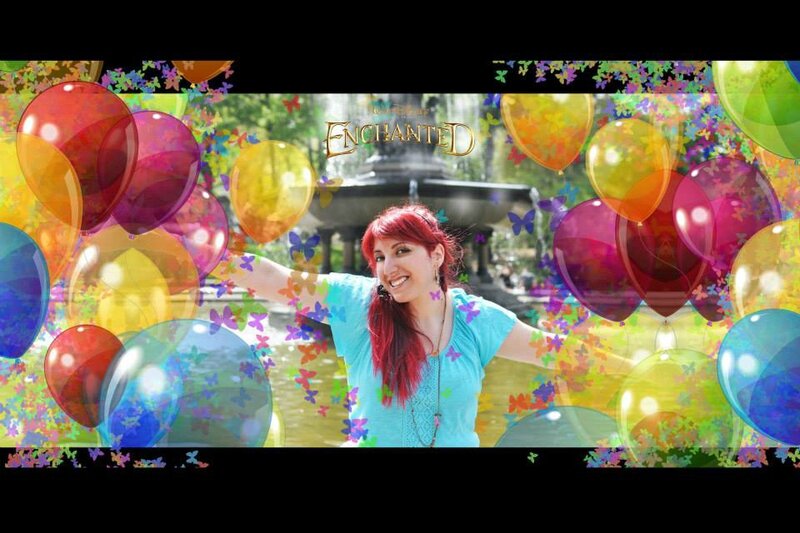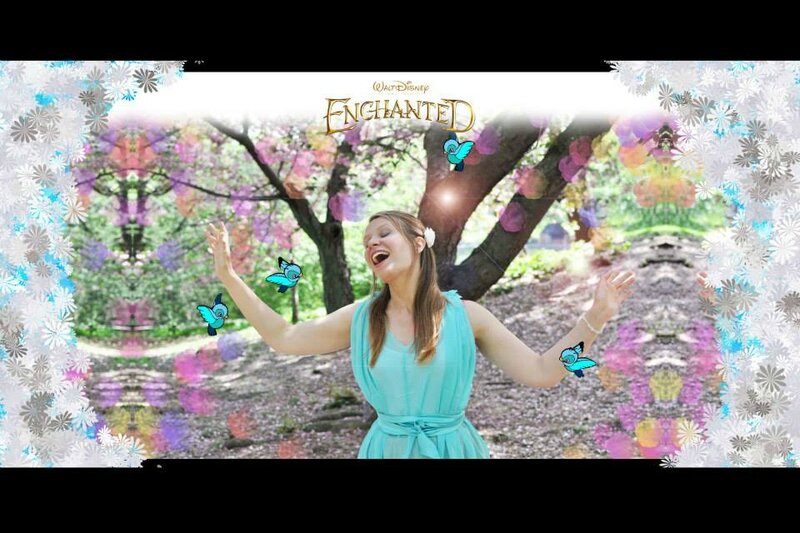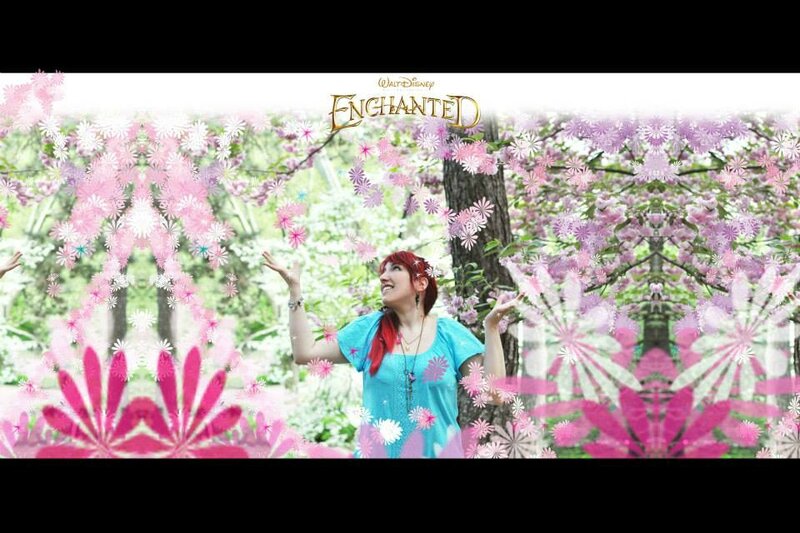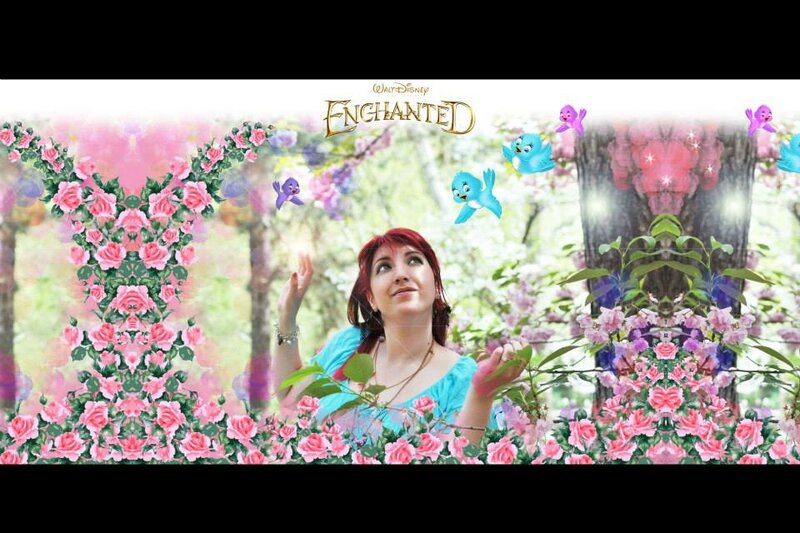 But the sky is not always blue in Manhattan. A girl also has to struggle with modern life. For example, when your boss is a bitch...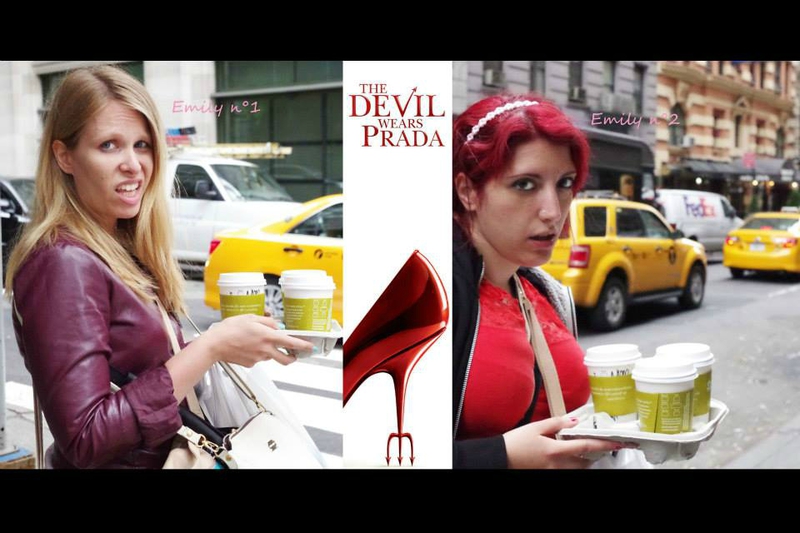 ... or when love sucks. Fortunately, good cupcakes can solve everything.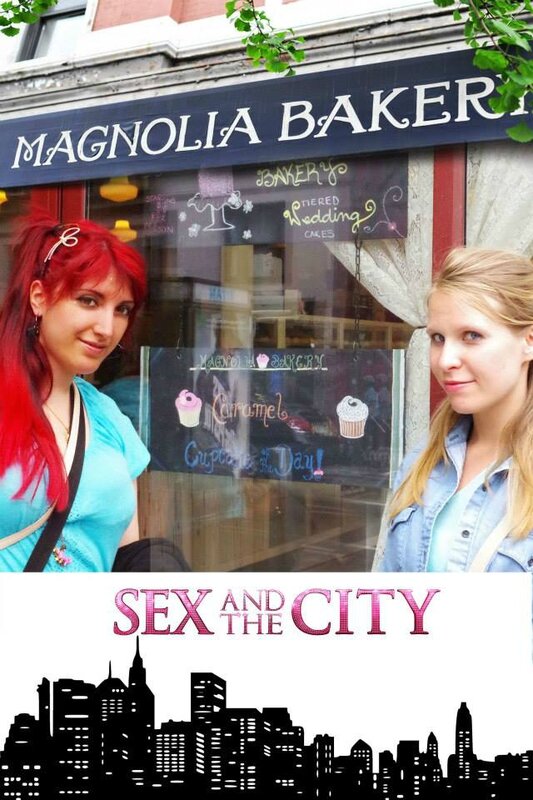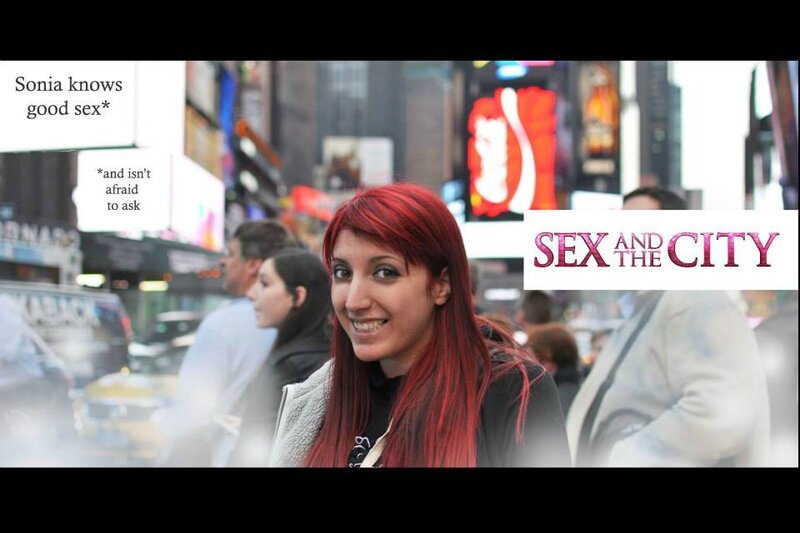 OK, but what if an ugly, giant, stupid monster was trying AGAIN to destroy the city??...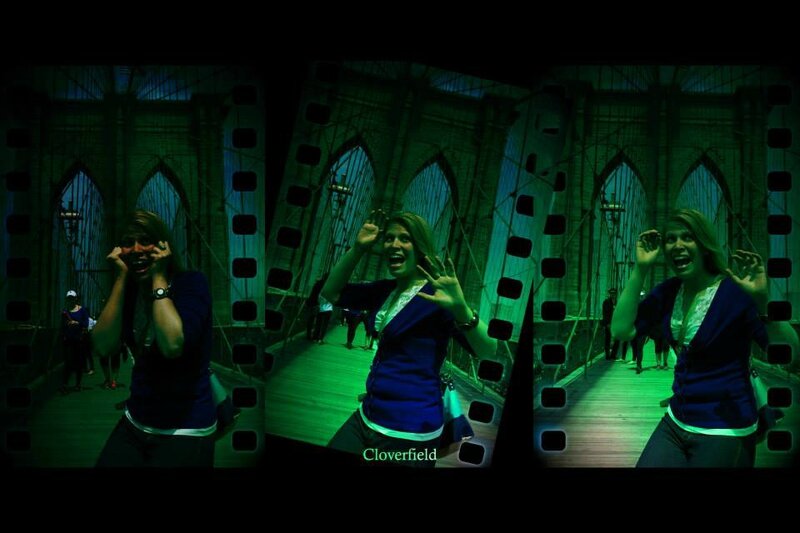 I guess we would have to call this guy again.
9 days in NYC through 9 movies! And weabsolutely have to go again for a TV series shooting: Friends, Gossip Girls, How I met your mother and many more are waiting for us!
01.10.13
Encore un petit clin d'oeil à Sonyan qui a ému la toile entière avec son témoignage précieux sur les troubles du comportement alimentaire et son dossier sur l'environnement japonais en matière de poids "idéal" selon les critères locaux - un poids plus que plume.
Il faut croire que je suis plutôt bien entourée dans ma bulle japonaise, car je n'ai jamais subi les goujateries et manques de tact divers et variés qu'elle évoque, elle et bien d'autres, ce qui m'a protégée de la pression des standards de maigreurs qui sont ceux du Japon. Pour moi, Tokyo, c'est avant tout la gourmandise, l'infini partage de délices toujours différents avec ses proches. Quant aux mannequins maigrichons qui hantent les magazines féminins ici - que je n'achète jamais, étant d'un ennui mortel : des pages et des pages de "looks" si nombreux qu'on a pas la moindre idée de ce qui est tendance cette année... -, il est clair pour moi qu'on ne joue pas dans la même catégorie. J'ai un corps plus grand, plus épais, plus lourd, et plus flamboyant. Il est certain que je n'irai pas spontanément me nicher dans un mini-short à la mode shibuyesque, et je sais d'emblée que la plupart des enseignes locales n'auront jamais ma taille, mais ça ne me traumatise pas plus que ça, tant il est clair que je viens d'une autre planète que les nymphettes locales. Nous n'avons pas le même genre de beauté, voilà tout. Mais si je parviens à tenir assez sereinement la comparaison, c'est parce que j'ai des amies japonaises cool qui finissent leur assiette sans jouer les mijaurées, et qui n'auraient jamais la perversité de comparer ce que j'ingurgite et leur propre faim. J'ai fréquenté des garçons plein de tact qui ne m'ont jamais taquiné sur mes courbes les plus confortables. Mes camarades français non plus ne passent pas leur temps à vanter la maigreur japonaise. Pas de collègue lourdingue. Pas d'observation perverse du contenu de mon bento au travail. Il est clair que je serais sans doute tombée dans les mêmes spirales infernales que Sonyan si j'avais été confrontée aux mêmes épreuves. Et il est bon de se faire rappeller qu'il n'y a rien au monde qui justifie qu'on massacre sa santé, surtout pour répondre à des critères impossibles qui n'ont jamais assuré à personne ni la continuité du désir ni l'amour. Car on rappelle que le couple au Japon est foncièrement une vaste blague ; que nos Nippones sont le plus souvent évincées de la vie professionnelle à mi-parcours, que l'amitié hors-boulot-et-obligations-diverses est une valeur quasi-inconnue... La minceur, apparemment, ne garantit ni l'amour, ni le succès professionnel, ni une vie sociale riche. Revoyons nos priorités...
22.06.13
Every year in Japan, this is the same story : after the magic of blossoming sakura in April/May, we are slowly slipping into the hot season. And before the sweaty summer, there is the grey, the wet, the uncomfortable rainy season. Grey sky, heavy rain, first mosquitos and other disgusting insects, and you can't even wish it's over, because you know that after that, Tokyo will turn into a giant hammam. But let's see the good sides of tuyu, the Japanese rainy season, too.
ADVANTAGE n°1
This is Singing in the Rain every night. Just stop playing with your smartphone for a while, and look around you. The ballet of umbrellas. The artistic combination of rainy boots and open shoes (two different strategies to walk into the puddles, pick up your side). The reflection of lights in the shining watercourses. By night, rainy Tokyo is even more beautiful.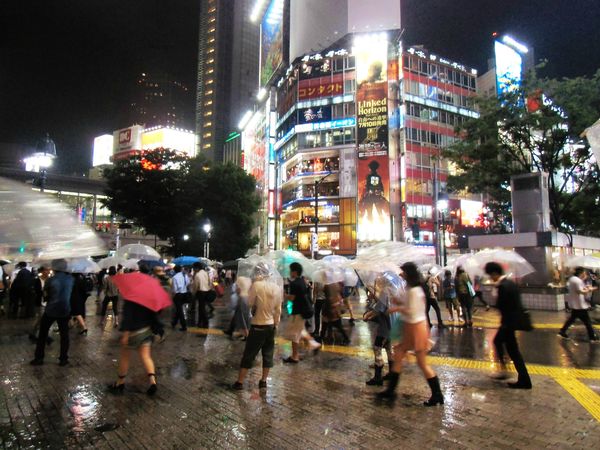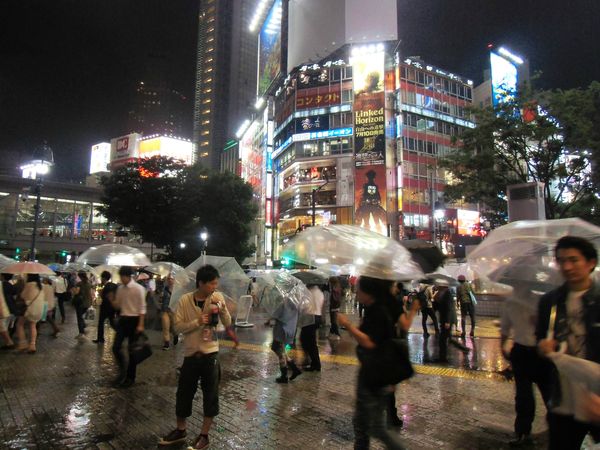 ADVANTAGE n°2
Fireflies. Hotaru, in Japanese. If you can afford a week-end in the countryside, you may have a glimpse of these elegant insects who are mating during in early June for genjibotaru, and early July for heikebotaru. Remember this awfully sad movie by studio Ghibli. And bless Mother Nature to give us something so beautiful.
If you're stuck in Tokyo, well... use your imagination, and/or try your chance at the Four Seasons Hotel's park, close to Waseda.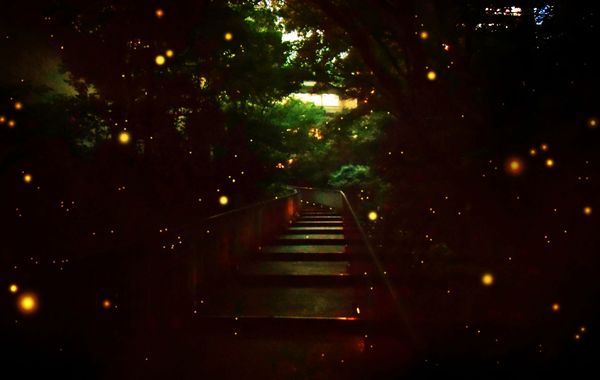 ADVANTAGE n°3
That's the best moment in the year to go to the museum. Today, I have visited the Mori Tower and it's great exhibition about... LOVE, yeah! "All you need is Love", from April to September 2013, at Roppongi Hills ! From Chagall to Yayoi, feel the power of Love! I got lost in the tentacular labyrinth of Kusama Yayoi, and it was just delightful...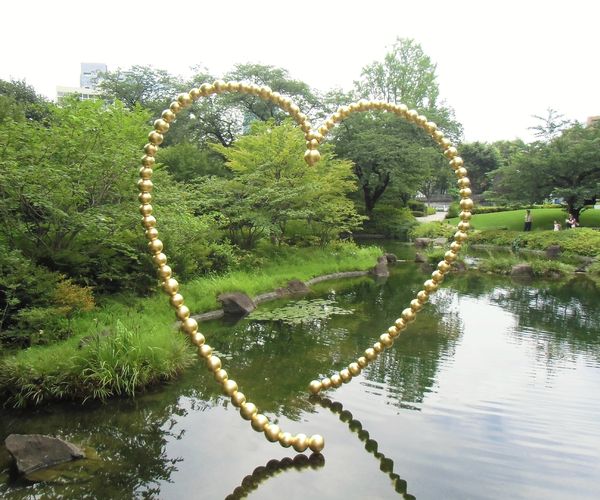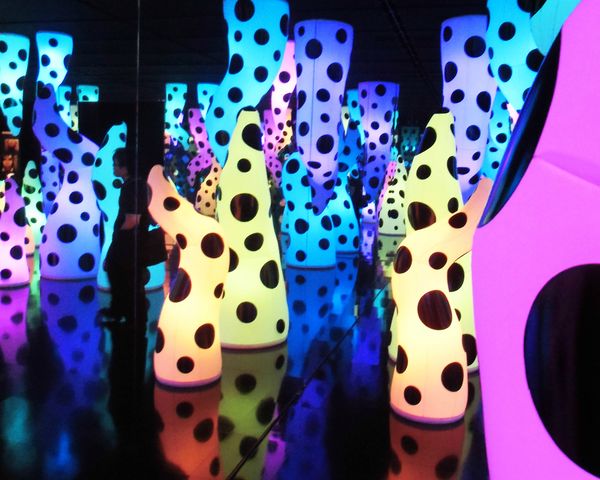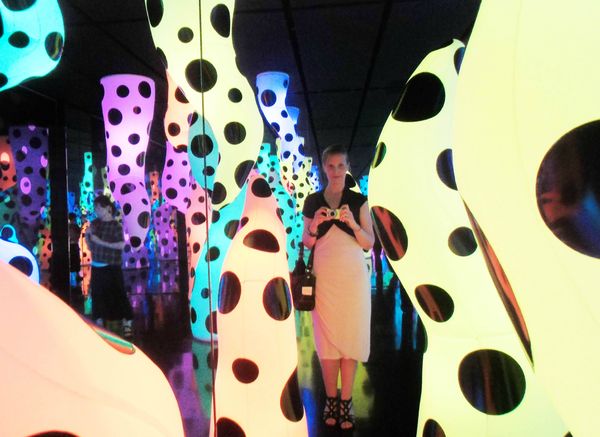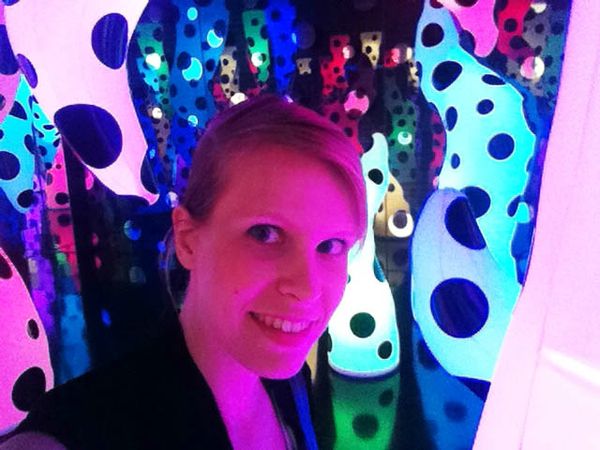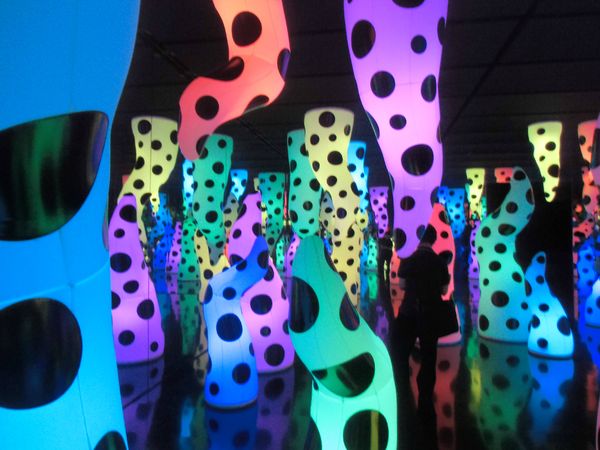 Don't forget to enjoy the rain! Water = Life, baby!
15.02.13
Welcome to Ichihara Hiroko's free exhibit in Roppongi - Tokyo Midtown!
The concept is simple : funny, serious, light, deep, sometimes strange messages painted on the wall, black on white, big and short enough to make an impact... and to have a lot of fun with your friend Miss A. who had the nice idea to bring me there!
Istuninaku Shiawase - Especially Happy.
Kimi Ga Suki Degozaru - I Love You (in archaic, polite samourai language)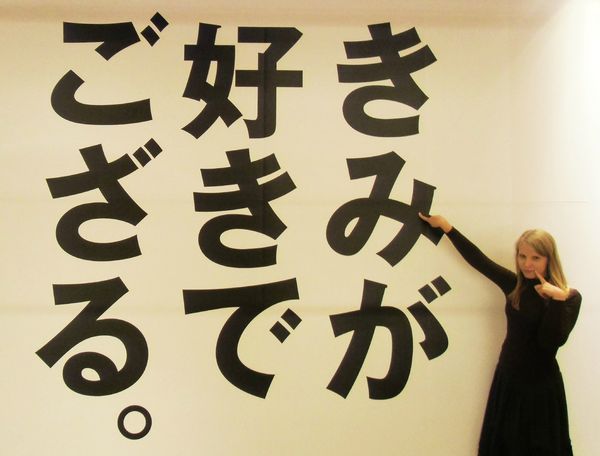 Itsudemo, Dokodemo, Dare To Demo - Anytime, Anywhere, with Anyone.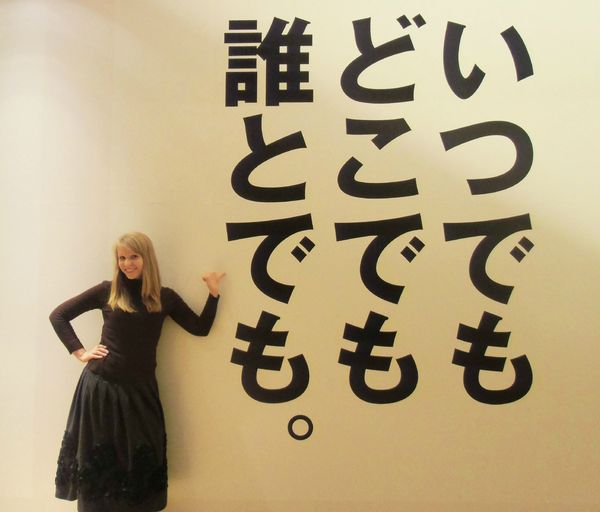 Watashi Ni Wa Hana Ga Aru - I'm Sexy (and I know it)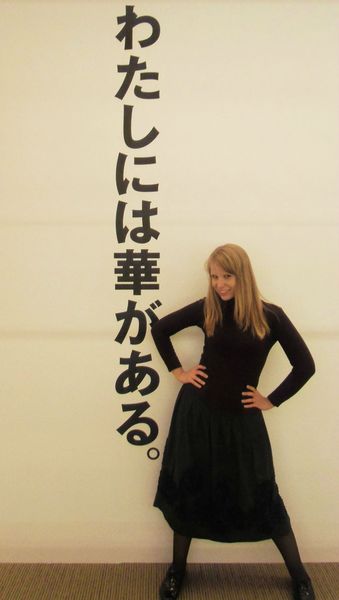 Bijutsu O Nichijou Suru - I Am an Artist Everyday!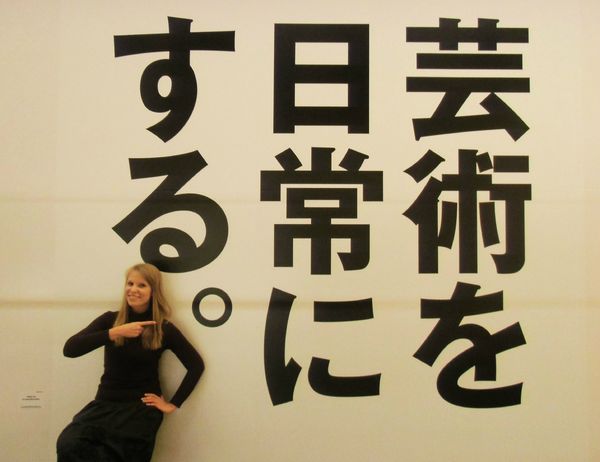 In many aspects, the Japanese poetry is based on the art of striking your mind with a short, powerful, breath-taking sensorial shock. Most of the haiku are like this : a dazzking glimpe of something - a vision, a smell, a sound - that blows your mind. The "distance" with the text is created by the architecture of the kanji : the parallelisms, the graphism, the consistency in the combination of the characters leads you to a second level of reading, more intellectual, less emotional. It is very different from the French poetry (and probably European poetry in general, but I am not a specialist), where poetry is mainly based on metaphores, that is to say the undirect reference to things and concepts - words that stands for something else. And the gap between what is written and what is meant stimulates your imagination : poetry is born. In the French poetry, you are immediatly on distance with things, whereas in the Japanese poetry, you're so close to them that you take it like a fist in your face. Both experiences are so gret that it is really a pity that most of the French people will never get the chance to approach Japanese poetry; and very few Japanese will understand the French one.
I feel so lucky to navigate on both seas. (French way)
The detonation of the haiku and the echo of the alexandrin are ringing in my ear. (Japanese way)
イチハラヒロコ展「期待して当たり前なんだし。」
2013年1月15日(火)~3月24日(日)
11:00~21:00
18.08.12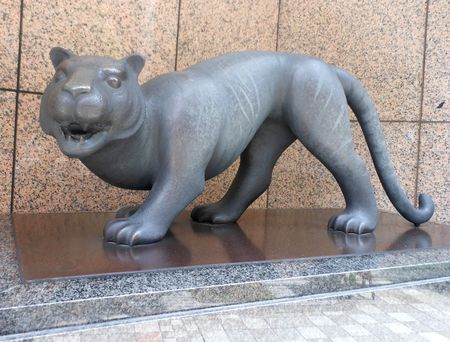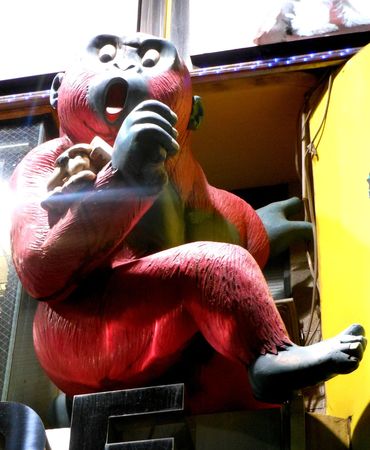 26.01.12