09.11.11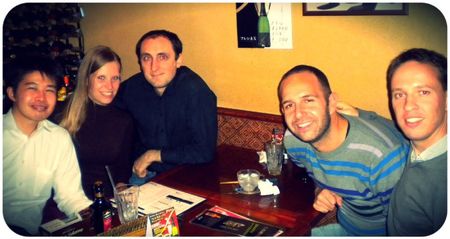 Japan / France / Poland / Italy / UK
ETP 2009 is far behind us already, and our small group is shrinking month after month, but sometimes one of us comes back to Tokyo and this is just as if we had never left each other. ETP friendship is not dead !
26.09.10
ETP 27 is not dead !
Thanks to Chris and Kumiko, we enjoyed a post-ETP session again at Jiyugaoka, Meguro-ku - people should get married more often. Between earth and sky, we were as happy for ourselves as for the nice couple. Who's next ?
クリスさん、くみこさん、おめでとうございます。
More pictures in the ETP 2009 album !

29.08.10
I updated the ETP Japan album (right column) with the pictures of ETPA website.
Sweet memories ! The smiling faces of the Ending Ceremony at Westin Hotel : no more kanji tests, no more gramma checks, we all passed our exams with success... Happiness... But it was also the last time we were all together. I hope that we will meet again soon, dear ETPs !
(More pictures in the ETP Japan album)


10.03.10
The great news came yesterday: first of all, all the ETP27 members passed their exams and graduated brillantly... Then, we were all allowed to receive the last part of the European Commission scolarship... And finally, we were all invited to participate to the ETP Final Ceremony tonight !
It took place at the Ebisu Westin Hotel, as for the opening ceremony; we were all very busy to congratulate each other, to receive our certificates, to thank the teachers, to guide our guests from our internship companies and to take pictures that it was a challenge to really enjoy the moment with our friends, but it was definitely a nice party.

More pictures to come...
Check the ETP Japan photo album on the left column !


ETPs last group picture (before the next time...)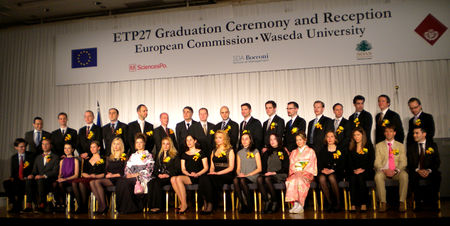 The Westin Galaxy Room before the invasion



After the invasion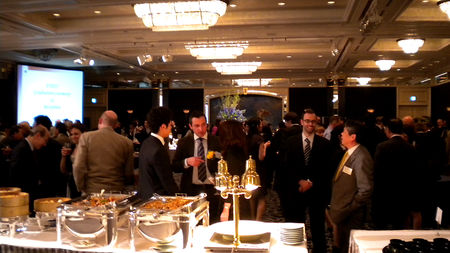 Me & Friends



Me & Family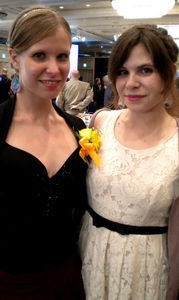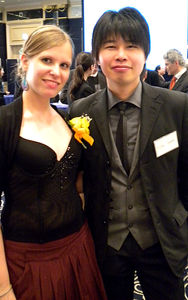 Friends again... and again...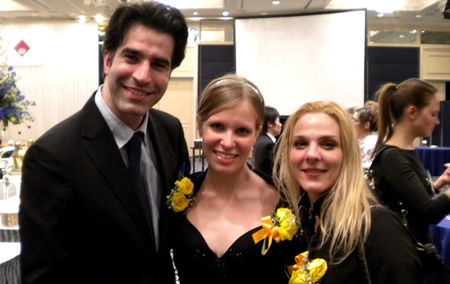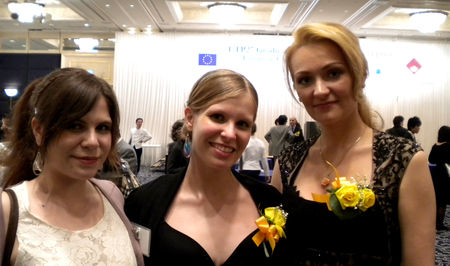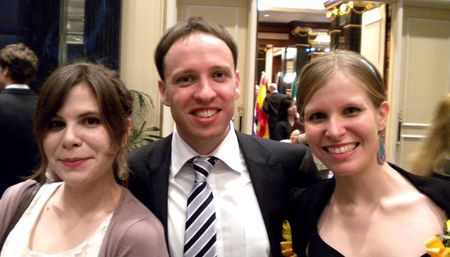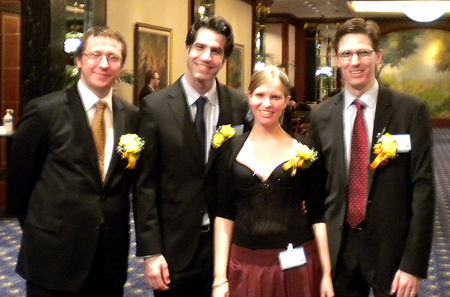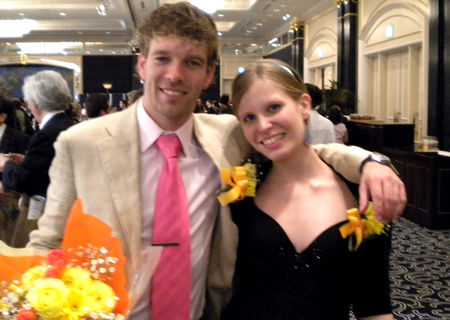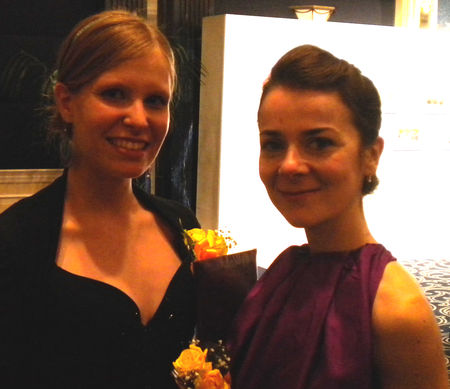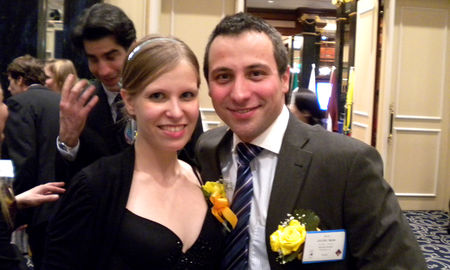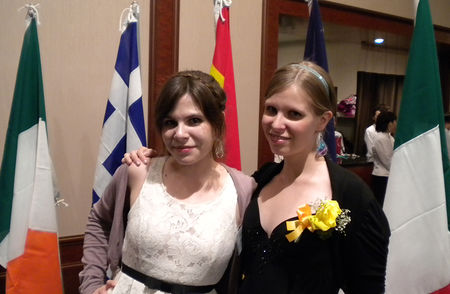 Well, this is the end, we are not ETPs anymore but potential ETPA. I hope that we will have a chance to participate to the next ETP generations' ceremonies. Just for the pleasure...
11.01.10
Some days, work looks like that :


... and at this moment, you need some fresh air.
Minato-ku is a wide area in Tokyo, but the area around my company, settled at Akabanebashi, is mostly covered with middle-height buildings hosting corporate offices. There are only a few shop, the streets are large and empty, except at the lunch time when the crowd of salary-men in white shirts and black ties invades the space.
But there are also some secret tiny places behind the buildings, and I love to discover is during the lunch break - and also, to collect the diffeent views on the neighbour, Tokyo Tower...
29.12.09
(More pictures by Attila & Melinda in the ETP Japan photo album !)

08.12.09
Last Sunday, I was a bit desperate considering that I was going to spend this perfectly sunny day inside an exam room, alone with Mister Japanese Language Aptitude Test, Level 2. No need to say that in addition to the fact that it's an exam, the Japanese Language Aptitude Test is a tricky, nasty, unlovable multiple choice test. Instead of evaluating your real abilitity to talk and write in Japanese, it tests your sense of time management and your capacity to avoid traps. For example, there is a kanji you know. You could even write it without any problem in a sentence. But in the JLPT, you are proposed 4 kanji with one or two different strokes only; and because your are a human being, the simple fact to read it make you loose your knowledge of the kanji. As a result, to be ready for the JLPT, you should know everything scientifically. Knowing a kanji would need : knowing every part of it and the ways they complete each other in the right order to make the right shape and to make the right meaning. And it is the case for every part of this exam. A nightmare for me who have never been able to memorize anything by heart but poetry. Even in French, I don't know one single grammatical rule ; just reading and letting my instinct think for me, I have always had a good orthographe. To make it simple, I would have prefered to write an essay and to have an interview with a human person in front of me to judge of my concrete skills. But anyway.
The good surprise of the day was the place. I had to commute until Hanakoganei station, on the Seibu Shinjuku Line ; 20 minutes from Takadanobaba with the Express train. The University of Kaetsu is a nice campus surrounded by trees, and above all, silent. Even if I leave in a very quiet area in Tokyo, the silence does not have the same quality there. It was amazingly peaceful. The premices themselves were great, modern and visually interesting. I could'nt prevent myself to shoot it during the break : welcome to the Kaetsu University...
練習の日曜日、日本語能力試験の二級を受けました。すごく大変でしたが、場所は素晴らしかったので、やっぱり大丈夫でした。次はキャンパスの写真です。明るくていいところですね。嘉悦大学へよこそう。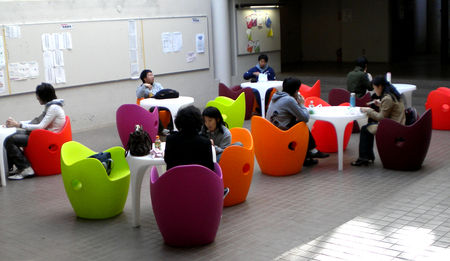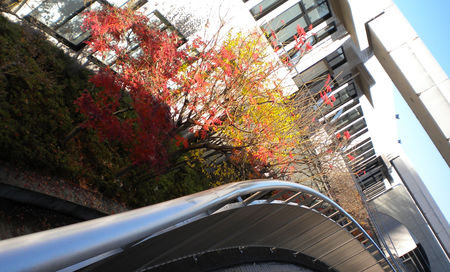 21.11.09
The Waseda module is over. In one week, we will start our internship at a Japanese company.
It would be a cliche to say that it was too fast... I prefer to say that we learnt a lot in a very short time. I remember myself in March, at the beginning of ETP, unable to introduce myself in keigo and hesiating on the reading of 勉強 No doubt that we improved our Japanese. And despite the homeworks, the awful kanji test every morning, the tricky gramma traps, the pressure to finish our essays/speechs and the constant feeling to forget about 75% of what we learnt every week, we never stopped to have fun studying Japanese.

早稲田大学の期間は、終わりです。再来週から、研修が始まります。
もちろん早すぎたけど、この短い期間で色々勉強し、本当に進歩しました。三月の私は敬語が全然できなくて、「勉強」のかんじが読めませんでした!実は時々とても大変でしたが、宿題でも、毎日の試験でも、文法の難しいテストでも、よくがんばってよく忘れるの感じでも、色々勉強し、いつも楽しかったです。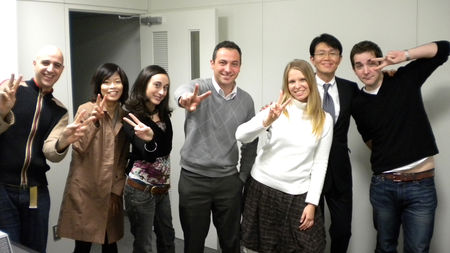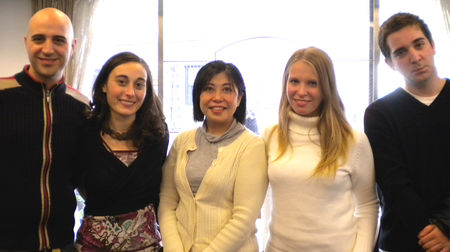 Next step, new challenge : the internship !
14.11.09
Thank you to all the guests, Europeans and Japanese, who joined Valentina and me to celebrate our birthdays ! I had a lot of fun and unexpected emotions - especially when you guys took my chair on your shoulders, with me on it... Trust me, I will never forget the feeling to be suddenly sat in the airs; I am scared just by thinking of it again... kyaaaaah !

I received so many nice presents, that I cant resist to share it on this page. Judge by yourself.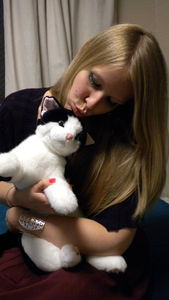 A cat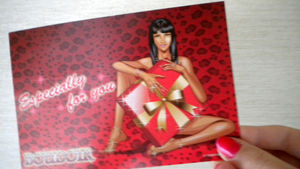 A voucher to go to the Spa



Nice autumn flowers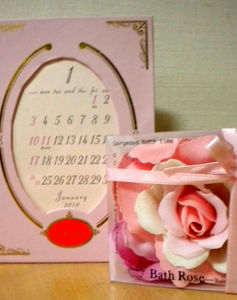 A cute photoalbum-calendar and a bath rose from Fran-fran (Minase-san, how did you know that it is one of my favorite shops in Japan ?!! You rock.)



Delicious chocolates (with an amazing calligraphy card... Thank you Hajime-san !)



A charming tea-box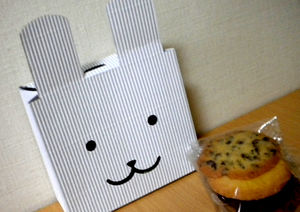 Cookies in the cutest package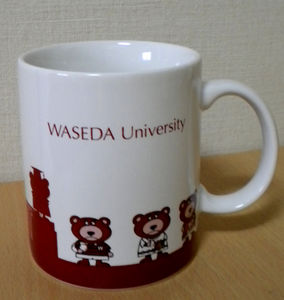 A mug with the Waseda-Bear



A big bottle of Freixenet (very, very, VERY good choice)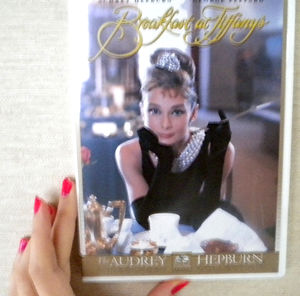 Breakfast at Tiffany's
And now, the party.
Nice dinner at Cafe Cotton Club, then short break at The Hub before going to the karaoke. A few pictures for the ones who couldn't come...
by Hitomi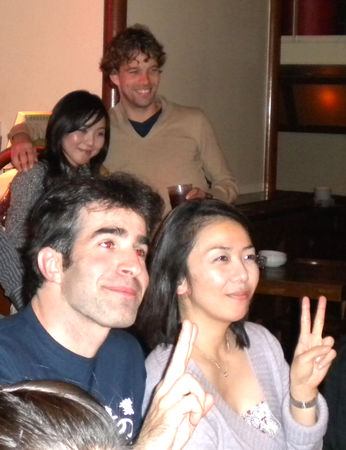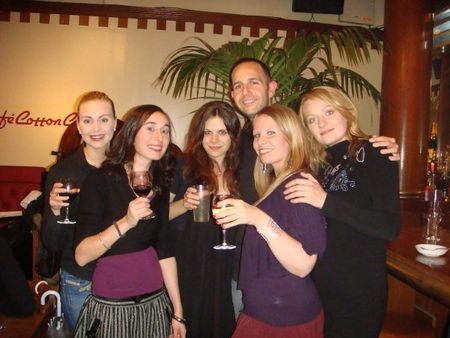 by Natalja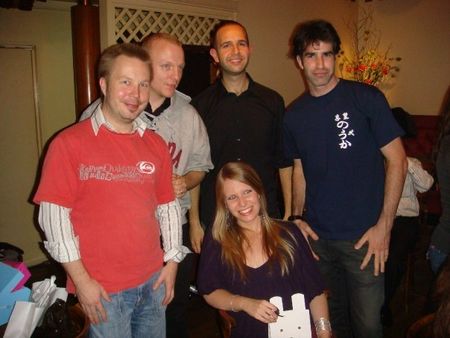 by Natalja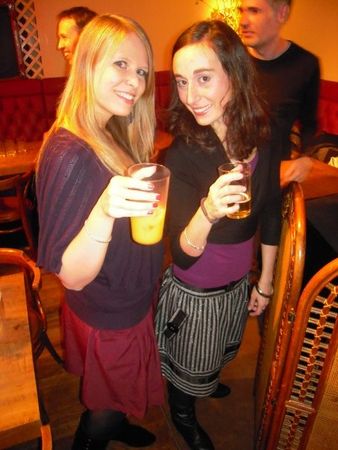 by Francesco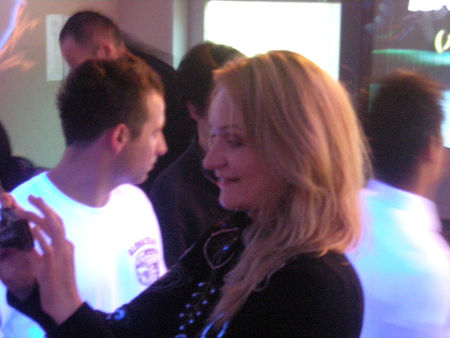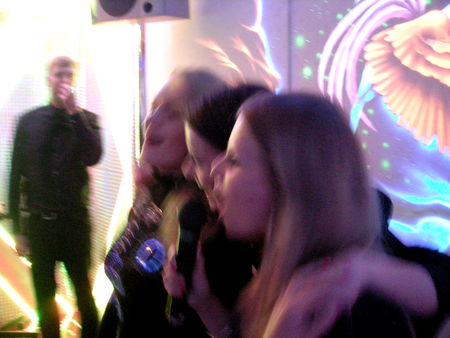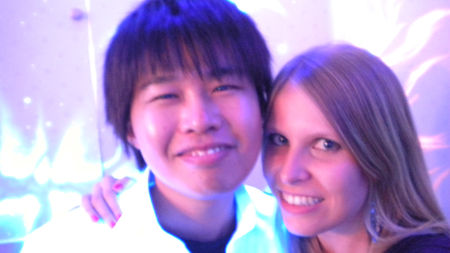 More pictures to come from the guests...
and the complete collection on the photo album ETP Japan !
Thank you again to everyone, you made me happy as a princess !
Xoxo...

13.11.09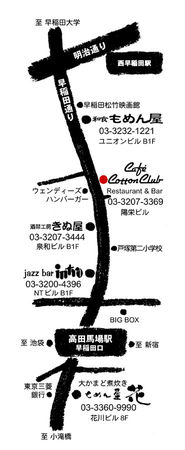 WHEN ?
Friday 13th November, from 19:00 to 21:00 and later

WHERE ?
Cafe Cotton Club, on Waseda Street, two minutes from Takada-no-baba - on the left side of the street if you come from the University (on your right if you come from the station...)
From the Tokyo Metro Tozai Line : exit 7 - just on the right when you get out.
The website : http://www.intro.co.jp/
A short preview : http://beerinjapan.com/bij/299/cafe-cotton-club-takadanobaba/

WHO ?
Noemie & Valentina
You, your friends, girlfriends, boyfriends, brother, sisters, cousins, all nationalities welcome as usual :)

WHAT ?
We will have a course dinner (salad, pizza, pasta) and nomihoudai for two hours, including beer, red & white wine and soft drinks.

HOW LONG ?
The place is reserved for two hours, then we can go to karaoke, nightclub... who knows ?...


Thank you for coming if you can, and let's challenge Time by having a lot of fun !