31.05.16
A girl needs holidays.
Far far away from frantic Tokyo, the Southern islands of Okinawa are hiding beautiful beaches and crystal-clear waters. You need to look for them though, because many landscapes there are unfortunately ruined by highway bridges, electric wires and ugly boats. But with a bit of patience, you will find postal-card views, beautiful manta rays spots and perfect sunset beaches!
Ishigaki island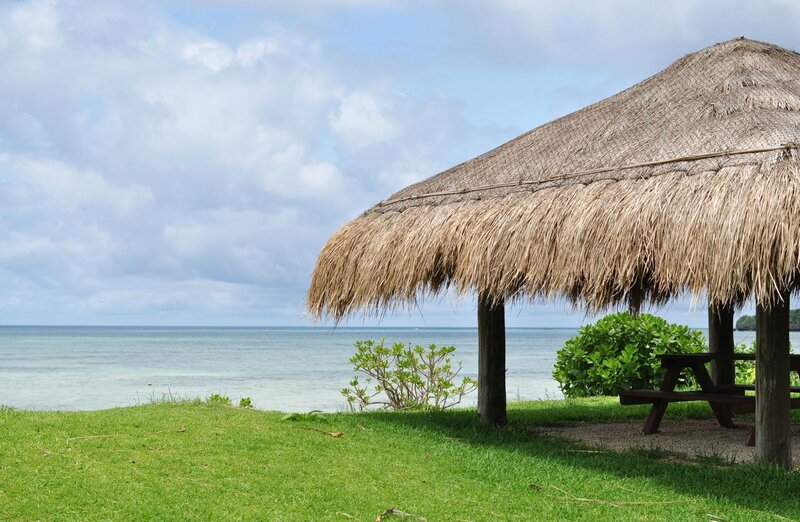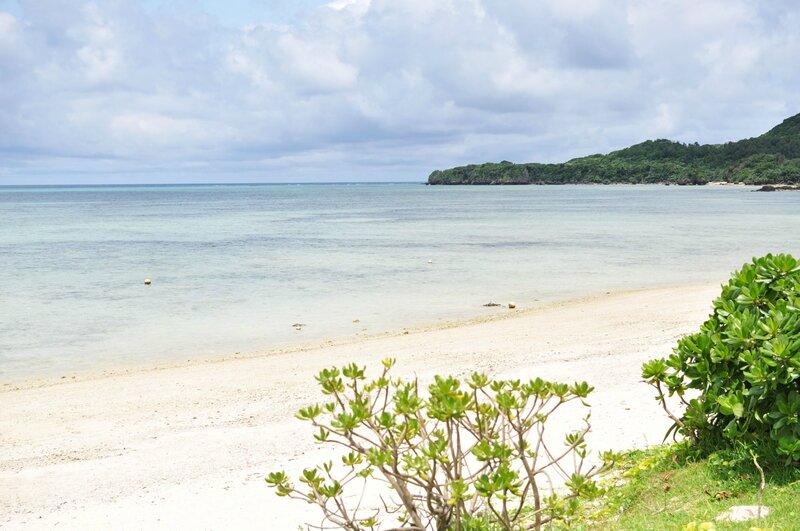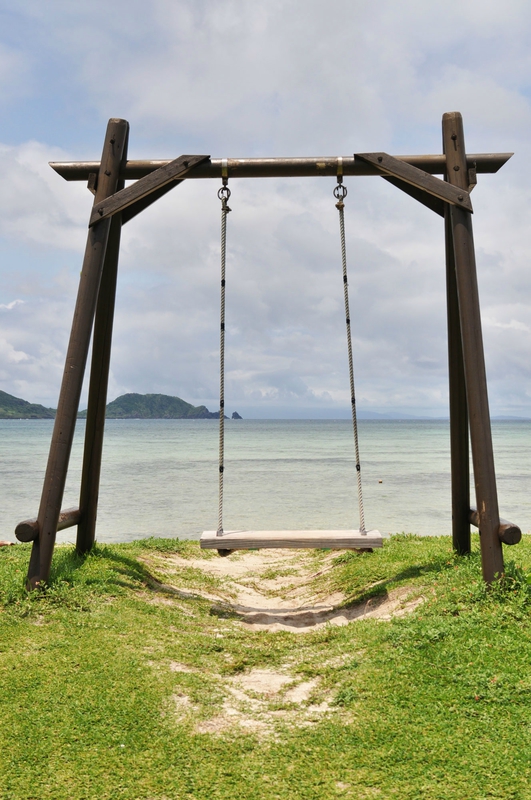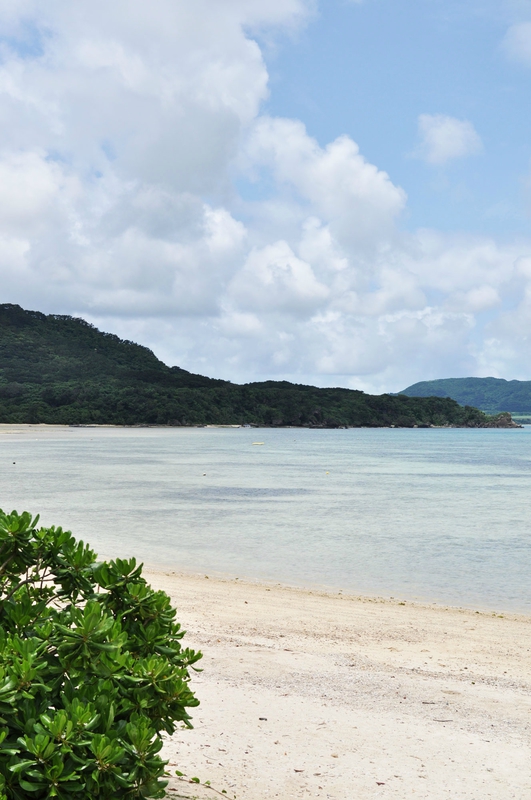 Kabira Bay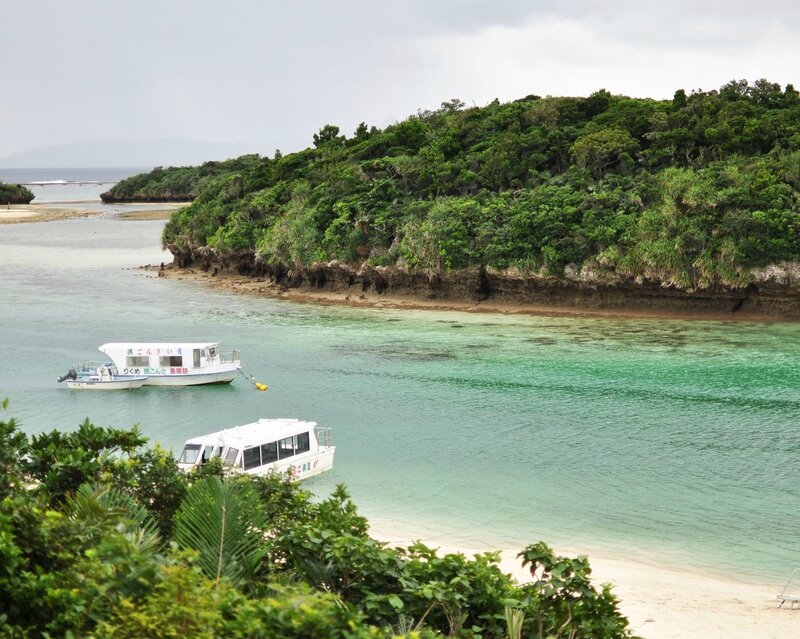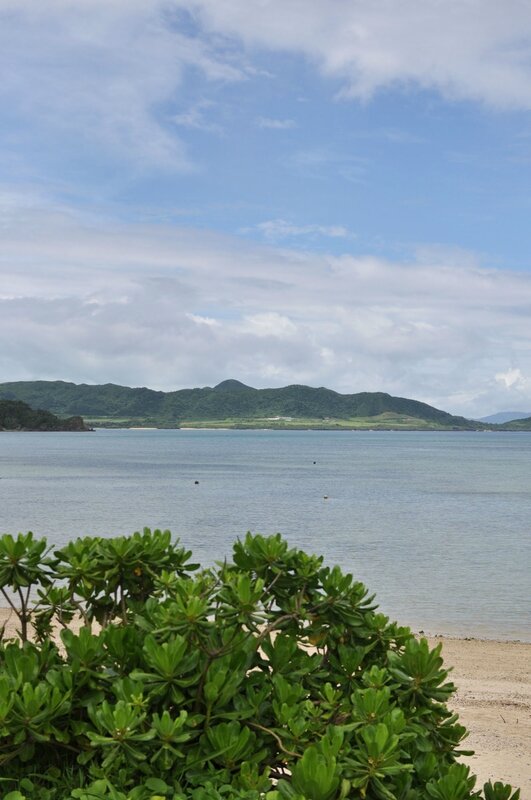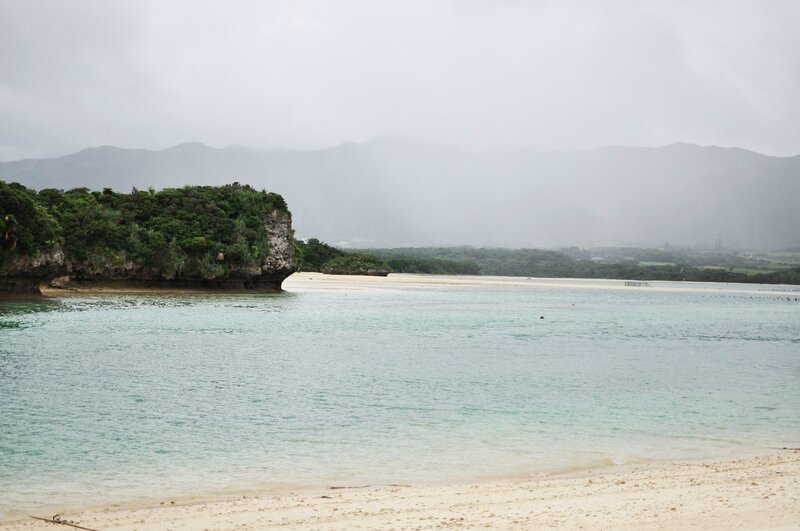 Cities and towns in Okinawa are just as chaotic as you can expect from Japan, but some places have kept an old-style flair, like the village of Taketomi island. So beautiful...
Taketomi Island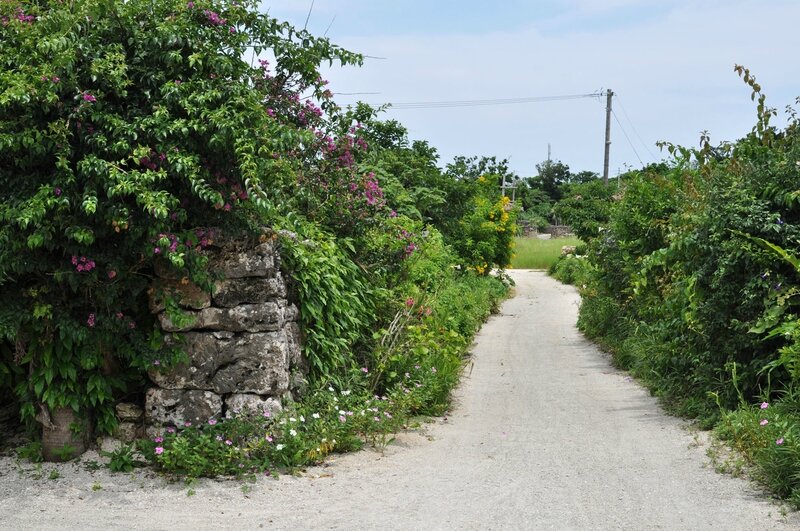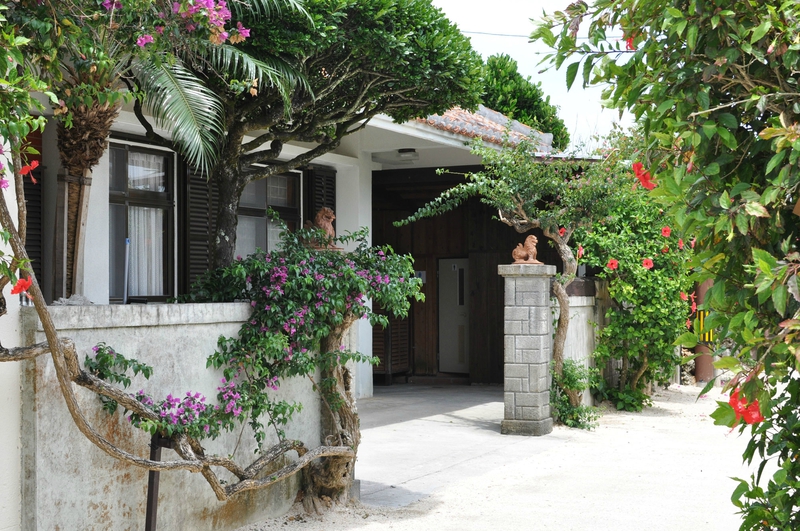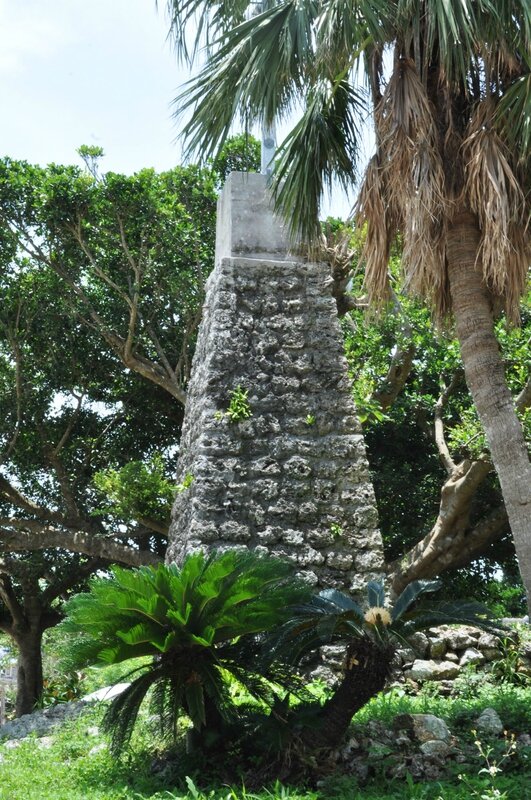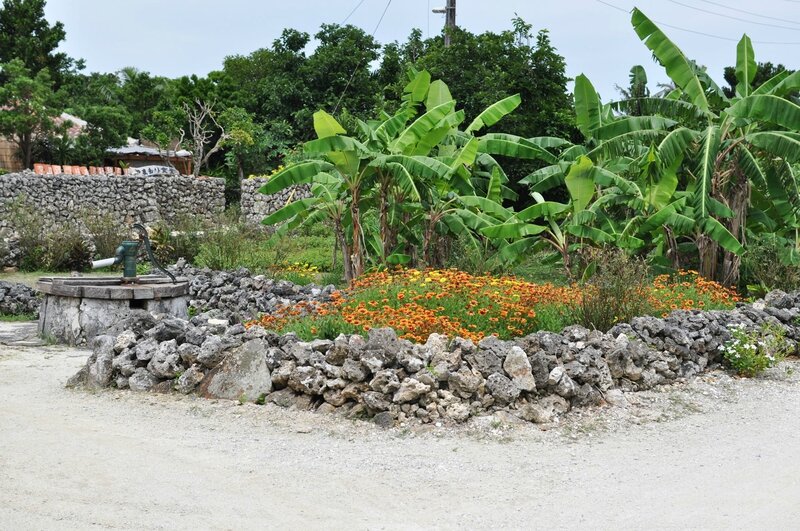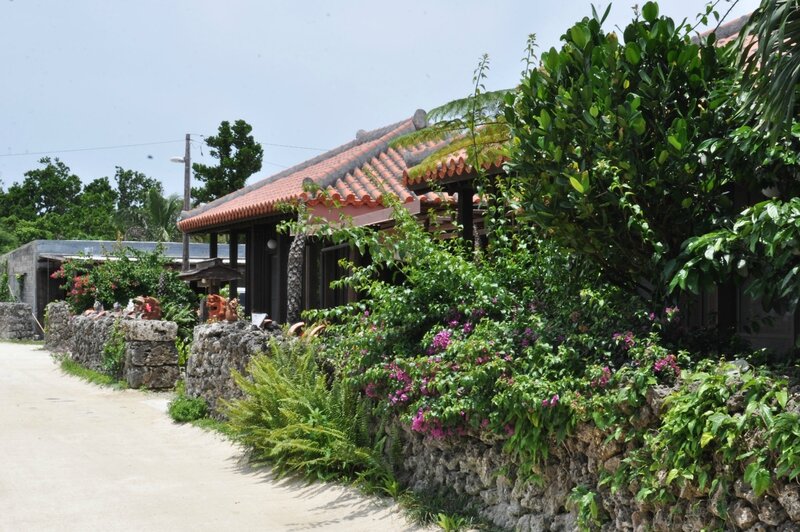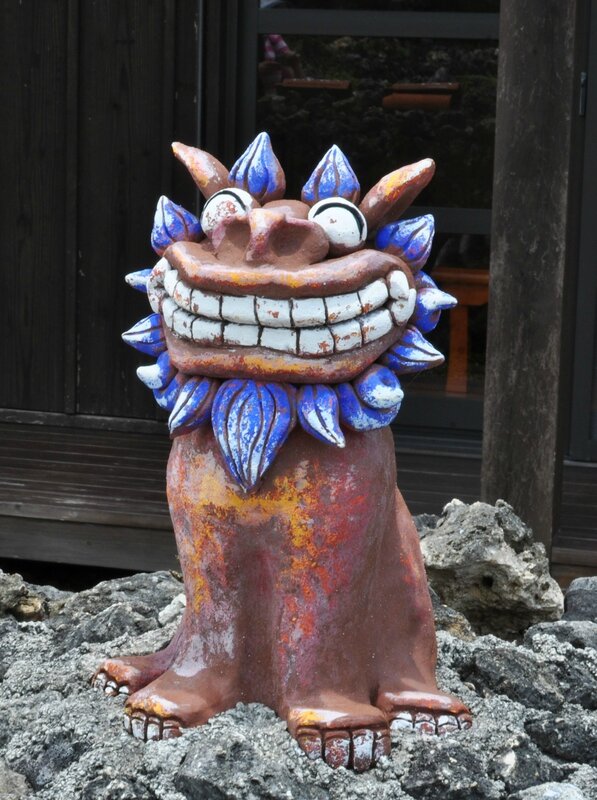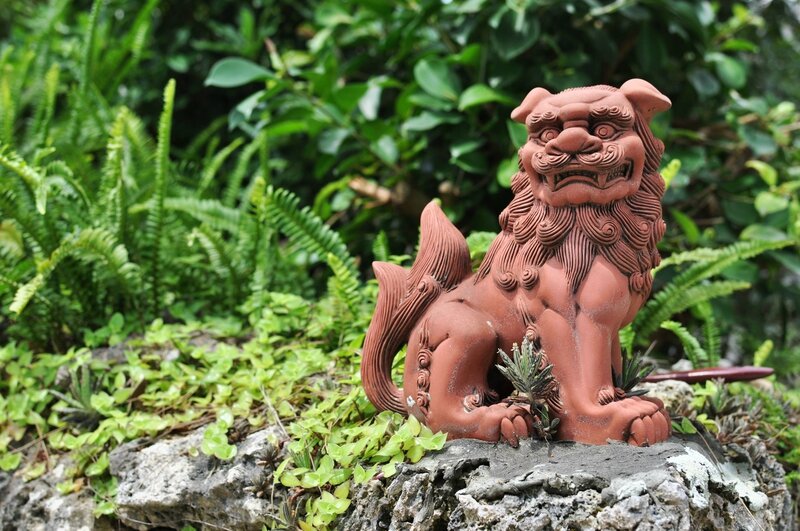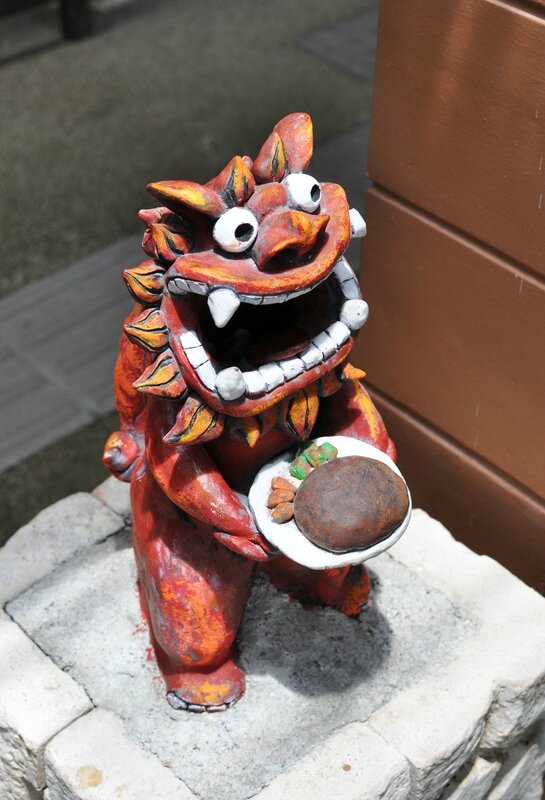 Tropical greenery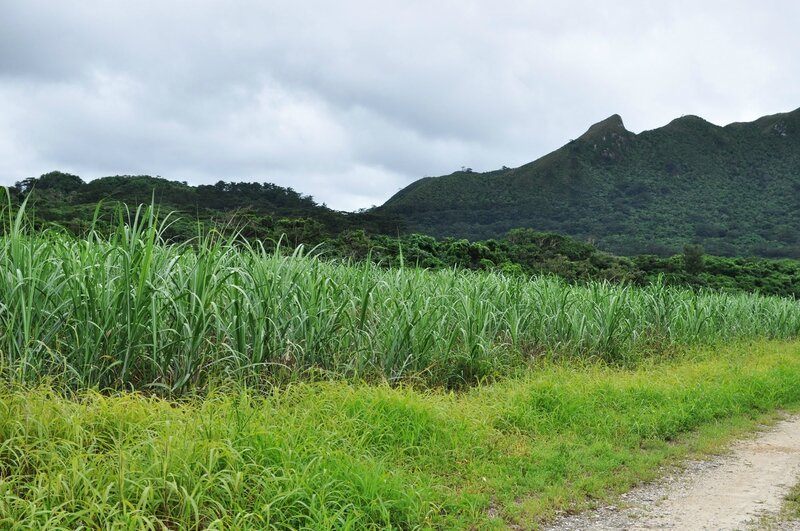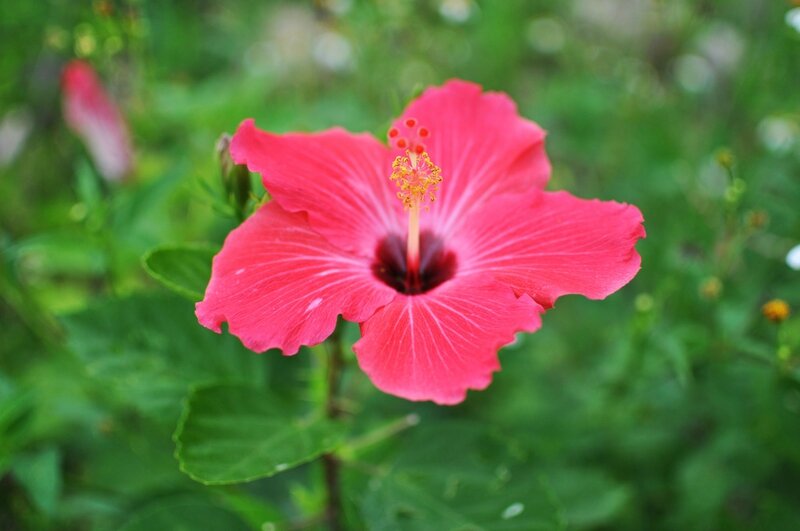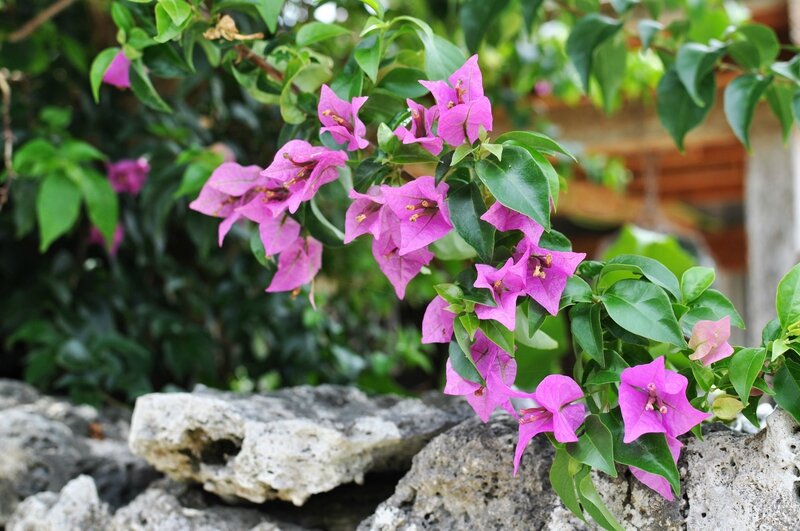 No snorkeling, no holidays! There is nothing like under-ocean viewing to make you feel grateful about life, nature, and everything. Even if you feel suddenly sorry to belong to this stupid human race instead of being a perfect godly manta ray.
Under the sea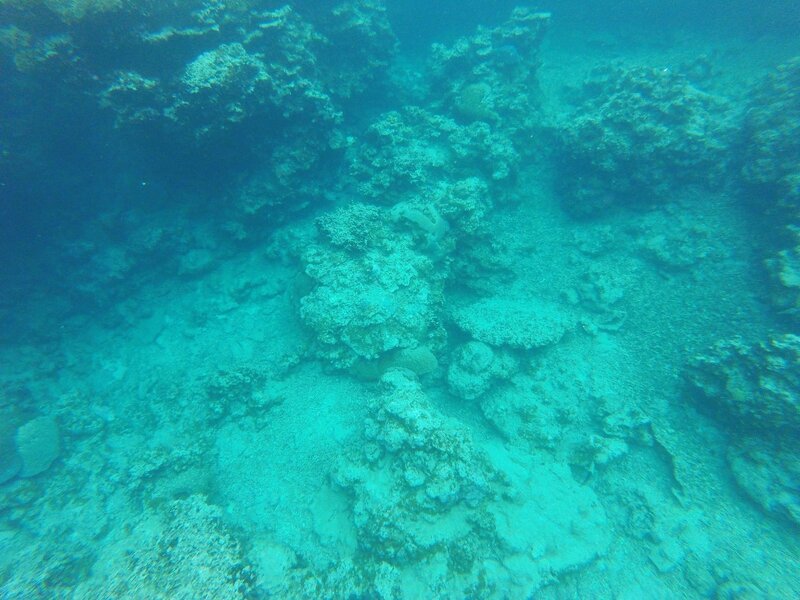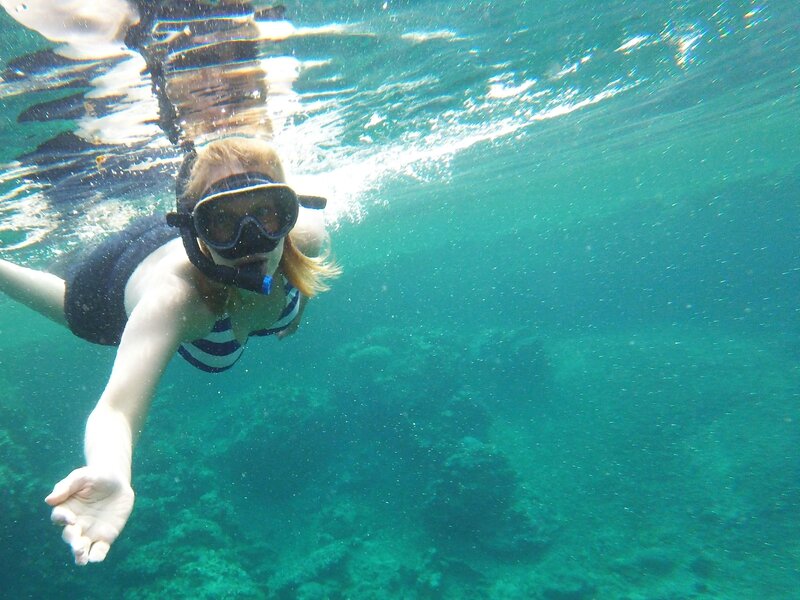 After swimming, a girl needs to eat. My dreamy Okiwawaian meal : shikuwasa and passion fruit juice, vegetarian plate with local purple-potato fries, and brown sugar ice-cream.
Okinawa perfect meal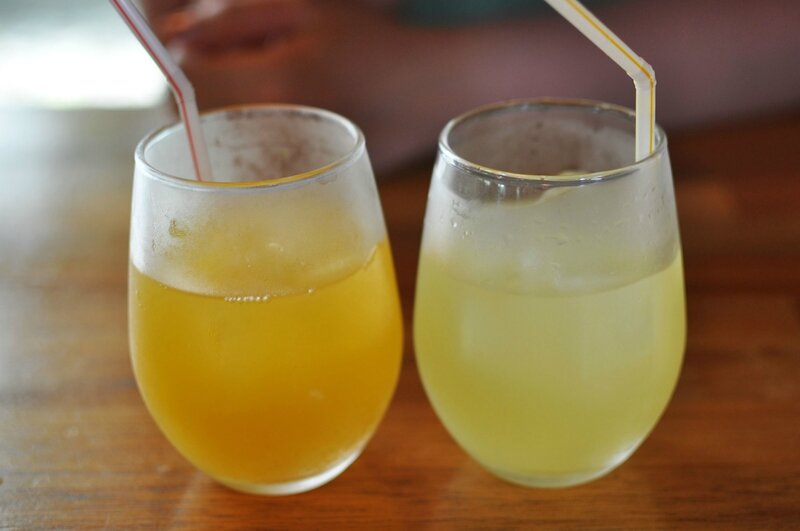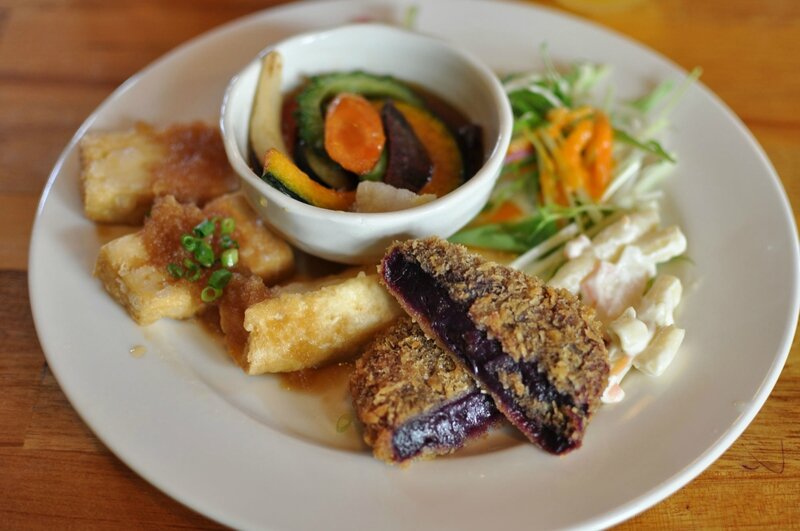 Still so many places to discover is Okinawa ! Let's book the next trip soon...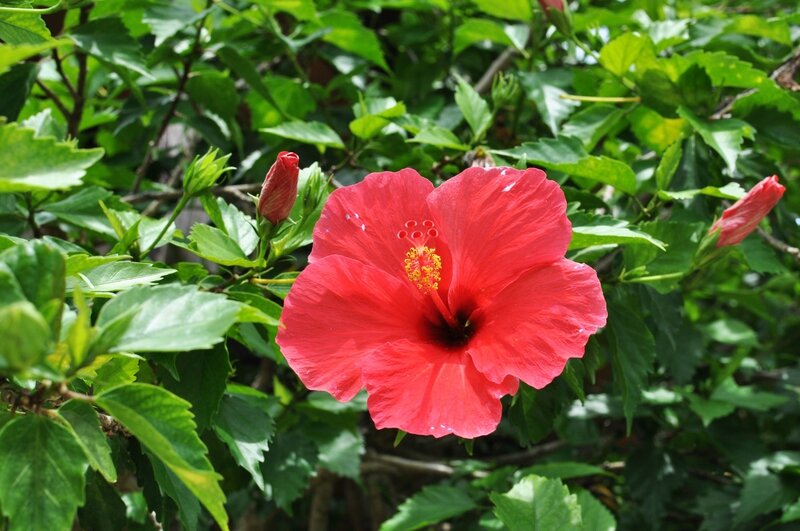 18.01.15
So I spent the New Year holidays in Vietnam. I wanted sunny, perfumed, exotic and unexpensive holidays - girls be ambitious - so I booked a cheap flight to Ho Chi Minh City, aka Saigon.
Saigon from the ground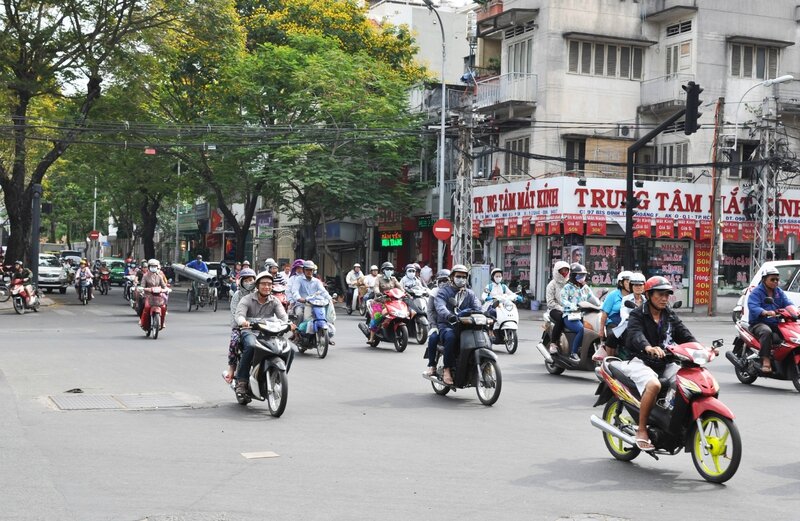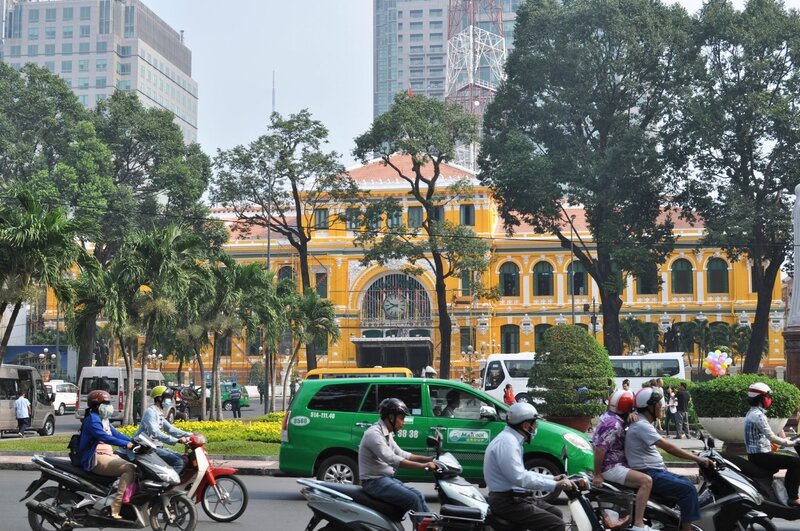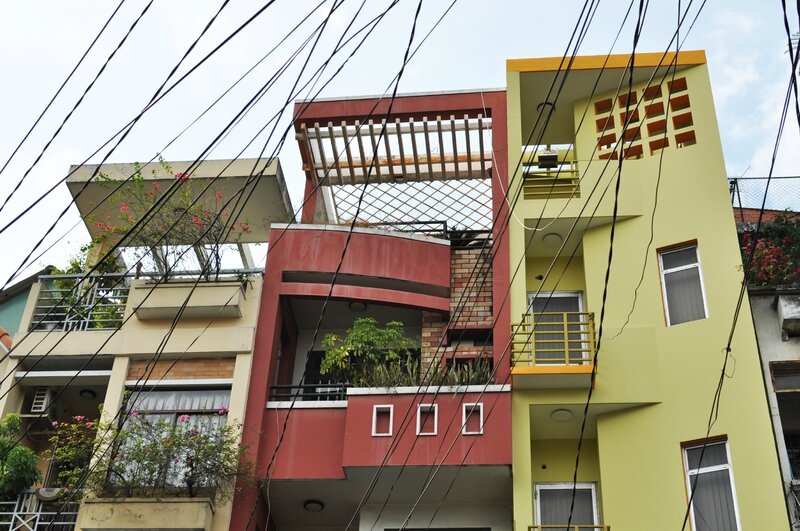 I have to say : there is nothing left of the old wooden houses, the gracious bridges, the elegant atmosphere portrayed in the vintage movies with Catherine Deneuve. Saigon is now made of concrete and wires, and roads... roads... roads. With thousands of motorbikes on the streets. It's noisy, busy, polluted... Fascinating of course, but very far from the "charming" atmosphere sold by the guidebooks (never trust guidebooks, never). Still, the iconic Vietnamese conical hat appears everywear like a musical leitmotiv, enchanting the most trivial views of the city.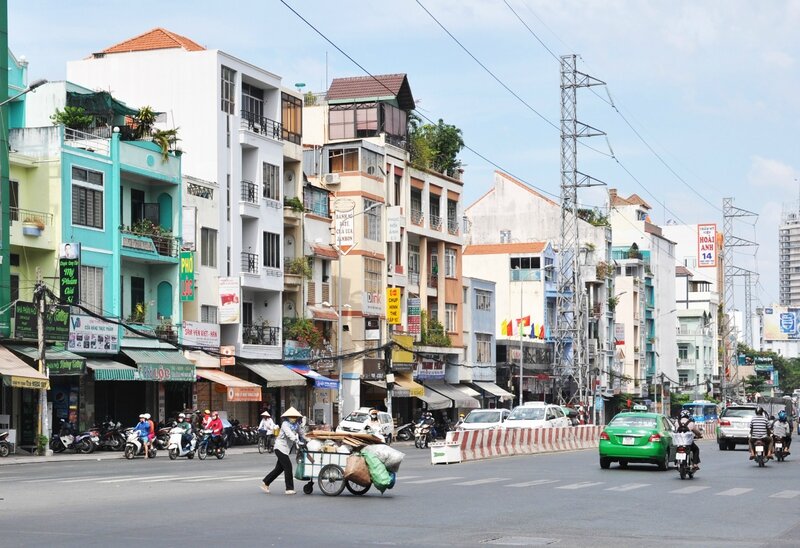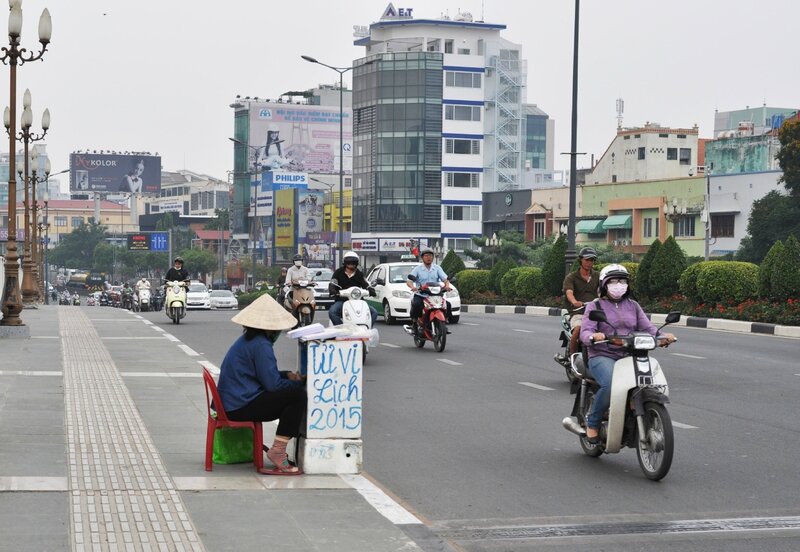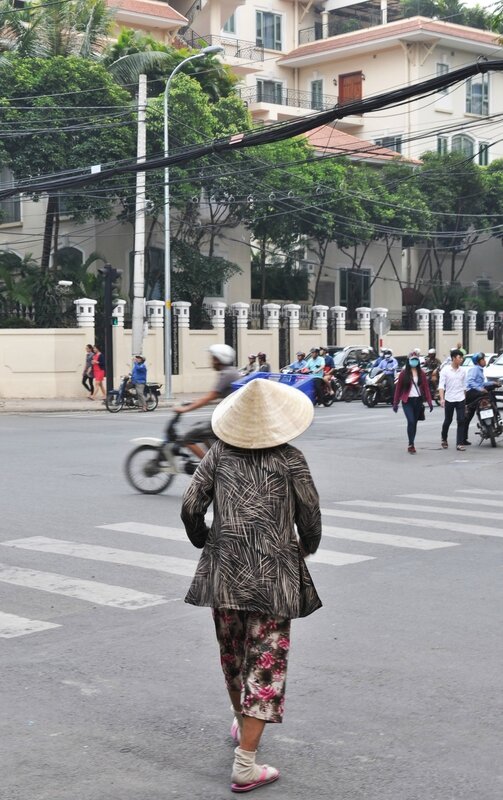 Saigon from the sky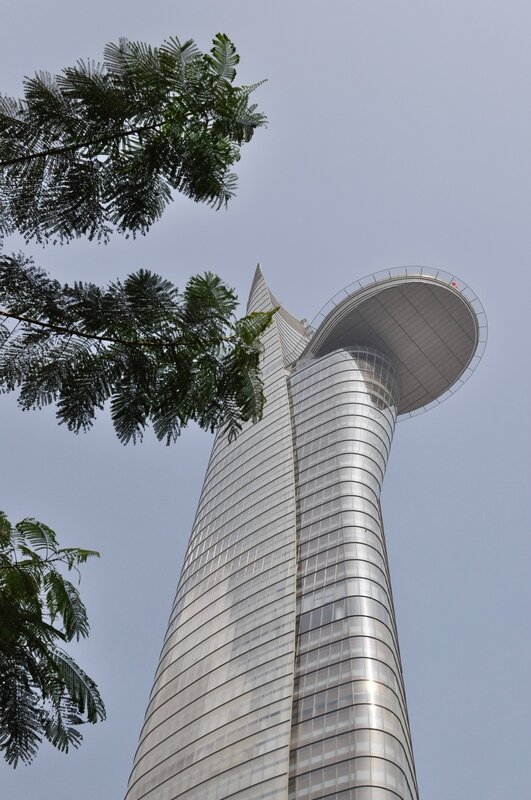 When tou're a tourist and you have dollars in your pocket, you clan admire Ho Chi Minh City from the business district highest tower. Through the thick pollution cloud and the dust raised by the motorbikes. As you can see, except for the few colonial buildings in the central area, nothing remains from old Saigon. Ho Chi Minh is a busy, functional modern city.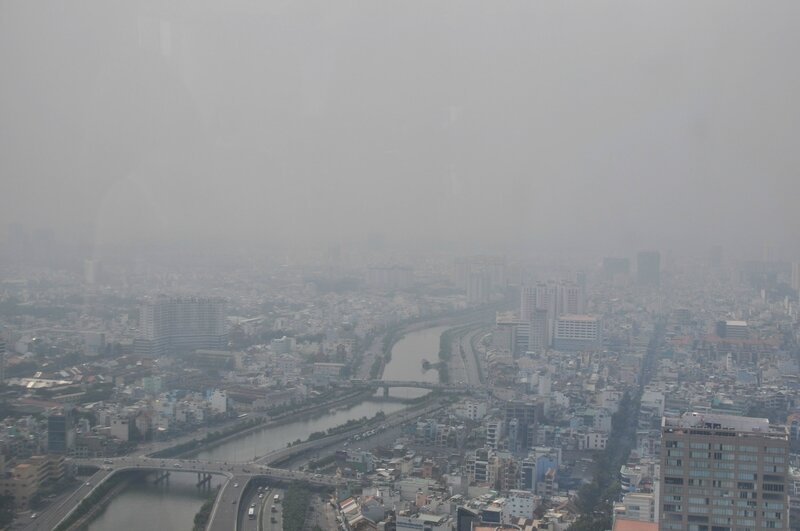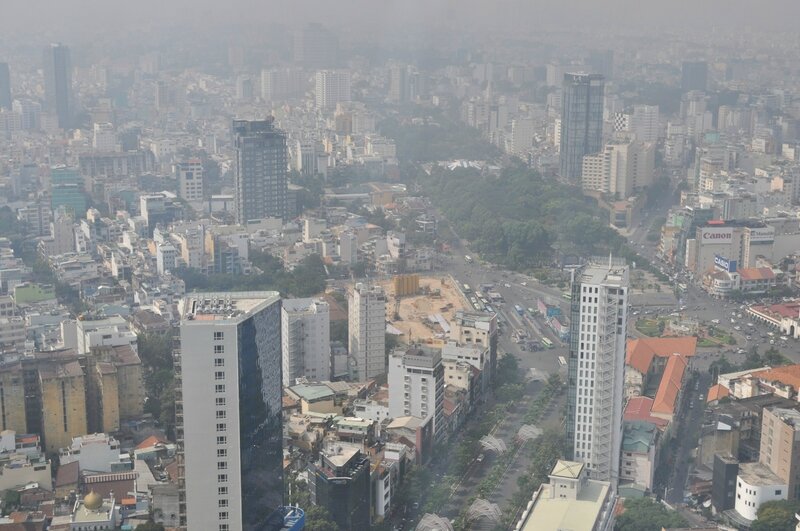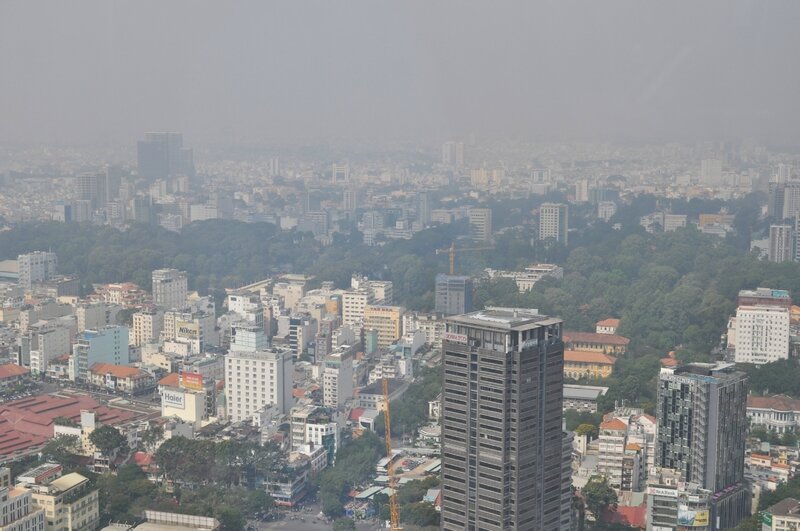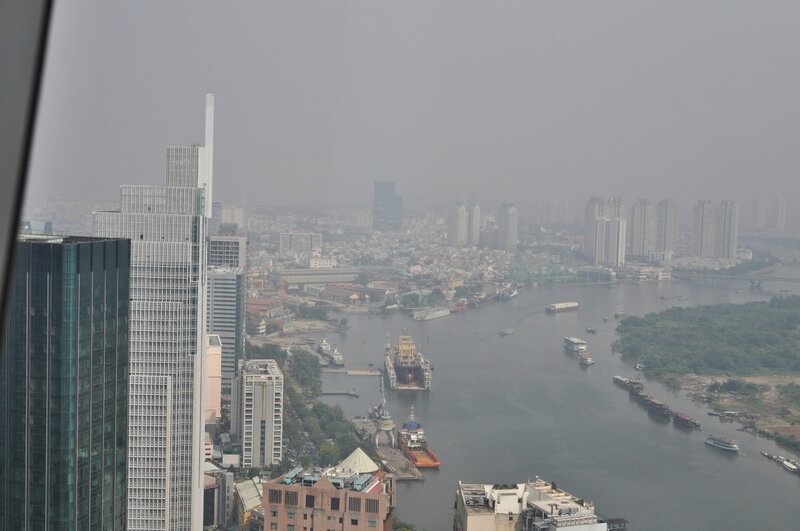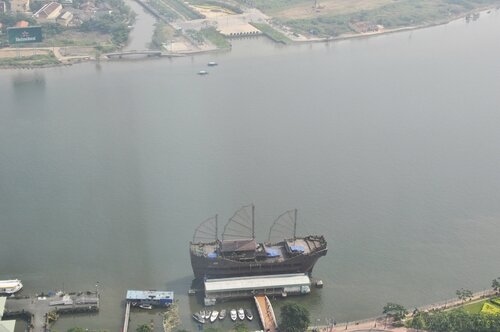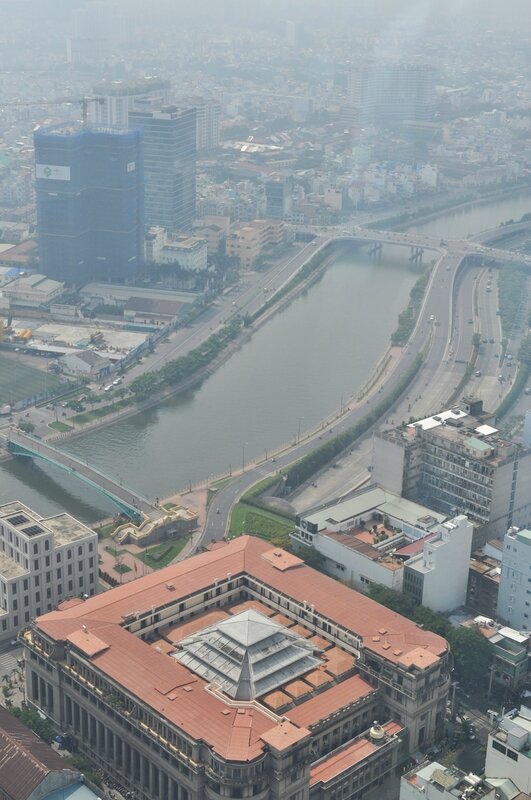 Parks in Saigon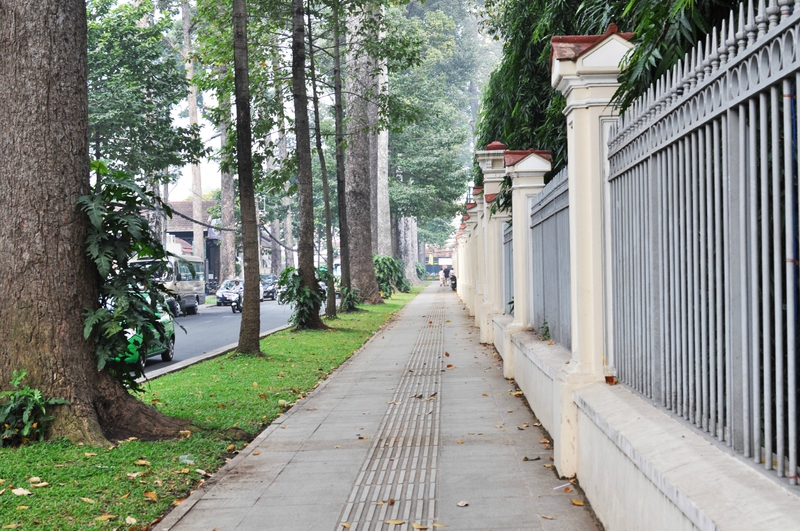 After only a couple of hour on the frantic street, I was already looking for oasis. Thanks God, Saigon offers the best, widest, cleanest, most quiet parks you can dream of. Suddenly there's nothing around you but giant trees and green palm leaves. And it's almost empty, as if the rest of the world was to busy to enjoy the sweet shadow and the blissful silence. Parks are definitely what I prefered in Saigon.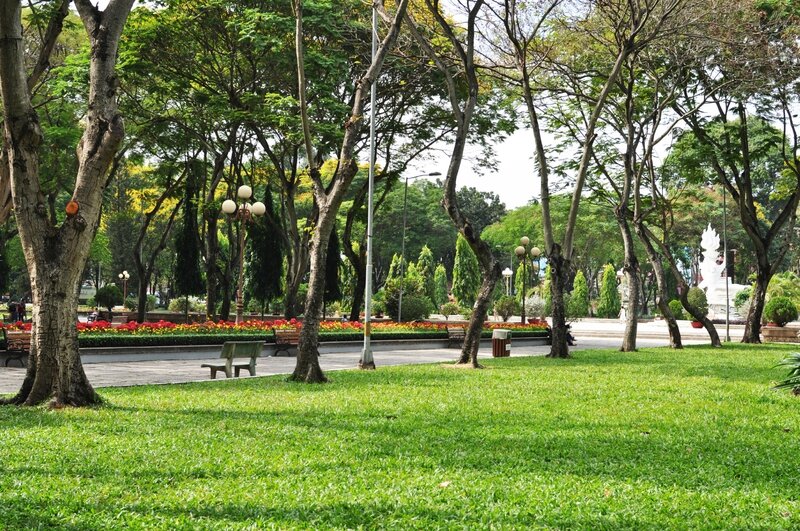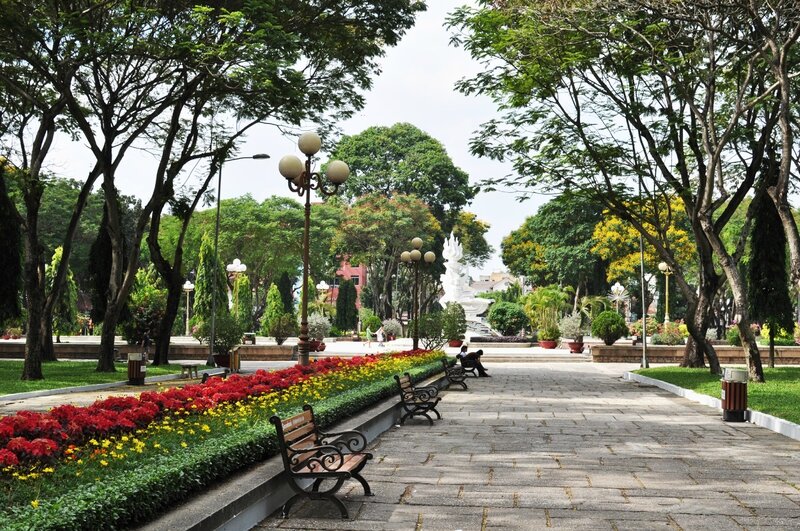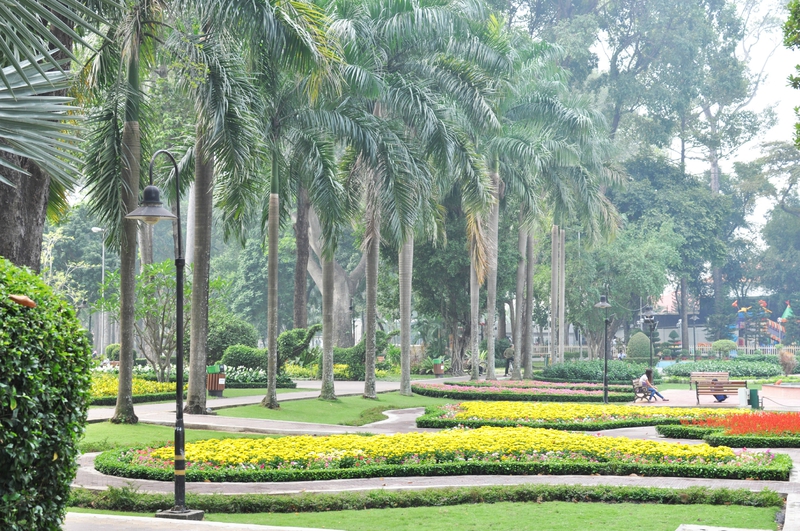 This one even offers open-air free gym equipment ! How cool is that ??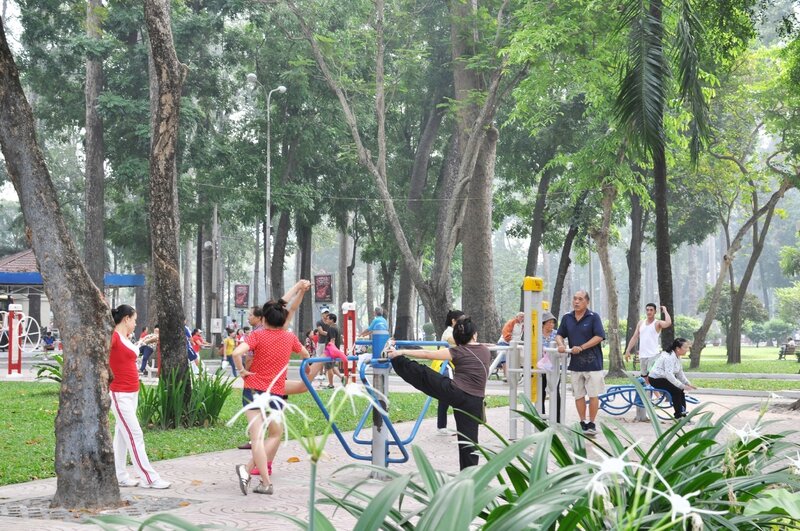 Colonial flavor
Being French, I couldn't avoid to go and see the famous Notre Dame de Saigon Cathedral, built in 1880, and entirely made of Marseille red bricks shipped from Southern France (what were our ancestors thinking, I really wonder).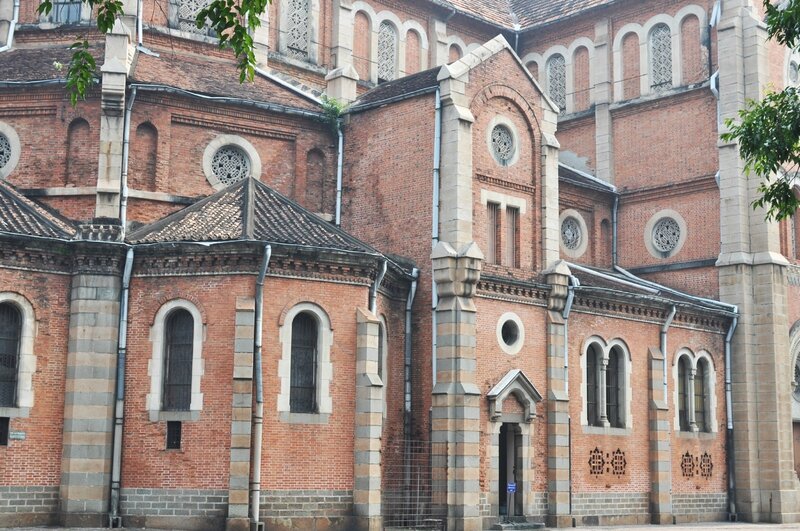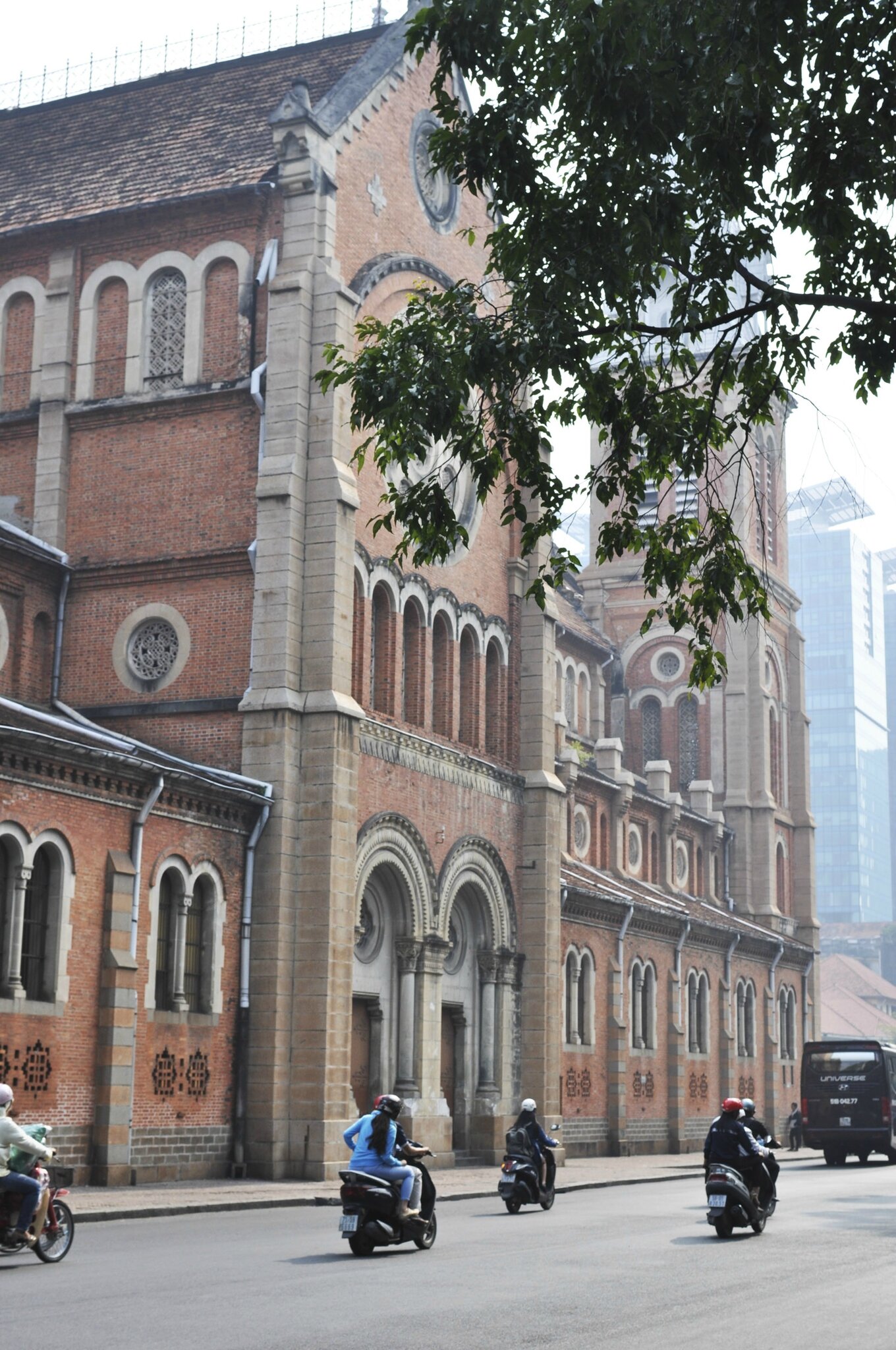 In the rest of the town, you really need to open your eyes to spot the charming buildings among the general mess.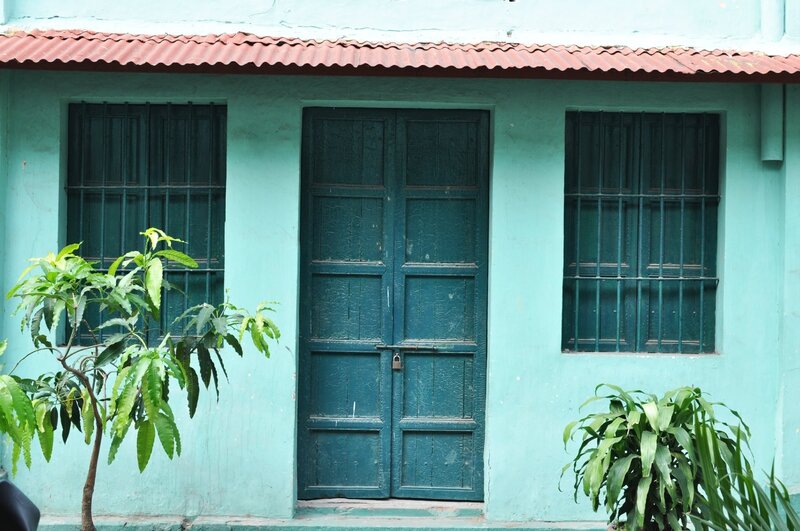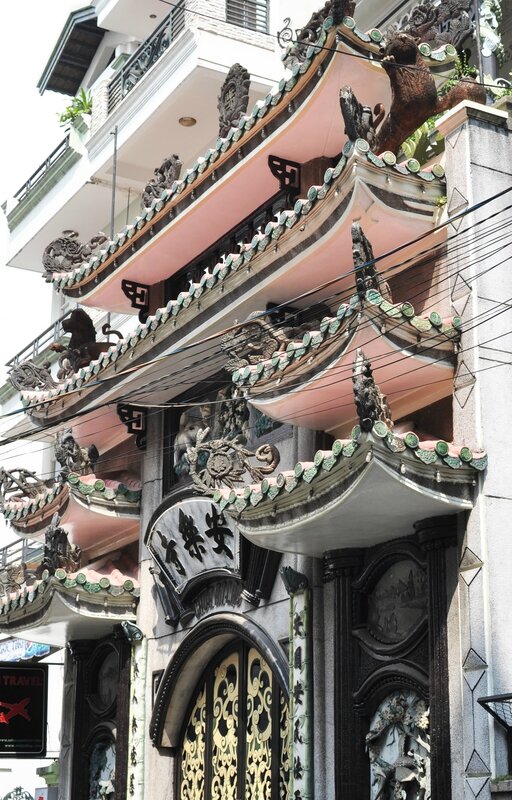 Another strange experience in Saigon : pagodas. Guidebooks sell them to you as exquisite, must-see masterpieces of Buddhist art. Well, I can't say there's no interest in visiting it, but when you have travelled Japan, Thailand or even Taiwan, Saigon's pagoda look like small, poor and colorless things. It's just local temples, not oustanding sightseeing spots - in my humble opinion.
Vinh Nghiem Pagoda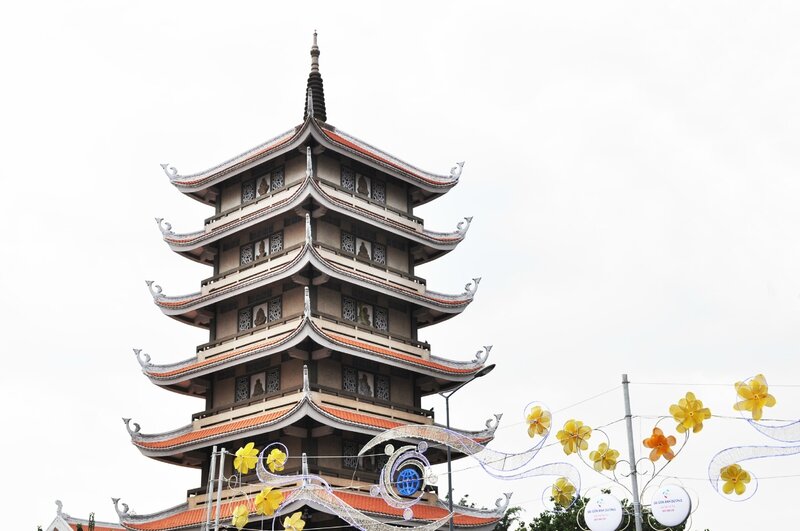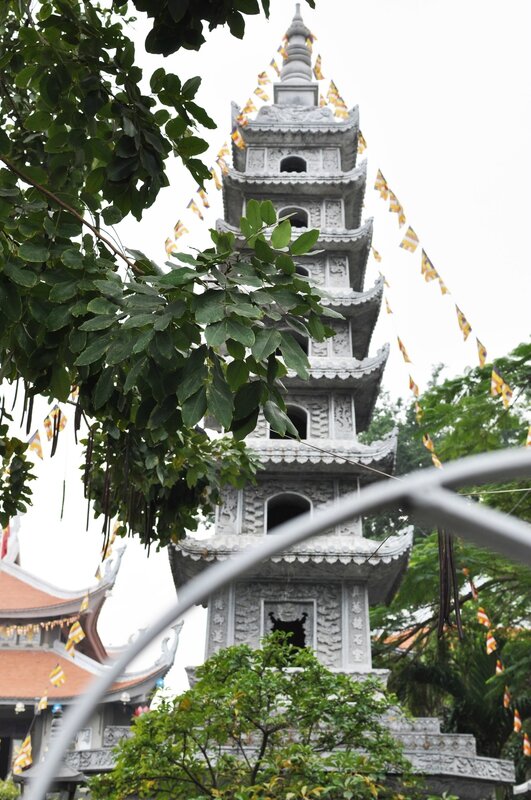 Jade Emperor Pagoda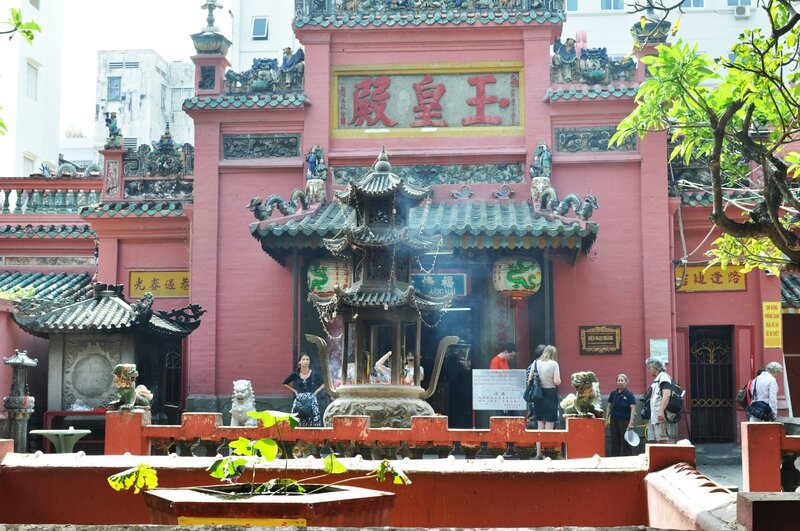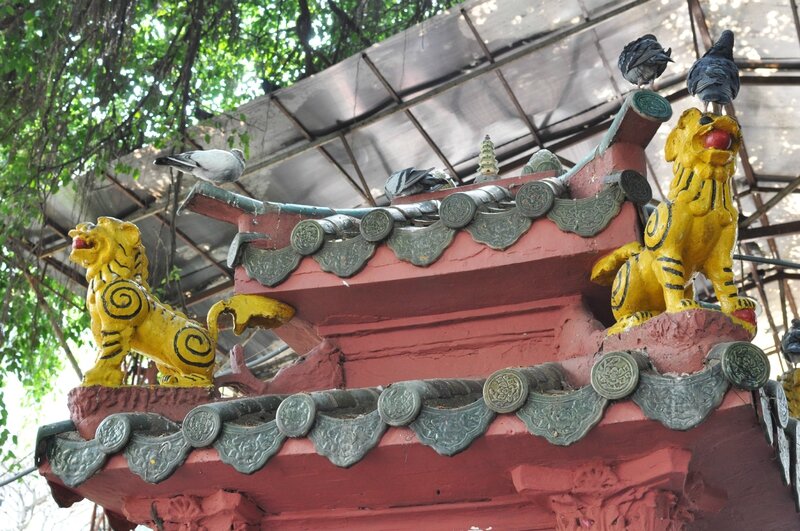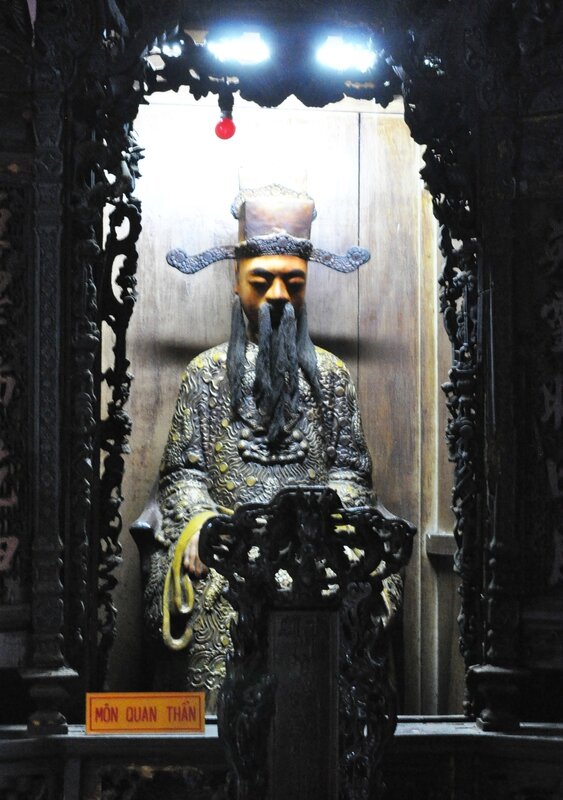 By the way : what do you eat and drink in Saigon ?
Coffee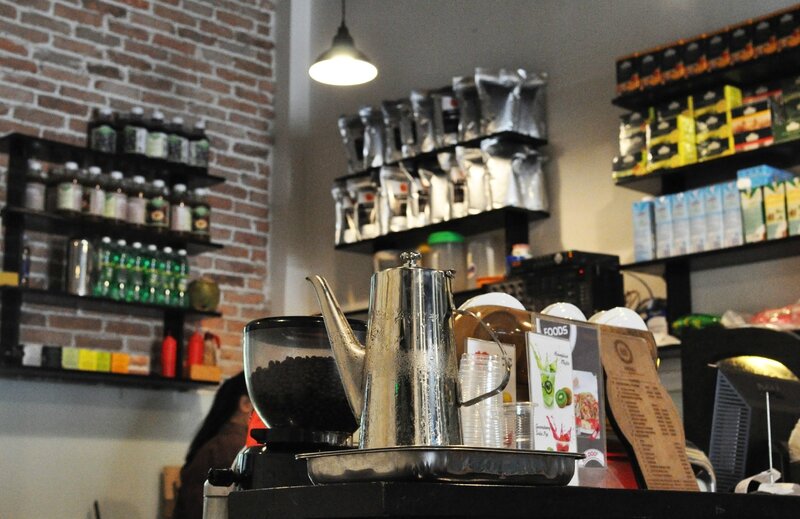 Vietnam is one of the first country in the world for the production of coffee. You can sip delicious and cheap coffee anywhere, anytime. As a fervent tea-addict I usually don't drink coffee, but I loved the traditional way to drink it in Vietnam : with plenty of sugar and milk !
Fruits
It's not a scoop : South-Asian countries have the best exotic fruits and you can get it for cheap on the markets - if you can bargain. And if you can bring it home to peel it, otherwise it can make you sick.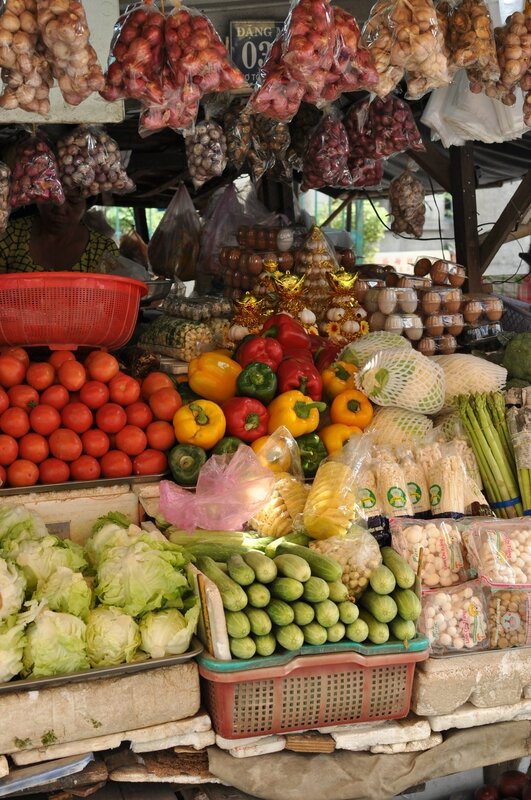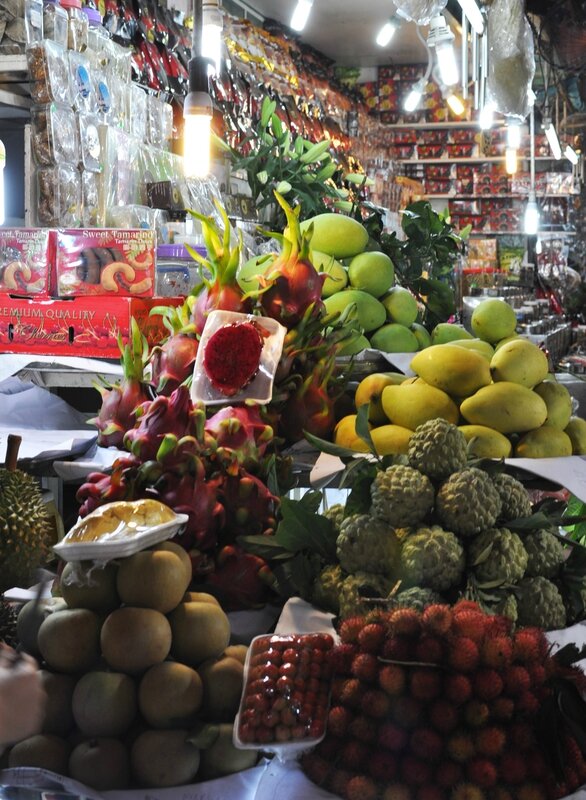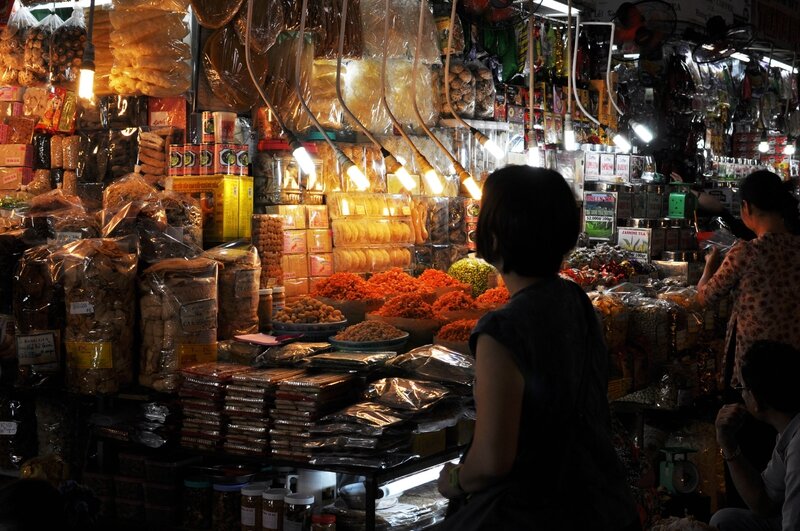 And at the restaurant ? Well, one of my fav food in the world... Springrolls !! Fresh or fried, I take it all !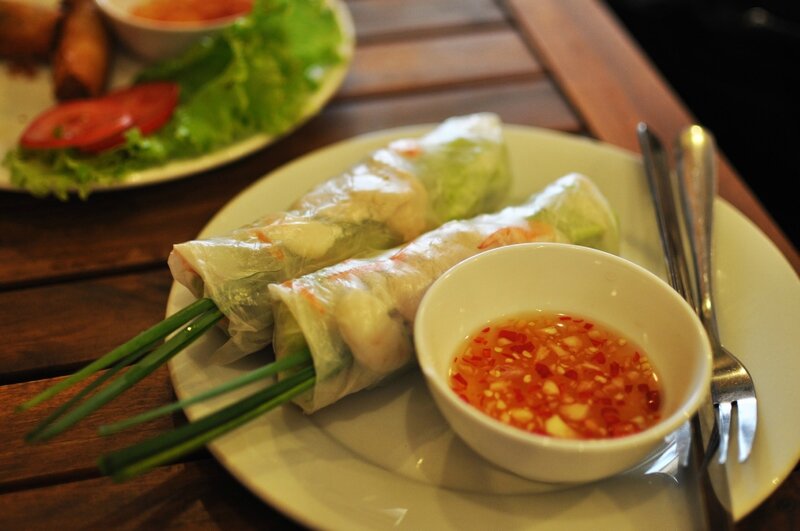 Next stop : Phu Quoc. Stay tuned !!
25.10.14
Sometimes your friends get married. And sometimes you decide that the best way to celebrate a bachelorett party is to fly to Lisbon. Mid-october and it felt like summer on the beach at Cascais. People were smiling, the old town was elegant, food was delicious, and three days were definitely not enough. Lisbon, the new place to go!
Augusta Street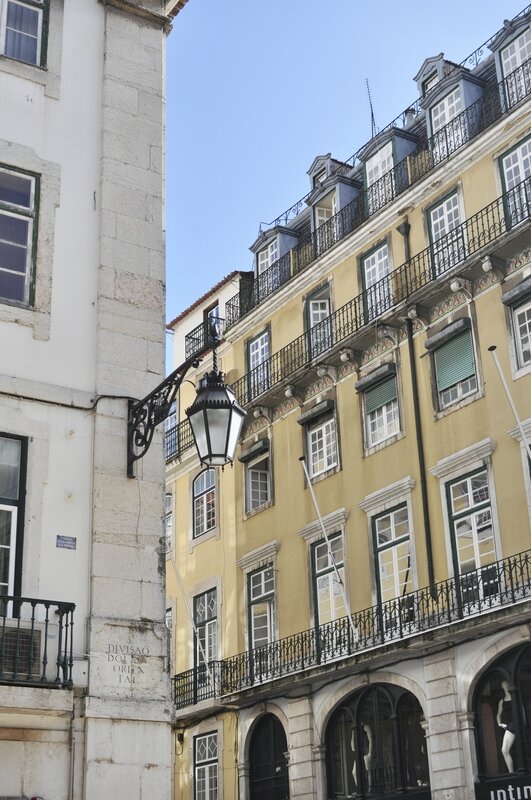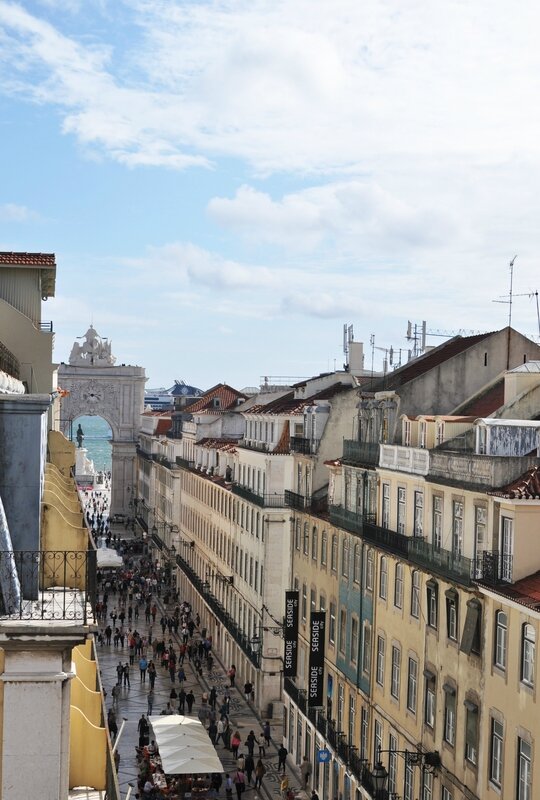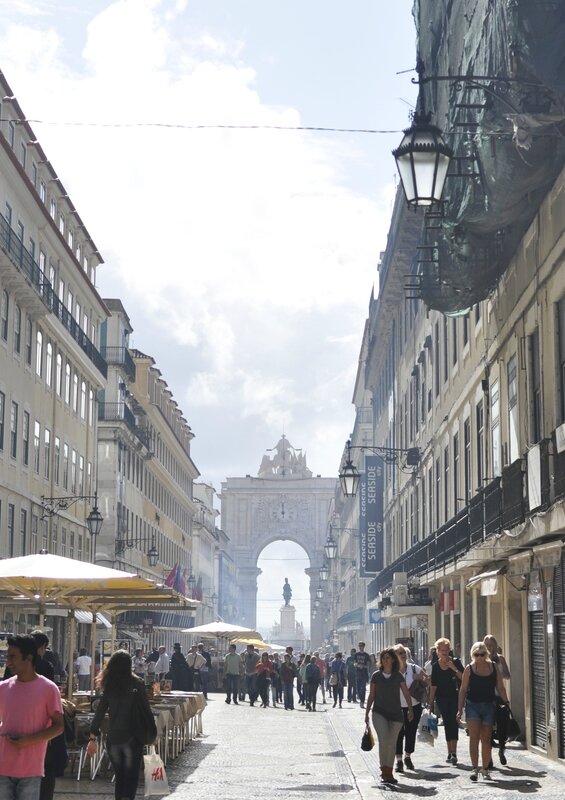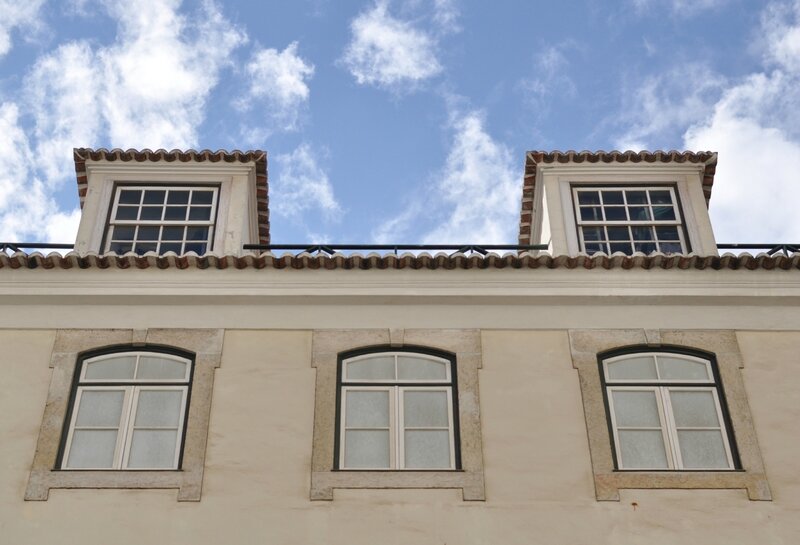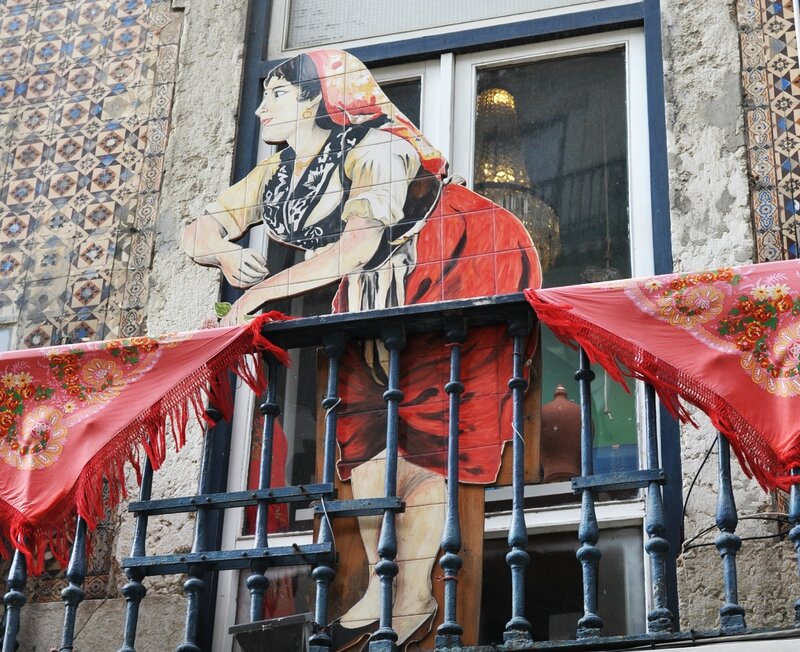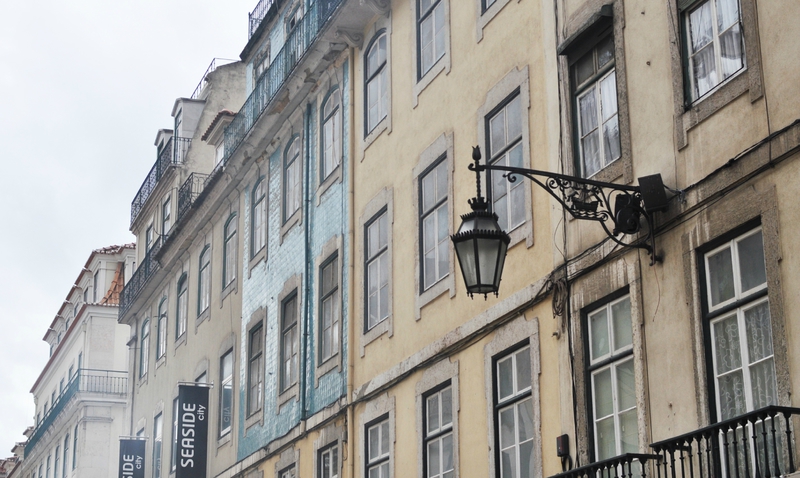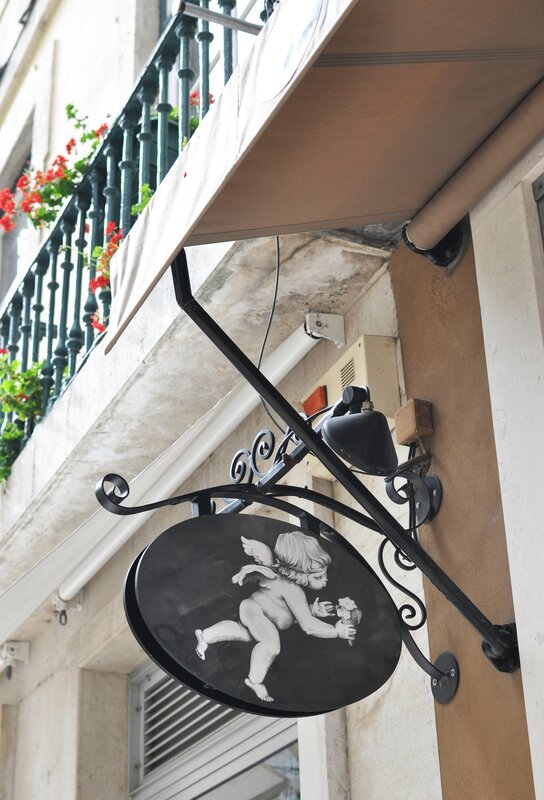 Rossio Square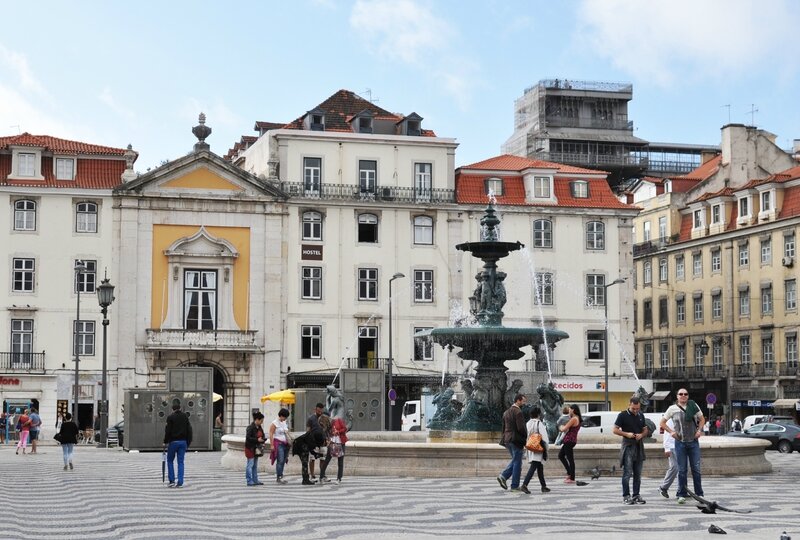 Commercio Square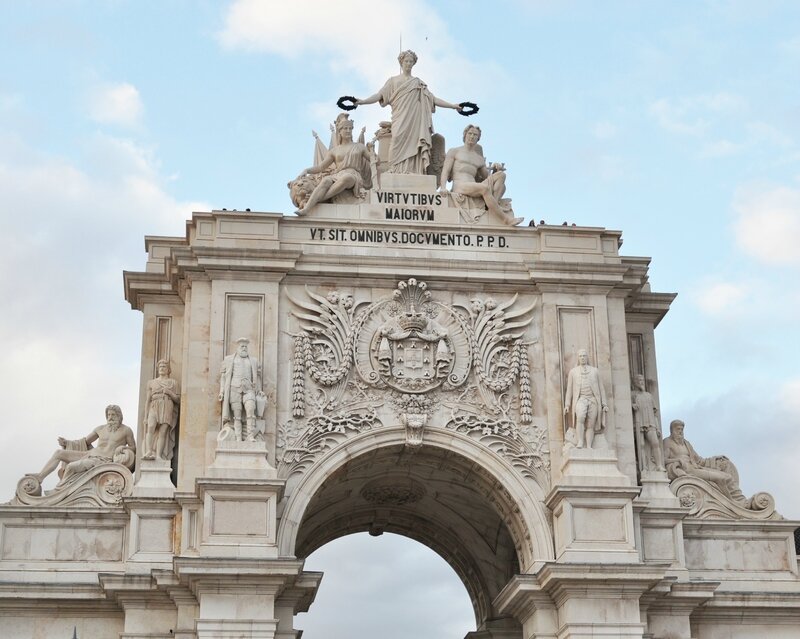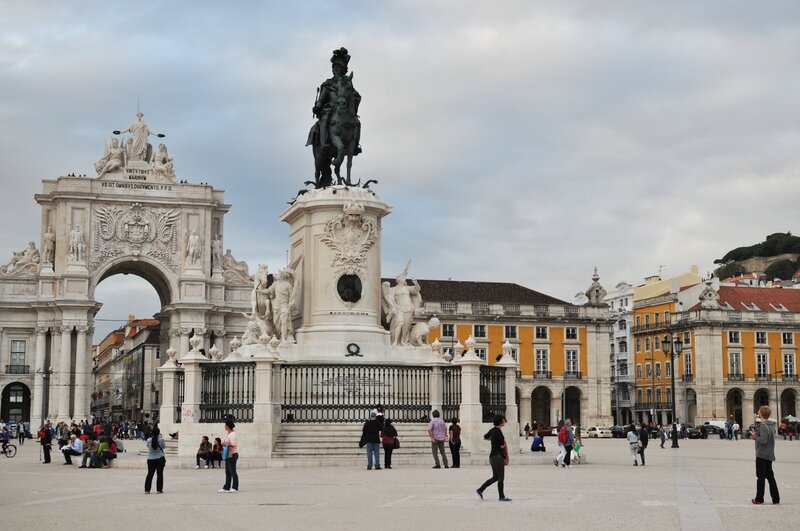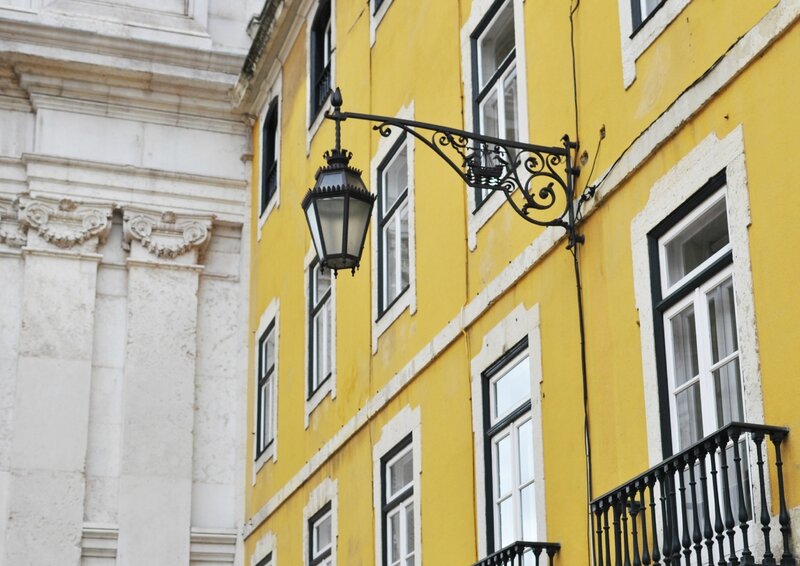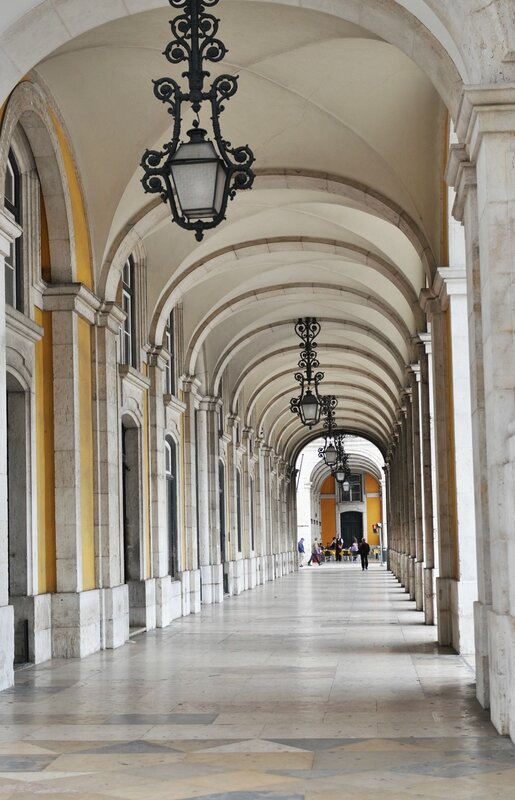 Lisbon tramways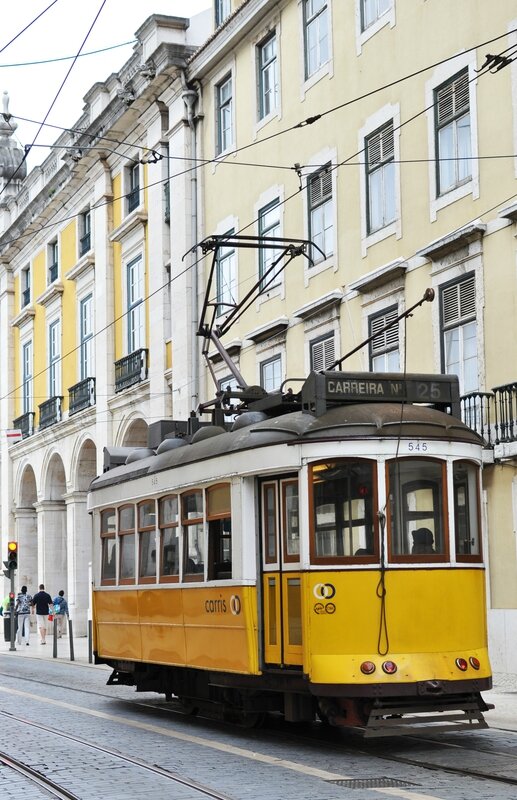 Jeronimo Monastery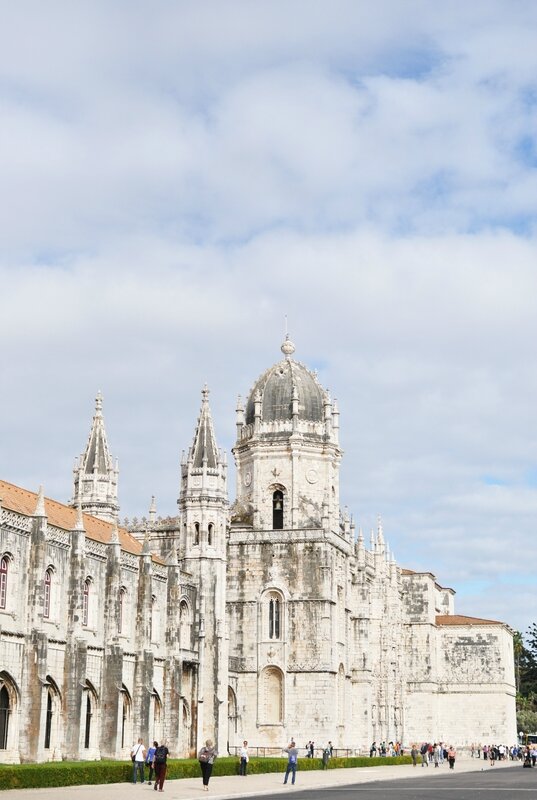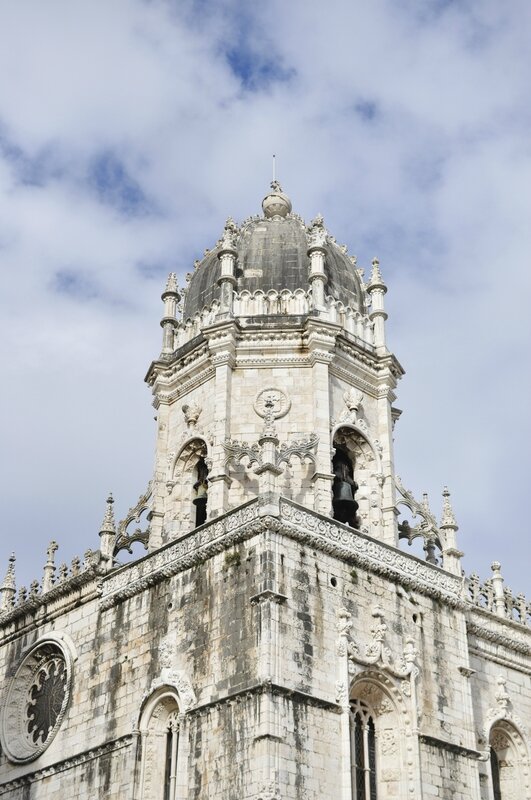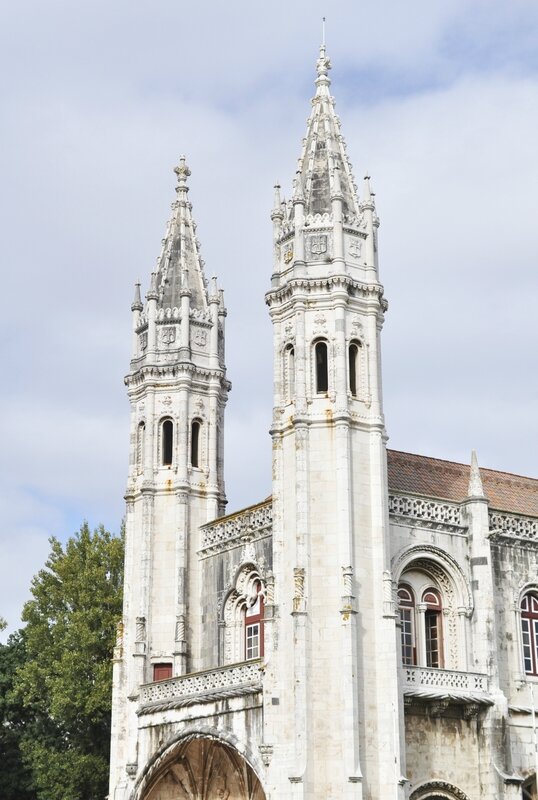 Belem Tower
Fernando Pessoa statue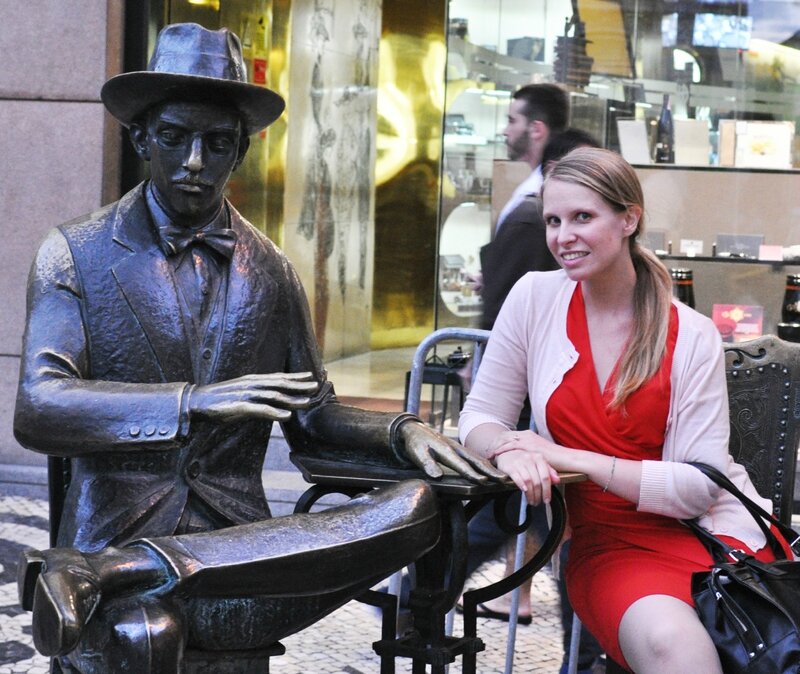 Cascais beach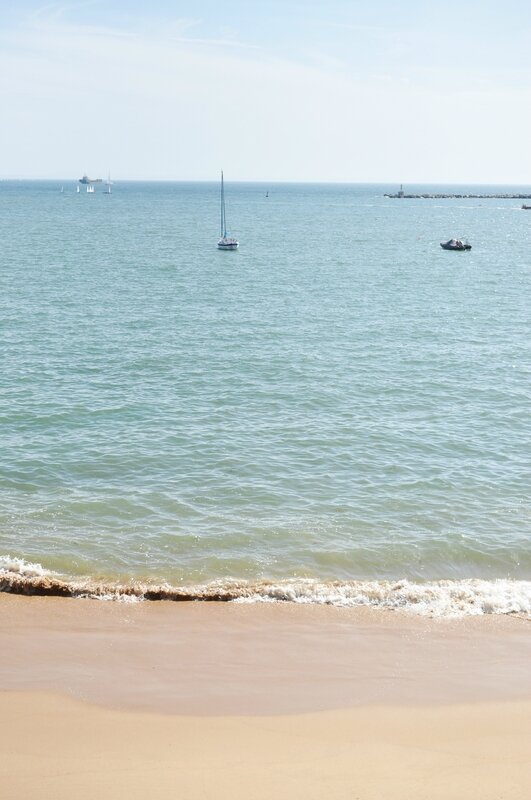 Lisbon from the highs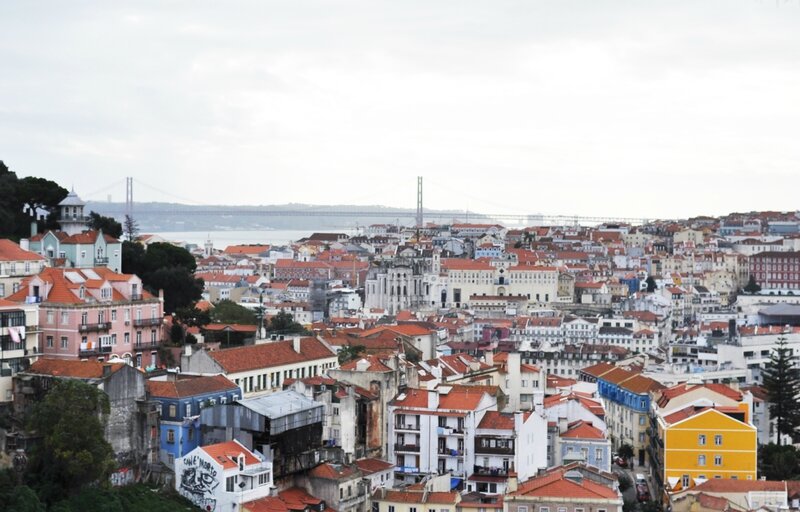 Lisbon from Baixa
Must-try food: Portuguese Cod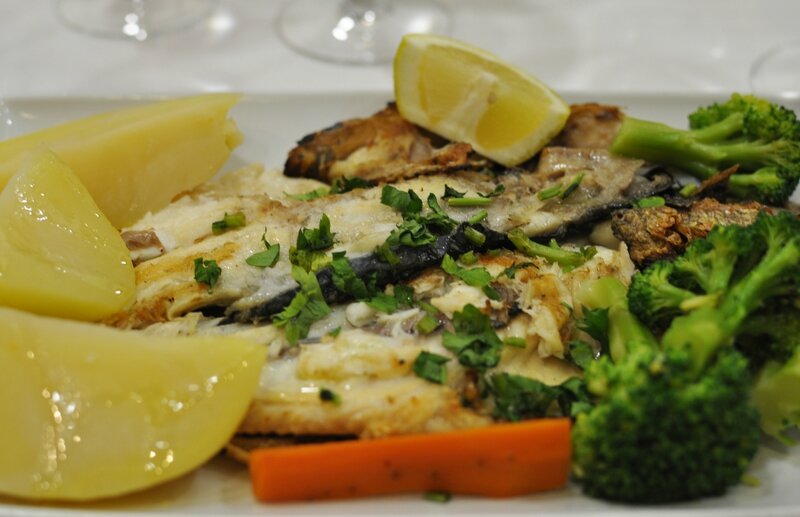 Sardines
Fresh fruits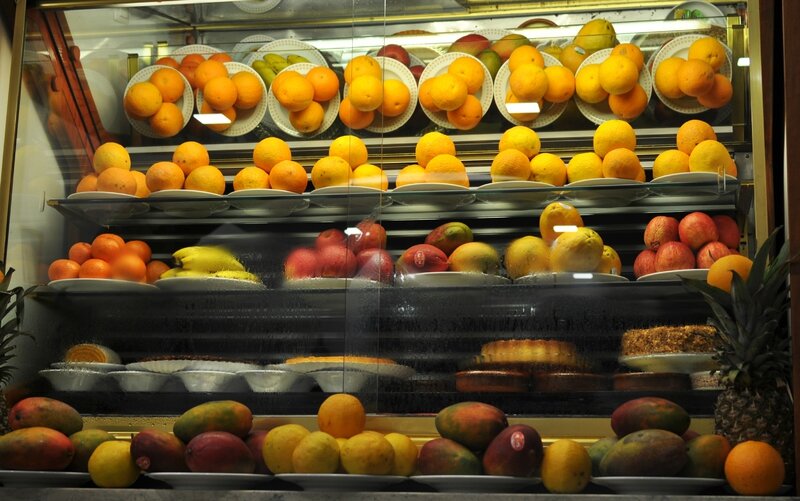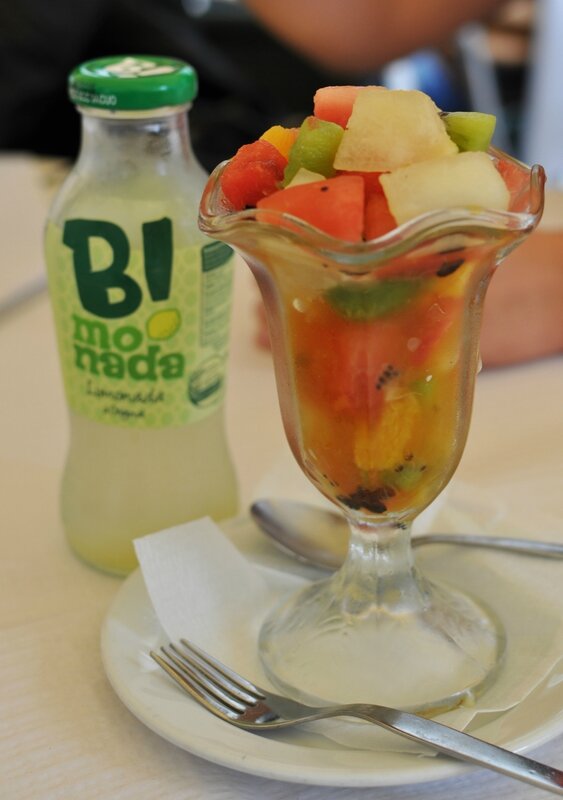 And the most reputated treat in town: pasteis de Belem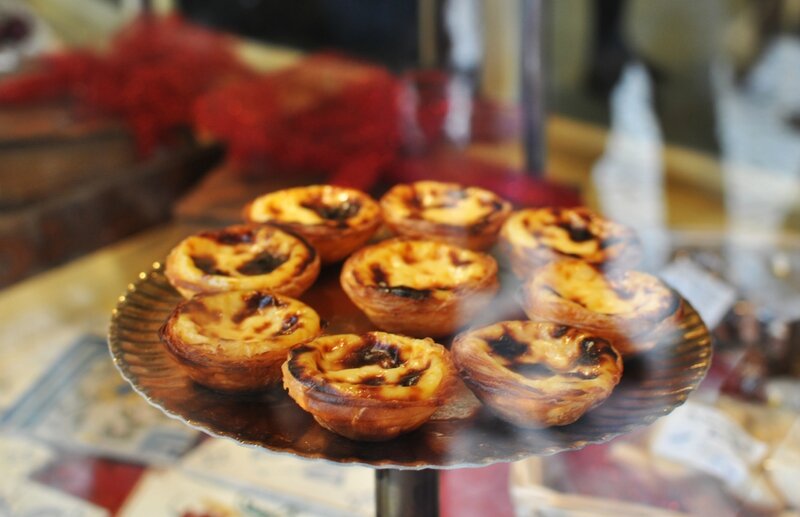 Now you know where to spend your next european holidays !
24.05.14
Ok, this time I screwed up. I missed the azaleas in Mifuneyama (Saga, Kyushu). It was supposed to be covered with flowers (sight). Well, of course it's still beautiful, but... anyway. It's not like I had crossed the whole country in the middle of the Golden Week just to see it... Oh, wait.
Disappointment.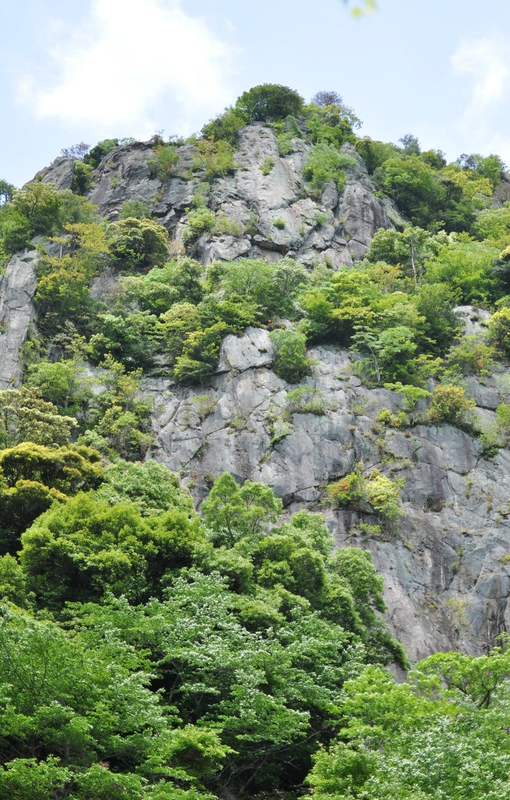 The only pink bush I could find. Damned.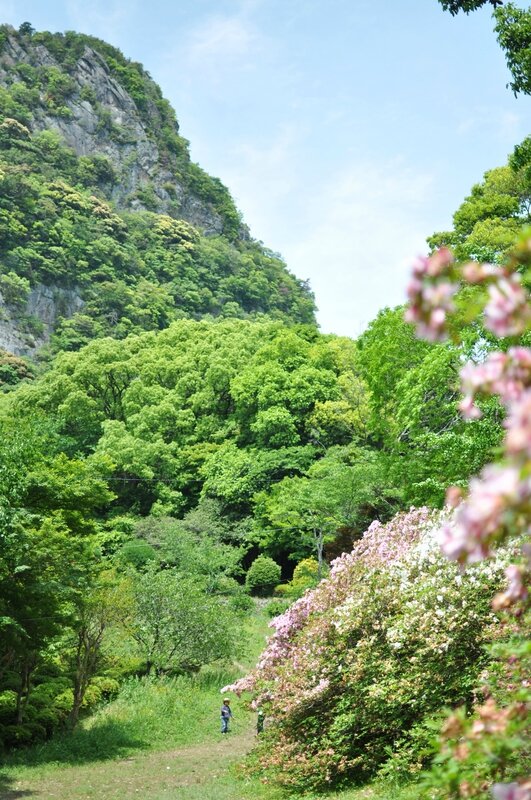 So green, so green... At least it's relaxing...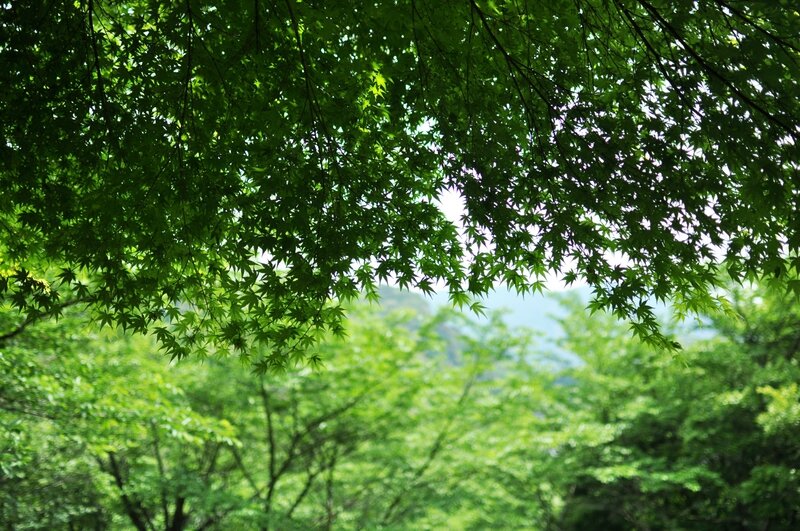 Fortunately the wisteria saved my day.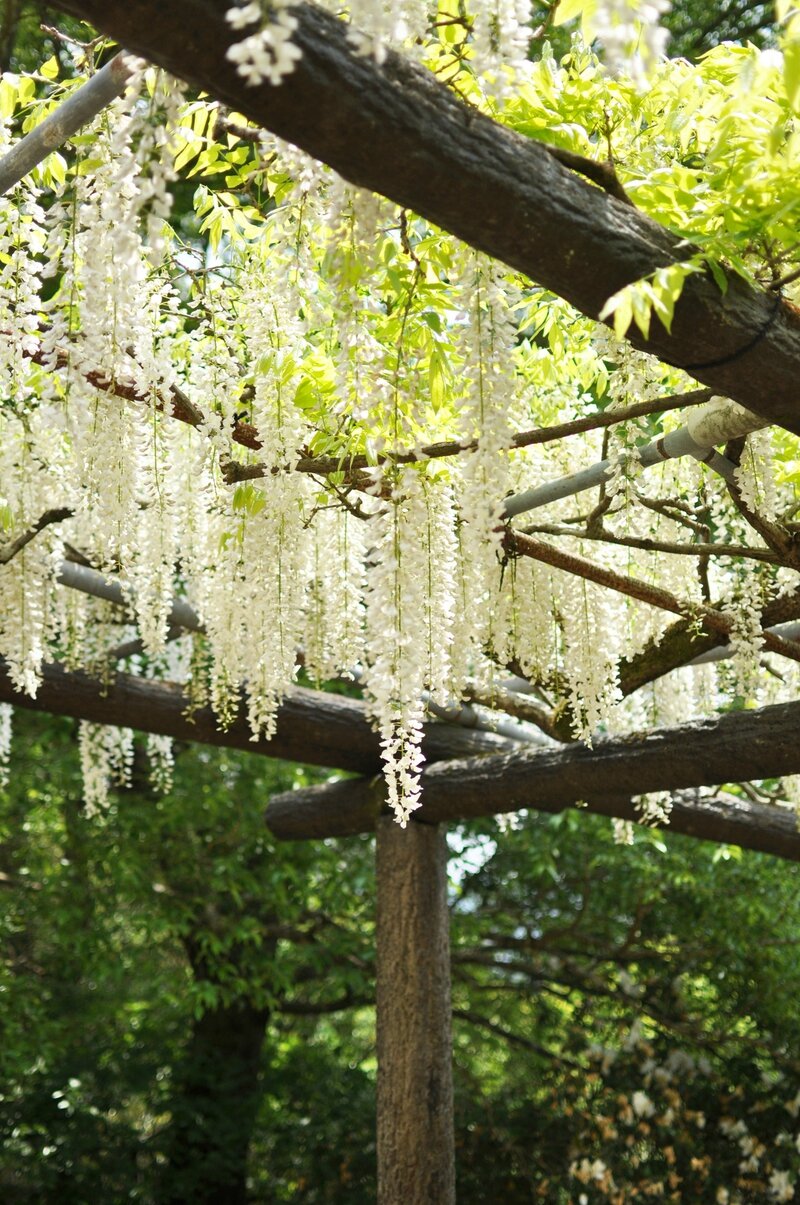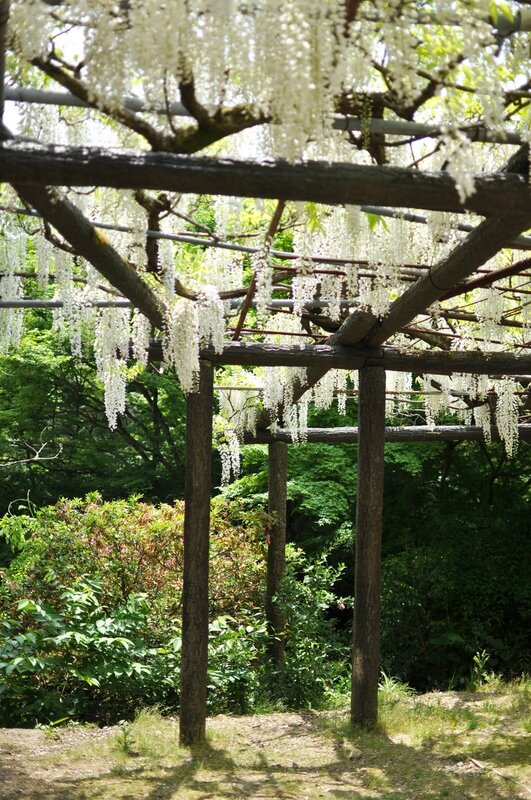 Aaaah, Mother Nature and her calendar...
06.01.14
Two years ago, I visited Fukuoka, the main city of Southern Kyushu island, in October : the place was still smelling like summer, with its glowing seashore in the sunset, and its people walking the street late in the night. This time, I had a radically different glimpse of the city.
New Year sales celebrations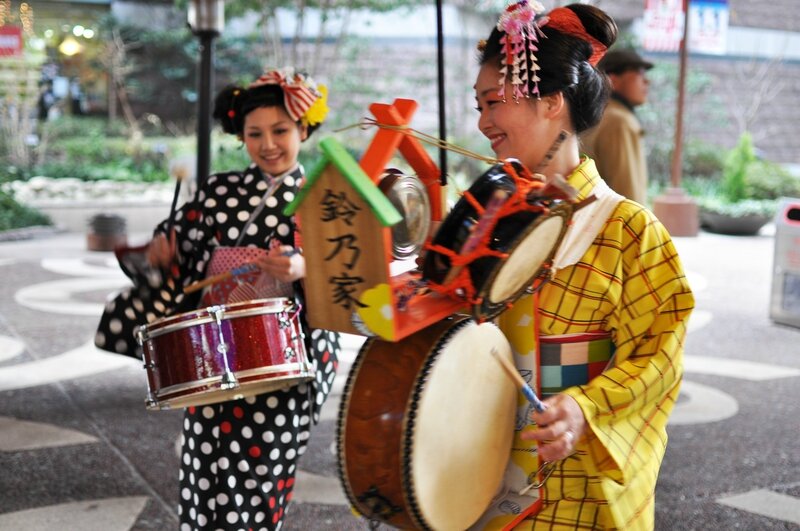 Foxes dressed for winter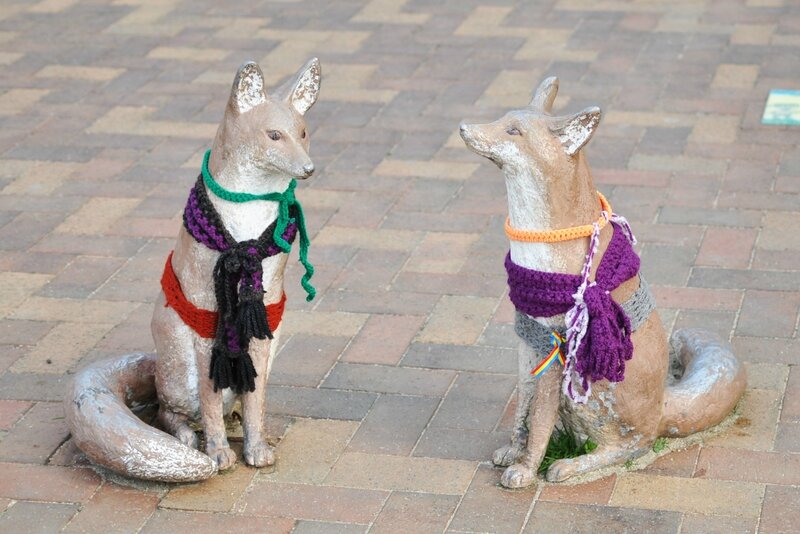 Naked cherry trees around the castle's ruins
Illuminations at Hakata station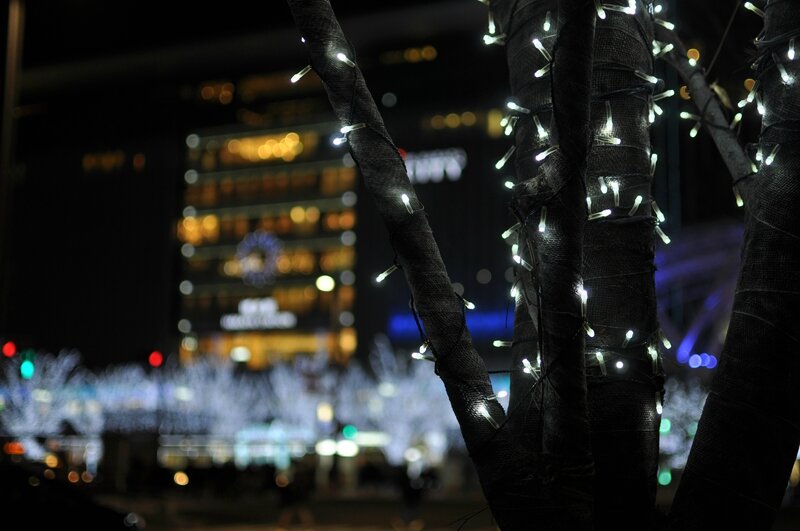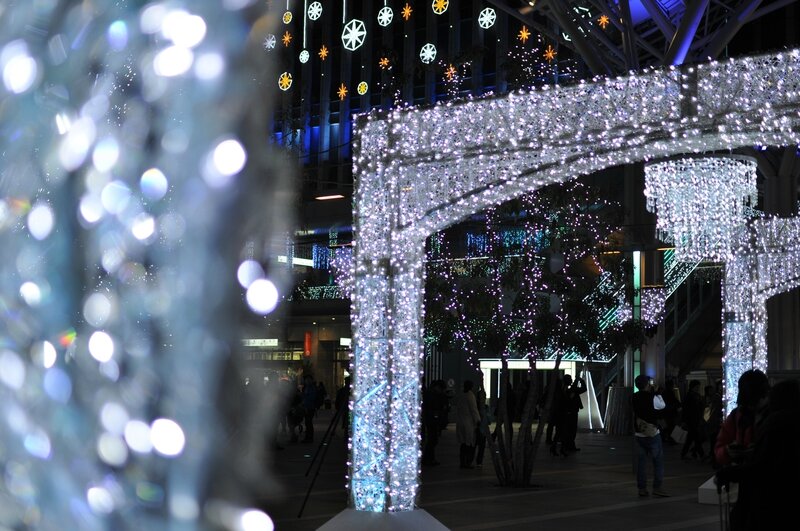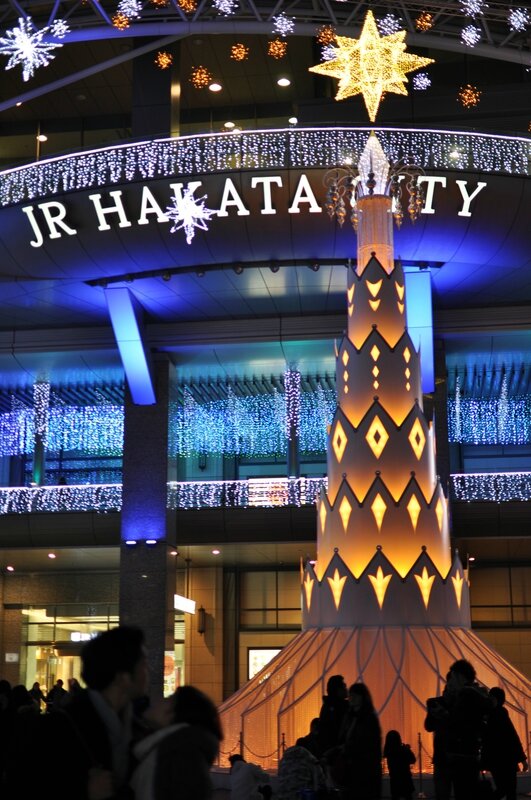 Sparkling Canal City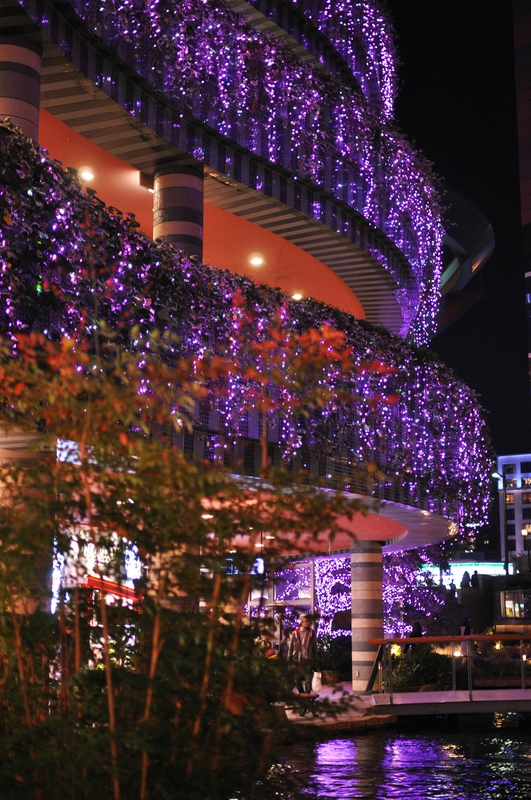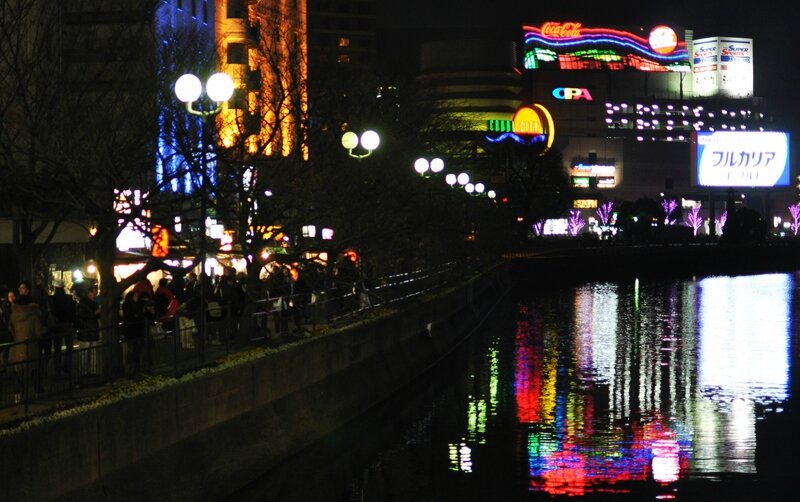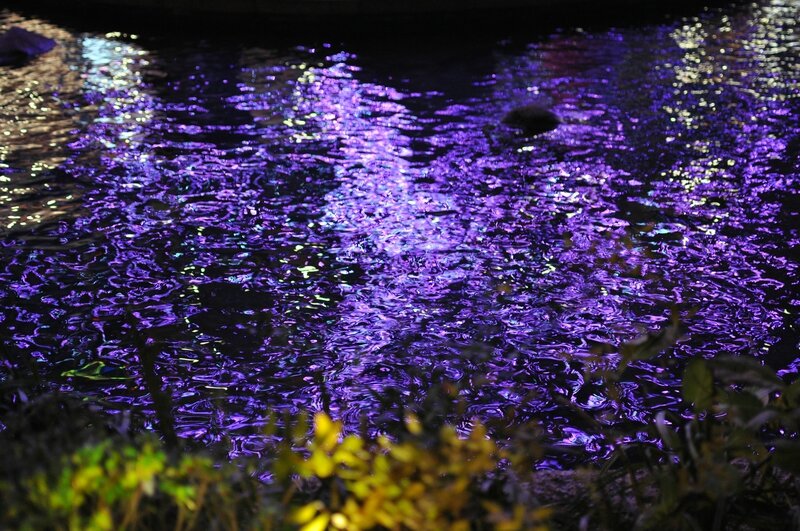 Empty and quiet yatai (street booth)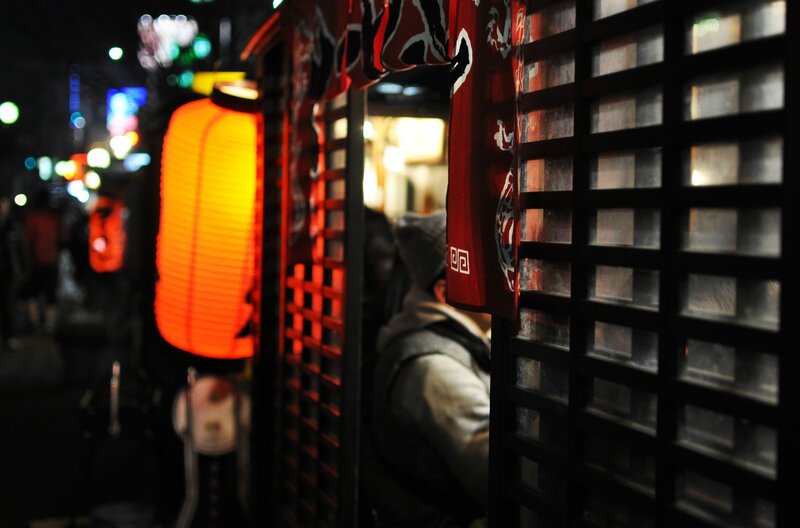 Never forget that tourism in Japan means... food, food, food, and food again !
Hakata ramen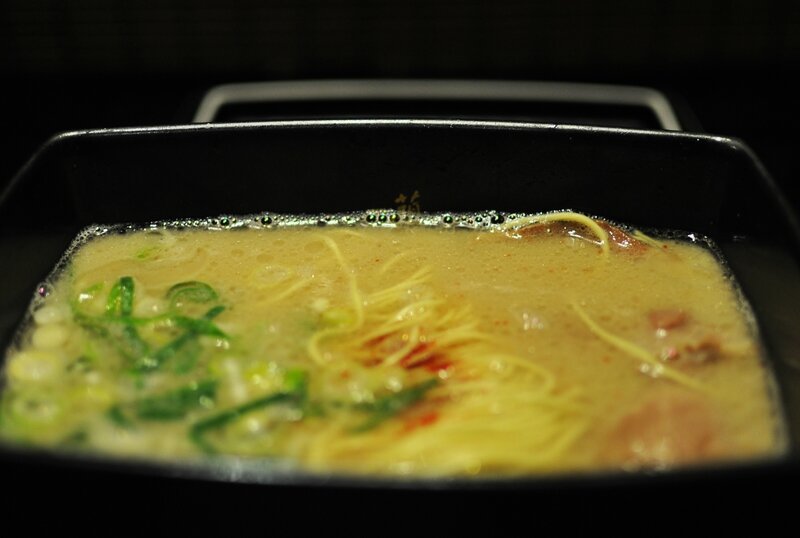 Meat and veggies of the yatai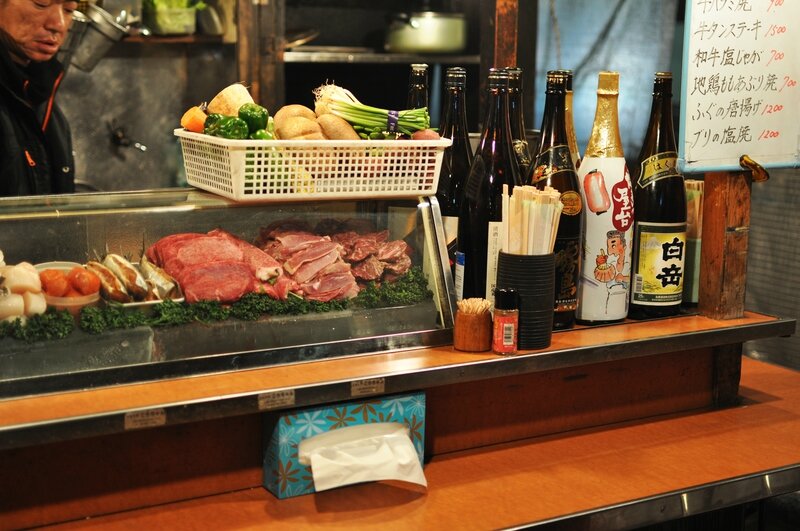 Seafood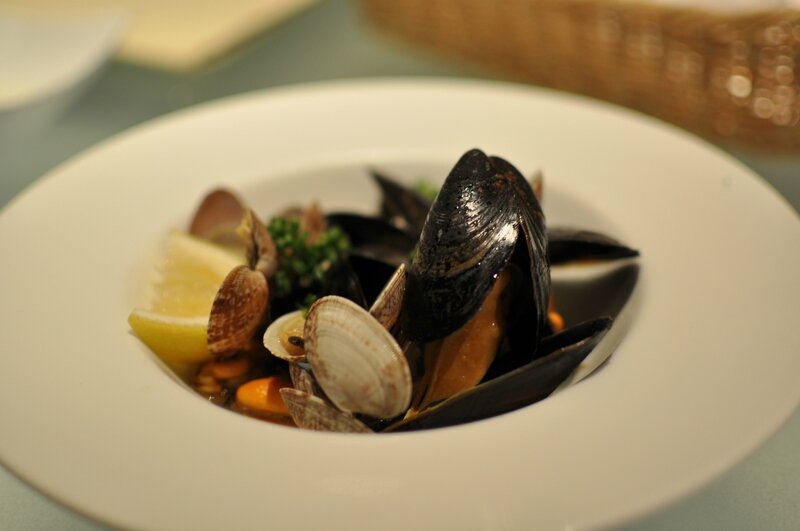 Fish eggs (here, ikura in paella)
Sweets (OK, not typical, but still enjoyable ! Happy New Year!)
But guess what, winter or not, there is still something you can expect from Fukuoka... Sun, baby !
Sunglasses on Happy 2014, everyone!
05.01.14
For ages, I have wanted to go South until Nagasaki, the western port-city of Kyushu island. I'm happy to announce that my first resolution for 2014 has been to fulfill this wish.
Sadly famous world-wide for being the second and last city to date to have experienced a nuclear attack, Nagasaki is actually, just like Hiroshima, a very lively, bright and colourful city. Even if the memory of the atomic violence has not faded yet, the city seems determined to celebrate its history in a positive way. For a long time, Nagasaki has been one of the very few gates to Japan for the foreigners, espacially for Europeans. The old fisherman village became a meaningful town when the Portuguese tarders and missionaries settled there in the 16th Century; in the early 17th, the Dutch came too, and later the British. Strangely, in addition with their own economic interests, the Europeans also participated to the China-Japan business relations, when diplomatic matters were forbidding the two nations to communicate with each other.
Welcome to the cosmopolitan port of Nagasaki!
Sofuku-ji, a zen temple in Nagasaki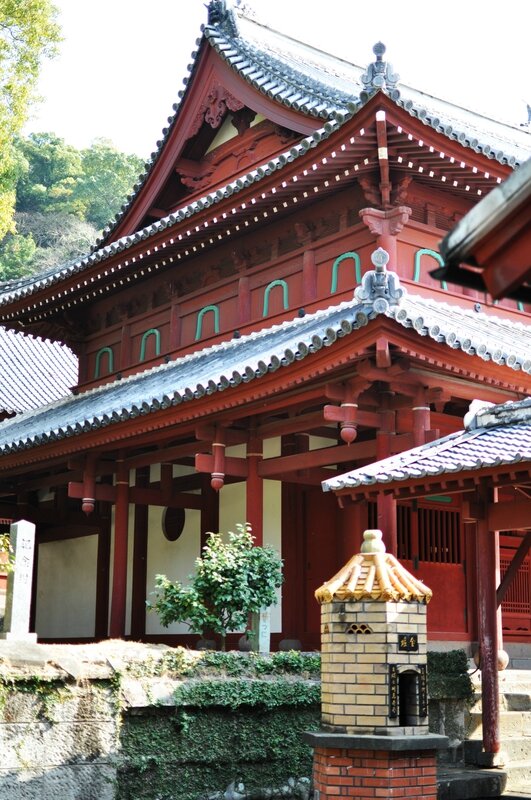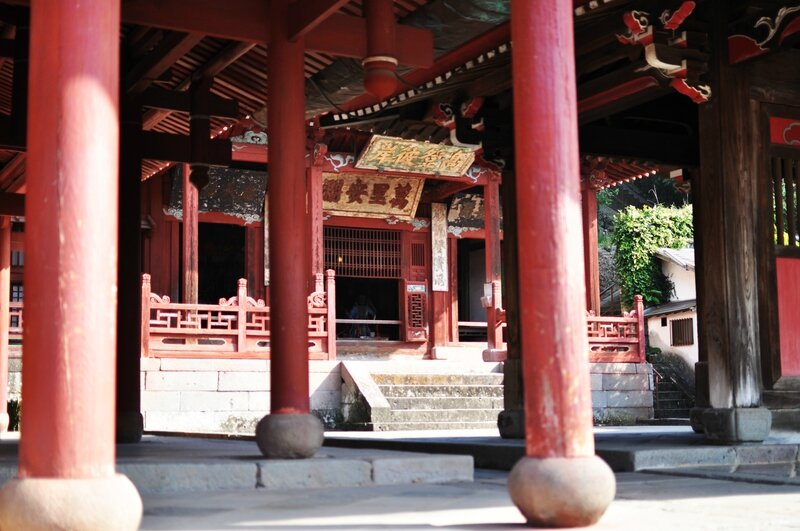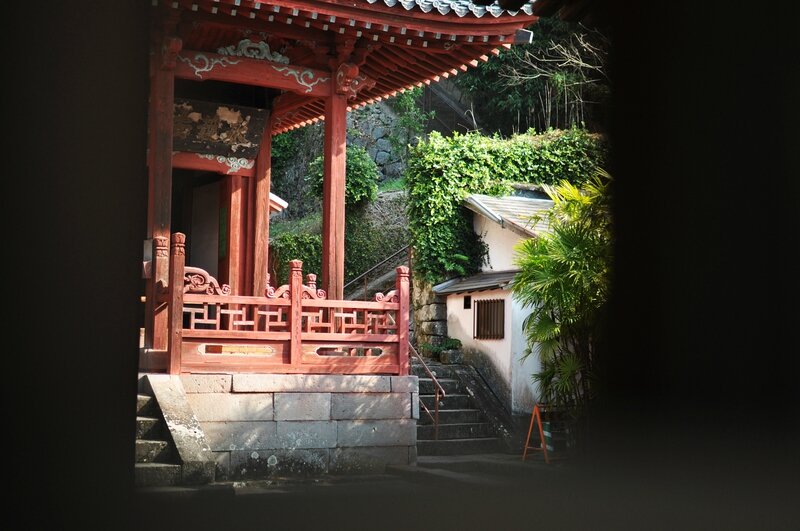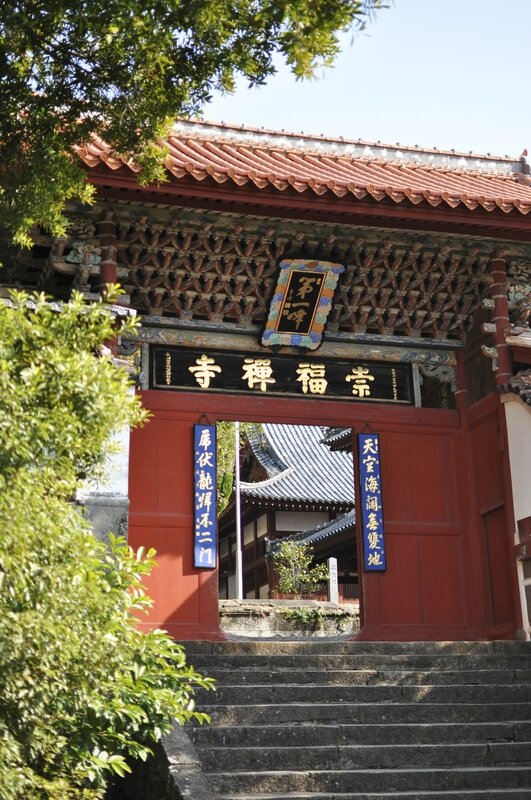 One of the most famous landmark of Nagasaki is the Megane-bashi, with its double arch that makes like a pair of glasses. Build in 1634, ans still standing!
Megane-bashi, the "spectacles bridge"
Because of the Portuguese and the Dutch communities who have been living there, Nagasaki is strangely ponctuated with pointed church roofs. It feels so weird to see their familiar and unexpected figures in the skyline...
Is it Japan here, really?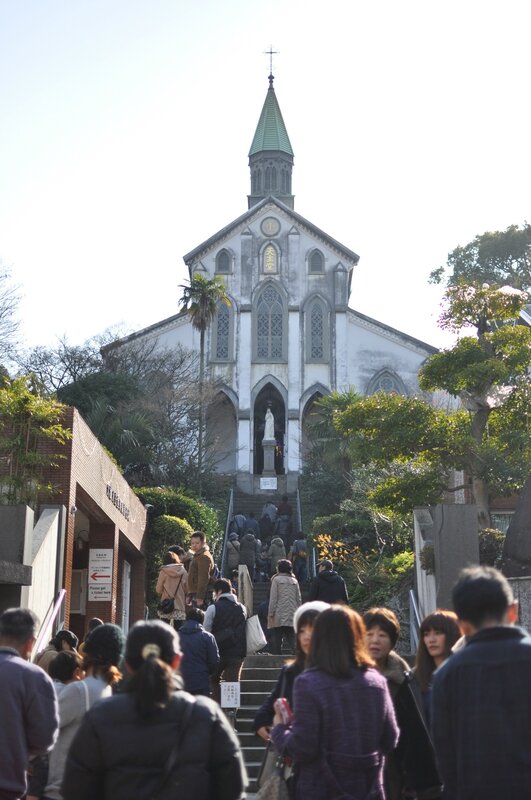 On the top of Glover Garden hills, old Dutch mansions have been conserved in memory of these Europeans who decided to start a new life in Japan, in these old times when there were no phone, no internet, no plane to keep connected to your hometown. I'm always moved to discover the life of these pionneers who suceeded in make Japn adopt them, in such circomstances.
Glover Garden Dutch heritage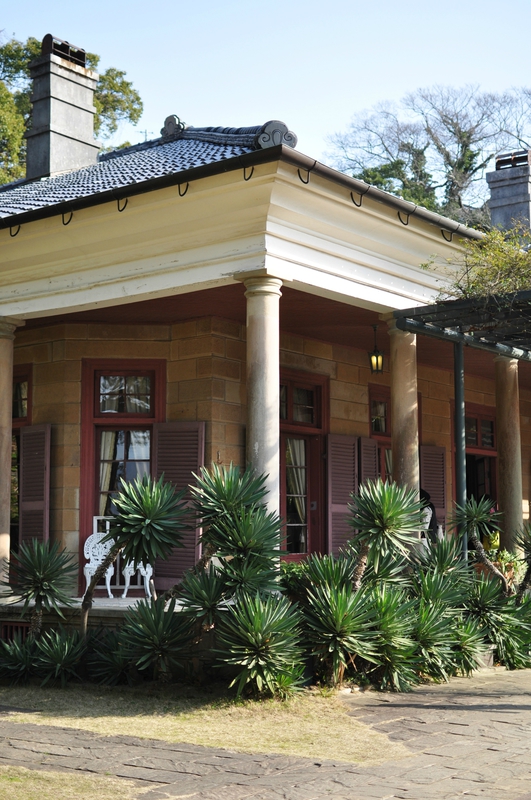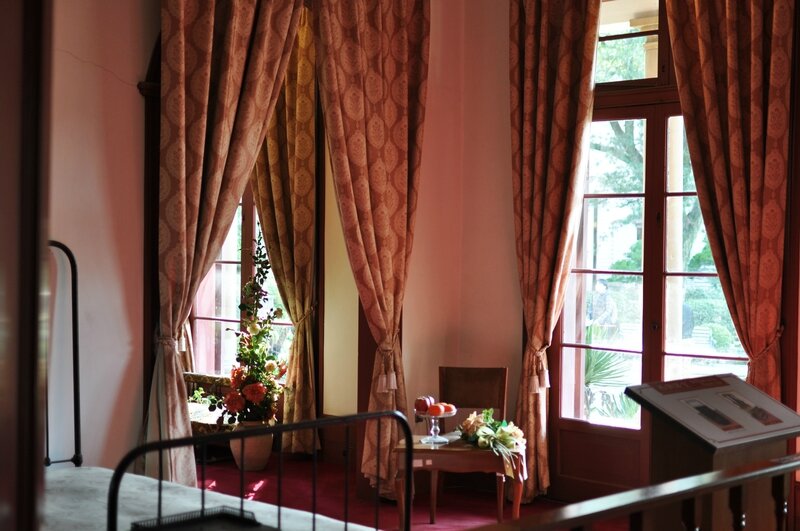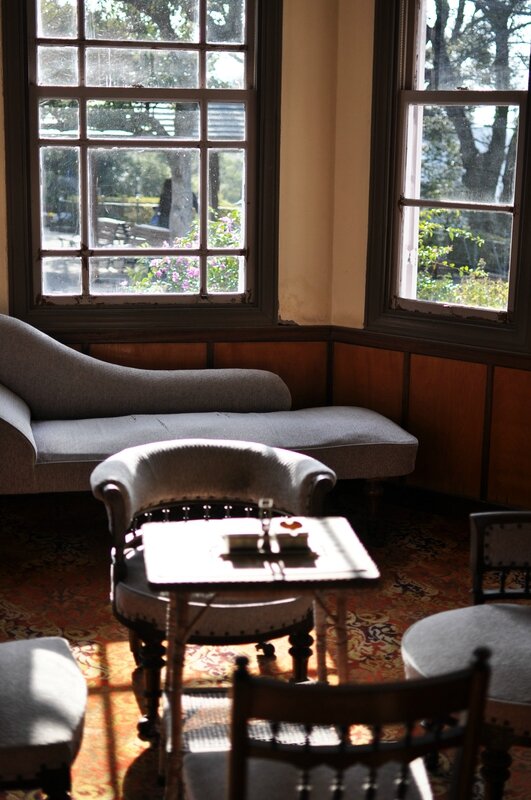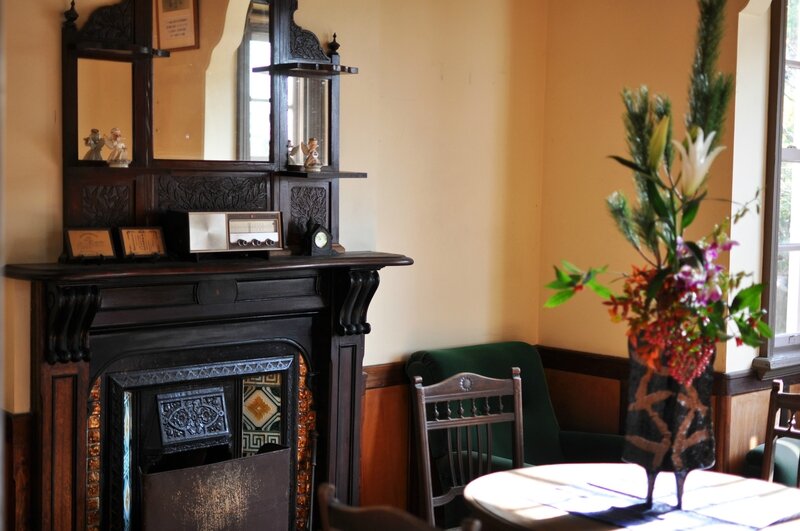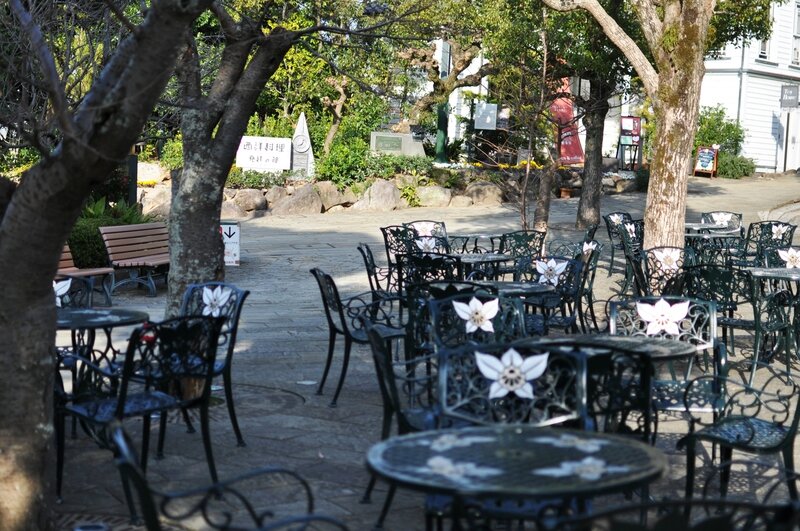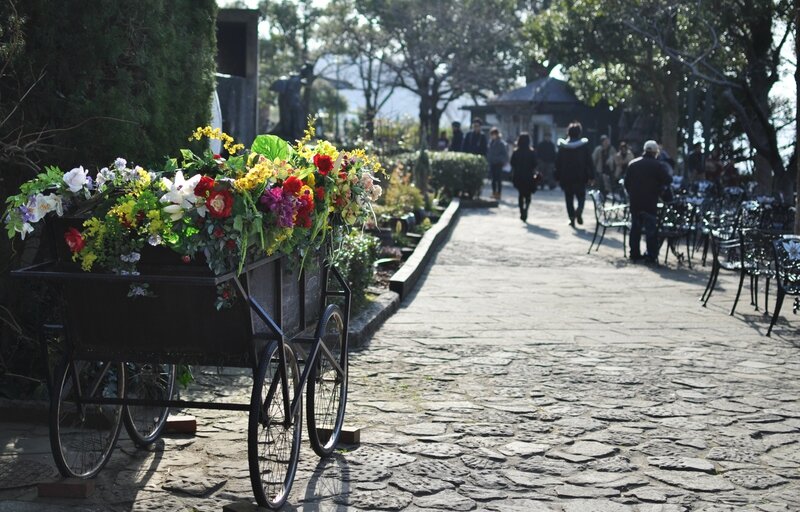 The Portuguese preached two things in Japan : Christianism and castella (castillan cake). Well, the second grew definitely more popular than the first. Castella is a smooth, sweet sponge-cake, absolutely delicious with a cup of tea. It's funny because the recipe disappeared in Portugal, and is now the very best sweet speciality of Nagasaki.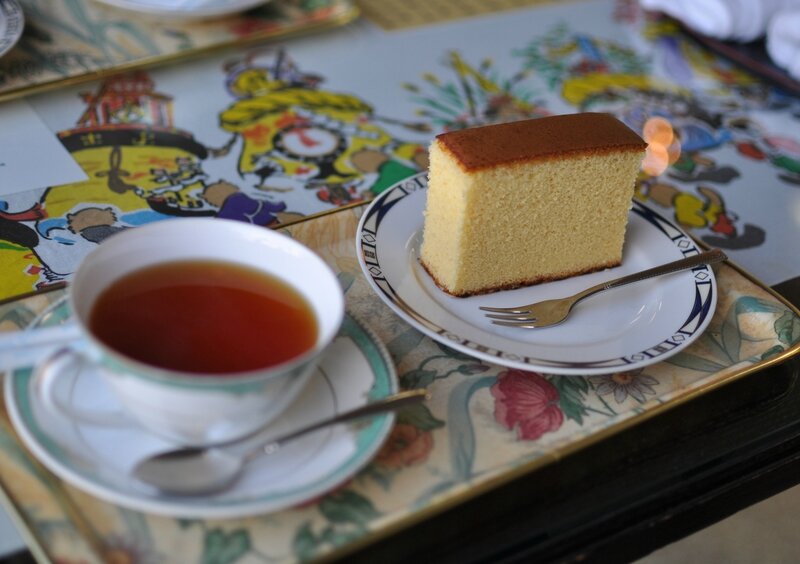 But as always when it deals with international Japanese cities, you can't deny the Chinese touch.
Nagasaki Chinatown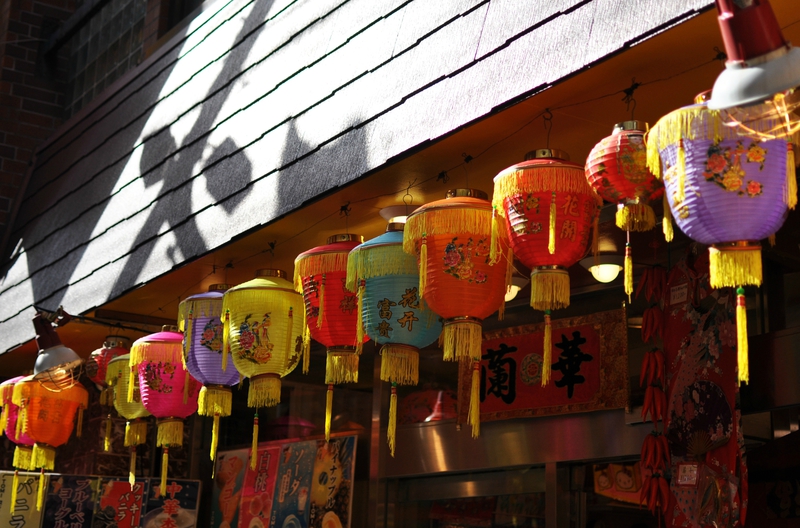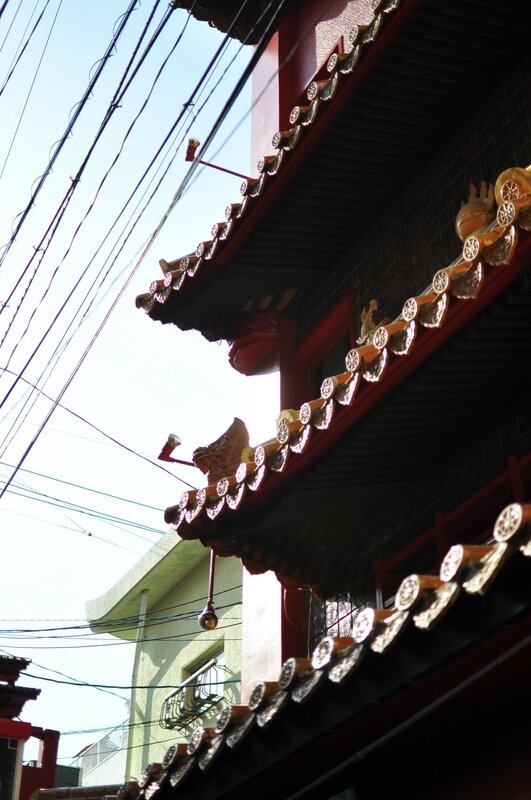 Nagasaki Chinatown offers the most delicious street-food ever : kakuni-manju. So yummy I could have cried. Imagine a piece of meltingly soft braised pork, inside a tasty manju. Oh my, oh my.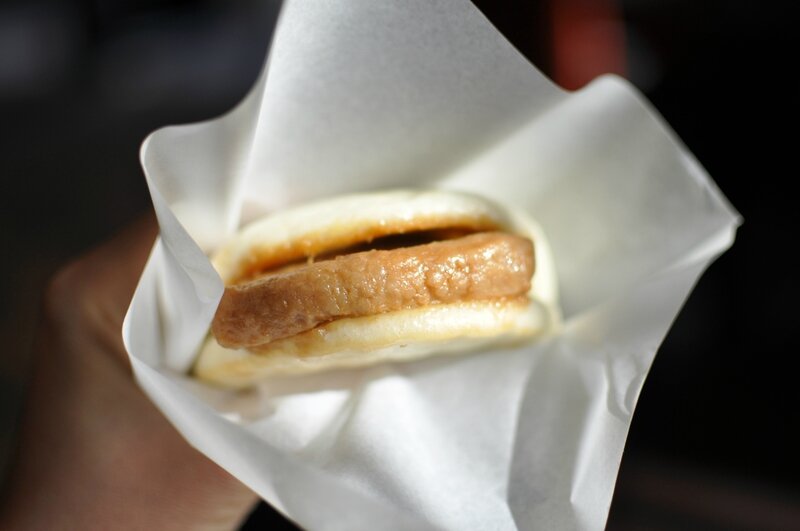 And now, the big show. I told you Nagasaki enjoys celebrating its roots; let me introduce the most Dutchy-dutchy place ever out of the Netherlands : Huis ten Bosch, the mini-Holland, an enchanted world of tulip, mills and gouda cheese!
Huis ten Bosch, Deutch paradise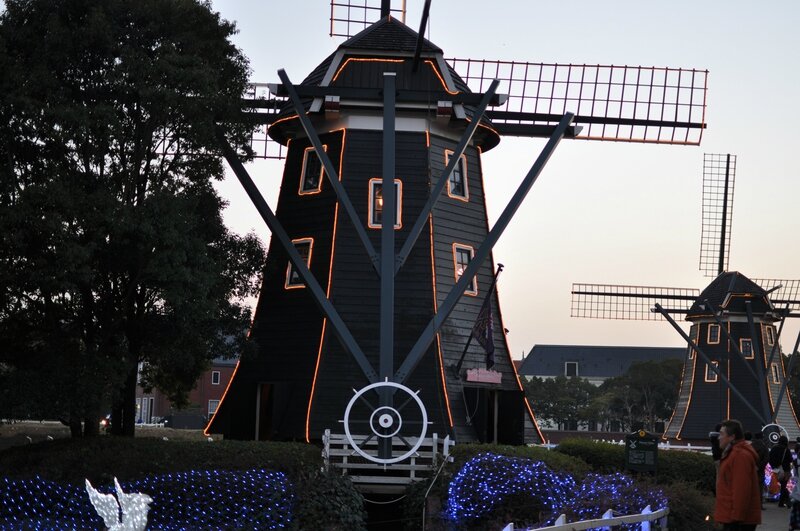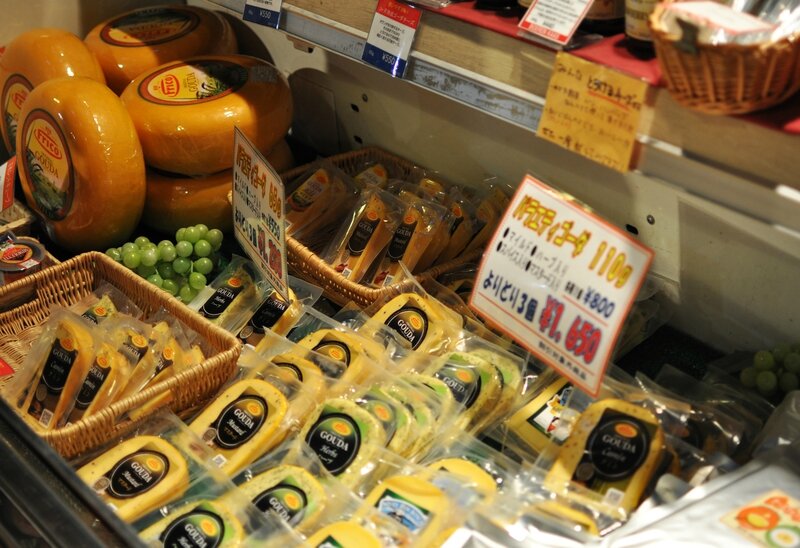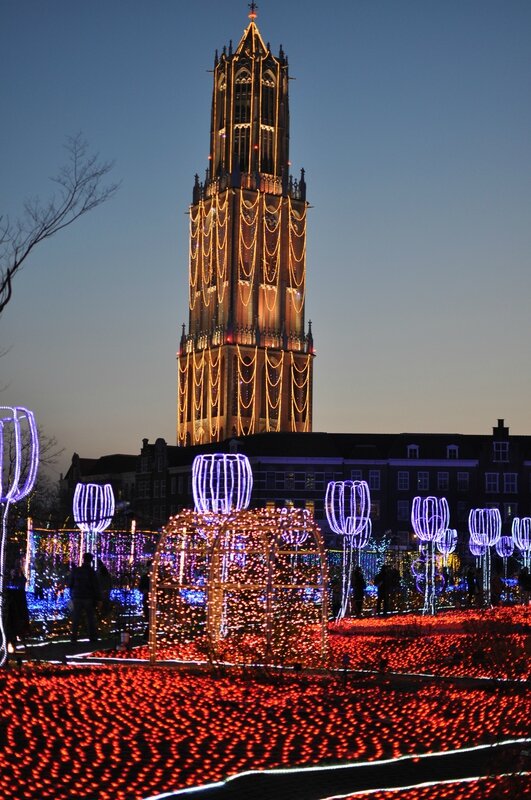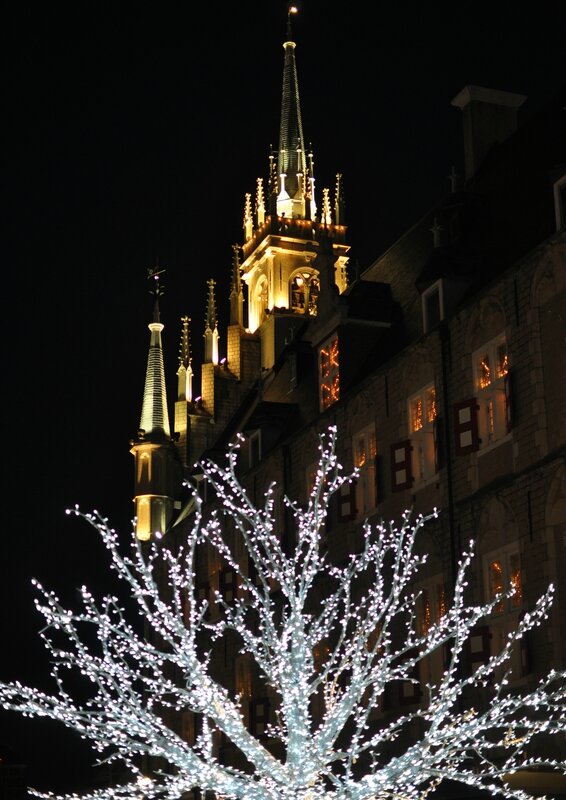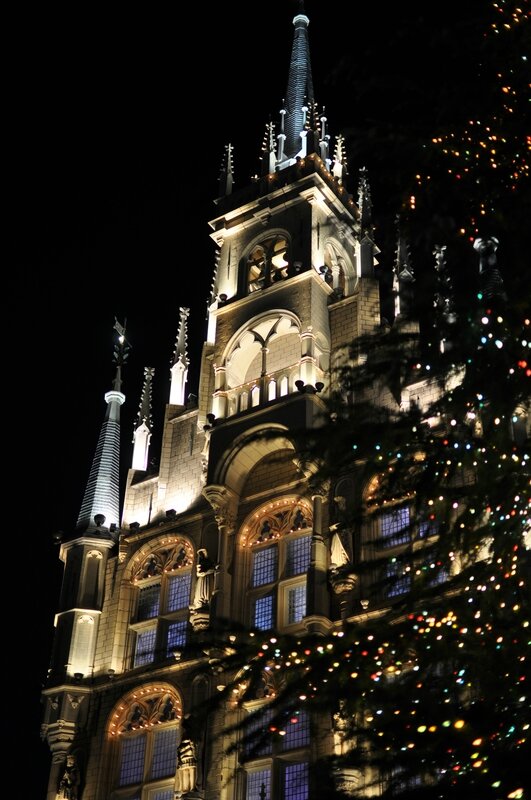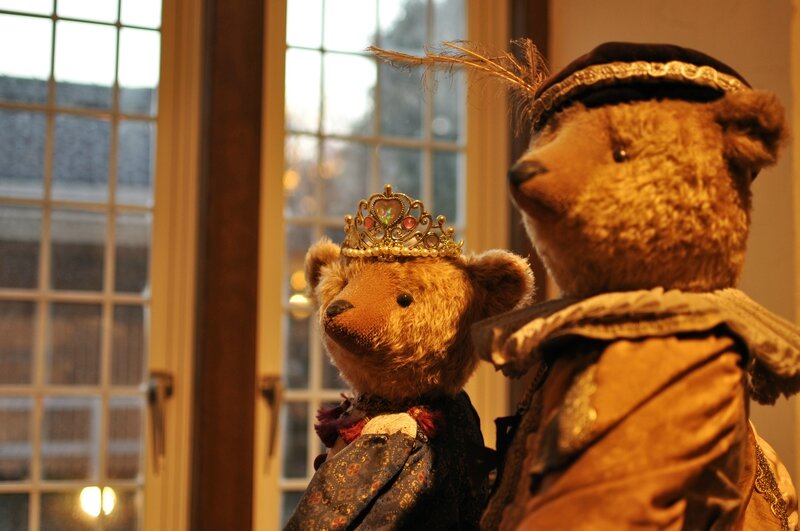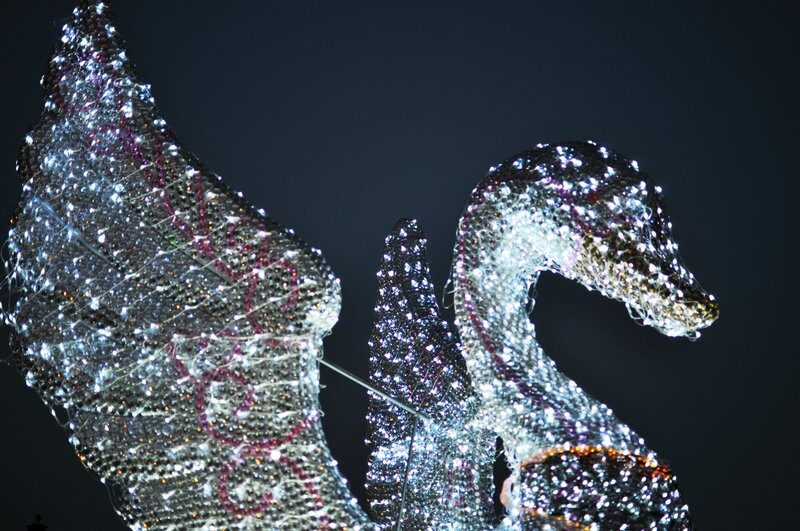 That's all for today! Don't miss the chance to go Nagasaki if you can. Some places have this ability to make you feel alive...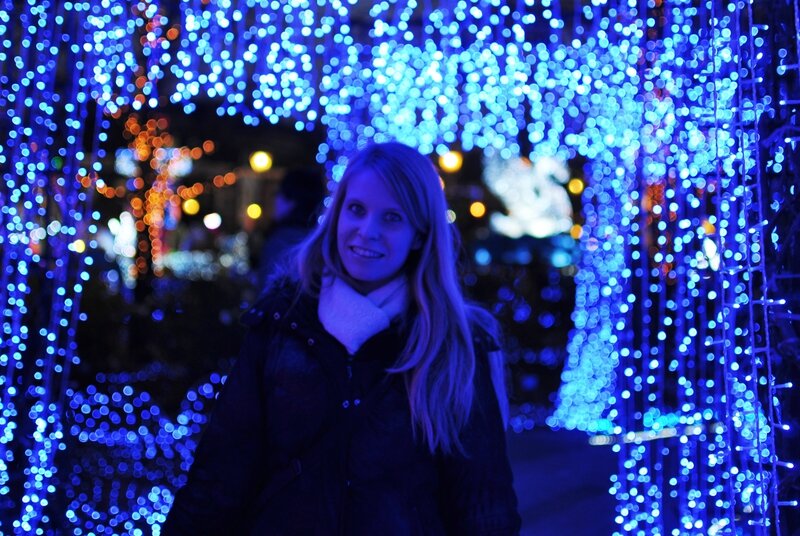 04.01.14
What is your definition of hell? Spending your priceless lifetime to perform unpleasant tasks, to stay alive ? Oops, no, they call that "work". Restlessly pursuing illusions, hopelessly expecting to find your soul sister on earth ? Nope, this is "love". But let's get back to a more traditionnal image of hell : steaming rocks, burning lakes, sulfur mists all around, thunder noises coming from the depth of the ground... In Oita, Kyushu, there is a place called Beppu, where you can visit eight different hells. The Japanese volcanos, which also make sweet and relaxing hot spring bath, are responsible for these "curiosities" of nature. There you can feel the power of Earth ! Let me show the way through hell...
The way to hell : Oita volcanic region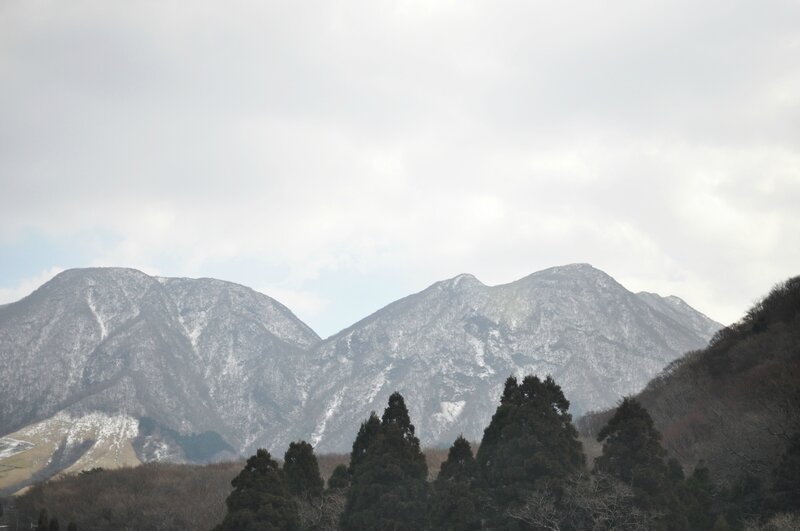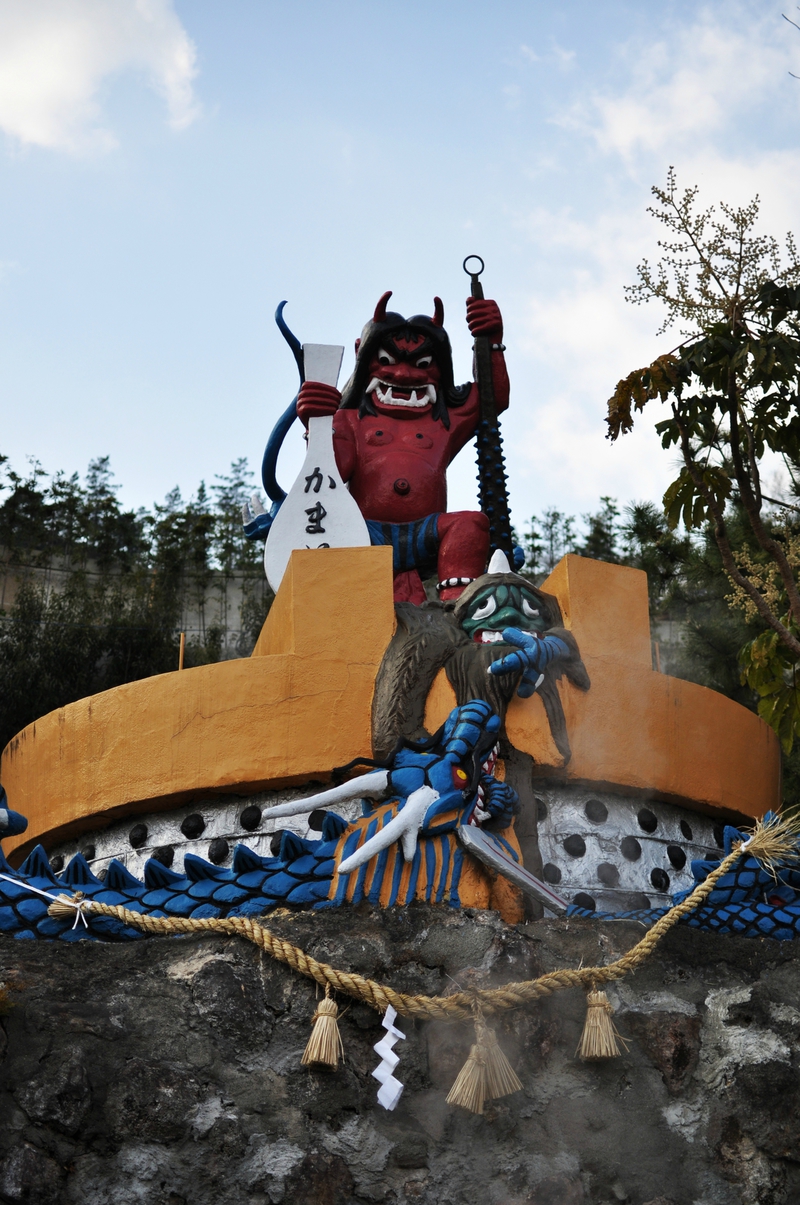 When you get close to Beppu accross the countryside, the lanscapes start to steam. Rivers are steaming, rocks are steaming, and so do the watercourses and the fields. Everywhere under your feet, the power of volcano is boiling.
The hells are now divided into eight touristic venues, also featuring exotic animals like hippo, flamingo or crocodiles, apparently very happy to rest in the natural hot waters. I have to say I had another vision of hell, but anyway. Let me show you the parts I prefered.
Hell, no. Come on. Let's be serious.
Umi-jikoku : the sea hell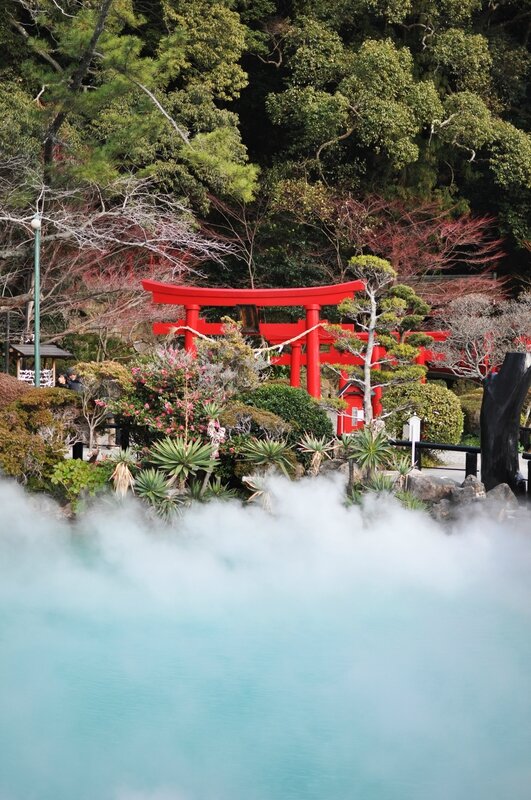 With its 98° blue steaming waters, Umi-jikoku is from far the most beautiful hell ever. What is impossible to describe is the strong smell of rotten eggs (sulfur, actually) lingering around. You can also small real eggs, because boiling it directly in the pool is so much fun, isn't it.
Hard eggs on the way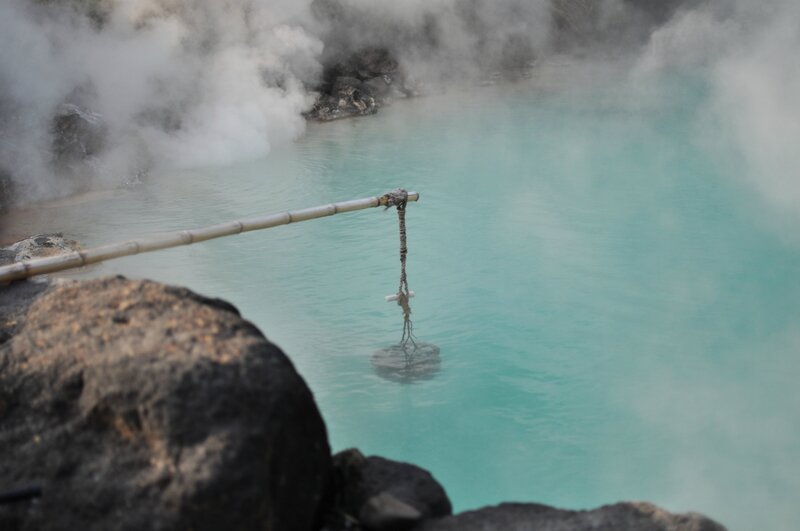 Umi-jikoku is partly covered with water lilys and large leaves that can bear more than 20 kilos. If you dare, you can put your baby on it.
Oniishibozu-jikoku : the mud bubbles hell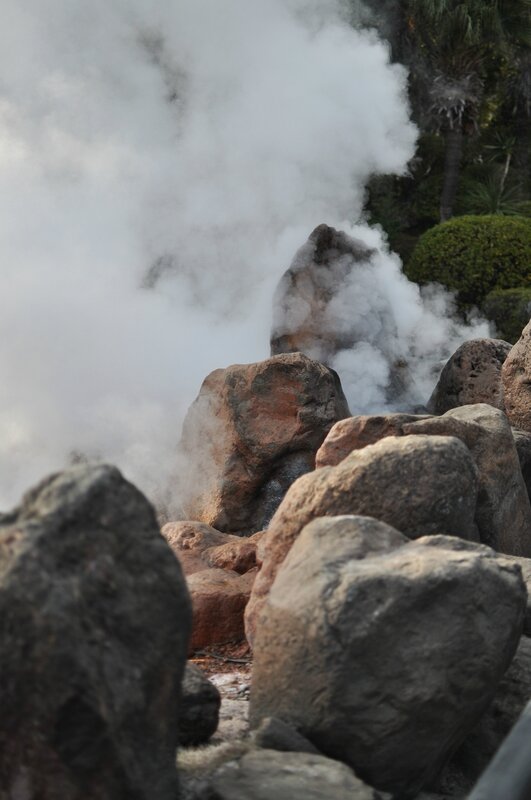 This is the clay in the ground that gives to this hell this very special white color. After umi-jikoku, I found this hell the most impressive.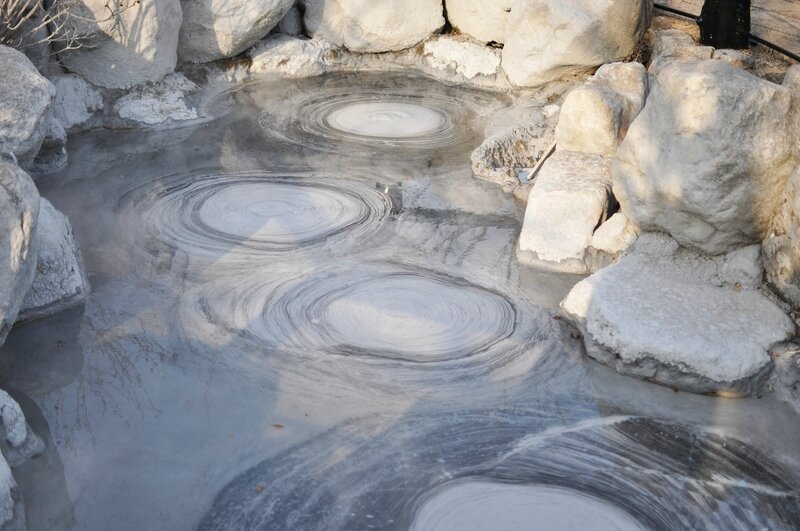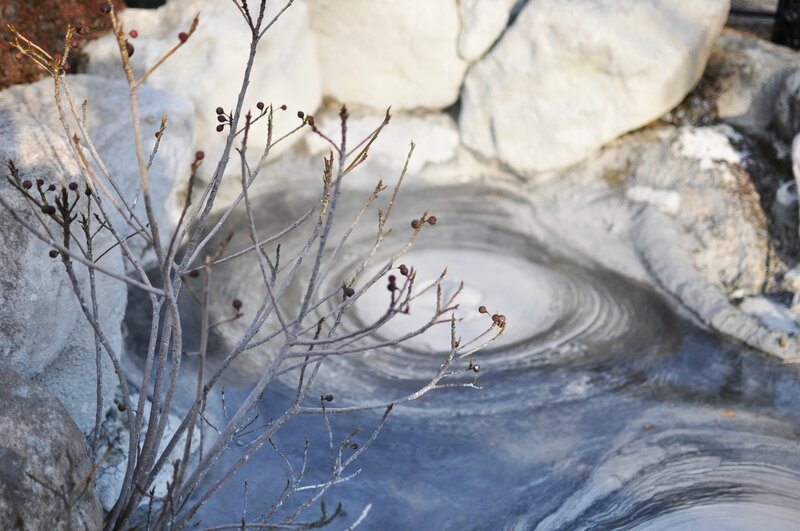 Yama-jikoku : the mountain hell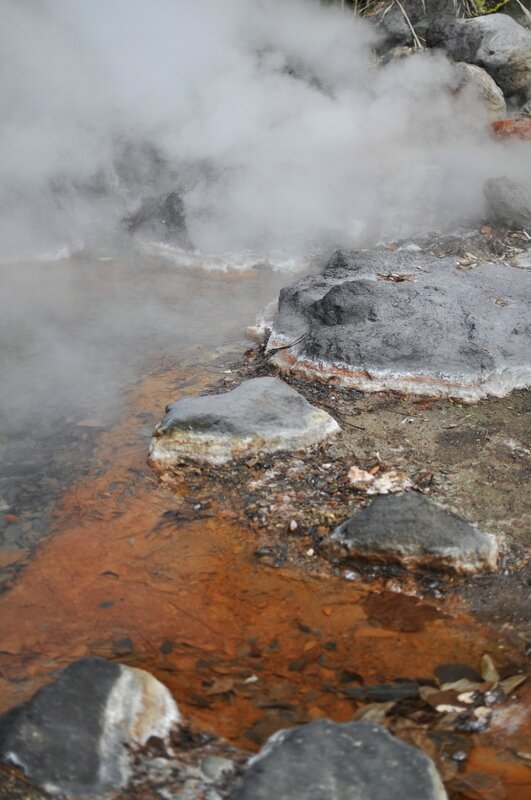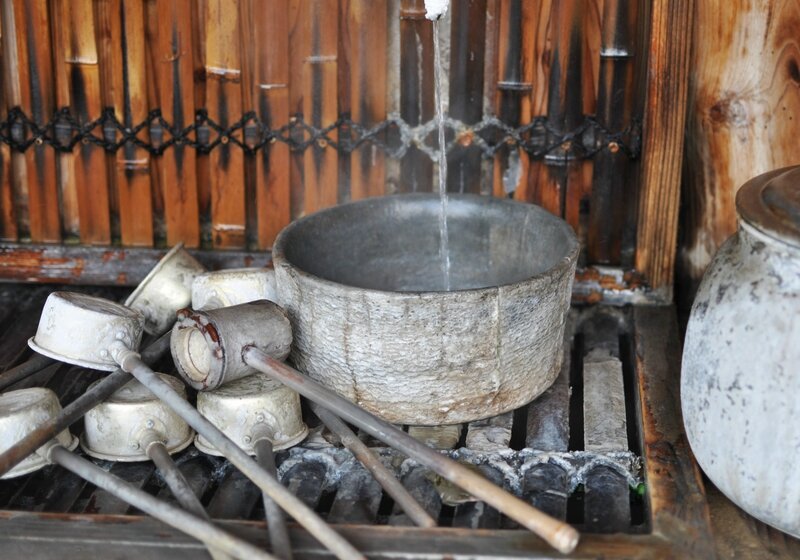 Kamado-jikoku : the "cooking pot"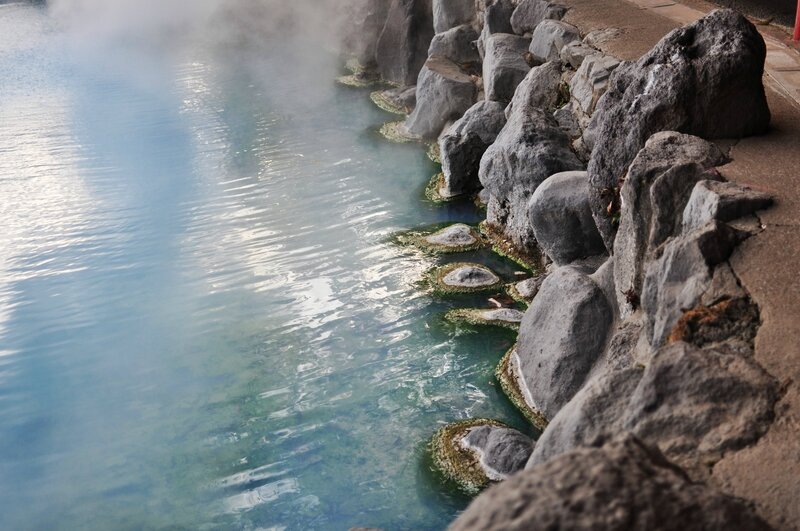 Pretty, isn't it ? It's a pity it's really too hot to take a bath...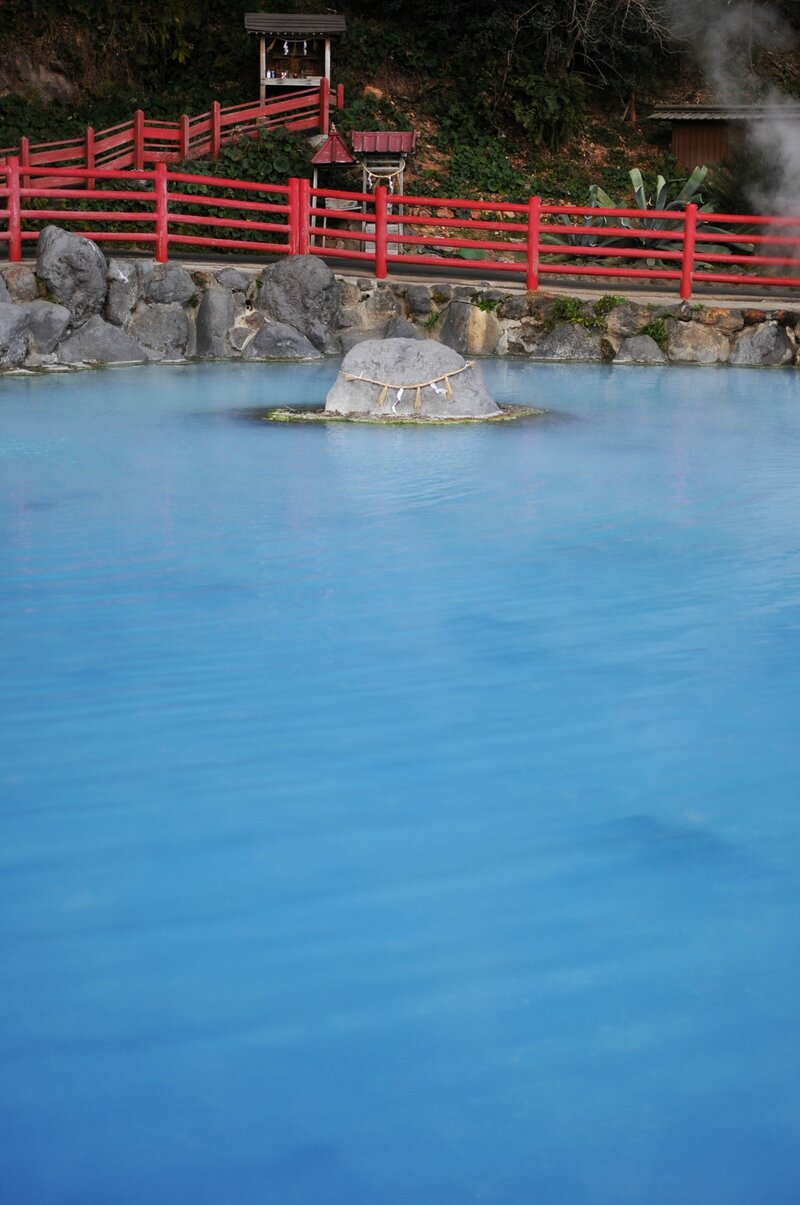 ... but a foot-bath will go !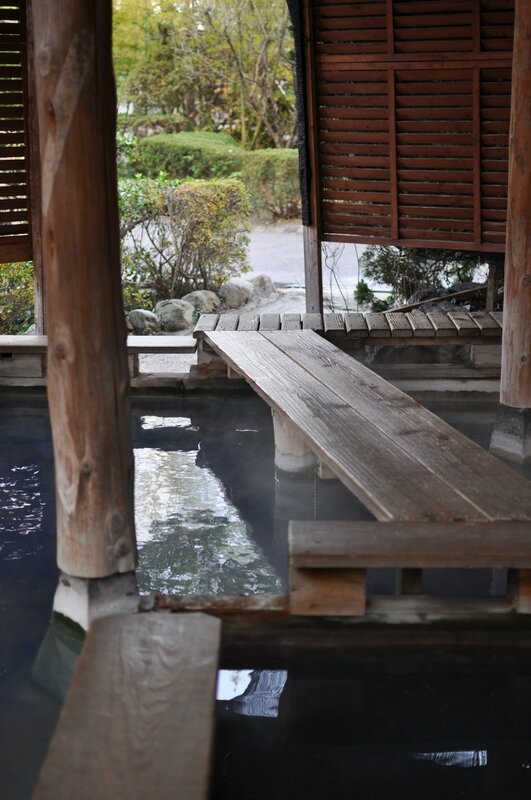 Shiraike-jikoku : the white pond hell
Chinoike-jikoku : the blood pond hell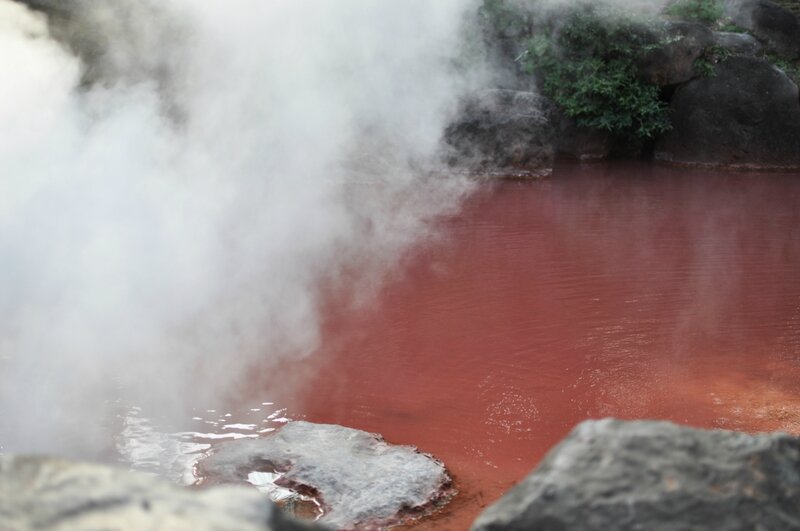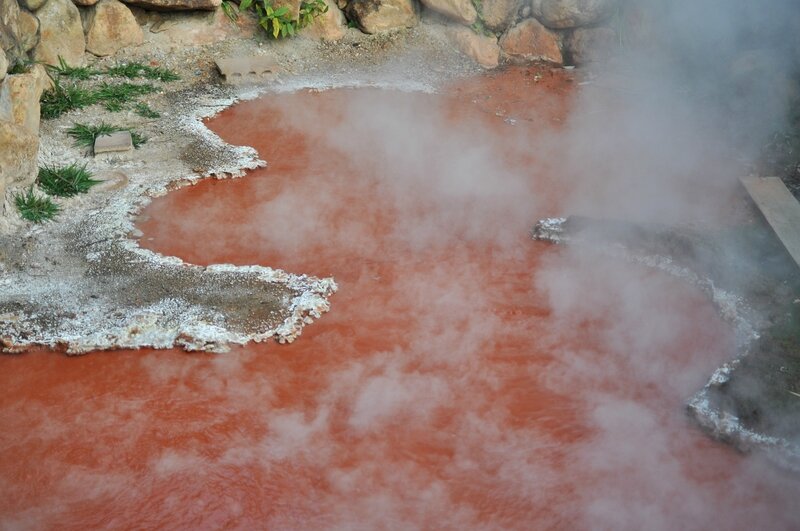 Exotic looking plants enjoying the micro-climate...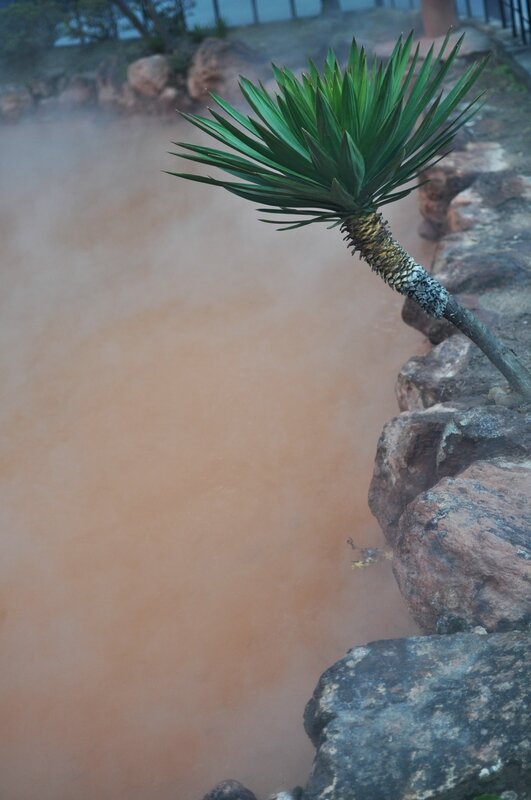 Your Eurydice, a bit drunk with sulfur steams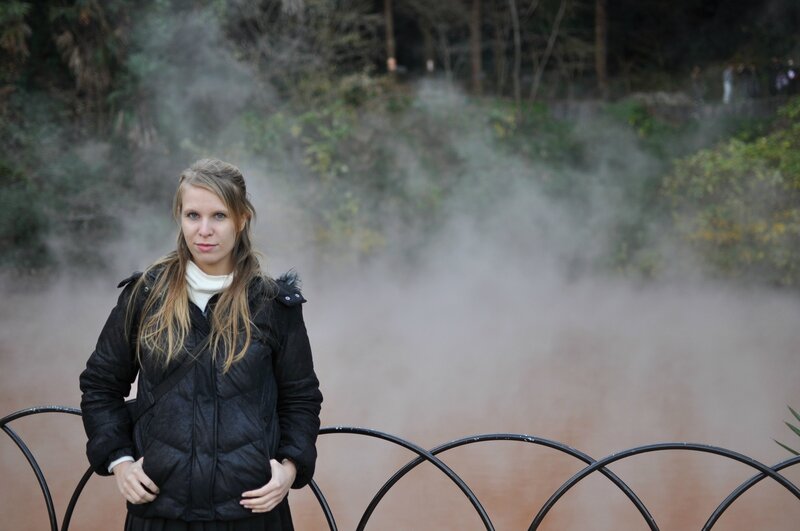 Tatsumaki-jikoku : the geyser hell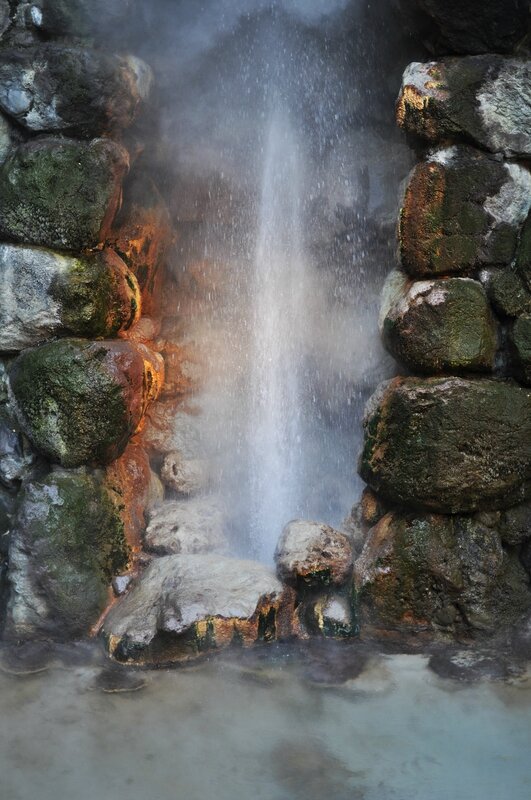 This last hell geyser is bursting every 40 minutes with a real devilish sound.
Did you enjoy the visit ? Next time, let's go and see a bit of heaven, for a change !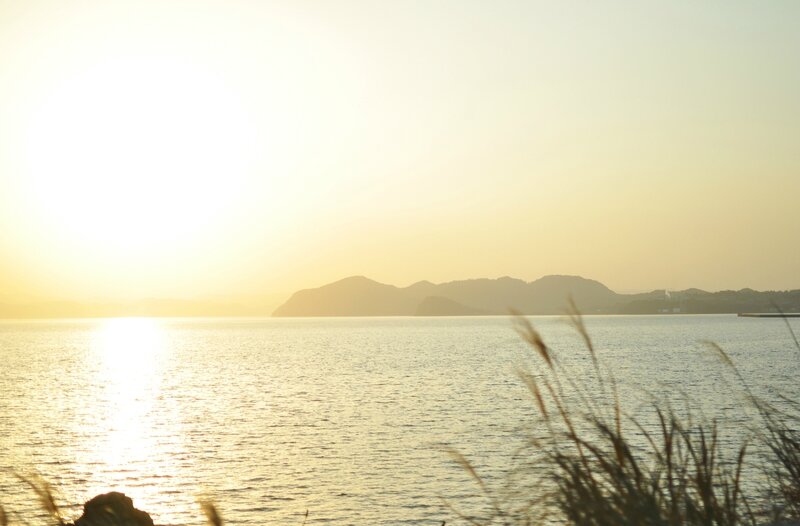 16.08.10
Welcome to sunny, pinky, sweet Albi ! Sorry for the short comments, but it's holidays after all. Enjoy the summer everybody !
15.08.10
Saint-Cirq Lapopie is said to be the most beautiful village in France. I am at least sure that it's the most beautiful village I have ever seen. Pink roofs under the sun, wild nature around, amazing view on the valley... It looks like a place extracted from Heroic Fantasy, from Hayao Miyazaki's mind, from your dreams...